Abstract
Highly intense femtosecond laser irradiation of a metallic ion solution is a potential technique to produce nanoparticles of noble metals and their alloys without any reducing agents. In addition, all-proportional solid-solution alloy nanoparticles of noble metals even with immiscible nature in a multimetallic system can be easily formed in the mixed ion solution. The method has many advantages compared to conventional chemical and/or physical methods with regard to not only the simplicity of the method itself but also the purity and the controllability of alloy composition of fabricated nanoparticles. However, the productivity of a stationary production system has been limited by the volume of a glass cuvette containing ion solution. In the present study, larger-scale production by applying a flow system of ion solution was demonstrated for improving the productivity. The influence of irradiation time and repetition rate of the femtosecond laser, and flow rate of the solution on the efficiency of nanoparticles formation was studied. The flow system showed similar results with the stationary system with respect to the mechanism for the nanoparticles formation. In addition, the pulse repetition rate was effective to increase the productivity by more than 200 % compared to the stationary system.
This is a preview of subscription content, log in to check access.
Access options
Buy single article
Instant access to the full article PDF.
US$ 39.95
Price includes VAT for USA
Subscribe to journal
Immediate online access to all issues from 2019. Subscription will auto renew annually.
US$ 99
This is the net price. Taxes to be calculated in checkout.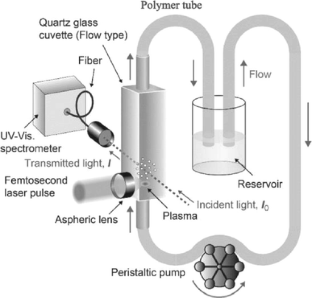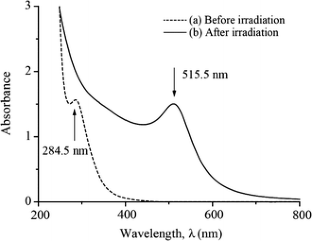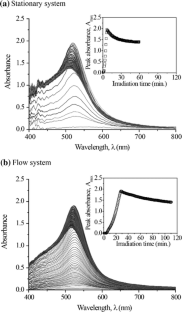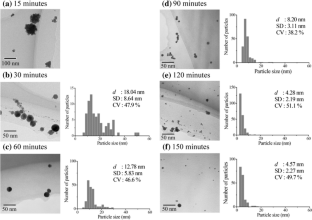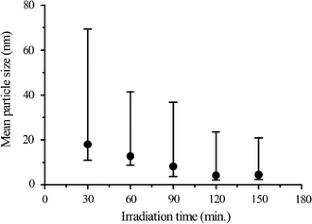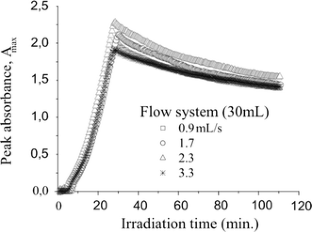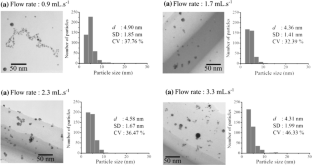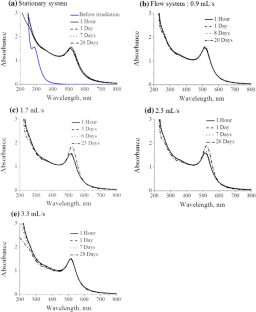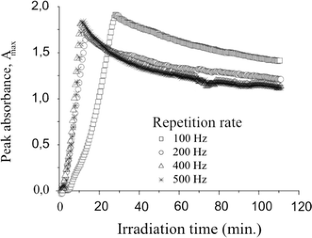 References
1.

E. Roduner, Chem. Soc. Rev. 35, 583 (2006)

2.

S. Link, M.A. El-Sayed, Annu. Rev. Phys. Chem. 54, 331 (2003)

3.

A. Takami, H. Yamada, K. Nakano, S. Koda, Jpn. J. Appl. Phys. 35, L781 (1996)

4.

E. Katz, I. Willner, Angew. Chem. Int. Ed. 43, 6042 (2004)

5.

S. Barcikowski, G. Compagnini, Phys. Chem. Chem. Phys. 15, 3022 (2013)

6.

J. Nedderson, G. Chumanov, T.M. Cotton, Appl. Spectrosc. 47, 1959 (1993)

7.

M.S. Sibbald, G. Chumanov, T.M. Cotton, J. Phys. Chem. 100, 4672 (1996)

8.

M. Prochazka, P. Mojzes, J. Stepanek, B. Vlckova, P.Y. Turpin, Anal. Chem. 69, 5103 (1997)

9.

G. Dziko, A.B. Jarzębski, J. Nanopart. Res. 13, 2533 (2011)

10.

L.L. Lazarus, A.S.-J. Yang, S. Chu, R.L. Brutchey, N. Malmstadt, Lab Chip 10, 3377 (2010)

11.

F. Mafunè, J. Kohno, Y. Takeda, T. Kondow, J. Phys. Chem. B 104, 9111 (2000)

12.

A.V. Simakin, V.V. Voronov, G.A. Shafeev, R. Brayner, F.B.- Verduraz, Chem. Phys. Lett. 348, 182 (2001)

13.

A.V. Kabashin, M. Meunier, J. Appl. Phys. 94, 7941 (2003)

14.

B. Liu, Z. Hu, Y. Che, Y. Cheng, X. Pan, Appl. Phys. Lett. 90, 044103 (2007)

15.

S. Barcikowski, A. Menéndez-Manjón, B. Chichkov, M. Brikas, G. Račiukaitis, Appl. Phys. Lett. 91, 083113 (2007)

16.

T. Nakamura, Y. Mochidzuki, S. Sato, J. Mater. Res. 23, 968 (2007)

17.

T. Nakamura, H. Magara, Y. Herbani, S. Sato, Appl. Phys. A 104, 1021 (2011)

18.

Y. Herbani, T. Nakamura, S. Sato, J. Colloid Interface Sci. 375, 78 (2012)

19.

T. Nakamura, K. Takasaki, A. Ito, S. Sato, Appl. Surf. Sci. 255, 9630 (2009)

20.

Y. Herbani, T. Nakamura, S. Sato, J. Phys. Chem. C 115, 21592 (2011)

21.

T. Nakamura, Y. Herbani, S. Sato, J. Nanopart. Res. 14, 785 (2012)

22.

M.S.I. Sarker, T. Nakamura, Y. Herbani, S. Sato, Appl. Phys. A 110, 145 (2013)

23.

J.L.H. Chau, C.Y. Chen, M.C. Yang, K.L. Lin, S. Sato, T. Nakamura, C.C. Yang, C.W. Cheng, Mater. Lett. 65, 804 (2011)

24.

S.L. Chin, S. Lagacé, Appl. Opt. 35, 907 (1996)

25.

S. Pommeret, F. Gobert, M. Mostafavi, I. Lampre, J.-C. Mialocq, J. Phys. Chem. A 105, 11400 (2001)

26.

T. Nakamura, Y. Herbani, D. Ursescu, R. Banici, R.V. Dabu, S. Sato, AIP Adv. 3, 082101 (2013)

27.

J.P. Sylvestre, S. Poulin, A.V. Kabashin, E. Sacher, M. Meunier, J.H.T. Luong, J. Phys. Chem. B 108, 16864 (2004)

28.

H. Muto, K. Yamada, K. Miyajima, F. Mafune, J. Phys. Chem. C 111, 17221 (2007)

29.

A. Hahn, S. Barcikowski, B.N. Chichkov, J. Laser Micro Nanoeng. 3, 73 (2008)

30.

S. Petersen, S. Barcikowski, Adv. Funct. Mater. 19, 1167 (2009)
About this article
Cite this article
Muttaqin, Nakamura, T. & Sato, S. Synthesis of gold nanoparticle colloids by highly intense laser irradiation of aqueous solution by flow system. Appl. Phys. A 120, 881–888 (2015). https://doi.org/10.1007/s00339-015-9314-x
Received:

Accepted:

Published:

Issue Date:
Keywords
Gold Nanoparticles

Irradiation Time

Flow System

Alloy Nanoparticles

Surface Plasmon Resonance Peak