Bronze Age pottery from the Aeolian Islands: definition of Temper Compositional Reference Units by an integrated mineralogical and microchemical approach
Abstract
An integrated microchemical–petrographic approach is here proposed to discriminate the provenance of archaeological pottery artefacts from distinct production centres. Our study focuses on a statistically significant sampling (n=186) of volcanic temper-bearing potteries representative of the manufacturing and dispersion among the islands of the Aeolian Archipelago during the Bronze Age. The widespread establishment of new settlements and the abundant recovery of Aeolian-made ceramic in southern Italy attest for the increased vitality of the Archipelago during the Capo Graziano culture (Early Bronze Age–Middle Bronze Age 2; 2300–1430 BC). Potteries from three of the main known ancient communities (Lipari, Filicudi and Stromboli) have been studied integrating old collections and newly excavated material. Volcanic tempers have been first investigated through multivariate analyses of relative abundances of mineral and rock clasts along with petrographic characters. In addition, we performed in-situ mineral chemistry microanalyses by Electron Microprobe and Laser Ablation—Inductively Coupled Plasma Mass Spectrometry to assess major and trace element composition of the most common mineral phases.
Four Temper Compositional Reference Units have been recognised based on compositional trends. Two units (AI and AX) are unequivocally distinct by their peculiar trace element enrichment and petrographic composition; they mostly contain samples from the sites of Lipari and Stromboli, respectively. Units AIV and AVIII, restricted to the sites of Filicudi and Stromboli, show distinct petrographic characters but overlapped geochemical fingerprints.
Keywords
Basaltic Andesite 
Induce Couple Plasma Mass Spectrometer 
Compositional Group 
Aeolian Island 
Modal Mineralogy 
These keywords were added by machine and not by the authors. This process is experimental and the keywords may be updated as the learning algorithm improves.
1

Archaeological framework

The Bronze Age marks the renaissance of the Aeolian Islands. The Archipelago, is a key archaeological context since Early Neolithic because of the availability of obsidian in Lipari, the only island continuously inhabited as a central place in the Archipelago. The islands knew a long decline during the Copper Age because of the progressive abandon of lithic technologies.

The Archipelago is located in a strategic position in the southern Tyrrhenian Sea (Fig. 

1

) allowing the control of maritime circulation between Aegean, eastern and western Mediterranean, Sicily and peninsular Italy [

1

,

2

,

3

] i.e. on the main routes pointing to the Sardinian mineral resources. Consequently, new settlements appeared on the islands at the onset of the Bronze Age, during the Capo Graziano culture (Early to Middle Bronze Age 2; 2300–1430 BC).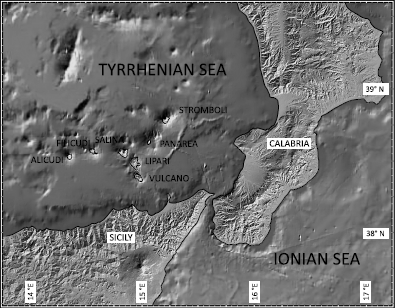 The increasing importance of the Archipelago is documented by the importation of Mycenaean pottery (Late Helladic I–II) during the late stages of the Capo Graziano culture at Lipari, Filicudi and Stromboli (Capo Graziano II; 1700–1430 BC; [4, 5, 6, 7, 8]).
At the same time Aeolian pottery is documented in maritime exchanges as for instance the finding of the shipwreck of Pignataro di Fuori [9, 10] near the Lipari coasts, unique evidence for the Italian Bronze Age, and several occurrences of pottery with the peculiar Capo Graziano style in Sicily [11, 12, 13, 14, 15, 16, 17, 18] and Italian mainland [19, 20, 21, 22, 23]. The typical Aeolian pottery classified as impasto ware, resulting by mixing clay and a relatively coarse temper, is shaped by mould or coil, burnished and decorated with incised or impressed geometrical patterns. The social organisation of this pottery production can be classified at the domestic workshop level [24, 25]. Capo Graziano settlements, typically composed of oval stone huts, are initially situated (Capo Graziano I; 2300–1700 BC) on coastal plains such as the Contrada Diana in Lipari [26] and Filo Braccio in Filicudi [27, 28]. Starting from the late Capo Graziano culture, a general movement of the villages is observed, possibly induced by defence needs (Capo Graziano II; 1700–1430 BC). Naturally defended places, such as the Acropolis of Lipari [1], the Montagnola of Filicudi [27] and the plateau of San Vincenzo in Stromboli [8, 29] are settled at this time. During Capo Graziano II, pottery is characterised by a typical decorative style with incised zig-zag (a stylised representation of the sea), lines and alignments of points.
2

Rationale and sampling

Since late 1960s John Williams analysed the whole pottery sequence (from Early Neolithic to Late Bronze Age) efficiently discriminating Aeolian productions from the imported extra-Aeolian ones based on petrographic observations [30, 31]. The distinction is made possible by the different petrographic character of tempers being of volcanic origin those of the Aeolian Archipelago while containing sedimentary and metamorphic clasts those from the Calabrian and Sicilian grounds. Volcanic tempers used for Aeolian pottery production are in fact sands deriving by the natural dismantling of the rock units outcropping nearby a given workshop. Aeolian Islands consist of seven stratovolcanoes belonging to an active, subduction-related magmatic arc (200 km long) growing in the southern Tyrrhenian Sea (Fig. 1). Subaerial volcanism of the Aeolian Islands having started at ∼0.22 Ma BP is still quiescent at Lipari and Vulcano and persistently active at Stromboli [32]. Basaltic to rhyolitic extrusive series are present on all islands. Lava and pyroclastic products belong to calcalkaline (CA), high potassium calcalkaline (HKCA), shoshonitic (SHO) and, more rarely, potassic (KS) affinities [33, 34].

According to Williams studies, local productions prevailed during Early and Middle Bronze Age, with evidence of self-sufficient productions in Lipari and Filicudi, later replaced by imported and/or local products using imported clay from northern Sicily [30, 31, 35, 36]. The high probability of common clay sourcing makes difficult to distinguish the intra-archipelago workshops based on bulk compositional analyses because tempering may not significantly affect group distinctiveness until large amount of temper are added [37, 38]. On the other hand, if tempers are locally added they would reflect the local geochemical fingerprint. Provenance studies should thus focus on this component in order to track the location of the manufacturing centres. A study of potteries from the same region has, however, demonstrated that petrography alone is not sufficient for a correct provenance attribution even when tempers of volcanic origin are used [39]. This is mainly due to the similar compositional evolution of the volcanic activity in the region that makes challenging a safe attribution to a compositional group based on the pure petrographic characters even for a well trained observer.

Moving from this background we set up a microchemical approach to assess the robustness of petrographic classification with the aim of defining Temper-based Compositional Reference Units to allow easy attribution of a given sample to a production area and/or craft tradition. This study re-considers samples from Williams collection along with additional samples from Lipari Museum and two new excavations (San Vincenzo, Stromboli [8] and Filo Braccio, Filicudi [28]) and few occurrences from the shipwreck of Pignataro di Fuori recovered off the coasts of Lipari. Pottery from Stromboli, the northernmost island of the Archipelago, has never been analysed before. The investigated collection includes pots of different shapes and functions covering the entire Capo Graziano chronological sequence in Lipari (n=46), Filicudi (n=56) and Stromboli (n=80), plus few from the shipwreck of Pignataro di Fuori (n=4).

Samples with non-volcanic-temper, abundantly found at Stromboli and more rarely on the other islands, attesting a Calabrian and/or Sicilian provenance, are not investigated in the present paper.
3

Methods

Mineralogy and petrography were determined on thin petrographic sections by a polarising microscope. Point counting (at least 500 points for each thin section) was performed on 139 thin sections, whose area is sufficiently large to ensure a modal distribution representative of sample variability.

Modal distribution data have been treated by multivariate statistics in order to get a classification of pottery reflecting the compositional variability and the archaeological site of provenance. Principal Component (PCA) and Discriminant Analysis (DA) have been performed using SPSS 17.0 statistical package (Table II, electronic supplementary material). This approach has been helpful for the definition of the compositional groups and the identification of possible imports.

Major element composition of minerals and glasses was assessed by electron microprobe. Analyses were carried out with the Superprobe Jeol JXA 8200 at the Eugen F. Stumpfl Laboratory of the Leoben University (Austria). Analytical conditions are the following: acceleration voltage 15 kV, beam current 10 nA, focused beam (∼1 μm diameter), peak counting time 20 s and background 10 s. Analytical data were corrected through the ZAF method. A set of natural and synthetic standards have been used for internal calibration.

In-situ trace elements have been measured at Centro Interdipartimentale Grandi Strumenti (CIGS) at the Università di Modena e Reggio Emilia using a Nd:YAG deep UV (213 nm) New Wave Research UP-213 laser ablation system (LA) coupled to a Thermo Fisher Scientific X-SeriesII Induced Coupled Plasma Mass Spectrometer (ICP-MS). Instrumental drift correction was computed by linear correction of measured analyte intensities among repeated measurements of the NIST 612 glass. 44Ca has been routinely employed as internal standard based on electron microprobe CaO contents. LA–ICP–MS spectra were obtained with unit mass resolution. They require few if any interference corrections, due to very low molecular and doubly charged species production. In this study ThO+/Th+ was maintained below 0.5 % and Ba2+/Ba+ below 0.1 %. Analytical routine comprises 100 μm pre-ablation scan (dwelling time: 2 s, 5 Hz laser fire, laser fluency 18÷20 J/cm2) followed by 80 μm ablation scan (dwelling time: 30 s, 20 Hz laser fire, laser fluency 18÷20 J/cm2). Data reduction performed with Plasma Lab® software, by Thermo Scientific.
4

Results
4.1

Mineralogy and texture
4.2

Mineral chemistry

Group separation can be independently verified based on major and trace element variability of the observed temper phases. If petrographic groups reflect local productions then the chemical composition of the tempers must reflect the composition of local lava suites i.e. the geochemical flavour of that given volcanic centre. Hence we performed microchemical in-situ analyses by Electron Microprobe (major elements) and Laser Ablation ICP-MS (trace elements) on clinopyroxene, plagioclase and hornblende.
5

Discussion and conclusions

Based on modal mineralogy and texture of the Aeolian Bronze Age pottery we recognised four statistically separated groups (AI, AIV, AVIII and AX) among the volcanic temper-bearing pots collected at Lipari, Filicudi and Stromboli archaeological sites. These groups we confidently assume as Temper Compositional Reference Units for the specified context [41]. They match those proposed by Williams [31, 35] with the addition of a new unit (AX) [42] recently found in the Stromboli archaeological site of S. Vincenzo [8]. The inferred petrographic subdivision is independently tested by mineral chemistry (major and trace elements) of representative phases such as clinopyroxene, plagioclase and hornblende, giving a robust statistical framework for sample identification.

Unit distribution among the islands mainly match with the provenance sites (Fig. 2, Table 1). The geographical distribution of AI, AX and AVIII is almost exclusively restricted to the localities where they have been collected, respectively Lipari, Stromboli and Filicudi (Fig. 2, Table 1). A minor amount of samples pertaining to a given unit is found in a different island attesting for an active intra-archipelago exchange network. Their limited number is, however, not statistically relevant to infer reliable exchange fluxes. Overall, collected data support the hypothesis of independent, domestic-workshop, production centres in each insular community. This is coherent with the observation that Italian Bronze-age communities locally produced their own pottery because of a poorly hierarchical society where work division was not yet completely settled.

The existence of a flourishing production in Filicudi is also suggested by the local production of a unique masterpiece: the cup with an incised decoration representing a complex pattern with sea waves, human figures and boats [28].

A controversial case is that of unit AIV. Stromboli and Filicudi AIV subsets completely overlap in all mineral compositional fields (both major and trace elements) and petrography, strongly supporting their provenance from a single production centre, independently from their occurrence in different Aeolian Islands. Samples of this unit have been found at Filicudi (73 % of the total) and Stromboli (27 %). This observation may attest for a strong exchange network between these two islands. To date archaeological evidences suggest the occupation of Filicudi to predate the settlement of Stromboli [8, 28]. This may alternatively suggest that the abundance of Filicudi-made pottery at Stromboli could be evidence for import from Filicudi to Stromboli before the onset of a local manufacturing resulting in production of AX pottery.

Other considerations arise by comparing AIV and AVIII distribution in Filicudi. Their difference only lies in mineral modal distribution and petrographic characters (Fig. 3) while completely overlap in the compositional systematic (Figs. 5–8). This aspect may suggest the adoption of different formulae in a given workshop oriented to obtain different technical properties or esthetical effects linked to the transition from the lower village of the phase CGI (where AIV and AVIII are alternatively employed) to the upper village of the phase CGII (where AIV predominates).

Overall, there is no correspondence between composition and shape/function of the vessels attesting for a general adoption of the same pasteware for the whole local production set (mainly bowls, cups, and jars).

Crossing petrographic data (modal mineralogy and texture) and mineral chemistry is a reliable approach to unravel the provenance of an artefact in a network of different production centres and commercial exchanges. Provenance of a pottery, even a small shard, can be robustly inferred by this approach. On the other hand some potentialities ask for further extend elemental analyses to the whole population of mineral, glass and lava clasts used as temper and compare them with the compositional variability of the volcanic rocks of the Archipelago.
Notes
Acknowledgements
We are grateful to John Williams who inspired and supported this investigation also making accessible his precious thin section collection. We also thank M. Cavalier and U. Spigo for the new samples from the Museo Archeologico Eoliano "L. Bernabò Brea" of Lipari. F. Zaccarini and D. Manzini are thanked for laboratory assistance. Thanks to M. Bortolotti for the professional preparation of thin sections.
Copyright information
© The Author(s) 2013
Open Access This article is distributed under the terms of the Creative Commons Attribution License which permits any use, distribution, and reproduction in any medium, provided the original author(s) and the source are credited.