Abstract
Many species of groupers form transient fish spawning aggregations (FSAs) that are both spatially and temporally predictable, making them highly vulnerable to fishing. Consequently, many known aggregations have disappeared, making the collection of additional baseline data imperative to inform management actions and decisions that have the capacity to protect these important areas in the long term. Using acoustic telemetry and underwater observations, we document the spatio-temporal dynamics of the camouflage grouper Epinephelus polyphekadion at a FSA in Fakarava, French Polynesia. We show that grouper arrival at the aggregation site started 2 weeks before the full moon with a core area density that increased from 0.13 to 1.25 fish m−2 during the observation period. Following reproduction, almost all camouflage groupers left the FSA site within 48 h. Among 30 tagged groupers in 2011 and despite a relatively low receiver coverage in the pass, 30% returned to the FSA the following year confirming patterns of FSA site fidelity of the species found in previous studies at other locations. Our results confirm that the current management procedures protecting the FSA under the UNESCO biosphere reserve are critical in maintaining the functional role of the FSA by ensuring the persistence and sustainability of large and healthy populations of groupers and sharks.
This is a preview of subscription content, log in to check access.
Access options
Buy single article
Instant unlimited access to the full article PDF.
US$ 39.95
Price includes VAT for USA
Subscribe to journal
Immediate online access to all issues from 2019. Subscription will auto renew annually.
US$ 199
This is the net price. Taxes to be calculated in checkout.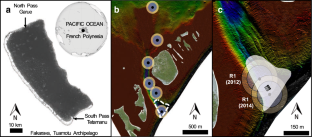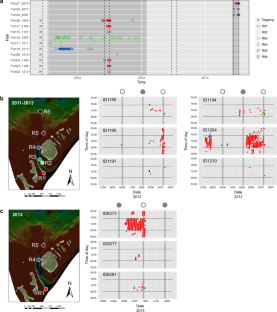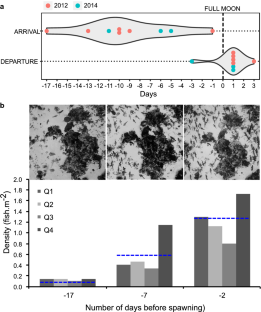 References
Almany GR, Hamilton RJ, Bode M, Matawai M, Potuku T, Saenz-Agudelo P, Planes S, Berumen ML, Rhodes KL, Thorrold SR, Russ GR, Jones GP (2013) Dispersal of grouper larvae drives local resource sharing in a coral reef fishery. Curr Biol 23:626–630

Archer SK, Allgeier JE, Semmens BX, Heppell SA, Pattengill-Semmens CV, Rosemond AD, Bush PG, McCoy CM, Johnson BC, Layman CA (2015) Hot moments in spawning aggregations: implications for ecosystem-scale nutrient cycling. Coral Reefs 34:19–23

Biggs CR, Nemeth RS (2016) Spatial and temporal movement patterns of two snapper species at a multi-species spawning aggregation. Mar Ecol Prog Ser 558:129–142

Bijoux J, Dagorn L, Cowley P, Simier M, Adam P, Robinson J (2013) Spawning aggregation dynamics of brown-marbled grouper and camouflage grouper at a remote Indian Ocean atoll. Endanger Species Res 22:145–157

Claisse JT, Clark TB, Schumacher BD, McTee SA, Bushnell ME, Callan CK, Laidley CW, Parrish JD (2011) Conventional tagging and acoustic telemetry of a small surgeonfish, Zebrasoma flavescens, in a structurally complex coral reef environment. Environ Biol Fishes 91:185–201

Crossin GT, Heupel MR, Holbrook CM, Hussey NE, Lowerre-Barbieri Nguyen VM, Raby GD, Cooke SJ (2017) Acoustic telemetry and fisheries management. Ecol Appl 27:1031–1049

Dahlgren CP, Buch K, Rechisky E, Hixon MA (2016) Multiyear tracking of Nassau grouper spawning migrations. Mar Coast Fish 8:522–535

Domeier ML, Colin PL (1997) Tropical reef fish spawning aggregations: defined and reviewed. Bull Mar Sci 60:698–726

Erisman B, Heyman W, Kobara S, Ezer T, Pittman S, Aburto-Oropeza O, Nemeth RS (2017) Fish spawning aggregations: where well-placed management actions can yield big benefits for fisheries and conservation. Fish Fish 18:128–144

Feeley MW, Morley D, Acosta A, Barbera P, Hunt J, Switzer T, Burton M (2018) Spawning migration movements of Mutton Snapper in Tortugas, Florida: Spatial dynamics within a marine reserve network. Fish Res 204:209–223

Fuiman LA, Connelly TL, Lowerre-Barbieri SK, McClelland JW (2015) Egg boons: central components of marine fatty acid food webs. Ecology 96:362–372

Hamilton RJ, Giningele M, Aswani S, Ecochard JL (2012) Fishing in the dark-local knowledge, night spearfishing and spawning aggregations in the Western Solomon Islands. Biol Conserv 145:246–257

Khan JA, Welsh JQ, Bellwood DR (2016) Using passive acoustic telemetry to infer mortality events in adult herbivorous coral reef fishes. Coral Reefs 35:411–420

Lamy T, Galzin R, Kulbicki M, de Loma TL, Claudet J (2016) Three decades of recurrent declines and recoveries in corals belie ongoing change in fish assemblages. Coral Reefs 35:293–302

Mourier J, Maynard J, Parravicini V, Ballesta L, Clua E, Domeier ML, Planes S (2016) Extreme inverted trophic pyramid of reef sharks supported by spawning groupers. Curr Biol 26:2011–2016

Mourier J, Planes S, Buray N (2013) Trophic interactions at the top of the coral reef food chain. Coral Reefs 32:285–285

Nanninga GB, Spaet JLY (2016) Spawning aggregations of the Humpback red snapper, Lutjanus gibbus, in the Tuamotus, French Polynesia. Mar Biodivers 1–2

Rhodes KL, Sadovy Y (2002) Temporal and spatial trends in spawning aggregations of camouflage grouper, Epinephelus polyphekadion, in Pohnpei, Micronesia. Environ Biol Fishes 63:27–39

Rhodes KL, Taylor BM, McIlwain JL (2011) Detailed demographic analysis of an Epinephelus polyphekadion spawning aggregation and fishery. Mar Ecol Prog Ser 421:183–198

Rhodes KL, McIlwain J, Joseph E, Nemeth RS (2012) Reproductive movement, residency and fisheries vulnerability of brown-marbled grouper, Epinephelus fuscoguttatus (Forsskål, 1775). Coral Reefs 31:443–453

Robinson J, Aumeeruddy R, Jörgensen TL, Öhman MC (2008) Dynamics of camouflage (Epinephelus polyphekadion) and brown marbled grouper (Epinephelus fuscoguttatus) spawning aggregations at a remote reef site, Seychelles. Bull Mar Sci 83:415–431

Sadovy de Mitcheson Y (2016) Mainstreaming fish spawning aggregations into fishery management calls for a precautionary approach. BioScience 66:295–306

Sadovy de Mitcheson Y, Cornish A, Domeier M, Colin PL, Russell M, Lindeman KC (2008) A global baseline for spawning aggregations of reef fishes. Conserv Biol 22:1233–1244

Sadovy de Mitcheson Y, Craig MT, Bertoncini AA, Carpenter KE, Cheung WWL, Choat JH, Cornish AS, Fennessy ST, Ferreira BP, Heemstra PC, Liu M, Myers RF, Pollard DA, Rhodes KL, Rocha LA, Russell BC, Samoilys MA, Sanciangco J (2013) Fishing groupers towards extinction: a global assessment of threats and extinction risks in a billion dollar fishery. Fish Fish 14:119–136

Taylor BM, Mills JS (2013) Movement and spawning migration patterns suggest small marine reserves can offer adequate protection for exploited emperorfishes. Coral Reefs 32:1077–1087

Waldie PA, Almany GR, Sinclair-Taylor TH, Hamilton RJ, Potuku T, Priest MA, Rhodes KL, Robinson J, Cinner JE, Berumen ML (2016) Restricted grouper reproductive migrations support community-based management. R Soc Open Sci 3:150694

Weideli OC, Mourier J, Planes S (2015) A massive surgeonfish aggregation creates a unique opportunity for reef sharks. Coral Reefs 34:835–835
Acknowledgements
This research was supported by the Ministry for Environment, Sustainable Development and Energy in France, Direction de l'Environnement (DIREN) of French Polynesia, IFRECOR France, IFRECOR Polynesia, BlancPain Ocean Commitment, and Arte. We thank T. Vignaud, A. Guilbert, S. Dumont, M. Lefevre, C. Gentil, Y. Gentil, Y. Hubert, R. Rinaldi, J.-M. Belin, S. Girardot, G. Kebaili, F. Blanchard, M. Taquet, M. L. Domeier, and Y. Sadovy for assistance with the fieldwork. We also thank M. L. Domeier for kindly supplying acoustic receivers. We thank S. and A. Richemond from Tetamanu lodging for hosting the research team and for providing technical assistance during the fieldwork. We are also grateful to Jeanine Almany for English reviewing.
Ethics declarations
Conflict of interest
On behalf of all authors, the corresponding author states that there is no conflict of interest.
Additional information
Publisher's Note
Springer Nature remains neutral with regard to jurisdictional claims in published maps and institutional affiliations.
Topic Editor Morgan S. Pratchett
Electronic supplementary material
Below is the link to the electronic supplementary material.
Supplementary material 2 (MP4 6493 kb)
About this article
Cite this article
Mourier, J., Ballesta, L., Clua, E. et al. Visitation patterns of camouflage groupers Epinephelus polyphekadion at a spawning aggregation in Fakarava inferred by acoustic telemetry. Coral Reefs 38, 909–916 (2019). https://doi.org/10.1007/s00338-019-01814-8
Received:

Accepted:

Published:

Issue Date:
Keywords
Serranidae: Epinephelinae

Epinephelus polyphekadion

Reproduction

Conservation

Fakarava

French Polynesia