The extent of coral bleaching, disease and mortality for data-deficient reefs in Eleuthera, The Bahamas after the 2014–2017 global bleaching event
Abstract
Given the rapid change in coral reef assemblages globally, quantification of coral bleaching events, disease prevalence and mortality is critical. Here we discuss observations on the status of coral reefs in Southern Eleuthera, The Bahamas following the 2014–2017 global bleaching event. A total of 37 unique hard coral species were observed from 1232 surveyed corals across five sites between 2016 and 2017. Overall (± SE), live coral cover was 28.2 ± 11.0% with 11.0 ± 1.6% of these corals showing signs of bleaching, and 2.0 ± 0.6% showing signs of disease. Results suggest levels of coral bleaching observed in Eleuthera are currently lower than some regions globally following the bleaching event. There was no significant difference among sites for new and old mortality types, suggesting regional and/or global scale drivers. More local scale studies, especially for data-deficient regions are needed for the development of regional and local baselines to support future management of local reefs and their fisheries.
Keywords
Coral reef 
Caribbean 
Coral bleaching 
Coral mortality 
Coral disease 
Diversity indices 
Introduction
Global declines in tropical and subtropical live coral cover have accelerated over the last three decades in response to climate-induced shifts in environmental parameters across ecosystems, with incidences of bleaching events (Baker et al. 2008; Hughes et al. 2017) and disease epizootics (Bourne et al. 2009) becoming more frequent (Nyström et al. 2000). Global climate change has compounded effects on oceans, with rising sea surface temperature (SST) identified as the primary cause of regional and global bleaching events (Baker et al. 2008; Ainsworth et al. 2016; Hughes et al. 2017). While regional and global bleaching events have been previously documented, the global extent and severity of the most recent event (2014–2017) reached unprecedented levels (Eakin et al. 2017). In bleached coral colonies, endosymbionts are expelled from the coral host due to temperature stress (Lesser 2006), leaving the animal without the ability to gain energy via algal photosynthesis and resulting in high coral mortality or suppressed growth (Pandolfi et al. 2011). Furthermore, coral disease has been observed to correlate positively with bleaching, as bleaching weakens the coral host, and increased SST also stimulates bacterial proliferation, including pathogens leading to further coral mortality (Cróquer and Weil 2009; Muller and van Woesik 2011; Muller et al. 2018). In data-deficient locales, these impacts go largely unnoticed and therefore trends in coral reef health are often not reflected in local management, exacerbating the potential for ecosystem collapse. With coral reef health declining globally and at unprecedented rates (Hughes et al. 2018), monitoring of coral reef health metrics is of high importance. One method used to describe coral reef health is alpha diversity, which here explores the combination of the number of coral species present in the community (richness), how evenly distributed the abundance of those coral species are (evenness), and their phylogenetic relationships. Coral reef ecosystems with high alpha diversity and live coral cover, combined with low presence of mortality, bleaching and disease, are indicative of healthy coral reef ecosystems. Because increased coral reef health correlates positively with the biodiversity of fishes and invertebrates (Komyakova et al. 2018), baseline monitoring, e.g., through diver surveys, is a necessity for providing insights into the current status of local reefs, which influences their fisheries.
Hard coral cover in the Caribbean has been reported to have declined 50–80% in three decades, with remaining reefs dominated by macroalgae and fast-growing coral morphotypes (Gardner et al. 2003; Jackson et al. 2014). While several regions are surveyed annually in The Bahamas through government and non-government programs (Dahlgren et al. 2016), Eleuthera remains a data-deficient region despite its importance in supporting valuable commercial fisheries (FAO 2016). Local monitoring studies are critical for predictive modeling and long-term management to help reefs recover after bleaching events. By coupling standardized coral survey methods with biodiversity metrics, the present study describes the current status of Eleuthera's patch reefs after the recent global bleaching event.
Methods
Sampling location and data collection
Diver surveys were conducted between November 2016 and January 2017 on five patch reefs in Southern Eleuthera, The Bahamas. Five sites (< 10 m) were surveyed, including locations on the Bahama Banks, the Exuma Sound, and Atlantic Ocean sides of Southern Eleuthera (Fig. 
1
). Schooner Cays (SC) are located on the Bahama Bank. Tunnel Rock (TR), Bamboo Point (BP), and Miller's Hole (MH) are located on the edge of the Exuma Sound. Cotton Bay (CB), part of a barrier reef, is the only Atlantic Ocean site surveyed in the study.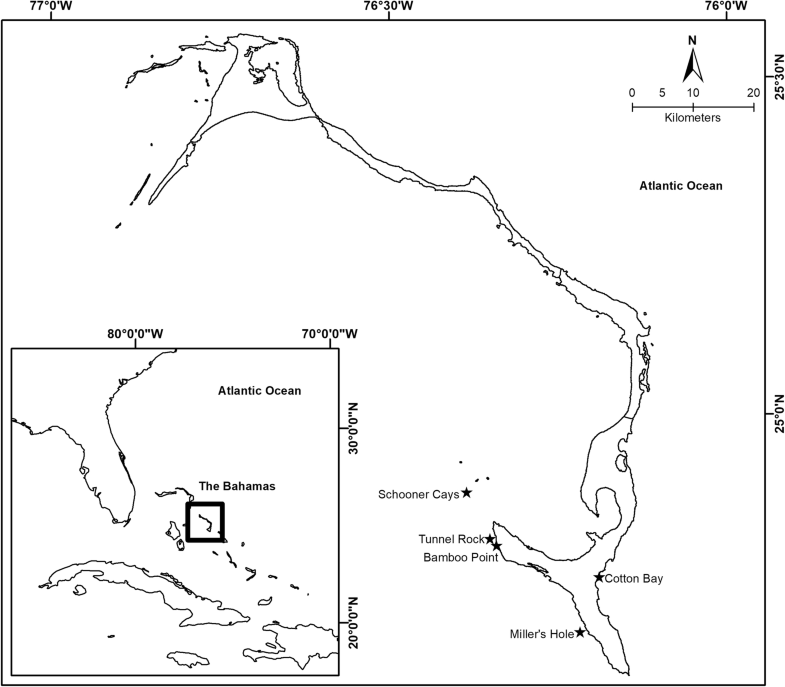 All survey data were collected on SCUBA using modified Atlantic and Gulf Rapid Reef Assessment (AGRRA v5) coral survey protocols (Lang et al. 2010). Weighted 10-m transect belts were used at each location, and a total of 33 transects was conducted. All corals (> 4 cm) within 0.5 m of either side of the transect were recorded and measured. Physical characteristics measured included: size (length and width), mortality ('new' showing coral skeleton and no algal growth; 'transitional' showing newly developed algal growth; and 'old' as developing macroalgal colonies), percent bleaching (showing non-necrotic bleached polyps), disease type and prevalence. As per the AGRRA protocol for coral surveying, colonies < 4 cm in diameter were defined as juvenile/recruits and were not recorded.
Coral health measurements and alpha diversity
To assess the status of coral reef health and extent of bleaching in Southern Eleuthera, summary statistics and alpha diversity for each site were calculated. Live coral cover (%) was calculated by multiplying the maximum width and length of each coral colony (relative coral cover surface area), summing the total for each transect, and dividing it by the total surveyed surface area for each transect. Coral bleaching, disease, and mortality prevalence (%) were calculated by dividing the observed frequency of each metric by the total coral count for each transect. Black band disease, dark spot disease, and white plague disease were the only diseases observed and were combined to calculate disease prevalence. Alpha diversity indices: Pielou's evenness (J′), Shannon's diversity (H′), Simpson's diversity (1 − λ) and Margalef's richness (d) were calculated (Clarke and Gorley 2006) for each site and used as further indicators of coral reef health.
Statistical analyses
Data on live coral cover, bleaching, disease and mortality (new, transitional, old) were compared among survey sites using a one-way ANOVA. If a significant site effect was found, Tukey's post hoc analysis was used to assess differences between pairs of sites. A Pearson's correlation test was used to test for all possible relationships among coral cover, bleaching, disease and mortality (new, transitional, old). All statistical analyses were performed in R 3.2.2 (R Core Team 2016).
Notes
Acknowledgements
The authors thank two anonymous reviewers and the guest editors for their valuable comments on early drafts of the manuscript. The authors also thank Drew Hitchner for his contribution to data collection, both Brittany Munson and Callie Stephenson for boat support, and Logan Zeinert for creating the map of Eleuthera study sites. Lastly, the authors thank the Cape Eleuthera Institute for logistical support and the hard-working boat house staff for the countless hours required to ensure boats remained operable.
Compliance with ethical standards
Conflict of interest
The authors declare that the research was conducted in the absence of any commercial or financial relationships that could be construed as a potential conflict of interest.
Copyright information
© Springer-Verlag GmbH Germany, part of Springer Nature 2019