Australian corals thriving out of water in an extreme environment
Keywords
Turbidity 
Coral Reef 
Remote Sensing 
Aerial Exposure 
System Satellite 
These keywords were added by machine and not by the authors. This process is experimental and the keywords may be updated as the learning algorithm improves.
The Bonaparte Archipelago is a group of islands located off the northwest coast of Australia, in the little-known region of the Kimberley (Fig. 
1
), which has unusual coral reefs. The Archipelago is characterized by small islands with fringing coral reefs of high diversity, strong currents and high turbidity. Mean monthly sea surface temperature (SST) ranges from 26.5°C in August to 31.4°C in December, with the mean monthly SST above 30.0°C for five months of the year (sourced from Remote Sensing Systems satellites sponsored by NASA
http://www.remss.com/
). Tides are extreme, with tidal amplitudes of up to 10 m during spring tides. Extreme spring tides occur twice annually around the autumn and spring equinoxes, when subtidal coral communities are exposed (Fig. 
2
a) for periods of up to one hour, and intertidal coral communities are exposed for periods of up to three hours. Fringing coral reefs extend over several kilometers on some islands, and prolonged aerial exposure is within the tolerance limits of a wide range of corals in this habitat (Fig. 
2
b).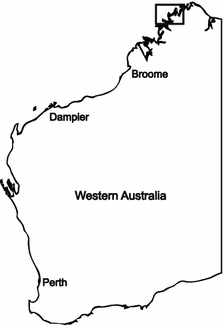 Notes
Acknowledgments
INPEX Browse, Total EP Australia and RPS Environment provided field and logistical support. Barry Wilson provided photograph Fig. 2a.