Abstract
Coral reef banks may form an important component of mesophotic coral ecosystems (MCEs) in the Caribbean, but remain poorly explored relative to shallower reefs and mesophotic habitats on slopes and walls. Consequently, the processes structuring mesophotic coral reef communities are not well understood, particularly the role of disturbance. A large and regionally important mesophotic system, the Hind Bank Marine Conservation District (MCD), St. Thomas, USVI, was systematically surveyed. Data were used to construct a comprehensive benthic habitat map for the MCD, describe the abiotic and biotic components of the benthos among habitats, and investigate patterns of coral health among habitats. Two-thirds of the MCD (23.6 km2) was found to be dense coral reef (Coral Cover = 24.1%) dominated by the Montastraea annularis species complex. Coral reef ecosystems were topographically complex, but could be classified into distinct habitat types, including high coral banks (35.8% of the MCD) and two large novel coral reef habitat types corresponding to an extremely flat basin (18%) and a highly rugose hillock basin (6.5%), containing thousands of coral knolls (2–10 m high). An extreme disease event with undescribed signs of mortality occurred on 47% of coral reefs and reached a high prevalence in affected areas (42.4% ± 6.3 SE, N = 26). The disease was significantly clustered in the basin habitats of the western MCD (global Moran's I = 0.32, P < 0.01). Observations of the spatial pattern suggested that the driver was specific to the basin habitats and may have been caused by a coherent abiotic event.
This is a preview of subscription content, log in to check access.
Access options
Buy single article
Instant unlimited access to the full article PDF.
US$ 39.95
Price includes VAT for USA
Subscribe to journal
Immediate online access to all issues from 2019. Subscription will auto renew annually.
US$ 199
This is the net price. Taxes to be calculated in checkout.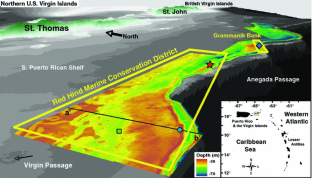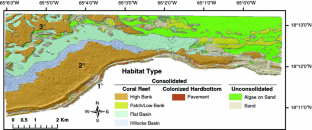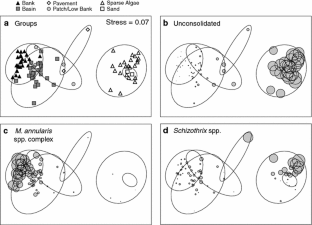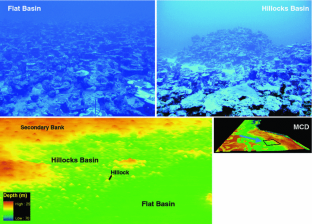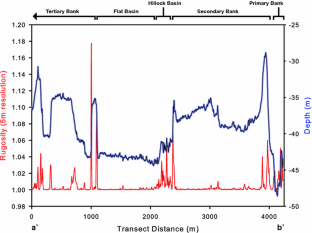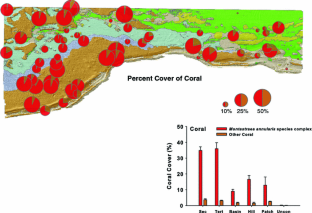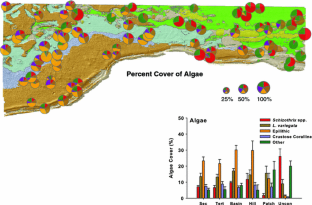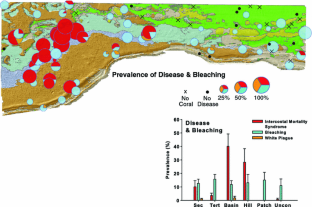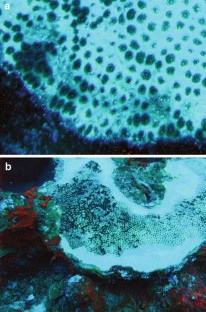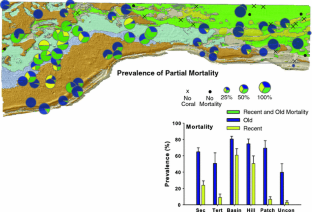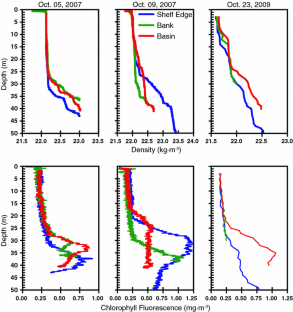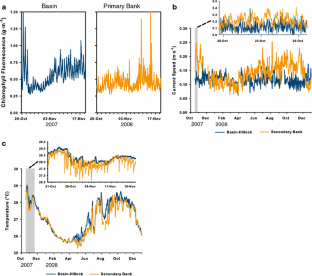 References
Adey WH, Macintyre IG, Stuckenrath R (1977) Relict barrier reef system off St. Croix: its implication with respect to late Cenozoic coral reef development in the Western Atlantic. Proc 3rd Int Coral Reef Symp 2:16-21

Anthony KR, Connolly SR (2004) Environmental limits to growth: physiological niche boundaries of corals along turbidity-light gradients. Oecologia 141:373–384

Armstrong RA (2007) Deep zooxanthellate coral reefs of the Puerto Rico: US Virgin Islands insular platform. Coral Reefs 26:945

Armstrong RA, Singh H, Torres J, Nemeth RS, Can A, Roman C, Eustice R, Riggs L, Garcia-Moliner G (2006) Characterizing the deep insular shelf coral reef habitat of the Hind Bank marine conservation district (US Virgin Islands) using the Seabed autonomous underwater vehicle. Cont Shelf Res 26:194–205

Aronson RB, Edmunds PJ, Precht WF, Swanson DW, Levitan DR (1994) Large-scale, long-term monitoring of Caribbean coral reefs: simple, quick, inexpensive techniques. Atoll Res Bull 421:1–19

Ault JS, Smith SG, Bohnsack JA, Luo J, Harper DE, McClellan DB (2006) Building sustainable fisheries in Florida's coral reef ecosystem: Positive signs in the Dry Tortugas. Bull Mar Sci 78:633–654

Bak RPM, Nieuwland G, Meesters EH (2005) Coral reef crisis in deep and shallow reefs: 30 years of constancy and change in reefs of Curacao and Bonaire. Coral Reefs 24:475–479

Bruckner AW (2007) Field Guide to Western Atlantic Coral Diseases and Other Causes of Coral Mortality. NOAA, UNEP-WCMC, PADI. <http://www.unep-wcmc.org/GIS/coraldis/cd/types.htm>

Calnan JM, Smith TB, Nemeth RS, Kadison E, Blondeau J (2008) Coral disease prevalence and host susceptibility on mid-depth and deep reefs in the US Virgin Islands. Rev Biol Trop 56(suppl. 1):223–224

Carleton JH, Done TJ (1995) Quantitative video sampling of coral reef benthos: Large-scale application. Coral Reefs 14:35–46

Clarke KR, Warwick RM (1994) Change in marine communities: an approach to statistical analyses and interpretation. Plymouth Marine Laboratory, Plymouth pp172

Done T (1992) Constancy and change in some Great Barrier Reef coral communities: 1980–1990. Am Zool 32:655–662

Donner S, Knutson T, Oppenheimer M (2007) Model-based assessment of the role of human-induced climate change in the 2005 Caribbean coral bleaching event. Proc Natl Acad Sci USA 104:5483–5488

Gardner TA, Côté IM, Gill JA, Grant A, Watkinson AR (2003) Long-term region-wide declines in Caribbean corals. Science 301:958–960

Gleason DF (1993) Differential effect of ultraviolet radiation on green and brown morphs of the Caribbean coral Porites astreoides. Limnol Oceanogr 38:1452–1463

Goldberg WM (1983) Cay Sal Bank: a biologically impoverished physically controlled environment. Atoll Res Bull 271

Goreau TF, Goreau NI (1973) The ecology of Jamaican coral reefs. II. Geomorphology, zonation and sedimentary phases. Bull Mar Sci 23:399–464

Grammer GM, Ginsburg RN (1992) Highstand versus lowstand deposition on carbonate platform margins: insights from Quatenary foreslopes in the Bahamas. Mar Geol 103:125–136

Hatcher BG, Larkum AWD (1983) An experimental analysis of factors controlling the standing crop of the epilithic algal community on a coral reef. J Exp Mar Biol Ecol 69:61–84

Herzlieb S, Kadison E, Blondeau J, Nemeth RS (2006) Comparative assessment of coral reef systems located along the insular platform south of St. Thomas, US Virgin Islands and the relative effects of natural and human impacts. Proc 10th Int Coral Reef Symp 4-2:1144-1151

Hickerson EL, Schmahl GP, Robbart M, Precht WF, Caldow C (2008) The state of coral reef ecosystems of the Flower Gardens Banks. In: Waddell JE, Clarke AM (eds) The state of coral reef ecosystems of the United States and Pacific Freely Associated States: 2008. NOAA Center for Coastal Monitoring and Assessment's Biogeography Team, Silver Springs, MD, p 567

Hubbard DK (1989) The shelf-edge reefs of Davis and Cane Bays, Northwestern St. Croix, U.S.V.I. 12th Caribbean Geological Conference Spec. Publication 8:167–180

Hubbard DK, Zankl H, Van Heerden I, Gill IP (2005) Holocene Reef Development Along the Northeastern St. Croix Shelf, Buck Island, U.S. Virgin Islands. J Sediment Res 75:97–113

Hubbard DK, Burke RB, Gill IP, Ramirez WR, Sherman C (2008) Coral-reef geology: Puerto Rico and the US Virgin Islands. In: Riegl BM, Dodge RE (eds) Coral Reefs of the World 1: Coral Reefs of the USA. Springer, New York, p 803

Hughes TP, Baird AH, Bellwood DR, Card M, Connolly SR, Folke C, Grosberg R, Hoegh-Guldberg O, Jackson JBC, Kleypas J, Lough JM, Marshall P, Nyström M, Palumbi SR, Pandolfi JM, Rosen B, Roughgarden J (2003) Climate change, human impacts, and the resilience of coral reefs. Science 301:929–933

James NP, Ginsburg RN (1979) The seaward margin of Belize barrier and atoll reefs. John Wiley & Sons, New York

Jarrett BD, Hine AC, Halley RB, Naar DF, Locker SD, Neumann AC, Twichell D, Hu C, Donahue BT, Jaap WC, Palandro D, Ciembronowicz K (2005) Strange bedfellows–a deep-water hermatypic coral reef superimposed on a drowned barrier island; southern Pulley Ridge, SW Florida platform margin. Mar Geol 214:295–307

Jenness J (2004) Calculating landscape surface area from digital elevation models. Wildl Soc Bull 32:829–839

Kadison E, Nemeth R, Herzlieb S, Blondeau J (2006) Temporal and spatial dynamics of Lutjanus cyanopterus and L. jocu (Pisces: Lutjanidae) spawning aggregations on a multi-species spawning site in the USVI. Rev Biol Trop 54(suppl. 3):69–78

Kramer P, Lang J, Marks K, Garza-Perez R, Ginsburg R (2005) AGRRA Methodology, version 4.0, June 2005. University of Miami, Miami

Kühlmann DHH (1983) Composition and ecology of deep-water coral associations. Helgol Meeresunters 36:183–204

Lang J (1974) Biological zonation at the base of a reef. Am Sci 62:272–281

Leichter JJ, Wing SR, Miller SL, Denny MW (1996) Pulsed delivery of subthermocline water to Conch Reef (Florida Keys) by internal tidal bores. Limnol Oceanogr 41:1490–1501

Leichter JJ, Shellenbarger G, Genovese SJ, Wing SR (1998) Breaking internal waves on a Florida (USA) coral reef: A plankton pump at work? Mar Ecol Prog Ser 166:83–97

Leichter JJ, Stewart HL, Miller SL (2003) Episodic nutrient transport to Florida coral reefs. Limnol Oceanogr 48:1394–1407

Lesser MP, Slattery M, Leichter JJ (2009) Ecology of mesophotic coral reefs. J Exp Mar Biol Ecol 375:1–8

Littler DS, Littler MM (2000) Caribbean reef plants: an identification guide to the reef plants of the Caribbean, Bahamas, Florida. OffShore Graphcs Inc., Washington, D.C., pp 542

Manzello DP, Brandt ME, Smith TB, Lirman D, Hendee JC, Nemeth RS (2007) Hurricanes benefit bleached corals. Proc Natl Acad Sci USA 104:12035–12039

Menge B, Lubchenco J, Bracken M, Chan F, Foley M, Freidenburg T, Gaines S, Hudson G, Krenz C, Leslie H, Menge D, Russel R, Webster M (2003) Coastal oceanography sets the pace of rocky intertidal community dynamics. Proc Natl Acad Sci USA 100:12229–12234

Menza C, Ault J, Beets J, Bohnsack J, Caldow C, Christensen J, Friedlander A, Jeffrey C, Kendall M, Luo J, Monaco M, Smith S, Woody K (2006) A guide to monitoring reef fish in the National Park Service's South Florida/Caribbean Network. NOAA Technical Memorandum. NOS NCCOS 39 166

Menza C, Kendall M, Rogers C, Miller J (2007) A deep reef in deep trouble. Cont Shelf Res 27:2224–2230

Menza C, Kendall M, Hile S (2008) The deeper we go the less we know. Rev Biol Trop 56:11–24

Miller SL, Chiappone M, Swanson DW, Ault JS, Smith SG, Meester GA, Luo J, Franklin EC, Bohnsack JA, Harper DE, McClellan DB (2001) An extensive deep reef terrace on the Tortugas Bank, Florida Keys National Marine Sanctuary. Coral Reefs 20:299–300

Miller J, Waara R, Muller E, Rogers C (2006) Coral bleaching and disease combine to cause extensive mortality on reefs in US Virgin Islands. Coral Reefs 25:418

Nemeth RS (2005) Population characteristics of a recovering US Virgin Islands red hind spawning aggregation following protection. Mar Ecol Prog Ser 286:81–97

Nemeth RS (2009) Dynamics of reef fish and decapod crustacean spawning aggregations: underlying mechanisms, habitat linkages and trophic interactions. In: Nagelkerken I (ed) Ecological interactions among tropical coastal ecosystems. Springer, pp 73–134 (614 pp)

Nemeth RS, Kadison E, Herzlieb S, Blondeau J, Whiteman E (2006) Status of a yellowfin grouper (Mycteroperca venenosa) spawning aggregation in the US Virgin Islands with notes on other species. Proc Gulf Caribb Fish Inst 57:543–558

Nemeth RS, Blondeau J, Herzlieb S, Kadison E (2007) Spatial and temporal patterns of movement and migration at spawning aggregations of red hind, Epinephelus guttatus, in the U.S. Virgin Islands. Environ Biol Fishes 78:365–381

Nemeth RS, Smith TB, Blondeau J, Kadison E, Calnan JM, Gass J (2008) Characterization of deepwater reef communities within the marine conservation district, St. Thomas, U.S. Virgin Islands. Report submitted to the Caribbean Fisheries Management Council. University of the Virgin Islands, St. Thomas 90 pp + appendices

NOAA-NOS (2001) Benthic habitats of puerto rico and the U.S. National Oceanic and Atmospheric Administration, Virgin Islands

Nugues M, Bak R (2008) Long-term dynamics of the brown macroalga Lobophora variegata on deep reefs in Curaçao. Coral Reefs 27:389–393

Prada M (2003) Deliniation of benthic habitats from side scan sonar mosaics from the Marine Conservation District, St. Thomas, Lang Bank and Mutton Snapper closed area in St. Croix, US Virgin Islands. Géophysique GPR International, Inc, Montreal pp 22

Riegl B, Piller WE (2003) Possible refugia for reefs in times of environmental stress. Int J Earth Sci 92:520–531

Rivera J, Prada M, Arsenault J-L, Moody G, Benoit N (2006) Detecting fish aggregations from reef habitats mapped with high resolution side scan sonar imagery. NOAA Professional Paper NMFS 5:88–104

Rivero-Calle S, Armstrong RA, Soto-Santiago FJ (2008) Mesophotic reef communities of Vieques, Puerto Rico. Proc 11th Int Coral Reef Symp Florida, 'in press'

Rogers CS (1993) Hurricanes and coral reefs: The intermediate disturbance hypothesis revisited. Coral Reefs 12:127–137

Rogers CS, Miller J (2001) Coral bleaching, hurricane damage, and benthic cover on coral reefs in St John, US Virgin Islands: A comparison of surveys with the chain transect method and videography. Bull Mar Sci 69:459–470

Rogers C, Miller J, Muller E, Edmunds PJ, Nemeth RS, Beets J, Friedlander AM, Smith T, Boulon R, Jeffery C, Menza C, Caldow C, Idrisi N, Kojis B, Monaco ME, Spitzack T, Gladfelter E, Ogden J, Hillis-Starr Z, Lundgren I, Bane Schill W, Kuffner IB, Richardson L, Devine B, Voss JD (2008) Coral Reefs of the US Virgin Islands. In: Dodge R, Reigl B (eds) Coral reefs of the world. Coral reefs of the United States, vol 1. Springer, New York, pp 803

Rothenberger J, Blondeau J, Cox C, Curtis S, Fisher B, Garrison G, Hillis-Starr Z, Jeffrey C, Kadison E, Lundgren I, Miller W, Muller E, Nemeth RS, Paterson S, Rogers CS, Smith TB, Spitzack A, Taylor M, Toller W, Wright J, Wusinich-Mendez D (2008) The state of coral reef ecosystems of the U.S. Virgin Islands. In: Waddell JE, Clarke AM (eds) The state of coral reef ecosystems of the United States and Pacific Freely Associated States: 2008. NOAA Center for Coastal Monitoring and Assessment's Biogeography Team, Silver Spring, MD, pp 567

Smith TB, Nemeth RS, Blondeau J, Calnan JM, Kadison E, Herzlieb S (2008) Assessing coral reef health across onshore to offshore stress gradients in the US Virgin Islands. Mar Pollut Bull 56:1983–1991

West JM, Salm RV (2003) Resistance and resilience to coral bleaching: Implications for coral reef conservation and management. Conserv Biol 17:956–967

Whelan K, Miller J, Sanchez O, Patterson M (2007) Impact of the 2005 coral bleaching event on Porites porites and Colpophyllia natans at Tektite Reef, US Virgin Islands. Coral Reefs 26:689–693
Acknowledgements
We would like to thank the following people and organizations. The Caribbean Fisheries Management Council and the National Oceanic and Atmospheric Administration, through the USVI Division of Coastal Zone Management (Department of Planning and Natural Resources), provided funding to support fieldwork. The Lana Vento Charitable Trust and the US National Science Foundation, through the VI Experimental Program to Stimulate Competitive Research (VI- EPSCoR), contributed valuable infrastructure support and research equipment. C. Joseph gave excellent administrative support. We are also indebted to the field assistance and wisdom of K. Turbe, R. Garcia, M. Carlos, J. Sabater, and K. Brown. We also kindly thank three anonymous reviewers who provided helpful comments that improved the manuscript. All views expressed are those of the authors and do not necessarily reflect the views of the granting agencies and support personnel. This is contribution #54 from the Center for Marine and Environmental Studies at the University of the Virgin Islands.
Additional information
Communicated by Guest Editor Dr. John Marr
Electronic supplementary material
Below is the link to the electronic supplementary material.
ESM 2. Video of the characteristics and effects of Intercostal Mortality Syndrome. Whole reef and transect views show disease characteristics and the subsequent severe mortality in affected areas. (WMV 11319 kb)
About this article
Cite this article
Smith, T.B., Blondeau, J., Nemeth, R.S. et al. Benthic structure and cryptic mortality in a Caribbean mesophotic coral reef bank system, the Hind Bank Marine Conservation District, U.S. Virgin Islands. Coral Reefs 29, 289–308 (2010). https://doi.org/10.1007/s00338-009-0575-8
Received:

Accepted:

Published:

Issue Date:
Keywords
Mesophotic coral ecosystem

US Virgin Islands

Benthic composition

Coral disease

Bank reef

Refugia