Landscape video mosaic from a mesophotic coral reef
Keywords
Coral Reef 
Coral Genus 
Coral Cover 
Coral Size 
Virgin Island 
These keywords were added by machine and not by the authors. This process is experimental and the keywords may be updated as the learning algorithm improves.
Landscape video mosaics (Lirman et al.
2007
) were acquired at four sites in the Hind Bank Marine Conservation District, US Virgin Islands (Smith et al. In press), one of which is shown here (Fig. 
1
). This mosaic covers 31 m
2
with a resolution of 1.8 mm/pixel. Live stony coral cover, estimated from 400 random points on the mosaic, was high (42.5%). The community was dominated by plating or encrusting forms of colonies of the genus
Montastraea
. Other coral genera identified from the video at lower abundance included
Agaricia
,
Colpophyllia
,
Helioseris
,
Mycetophyllia
, and
Porites
.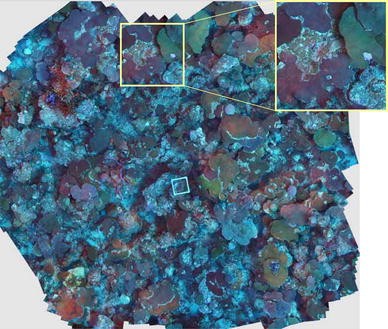 Dive time and diver training were not obstacles to video acquisition for landscape mosaics, which in this case took only 25 min per mosaic by a diver who had only one practice acquisition. Processing each mosaic took about 1 h of analyst time and 24 h of computer time. The ease of data acquisition, ability to use off-the-shelf hardware (i.e., a video camera and possibly lights), and potential suite of indicators (e.g., benthic cover, coral sizes, disease prevalence, and bleaching) that can be obtained from the images suggest that landscape mosaics could be applied widely for surveys of mesophotic coral ecosystems.
Notes
Acknowledgments
Strategic Environmental Defense Research Program (SI-1333 to R.P.R.), Caribbean Fishery Management Council (T.B.S.), and Spanish Ministry of Education and Science (N.G.) provided funding. J. Blondeau, J. Calnan, E. Kadison, and R. Nemeth assisted in the field.
References
Lirman D, Gracias NR, Gintert BE, Gleason ACR, Reid RP, Negahdaripour S, Kramer P (2007) Development and application of a video-mosaic survey technology to document the status of coral reef communities. Environ Monit Assess 125:59–73

CrossRef

PubMed

Google Scholar

Smith TB, Blondeau J, Nemeth RS, Pittman SJ, Calnan JM, Kadison E, Gass J (In press) Benthic structure and cryptic mortality in a Caribbean mesophotic coral reef bank system, the Hind Bank Marine Conservation District, U.S. Virgin Islands. Coral Reefs

Google Scholar