Abstract
Objectives
To evaluate the feasibility and diagnostic accuracy of dual-energy computed tomography (DECT) for the detection of bone marrow edema (BME) in patients suspected for sacroiliitis.
Methods
Patients aged 18–55 years with clinical suspicion for sacroiliitis were enrolled. All patients underwent DECT and 3.0 T MRI of the sacroiliac joints on the same day. Virtual non-calcium (VNCa) images were calculated from DECT images for demonstration of BME. VNCa images were scored by two readers independently using a binary system (0 = normal bone marrow, 1 = BME). Diagnostic performance was assessed with fluid-sensitive MRI as the reference standard. ROIs were placed on VNCa images, and CT numbers were displayed. Cutoff values for BME detection were determined based on ROC curves.
Results
Forty patients (16 men, 24 women, mean age 37.1 years ± 9.6 years) were included. Overall inter-reader agreement for visual image reading of BME on VNCa images was good (κ = 0.70). The sensitivity and specificity of BME detection by DECT were 65.4% and 94.2% on the quadrant level and 81.3% and 91.7% on the patient level. ROC analyses revealed AUCs of 0.90 and 0.87 for CT numbers in the ilium and sacrum, respectively. Cutoff values of − 44.4 HU (for iliac quadrants) and − 40.8 HU (for sacral quadrants) yielded sensitivities of 76.9% and 76.7% and specificities of 91.5% and 87.5%, respectively.
Conclusions
Inflammatory sacroiliac BME can be detected by VNCa images calculated from DECT, with a good interobserver agreement, moderate sensitivity, and high specificity.
Key Points
• Virtual non-calcium images calculated from dual-energy CT can detect sacroiliac bone marrow edema in patients suspected for sacroiliitis.
• Dual-energy CT has a high specificity in bone marrow edema detection.
• Virtual non-calcium images for bone marrow edema in patients with a large amount of red bone marrow or obvious sclerosis near the articular surface should be interpreted with caution.
This is a preview of subscription content, log in to check access.
Access options
Buy single article
Instant access to the full article PDF.
US$ 39.95
Price includes VAT for USA
Subscribe to journal
Immediate online access to all issues from 2019. Subscription will auto renew annually.
US$ 199
This is the net price. Taxes to be calculated in checkout.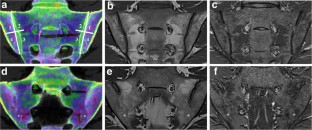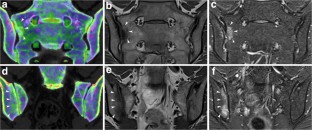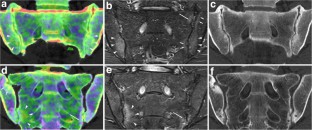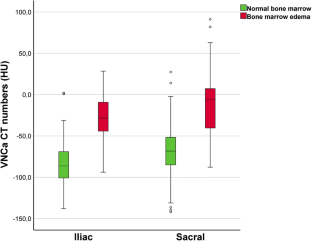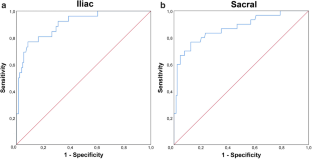 Abbreviations
AUC:

Area under the ROC curve

BME:

Bone marrow edema

CI:

Confidence interval

DECT:

Dual-energy computed tomography

ICC:

Intraclass correlation coefficient

NPV:

Negative predictive value

PPV:

Positive predictive value

ROC:

Receiver operating characteristic

ROI:

Region of interest

SD:

Standard deviation

SpA:

Spondyloarthritis

STIR:

Short tau inversion recovery

TE:

Echo time

TI:

Inversion time

TR:

Repetition time

VNCa:

Virtual non-calcium
References
1.

Dougados M, Baeten D (2011) Spondyloarthritis. Lancet 377:2127–2137

2.

Pialat JB, Di Marco L, Feydy A et al (2016) Sacroiliac joints imaging in axial spondyloarthritis. Diagn Interv Imaging 97:697–708

3.

Jans L, Egund N, Eshed I, Sudol-Szopinska I, Jurik AG (2018) Sacroiliitis in axial spondyloarthritis: assessing morphology and activity. Semin Musculoskelet Radiol 22:180–188

4.

Sieper J, Rudwaleit M, Baraliakos X et al (2009) The Assessment of SpondyloArthritis International Society (ASAS) handbook: a guide to assess spondyloarthritis. Ann Rheum Dis 68:ii1–i44

5.

Fukuda T, Umezawa Y, Asahina A, Nakagawa H, Furuya K, Fukuda K (2017) Dual energy CT iodine map for delineating inflammation of inflammatory arthritis. Eur Radiol 27:5034–5040

6.

Suh CH, Yun SJ, Jin W, Lee SH, Park SY, Ryu CW (2018) Diagnostic performance of dual-energy CT for the detection of bone marrow oedema: a systematic review and meta-analysis. Eur Radiol 28:4182–4194

7.

Pache G, Krauss B, Strohm P et al (2010) Dual-energy CT virtual noncalcium technique: detecting posttraumatic bone marrow lesions—feasibility study. Radiology 256:617–624

8.

Booz C, Nöske J, Lenga L et al (2020) Color-coded virtual non-calcium dual-energy CT for the depiction of bone marrow edema in patients with acute knee trauma: a multireader diagnostic accuracy study. Eur Radiol 30:141–150

9.

Jans L, De Kock I, Herregods N et al (2018) Dual-energy CT: a new imaging modality for bone marrow oedema in rheumatoid arthritis. Ann Rheum Dis 77:958–960

10.

Guggenberger R, Gnannt R, Hodler J et al (2012) Diagnostic performance of dual-energy CT for the detection of traumatic bone marrow lesions in the ankle: comparison with MR imaging. Radiology 264:164–173

11.

Jang SW, Chung BM, Kim WT, Gil JR (2019) Nondisplaced fractures on hip CT: added value of dual-energy CT virtual non-calcium imaging for detection of bone marrow edema using visual and quantitative analyses. Acta Radiol 60:1465–1473

12.

Son W, Park C, Jeong HS, Song YS, Lee IS (2019) Bone marrow edema in non-traumatic hip: high accuracy of dual-energy CT with water-hydroxyapatite decomposition imaging. Eur Radiol. https://doi.org/10.1007/s00330-019-06519-8

13.

Foti G, Beltramello A, Catania M, Rigotti S, Serra G, Carbognin G (2019) Diagnostic accuracy of dual-energy CT and virtual non-calcium techniques to evaluate bone marrow edema in vertebral compression fractures. Radiol Med 124:487–494

14.

Bierry G, Venkatasamy A, Kremer S, Dosch JC, Dietemann JL (2014) Dual-energy CT in vertebral compression fractures: performance of visual and quantitative analysis for bone marrow edema demonstration with comparison to MRI. Skeletal Radiol 43:485–492

15.

Wang CK, Tsai JM, Chuang MT, Wang MT, Huang KY, Lin RM (2013) Bone marrow edema in vertebral compression fractures: detection with dual-energy CT. Radiology 269:525–533

16.

Boy FN, Kayhan A, Karakas HM, Unlu-Ozkan F, Silte D, Aktas İ (2014) The role of multi-parametric MR imaging in the detection of early inflammatory sacroiliitis according to ASAS criteria. Eur J Radiol 83:989–996

17.

Maksymowych WP, Inman RD, Salonen D et al (2005) Spondyloarthritis Research Consortium of Canada magnetic resonance imaging index for assessment of sacroiliac joint inflammation in ankylosing spondylitis. Arthritis Rheum 53:703–709

18.

Landis JR, Koch GG (1977) The measurement of observer agreement for categorical data. Biometrics 33:159–174

19.

Cicchetti DV (1994) Guidelines, criteria, and rules of thumb for evaluating normed and standardized assessment instruments in psychology. Psychol Assess 6:284–290

20.

Wu H, Zhang G, Shi L et al (2019) Axial spondyloarthritis: dual-energy virtual noncalcium CT in the detection of bone marrow edema in the sacroiliac joints. Radiology 290:157–164

21.

Thiryayi WA, Thiryayi SA, Freemont AJ (2008) Histopathological perspective on bone marrow oedema, reactive bone change and haemorrhage. Eur J Radiol 67:62–67

22.

Vande Berg BC, Malghem J, Lecouvet FE, Maldague B (1998) Magnetic resonance imaging of normal bone marrow. Eur Radiol 8:1327–1334

23.

Diekhoff T, Engelhard N, Fuchs M et al (2019) Single-source dual-energy computed tomography for the assessment of bone marrow oedema in vertebral compression fractures: a prospective diagnostic accuracy study. Eur Radiol 29:31–39

24.

Petritsch B, Kosmala A, Weng AM et al (2017) Vertebral compression fractures: third generation dual-energy CT for detection of bone marrow edema at visual and quantitative analyses. Radiology 284:161–168

25.

Gong Y, Zheng N, Chen SB et al (2012) Ten years' experience with needle biopsy in the early diagnosis of sacroiliitis. Arthritis Rheum 64:1399–1406

26.

De Kock I, Hindryckx P, De Vos M, Delrue L, Verstraete K, Jans L (2017) Prevalence of CT features of axial spondyloarthritis in patients with Crohn's disease. Acta Radiol 58:593–599
Funding
This research was partially funded by the Young Researchers Grant awarded by the European Society of Musculoskeletal Radiology.
Ethics declarations
Guarantor
The scientific guarantor of this publication is Lennart Jans.
Conflict of interest
The authors declare that they have no conflict of interest.
Statistics and biometry
No complex statistical methods were necessary for this paper.
Informed consent
Written informed consent was obtained from all subjects (patients) in this study.
Ethical approval
Institutional Review Board approval was obtained.
Study subjects or cohorts overlap
None of the study subjects have been previously reported.
Methodology
• Prospective
• Diagnostic or prognostic study
• Performed at one institution
Additional information
Publisher's note
Springer Nature remains neutral with regard to jurisdictional claims in published maps and institutional affiliations.
About this article
Cite this article
Chen, M., Herregods, N., Jaremko, J.L. et al. Bone marrow edema in sacroiliitis: detection with dual-energy CT. Eur Radiol (2020). https://doi.org/10.1007/s00330-020-06670-7
Received:

Revised:

Accepted:

Published:
Keywords
Radiography, dual-energy scanned projection

Tomography, X-ray computed