Abstract
Objective
To compare computed high b-value diffusion-weighted images (c-DWI) derived from low b-value DWI images and acquired high b-value DWI (a-DWI), in overall image quality and prostate cancer detection rate.
Materials and methods
A total of 124 consecutive men with suspected prostate cancer (PCa) underwent diagnosis prostate MRI on a 3.0 T MR system using a 32-channel phased-array torso coil. Among them, 63 underwent prostate biopsy. MRI protocol included 3DT2w images, high resolution Fov Optimized and Constrained Undistorted Single-Shot (FOCUS™) DWI images with b-values of 100, 400, 800, and 2000 s/mm2 and dynamic contrast enhanced images. C-DWI images (2000 and 2500 s/mm2) were derived from the three lower acquired b-value DWI images using a mono-exponential diffusion decay. C-DWI and acquired high b-value DWI (a-DWI) (2000 s/mm2) were compared for image quality (background signal suppression, anatomic clarity, ghosting, distortion) and tumor conspicuity by four radiologists.
Results
C-DWIs demonstrated higher rating than a-DWIs for overall image quality despite worsened ghosting. In patients with a biopsy, similar detection rate was observed while conspicuity was better with c-DWI (p < 0.001). Non-acquisition of high b-value a-DWI reduced total acquisition time by 220 s per patient.
Conclusion
C-DWI provides a substantial reduction in acquisition time while maintaining comparable prostate cancer detection rate and improving global image quality.
Key Points
• Computed DWI improves global quality of prostate MRI.
• Computed DWI improves analysis of DWI images with decrease acquisition time.
• Computed DWI provides greater background suppression of parenchyma and improves conspicuity of suspicious lesion.
This is a preview of subscription content, log in to check access.
Access options
Buy single article
Instant unlimited access to the full article PDF.
US$ 39.95
Price includes VAT for USA
Subscribe to journal
Immediate online access to all issues from 2019. Subscription will auto renew annually.
US$ 199
This is the net price. Taxes to be calculated in checkout.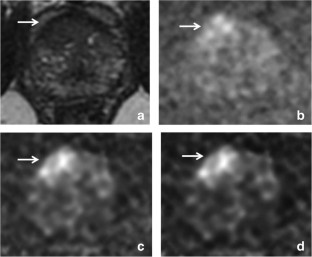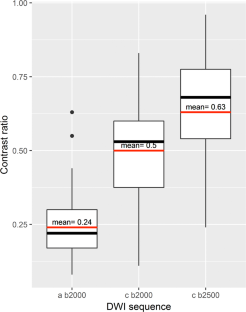 Abbreviations
a-b2000:

Acquired b 2000 images

a-DWI:

Acquired diffusion-weighted images

ADC:

Apparent diffusion coefficient

AUC:

Area under the receiver operating curves

c-b2000:

Computed b 2000 images

c-b2500:

Computed b 2500 images

c-DWI:

Computed diffusion-weighted images

DCE:

Dynamic contrast-enhanced

DRE:

Digital rectal examination

DWI:

Diffusion-weighted imaging

IQR:

Interquartile range

mp-MRI:

Multiparametric magnetic-resonance imaging

NA:

Non-applicable

PB:

Prostate biopsy

PCa:

Prostate cancer

PSA:

Prostate serum antigen

PZ:

Peripheral zone

ROI:

Region of interest

SB:

Standard biopsy

SNR:

Signal-to-noise ratio (SNR)

T2W:

T2-weighted

TB:

Targeted biopsy

TRUS:

Transrectal ultrasonographic

TZ:

Transitional zone

US:

Ultrasound
References
1.

Kasivisvanathan V, Rannikko AS, Borghi M et al (2018) MRI-targeted or standard biopsy for prostate-cancer diagnosis. N Engl J Med 378:1767–1777

2.

Weinreb JC, Barentsz JO, Choyke PL et al (2016) PI-RADS prostate imaging - reporting and data system: 2015, version 2. Eur Urol 69:16–40

3.

Rosenkrantz AB, Hindman N, Lim RP et al (2013) Diffusion-weighted imaging of the prostate: comparison of b1000 and b2000 image sets for index lesion detection. J Magn Reson Imaging 38:694–700

4.

Ohgiya Y, Suyama J, Seino N et al (2012) Diagnostic accuracy of ultra-high-b-value 3.0-T diffusion-weighted MR imaging for detection of prostate cancer. Clin Imaging 36:526–531

5.

Ueno Y, Kitajima K, Sugimura K et al (2013) Ultra-high b-value diffusion-weighted MRI for the detection of prostate cancer with 3-T MRI. J Magn Reson Imaging 38:154–160

6.

Kitajima K, Kaji Y, Kuroda K, Sugimura K (2008) High b-value diffusion-weighted imaging in normal and malignant peripheral zone tissue of the prostate: effect of signal-to-noise ratio. Magn Reson Med Sci 7:93–99

7.

Maas MC, Futterer JJ, Scheenen TW (2013) Quantitative evaluation of computed high B value diffusion-weighted magnetic resonance imaging of the prostate. Invest Radiol 48:779–786

8.

Glaister J, Cameron A, Wong A, Haider MA (2012) Quantitative investigative analysis of tumour separability in the prostate gland using ultra-high b-value computed diffusion imaging. Conf Proc IEEE Eng Med Biol Soc 2012:420–423

9.

Rosenkrantz AB, Chandarana H, Hindman N et al (2013) Computed diffusion-weighted imaging of the prostate at 3 T: impact on image quality and tumour detection. Eur Radiol 23:3170–3177

10.

Ueno Y, Takahashi S, Ohno Y et al (2015) Computed diffusion-weighted MRI for prostate cancer detection: the influence of the combinations of b-values. Br J Radiol 88:20140738

11.

Bittencourt LK, Attenberger UI, Lima D et al (2014) Feasibility study of computed vs measured high b-value (1400 s/mm2) diffusion-weighted MR images of the prostate. World J Radiol 6:374–380

12.

Caglic I, Hansen NL, Slough RA, Patterson AJ, Barrett T (2017) Evaluating the effect of rectal distension on prostate multiparametric MRI image quality. Eur J Radiol 90:174–180

13.

Epstein JI, Egevad L, Amin MB et al (2016) The 2014 International Society of Urological Pathology (ISUP) consensus conference on Gleason grading of prostatic carcinoma: definition of grading patterns and proposal for a new grading system. Am J Surg Pathol 40:244–252

14.

Cornfeld DM, Israel G, McCarthy SM, Weinreb JC (2008) Pelvic imaging using a T1W fat-suppressed three-dimensional dual echo Dixon technique at 3T. J Magn Reson Imaging 28:121–127

15.

Hori M, Kim T, Onishi H et al (2011) Uterine tumors: comparison of 3D versus 2D T2-weighted turbo spin-echo MR imaging at 3.0 T--initial experience. Radiology 258:154–163

16.

Blackledge MD, Leach MO, Collins DJ, Koh DM (2011) Computed diffusion-weighted MR imaging may improve tumor detection. Radiology 261:573–581

17.

Feuerlein S, Davenport MS, Krishnaraj A, Merkle EM, Gupta RT (2015) Computed high b-value diffusion-weighted imaging improves lesion contrast and conspicuity in prostate cancer. Prostate Cancer Prostatic Dis 18:155–160

18.

Ueno Y, Takahashi S, Kitajima K et al (2013) Computed diffusion-weighted imaging using 3-T magnetic resonance imaging for prostate cancer diagnosis. Eur Radiol 23:3509–3516

19.

Czarniecki M, Caglic I, Grist JT et al (2018) Role of PROPELLER-DWI of the prostate in reducing distortion and artefact from total hip replacement metalwork. Eur J Radiol 102:213–219

20.

Padhani AR, Khoo VS, Suckling J, Husband JE, Leach MO, Dearnaley DP (1999) Evaluating the effect of rectal distension and rectal movement on prostate gland position using cine MRI. Int J Radiat Oncol Biol Phys 44:525–533

21.

Vural M, Ertas G, Onay A et al (2014) Conspicuity of peripheral zone prostate cancer on computed diffusion-weighted imaging: comparison of cDWI1500, cDWI2000, and cDWI3000. Biomed Res Int 2014:768291
Ethics declarations
Guarantor
The scientific guarantor of this publication is Dr Raphaele Renard-Penna.
Conflict of interest
The authors of this manuscript declare no relationships with any companies, whose products or services may be related to the subject matter of the article.
Statistics and biometry
One of the authors has significant statistical expertise.
Informed consent
Written informed consent was obtained from all subjects (patients) in this study.
Ethical approval
Institutional Review Board approval was obtained.
Methodology
• retrospective
• performed at one institution
Additional information
Publisher's note
Springer Nature remains neutral with regard to jurisdictional claims in published maps and institutional affiliations.
Electronic supplementary material
About this article
Cite this article
Jendoubi, S., Wagner, M., Montagne, S. et al. MRI for prostate cancer: can computed high b-value DWI replace native acquisitions?. Eur Radiol 29, 5197–5204 (2019). https://doi.org/10.1007/s00330-019-06085-z
Received:

Revised:

Accepted:

Published:

Issue Date:
Keywords
Prostatic neoplasms

Diagnostic imaging

Magnetic resonance imaging

Diffusion-weighted MRI