Abstract
Purpose
To investigate whether tumor texture features derived from pretreatment with 18F-fluorodeoxyglucose positron emission tomography (FDG PET) can predict histological response or event-free survival (EFS) in patients with localized osteosarcoma of the extremities treated by neoadjuvant chemotherapy (NAC).
Methods
We retrospectively reviewed 35 patients with American Joint Committee on Cancer stage II extremity osteosarcoma treated with NAC and surgery. Primary tumor traditional parameters and texture features were measured for all 18F-FDG PET images prior to treatment. After surgery, histological responses to NAC were evaluated on the postsurgical specimens. A receiver operating characteristic curve (ROC) was constructed to evaluate the optimal predictive performance among the various indices. EFS was calculated using the Kaplan-Meier method and prognostic significance was assessed by Cox proportional hazards analysis.
Results
Pathologic examination revealed 16 (45.71%) good responders and 19 (54.29%) poor responders. Although both the texture features (least axis, dependence nonuniformity, run length nonuniformity, and size zone nonuniformity) and metabolic tumor volume (MTV) can predict tumor response of osteosarcoma to NAC, the traditional indicator MTV has the best performance according to ROC curve analysis (area under the curve = 0.918, p < 0.0001). In multivariate analysis, MTV (p < 0.0001), histological response (p = 0.0003), and texture feature of coarsenessNGTDM (neighboring gray tone difference matrix) (p = 0.005) were independently associated with EFS.
Conclusions
Intratumoral heterogeneity of baseline 18F-FDG uptake measured by PET texture analysis can predict tumor response and EFS of patients with extremity osteosarcoma treated by NAC, but the conventional parameter MTV provides better predictive power and is a strong independent prognostic factor.
Key Points
• The baseline 18 F-FDG PET tumor texture features can predict tumor NAC response for patients with osteosarcoma.
• Coarseness NGTDM is a new and independent prognostic factor for osteosarcoma.
• MTV provides the best predictive power and is a strong independent prognostic factor for patients with osteosarcoma.
This is a preview of subscription content, log in to check access.
Access options
Buy single article
Instant unlimited access to the full article PDF.
US$ 39.95
Price includes VAT for USA
Subscribe to journal
Immediate online access to all issues from 2019. Subscription will auto renew annually.
US$ 199
This is the net price. Taxes to be calculated in checkout.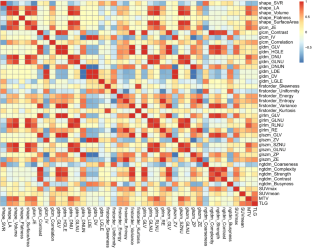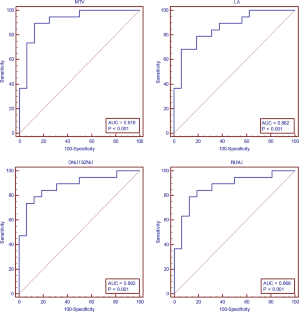 Abbreviations
AJCC:

American Joint Committee on Cancer

AUC:

Receiver operating characteristic (ROC) curves

DNU:

Dependence nonuniformity

DNUN:

Dependence nonuniformity normalized

DV:

Dependence variance

EFS:

Event-free survival

FDG:

18F-fluorodeoxygucose

GLCM:

Gray level co-occurrence matrix

GLDM:

Gray level dependence matrix

GLNU:

Gray level nonuniformity

GLRLM:

Gray level run length matrix

GLSZM:

Gray level size zone matrix

GLV:

Gray level variance

HGLE:

High gray level emphasis

IV:

Inverse variance

JE:

Joint entropy

LA:

Least axis

LDE:

Large dependence emphasis

LGLE:

Low gray level emphasis

MTV:

Metabolic tumor volume

NAC:

Neoadjuvant chemotherapy

NGTDM:

Neighboring gray tone difference matrix

PET-CT:

Positron emission tomography-computed tomography

RE:

Run entropy

RLNU:

Run length nonuniformity

ROC:

Receiver operating characteristic

SUVmax:

Maximum standardized uptake value

SUVmean:

Mean standardized uptake value

SVR:

Surface volume ratio

SZNU:

Size zone nonuniformity

TLG:

Total lesion glycolysis

ZE:

Zone entropy

ZP:

Zone percentage

ZV:

Zone variance
References
1.

ESMO/European Sarcoma Network Working Group (2014) Bone sarcomas: ESMO Clinical Practice Guidelines for diagnosis, treatment and follow-up. Ann Oncol 25(Suppl 3):iii113–iii123

2.

Mirabello L, Troisi RJ, Savage SA (2009) Osteosarcoma incidence and survival rates from 1973 to 2004: data from the Surveillance, Epidemiology, and End Results Program. Cancer 115:1531–1543

3.

Bacci G, Longhi A, Fagioli F, Briccoli A, Versari M, Picci P (2005) Adjuvant and neoadjuvant chemotherapy for osteosarcoma of the extremities: 27 year experience at Rizzoli Institute, Italy. Eur J Cancer 42:2836–2845

4.

Davis AM, Bell RS, Goodwin PJ (1994) Prognostic factors in osteosarcoma: a critical review. J Clin Oncol 12:423–431

5.

Bajpai J, Gamnagatti S, Kumar R et al (2011) Role of MRI in osteosarcoma for evaluation and prediction of chemotherapy response: correlation with histological necrosis. Pediatr Radiol 41:441–450

6.

Byun BH, Kong CB, Park J et al (2013) Initial metabolic tumor volume measured by 18F-FDG PET/CT can predict the outcome of osteosarcoma of the extremities. J Nucl Med 54:1725–1732

7.

Byun BH, Kong CB, Lim I et al (2013) Combination of 18F-FDG PET/CT and diffusion-weighted MR imaging as a predictor of histologic response to neoadjuvant chemotherapy: preliminary results in osteosarcoma. J Nucl Med 54:1053–1059

8.

Byun BH, Kong CB, Lim I et al (2014) Early response monitoring to neoadjuvant chemotherapy in osteosarcoma using sequential 18F-FDG PET/CT and MRI. Eur J Nucl Med Mol Imaging 41:1553–1562

9.

Palmerini E, Colangeli M, Nanni C et al (2017) The role of FDG PET/CT in patients treated with neoadjuvant chemotherapy for localized bone sarcomas. Eur J Nucl Med Mol Imaging 44:215–223

10.

Davis JC, Daw NC, Navid F et al (2018) 18F-FDG uptake during early adjuvant chemotherapy predicts histologic response in pediatric and young adult patients with osteosarcoma. J Nucl Med 59:25–30

11.

Rajendran JG, Schwartz DL, O'Sullivan J et al (2006) Tumor hypoxia imaging with [F-18] fluoromisonidazole positron emission tomography in head and neck cancer. Clin Cancer Res 12:5435–5441

12.

van Velden FH, Cheebsumon P, Yaqub M et al (2011) Evaluation of a cumulative SUV-volume histogram method for parameterizing heterogeneous intratumoural FDG uptake in non-small cell lung cancer PET studies. Eur J Nucl Med Mol Imaging 38:1636–1647

13.

Asselin MC, O'Connor JP, Boellaard R et al (2012) Quantifying heterogeneity in human tumours using MRI and PET. 48:447–455

14.

Cook GJ, O'Brien ME, Siddique M et al (2015) Non-small cell lung cancer treated with erlotinib: heterogeneity of (18)F-FDG uptake at PET-association with treatment response and prognosis. Radiology 276:883–893

15.

Lovinfosse P, Polus M, Van Daele D et al (2018) FDG PET/CT radiomics for predicting the outcome of locally advanced rectalcancer. Eur J Nucl Med Mol Imaging 45:365–375

16.

Beukinga RJ, Hulshoff JB, van Dijk LV et al (2017) Predicting response to neoadjuvant chemoradiotherapy in esophageal cancer with textural features derived from pretreatment (18) F-FDG PET/CT imaging. J Nucl Med 58:723–729

17.

Cheng NM, Fang YH, Lee LY et al (2015) Zone-size nonuniformity of 18F-FDG PET regional textural features predicts survival in patients with oropharyngeal cancer. Eur J Nucl Med Mol Imaging 42:419–428

18.

Rosen G, Marcove RC, Huvos AG et al (1983) Primary osteogenic sarcoma: eight-year experience with adjuvant chemotherapy. J Cancer Res Clin Oncol 106(Suppl):55–67

19.

Yushkevich PA, Piven J, Hazlett HC et al (2006) User-guided 3D active contour segmentation of anatomical structures: significantly improved efficiency and reliability. Neuroimage 31:1116–1128

20.

van Griethuysen JJM, Fedorov A, Parmar C et al (2017) Computational radiomics system to decode the radiographic phenotype. Cancer Res 77:e104–e107

21.

Chicklore S, Goh V, Siddique M, Roy A, Marsden PK, Cook GJ (2013) Quantifying tumour heterogeneity in 18F-FDG PET/CT imaging by texture analysis. Eur J Nucl Med Mol Imaging 40:133–140

22.

Im HJ, Kim TS, Park SY et al (2012) Prediction of tumour necrosis fractions using metabolic and volumetric 18F-FDG PET/CT indices, after one course and at the completion of neoadjuvant chemotherapy, in children and young adults with osteosarcoma. Eur J Nucl Med Mol Imaging 39:39–49

23.

Coffin CM, Lowichik A, Zhou H (2005) Treatment effects in pediatric soft tissue and bone tumors: practical considerations for the pathologist. Am J Clin Pathol 123:75–90 Review

24.

Greene FL (2002) AJCC cancer staging manual, 6th edn. Springer-Verlag, New York, pp 187–192

25.

Carrle D, Bielack SS (2006) Current strategies of chemotherapy in osteosarcoma. Int Orthop 30:445–451

26.

Chen HH, Chiu NT, Su WC, Guo HR, Lee BF (2012) Prognostic value of whole-body total lesion glycolysis at pretreatment FDG PET/CT in non-small cell lung cancer. Radiology 264:559–566

27.

Kong CB, Byun BH, Lim I et al (2013) 18F-FDG PET SUVmax as an indicator of histopathologic response after neoadjuvant chemotherapy in extremity osteosarcoma. Eur J Nucl Med Mol Imaging 40:728–736

28.

Im HJ, Zhang Y, Wu H et al (2018) Prognostic value of metabolic and volumetric parameters of FDG PET in pediatric osteosarcoma: a hypothesis-generating study. Radiology 287:303–312

29.

Bailly C, Leforestier R, Campion L et al (2017) Prognostic value of FDG-PET indices for the assessment of histological response to neoadjuvant chemotherapy and outcome in pediatric patients with Ewing sarcoma and osteosarcoma. PLoS One 12:e0183841

30.

Tixier F, Le Rest CC, Hatt M et al (2011) Intratumor heterogeneity characterized by textural features on baseline 18F-FDG PET images predicts response to concomitant radiochemotherapy in esophageal cancer. J Nucl Med 52:369–378

31.

Yu H, Caldwell C, Mah K et al (2009) Coregistered FDG PET/CT-based textural characterization of head and neck cancer for radiation treatment planning. IEEE Trans Med Imaging 28:374–383

32.

Cook GJ, Yip C, Siddique M et al (2013) Are pretreatment 18F-FDG PET tumor textural features in non-small cell lung cancer associated with response and survival after chemoradiotherapy? J Nucl Med 54:19–26
Ethics declarations
Guarantor
The scientific guarantor of this publication is Professor Quanyong Luo, email: lqyn@sh163.net.
Conflict of interest
The authors of this manuscript declare no relationships with any companies whose products or services may be related to the subject matter of the article.
Statistics and biometry
Hongjun Song and Qian Wang have significant statistical expertise and no complex statistical methods were necessary for this paper.
Informed consent
Written informed consent was waived by the Institutional Review Board.
Ethical approval
Institutional Review Board approval was obtained.
Methodology
• retrospective
• diagnostic or prognostic study
• performed at one institution
Additional information
Publisher's note
Springer Nature remains neutral with regard to jurisdictional claims in published maps and institutional affiliations.
Electronic supplementary material
About this article
Cite this article
Song, H., Jiao, Y., Wei, W. et al. Can pretreatment 18F-FDG PET tumor texture features predict the outcomes of osteosarcoma treated by neoadjuvant chemotherapy?. Eur Radiol 29, 3945–3954 (2019) doi:10.1007/s00330-019-06074-2
Received:

Revised:

Accepted:

Published:

Issue Date:
Keywords
Positron emission tomography-computed tomography

Osteosarcoma

Neoadjuvant therapy

Diagnosis

Prognosis