Abstract
Objectives
We aimed to evaluate the prognostic role of cardiac magnetic resonance imaging (CMR)–based extracellular volume fraction (ECV) in patients with non-ischemic dilated cardiomyopathy (NIDCM) and compare it with late gadolinium enhancement (LGE) parameters.
Methods
This was a single-center, prospective, cohort study of 117 NIDCM patients (71 men, 51.9 ± 16.7 years) who underwent clinical 3.0-T CMR. Myocardial ECV and LGE were quantified on the left ventricular myocardium. The presence of midwall LGE was also detected. Nineteen healthy subjects served as controls. The primary end points were cardiovascular (CV) events defined by CV death, rehospitalization due to heart failure, and heart transplantation.
Results
During the follow-up period (median duration, 11.2 months; 25th–75th percentile, 7.8–21.9 months), the primary end points occurred in 19 patients (16.2%). The ECV (per 3% and 1% increase) was associated with a hazard ratio of 1.80 and 1.22 (95% confidence interval [CI], 1.48–2.20 and 1.14–1.30, respectively; p < 0.001) for the CV events. Multivariable analysis also indicated that ECV was an independent prognostic factor and had a higher prognostic value (Harrell's c statistic, 0.88) than LGE quantification values (0.77) or midwall LGE (0.80).
Conclusion
CMR-based ECV independently predicts the clinical outcome in NIDCM patients.
Key Points
• T1-mapping–based ECV is a useful parameter of risk stratification in NIDCM
• ECV has a higher prognostic value than LGE
• Contrast-enhanced T1-mapping CMR is a feasible and safe method
This is a preview of subscription content, log in to check access.
Access options
Buy single article
Instant unlimited access to the full article PDF.
US$ 39.95
Price includes VAT for USA
Subscribe to journal
Immediate online access to all issues from 2019. Subscription will auto renew annually.
US$ 199
This is the net price. Taxes to be calculated in checkout.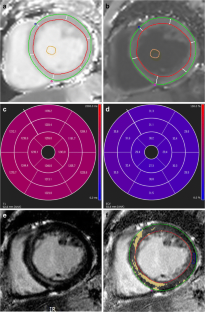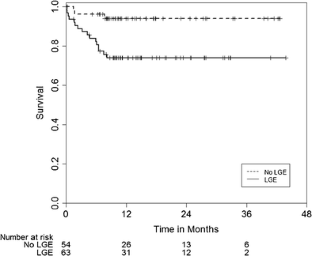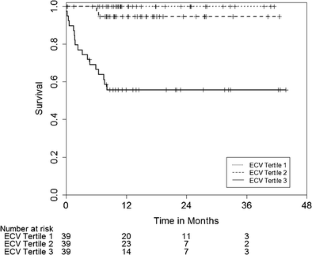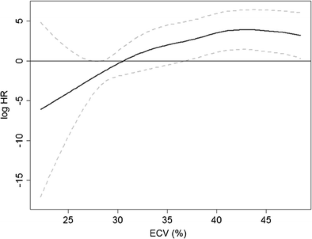 Abbreviations
BMI:

body mass index

BSA:

body surface area

CI:

confidence interval

CMR:

cardiac magnetic resonance imaging

CPET:

cardiopulmonary exercise test

CV:

cardiovascular

ECV:

extracellular volume fraction

EDV:

end-diastolic volume

EF:

ejection fraction

ESV:

end-systolic volume

Hct:

hematocrit

HR:

hazard ratio

ICC:

intra-class correlation coefficient

LGE:

late gadolinium enhancement

LV:

left ventricle

NIDCM:

non-ischemic dilated cardiomyopathy

ROI:

region of interest

RV:

right ventricle

SD:

standard deviation

SV:

stroke volume

VIF:

variance inflation factor
References
1.

Kuruvilla S, Adenaw N, Katwal AB, Lipinski MJ, Kramer CM, Salerno M (2014) Late gadolinium enhancement on cardiac magnetic resonance predicts adverse cardiovascular outcomes in nonischemic cardiomyopathy: a systematic review and meta-analysis. Circ Cardiovasc Imaging 7:250–258

2.

Gulati A, Jabbour A, Ismail TF, Guha K, Khwaja J, Raza S et al (2013) Association of fibrosis with mortality and sudden cardiac death in patients with nonischemic dilated cardiomyopathy. Jama 309:896–908

3.

Lehrke S, Lossnitzer D, Schob M, Steen H, Merten C, Kemmling H et al (2011) Use of cardiovascular magnetic resonance for risk stratification in chronic heart failure: prognostic value of late gadolinium enhancement in patients with non-ischaemic dilated cardiomyopathy. Heart 97:727–732

4.

Assomull RG, Prasad SK, Lyne J, Smith G, Burman ED, Khan M et al (2006) Cardiovascular magnetic resonance, fibrosis, and prognosis in dilated cardiomyopathy. J Am Coll Cardiol 48:1977–1985

5.

McCrohon JA, Moon JC, Prasad SK, McKenna WJ, Lorenz CH, Coats AJ et al (2003) Differentiation of heart failure related to dilated cardiomyopathy and coronary artery disease using gadolinium-enhanced cardiovascular magnetic resonance. Circulation 108:54–59

6.

Mewton N, Liu CY, Croisille P, Bluemke D, Lima JA (2011) Assessment of myocardial fibrosis with cardiovascular magnetic resonance. J Am Coll Cardiol 57:891–903

7.

Ugander M, Oki AJ, Hsu LY, Kellman P, Greiser A, Aletras AH et al (2012) Extracellular volume imaging by magnetic resonance imaging provides insights into overt and sub-clinical myocardial pathology. Eur Heart J 33:1268–1278

8.

Lang RM, Bierig M, Devereux RB, Flachskampf FA, Foster E, Pellikka PA et al (2005) Recommendations for chamber quantification: a report from the American Society of Echocardiography's Guidelines and Standards Committee and the Chamber Quantification Writing Group, developed in conjunction with the European Association of Echocardiography, a branch of the European Society of Cardiology. J Am Soc Echocardiogr 18:1440–1463

9.

Arheden H, Saeed M, Higgins CB, Gao DW, Bremerich J, Wyttenbach R et al (1999) Measurement of the distribution volume of gadopentetate dimeglumine at echo-planar MR imaging to quantify myocardial infarction: comparison with 99mTc-DTPA autoradiography in rats. Radiology 211:698–708

10.

Bondarenko O, Beek AM, Hofman MB, Kuhl HP, Twisk JW, van Dockum WG et al (2005) Standardizing the definition of hyperenhancement in the quantitative assessment of infarct size and myocardial viability using delayed contrast-enhanced CMR. J Cardiovasc Magn Reson 7:481–485

11.

Schelbert EB, Testa SM, Meier CG, Ceyrolles WJ, Levenson JE, Blair AJ et al (2011) Myocardial extravascular extracellular volume fraction measurement by gadolinium cardiovascular magnetic resonance in humans: slow infusion versus bolus. J Cardiovasc Magn Reson 13:16

12.

Wong TC, Piehler K, Meier CG, Testa SM, Klock AM, Aneizi AA et al (2012) Association between extracellular matrix expansion quantified by cardiovascular magnetic resonance and short-term mortality. Circulation 126:1206–1216

13.

Green JJ, Berger JS, Kramer CM, Salerno M (2012) Prognostic value of late gadolinium enhancement in clinical outcomes for hypertrophic cardiomyopathy. JACC Cardiovasc Imaging 5:370–377

14.

Hong YJ, Park CH, Kim YJ, Hur J, Lee HJ, Hong SR et al (2015) Extracellular volume fraction in dilated cardiomyopathy patients without obvious late gadolinium enhancement: comparison with healthy control subjects. Int J Cardiovasc Imaging 31(Suppl 1):115–122

15.

Bulluck H, Maestrini V, Rosmini S, Abdel-Gadir A, Treibel TA, Castelletti S et al (2015) Myocardial T1 mapping. Circ J 79:487–494

16.

Pattanayak P, Bleumke DA (2015) Tissue characterization of the myocardium: state of the art characterization by magnetic resonance and computed tomography imaging. Radiol Clin N Am 53:413–423

17.

Puntmann VO, Voigt T, Chen Z, Mayr M, Karim R, Rhode K et al (2013) Native T1 mapping in differentiation of normal myocardium from diffuse disease in hypertrophic and dilated cardiomyopathy. JACC Cardiovasc Imaging 6:475–484

18.

Miller CA, Naish JH, Bishop P, Coutts G, Clark D, Zhao S et al (2013) Comprehensive validation of cardiovascular magnetic resonance techniques for the assessment of myocardial extracellular volume. Circ Cardiovasc Imaging 6:373–383

19.

Flett AS, Hayward MP, Ashworth MT, Hansen MS, Taylor AM, Elliott PM et al (2010) Equilibrium contrast cardiovascular magnetic resonance for the measurement of diffuse myocardial fibrosis: preliminary validation in humans. Circulation 122:138–144

20.

aus dem Siepen F, Buss SJ, Messroghli D, Andre F, Lossnitzer D, Seitz S et al (2015) T1 mapping in dilated cardiomyopathy with cardiac magnetic resonance: quantification of diffuse myocardial fibrosis and comparison with endomyocardial biopsy. Eur Heart J Cardiovasc Imaging 16:210–216

21.

Barison A, Del Torto A, Chiappino S, Aquaro GD, Todiere G, Vergaro G et al (2015) Prognostic significance of myocardial extracellular volume fraction in nonischaemic dilated cardiomyopathy. J Cardiovasc Med (Hagerstown) 16:681–687

22.

Kammerlander AA, Marzluf BA, Zotter-Tufaro C, Aschauer S, Duca F, Bachmann A et al (2016) T1 Mapping by CMR Imaging: From Histological Validation to Clinical Implication. JACC Cardiovasc Imaging 9:14–23

23.

Puntmann VO, Carr-White G, Jabbour A, Yu CY, Gebker R, Kelle S et al (2016) T1-mapping and outcome in nonischemic cardiomyopathy: all-cause mortality and heart failure. JACC Cardiovasc Imaging 9:40–50

24.

Schelbert EB, Piehler KM, Zareba KM, Moon JC, Ugander M, Messroghli DR, Valeti US, Chang CC, Shroff SG, Diez J, Miller CA, Schmitt M, Kellman P, Butler J, Gheorghiade M, Wong TC (2015) Myocardial Fibrosis Quantified by Extracellular Volume Is Associated With Subsequent Hospitalization for Heart Failure, Death, or Both Across the Spectrum of Ejection Fraction and Heart Failure Stage. J Am Heart Assoc 4
Ethics declarations
Guarantor
The scientific guarantor of this publication is Yoo Jin Hong.
Conflict of interest
The authors of this manuscript declare no relationships with any companies whose products or services may be related to the subject matter of the article.
Funding
This study has received funding by the Basic Science Research Program through the National Research Foundation of Korea (NRF), funded by the Ministry of Science, ICT & Future Planning (NRF-2015R1C1A1A02036645). The funders had no role in study design, data collection and analysis, decision to publish, or preparation of the manuscript. The authors have declared that no competing interests exist.
Statistics and biometry
Kyunghwa Han kindly provided statistical advice for this manuscript.
One of the authors - Kyunghwa Han (PhD, a statistician) has significant statistical expertise.
Ethical approval
Institutional Review Board approval was obtained.
Informed consent
Written informed consent was obtained from all subjects (patients) in this study.
Methodology
• prospective
• prognostic study
• performed at one institution
Electronic supplementary material
Below is the link to the electronic supplementary material.
About this article
Cite this article
Youn, J., Hong, Y.J., Lee, H. et al. Contrast-enhanced T1 mapping-based extracellular volume fraction independently predicts clinical outcome in patients with non-ischemic dilated cardiomyopathy: a prospective cohort study. Eur Radiol 27, 3924–3933 (2017). https://doi.org/10.1007/s00330-017-4817-9
Received:

Revised:

Accepted:

Published:

Issue Date:
Keywords
Extracellular space

Magnetic resonance imaging

Prognosis

Myocardium

T1 mapping