Abstract
Objectives
CT assessment of the entire course of the inferior alveolar artery (IAA) within the mandibular canal.
Methods
After contrast medium injection (180 or 400 mg/ml iodine concentration) into the external carotid arteries of 15 fresh human cadaver heads, the main IAA's position in the canal (cranial, buccal, lingual or caudal) was assessed in dental CT images of partially edentulous mandibles.
Results
The course of the main IAA could be followed at both iodine concentrations. The higher concentration gave the expected better contrast, without creating artefacts, and improved visibility of smaller arteries, such as anastomotic sections, dental branches and the incisive branch. The main IAA changed its position in the canal more often than so far known (mean 4.3 times, SD 1.24, range 2–7), but with a similar bilateral course. A cranial position was most often detected (42 %), followed by lingual (36 %), caudal (16 %) and buccal ( 6 %).
Conclusions
With this non-invasive radiologic method, the entire course of the main IAA in the mandibular canal could be followed simultaneously with other bone structures on both sides of human cadaver mandibles. This methodology allows one to amend existing anatomical and histological data, which are important for surgical interventions near the mandibular canal.
Key points
• Contrast medium injection displayed the inferior alveolar artery's course on mandibular CTs
• An iodine concentration of 400 mg/ml enabled visibility until the chin
• Frequent position changes of the artery in the mandibular canal were detected
• Cranial and lingual positions were most often determined
• Course similarities on the respective left and right sides were found
This is a preview of subscription content, log in to check access.
Access options
Buy single article
Instant unlimited access to the full article PDF.
US$ 39.95
Price includes VAT for USA
Subscribe to journal
Immediate online access to all issues from 2019. Subscription will auto renew annually.
US$ 199
This is the net price. Taxes to be calculated in checkout.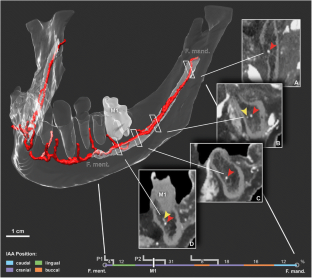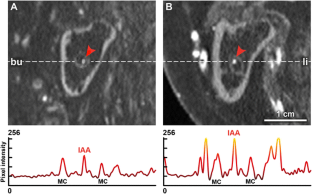 References
1.

Fawcett E (1895) The structure of the inferior maxilla, with special reference to the position of the inferior dental canal. J Anat Physiol 29:355–366

2.

Hillerup S (2008) Iatrogenic injury to the inferior alveolar nerve: etiology, signs and symptoms, and observations on recovery. Int J Oral Maxillofac Surg 37:704–709

3.

Correa LR, Spin-Neto R, Stavropoulos A, Schropp L, da Silveira HE, Wenzel A (2014) Planning of dental implant size with digital panoramic radiographs, CBCT-generated panoramic images, and CBCT cross-sectional images. Clin Oral Implants Res 25:690–695

4.

Kaeppler G (2010) Applications of cone beam computed tomography in dental and oral medicine. Int J Comput Dent 13:203–219

5.

Schropp L, Stavropoulos A, Gotfredsen E, Wenzel A (2011) Comparison of panoramic and conventional cross-sectional tomography for preoperative selection of implant size. Clin Oral Implants Res 22:424–429

6.

Kaeppler G (2000) Conventional cross-sectional tomographic evaluation of mandibular third molars. Quintessence Int 31:49–56

7.

Kim ST, Hu KS, Song WC, Kang MK, Park HD, Kim HJ (2009) Location of the mandibular canal and the topography of its neurovascular structures. J Craniofac Surg 20:936–939

8.

Pogrel MA, Dorfman D, Fallah H (2009) The anatomic structure of the inferior alveolar neurovascular bundle in the third molar region. J Oral Maxillofac Surg 67:2452–2454

9.

Flanagan D (2003) Important arterial supply of the mandible, control of an arterial hemorrhage, and report of a hemorrhagic incident. J Oral Implantol 29:165–173

10.

Bertl K, Heimel P, Reich KM, Schwarze UY, Ulm C (2014) A histomorphometric analysis of the nature of the mandibular canal in the anterior molar region. Clin Oral Investig 18:41–47

11.

Nasel C, Gahleitner A, Breitenseher M et al (1998) Localization of the mandibular neurovascular bundle using dental magnetic resonance imaging. Dentomaxillofac Radiol 27:305–307

12.

Nasel CJ, Pretterklieber M, Gahleitner A, Czerny C, Breitenseher M, Imhof H (1999) Osteometry of the mandible performed using dental MR imaging. AJNR Am J Neuroradiol 20:1221–1227

13.

Kress B, Gottschalk A, Anders L et al (2004) High-resolution dental magnetic resonance imaging of inferior alveolar nerve responses to the extraction of third molars. Eur Radiol 14:1416–1420

14.

Krasny A, Krasny N, Prescher A (2012) Study of inferior dental canal and its contents using high-resolution magnetic resonance imaging. Surg Radiol Anat 34:687–693

15.

Terumitsu M, Seo K, Matsuzawa H, Yamazaki M, Kwee IL, Nakada T (2011) Morphologic evaluation of the inferior alveolar nerve in patients with sensory disorders by high-resolution 3D volume rendering magnetic resonance neurography on a 3.0-T system. Oral Surg Oral Med Oral Pathol Oral Radiol Endod 111:95–102

16.

Gahleitner A, Watzek G, Imhof H (2003) Dental CT: imaging technique, anatomy, and pathologic conditions of the jaws. Eur Radiol 13:366–376

17.

Katsumi Y, Tanaka R, Hayashi T, Koga T, Takagi R, Ohshima H (2013) Variation in arterial supply to the floor of the mouth and assessment of relative hemorrhage risk in implant surgery. Clin Oral Implants Res 24:434–440

18.

Cappabianca S, Scuotto A, Iaselli F et al (2012) Computed tomography and magnetic resonance angiography in the evaluation of aberrant origin of the external carotid artery branches. Surg Radiol Anat 34:393–399

19.

Pogrel MA, Dodson T, Tom W (1987) Arteriographic assessment of patency of the inferior alveolar artery and its relevance to alveolar atrophy. J Oral Maxillofac Surg 45:767–770
Acknowledgements
The authors of this study express special appreciation and thankfulness to the senior author Prof. Hanns Plenk Jr., who significantly contributed to this project, but unexpectedly passed away in June 2014. Further, the authors thank Teresa Keindl and Helge Schöchtner for their support in performing the CT scans. All authors have read and approved the manuscript and have agreed with submission to this journal.
The scientific guarantor of this publication is Prof. Christian Ulm, DMD, MD. The authors of this manuscript declare no relationships with any companies whose products or services may be related to the subject matter of the article. The authors state that this work has not received any funding. Stefan Lettner (Karl Donath Laboratory for Hard Tissue and Biomaterial Research, Division of Oral Surgery, Medical University of Vienna, Austria) kindly provided statistical advice in drawing Fig. 3. Institutional review board approval was obtained. Written informed consent was not required for this study because the human corpses used for contrast medium injection and the CT imaging protocol had been bequeathed to the Anatomical Institute of the Medical University of Vienna for medical–scientific research and training purposes. Methodology: diagnostic and experimental study.
Additional information
Hanns Plenk Jr passed away in June 2014.
Electronic supplementary material
Below is the link to the electronic supplementary material.
An example of the course of both inferior alveolar arteries (IAAs; red) in the mandibular canal, with 2 exiting dental branches on the right side and 3 exiting dental branches on the left side. The movie is rebuilt from the same specimen as Figure 1. (MPG 95685 kb)
About this article
Cite this article
Bertl, K., Hirtler, L., Dobsak, T. et al. Radiological assessment of the inferior alveolar artery course in human corpse mandibles. Eur Radiol 25, 1148–1153 (2015) doi:10.1007/s00330-014-3484-3
Received:

Revised:

Accepted:

Published:

Issue Date:
Keywords
CT angiography

Computed tomography

Inferior alveolar artery

Mandibular canal

Cadaver study