A

bstract
Objectives
This retrospective study assessed whether dual-source high-pitch computed tomographic angiography (CTA) offered advantages over single-source standard-pitch techniques in the evaluation of the ascending aorta.
Methods
Twenty patients who received both thoracic dual-source high-pitch and single-source standard-pitch CTAs within 1 year were assessed. Dual-source CTAs were performed; standard-pitch imaging used dose-modulated 120 kVp/150 mAs and 0.8 pitch compared with high-pitch protocols employing dose-modulated 120 kVp/250 mAs and 2.4 target pitch. Radiation dose was documented. Contrast-to-noise ratios (CNRs) at sinuses of the Valsalva (CNRValsalva) and ascending aorta (CNRAorta) were calculated. Dose/CNR for each technique was compared with paired t-tests. Motion at aortic valve, aortic root and ascending aorta were assessed with four-point scales and Mann–Whitney U tests; longitudinal extension of motion was compared with paired t-tests.
Results
Significantly lower motion scores for high-pitch, compared with standard-pitch acquisitions for aortic annulus, 0 vs. 2, aortic root, 0 vs. 3, and ascending aorta, 0 vs. 2, were achieved. Significantly reduced longitudinal extension of motion at aortic root, 4.9 mm vs 15.7 mm, and ascending aorta, 4.9 mm vs 21.6 mm, was observed. Contrast was not impacted: CNRValsalva, 45.6 vs 46.3, and CNRAorta, 45.3 vs 47.1. CTDIvol was significantly decreased for high-pitch acquisitions, 13.9 mGy vs 15.8 mGy.
Conclusions
Dual-source high-pitch CTAs significantly decreased motion artefact without negatively impacting vascular contrast and radiation dose.
Key Points
• Dual-source high-pitch CTA significantly decreased motion artefact of the ascending aorta.
• Dual-source high-pitch CTA did not negatively impact on vascular contrast.
• Dual-source high-pitch CTA significantly decreased radiation dose compared with single-source standard-pitch acquisitions.
This is a preview of subscription content, log in to check access.
Access options
Buy single article
Instant access to the full article PDF.
US$ 39.95
Price includes VAT for USA
Subscribe to journal
Immediate online access to all issues from 2019. Subscription will auto renew annually.
US$ 199
This is the net price. Taxes to be calculated in checkout.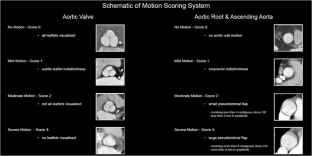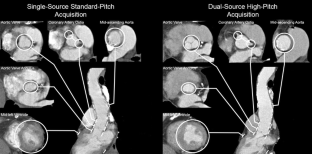 R

eferences
1.

Vilacosta I, Roman JA (2001) Acute aortic syndrome. Heart 85:365–368

2.

Hayter RG, Rhea JT, Small A, Tafazoli FS, Novelline RA (2006) Suspected aortic dissection and other aortic disorders: multi-detector row CT in 373 cases in the emergency setting. Radiology 238:841–852

3.

Sommer T, Fehske W, Holzknecht N et al (1996) Aortic dissection: a comparative study of diagnosis with spiral CT, multiplanar transesophageal echocardiography, and MR imaging. Radiology 199:347–352

4.

Tacelli N, Remy-Jardin M, Flohr T et al (2010) Dual-source chest CT angiography with high temporal resolution and high pitch modes: evaluation of image quality in 140 patients. Eur Radiol 20:1188–1196

5.

Ko SF, Hsieh MJ, Chen MC et al (2005) Effects of heart rate on motion artifacts of the aorta on non-ECG-assisted 0.5-sec thoracic MDCT. AJR Am J Roentgenol 184:1225–1230

6.

Roos JE, Willmann JK, Weishaupt D, Lachat M, Marincek B, Hilfiker PR (2002) Thoracic aorta: motion artifact reduction with retrospective and prospective electrocardiography-assisted multi-detector row CT. Radiology 222:271–277

7.

Grech ED, Ramsdale DR (2003) Acute coronary syndrome: unstable angina and non-ST segment elevation myocardial infarction. BMJ 326:1259–1261

8.

Christensen JD, Meyer LT, Hurwitz LM, Boll DT (2011) Effects of iopamidol-370 versus iodixanol-320 on coronary contrast, branch depiction, and heart rate variability in dual-source coronary MDCT angiography. AJR Am J Roentgenol 197:W445–W451

9.

Schoepf UJ, Becker CR, Ohnesorge BM, Yucel EK (2004) CT of coronary artery disease. Radiology 232:18–37

10.

Hausleiter J, Meyer T, Hermann F et al (2009) Estimated radiation dose associated with cardiac CT angiography. JAMA 301:500–507

11.

Earls JP, Berman EL, Urban BA et al (2008) Prospectively gated transverse coronary CT angiography versus retrospectively gated helical technique: improved image quality and reduced radiation dose. Radiology 246:742–753

12.

Mayo JR, Leipsic JA (2009) Radiation dose in cardiac CT. AJR Am J Roentgenol 192:646–653

13.

Hausleiter J, Meyer TS, Martuscelli E et al (2012) Image quality and radiation exposure with prospectively ECG-triggered axial scanning for coronary CT angiography: the multicenter, multivendor, randomized PROTECTION-III study. JACC Cardiovasc Imaging 5:484–493

14.

Flohr TG, Leng S, Yu L et al (2009) Dual-source spiral CT with pitch up to 3.2 and 75 ms temporal resolution: image reconstruction and assessment of image quality. Med Phys 36:5641–5653

15.

Silverman PM, Kalender WA, Hazle JD (2001) Common terminology for single and multislice helical CT. AJR Am J Roentgenol 176:1135–1136

16.

Bischoff B, Meinel FG, Reiser M, Becker HC (2013) Novel single-source high-pitch protocol for CT angiography of the aorta: comparison to high-pitch dual-source protocol in the context of TAVI planning. Int J Cardiovasc Imaging 29:1159–1165

17.

Petersilka M, Bruder H, Krauss B, Stierstorfer K, Flohr TG (2008) Technical principles of dual source CT. Eur J Radiol 68:362–368

18.

Achenbach S, Marwan M, Schepis T et al (2009) High-pitch spiral acquisition: a new scan mode for coronary CT angiography. J Cardiovasc Comput Tomogr 3:117–121

19.

Sommer WH, Albrecht E, Bamberg F et al (2010) Feasibility and radiation dose of high-pitch acquisition protocols in patients undergoing dual-source cardiac CT. AJR Am J Roentgenol 195:1306–1312

20.

Goetti R, Baumuller S, Feuchtner G et al (2010) High-pitch dual-source CT angiography of the thoracic and abdominal aorta: is simultaneous coronary artery assessment possible? AJR Am J Roentgenol 194:938–944

21.

Achenbach S, Manolopoulos M, Schuhback A et al (2012) Influence of heart rate and phase of the cardiac cycle on the occurrence of motion artifact in dual-source CT angiography of the coronary arteries. J Cardiovasc Comput Tomogr 6:91–98

22.

Bolen MA, Popovic ZB, Tandon N, Flamm SD, Schoenhagen P, Halliburton SS (2012) Image quality, contrast enhancement, and radiation dose of ECG-triggered high-pitch CT versus non-ECG-triggered standard-pitch CT of the thoracoabdominal aorta. AJR Am J Roentgenol 198:931–938

23.

Blanke P, Bulla S, Baumann T et al (2010) Thoracic aorta: prospective electrocardiographically triggered CT angiography with dual-source CT—feasibility, image quality, and dose reduction. Radiology 255:207–217
Acknowledgments
The scientific guarantor of this publication is Daniel T Boll, M.D., tenured senior author of this manuscript. The authors of this manuscript declare no relationships with any companies, whose products or services may be related to the subject matter of the article. The authors state that this work has not received any funding. One of the authors has significant statistical expertise—Daniel T Boll, M.D. No complex statistical methods were necessary for this paper. Institutional Review Board approval was obtained. Written informed consent was waived by the Institutional Review Board due to the retrospective nature of this study. No study subjects or cohorts have been previously reported. Methodology: retrospective case–control study performed at one institution.
About this article
Cite this article
Christensen, J.D., Seaman, D.M., Lungren, M.P. et al. Assessment of vascular contrast and wall motion of the aortic root and ascending aorta on MDCT angiography: dual-source high-pitch vs non-gated single-source acquisition schemes. Eur Radiol 24, 990–997 (2014). https://doi.org/10.1007/s00330-014-3120-2
Received:

Revised:

Accepted:

Published:

Issue Date:
Keywords
Dual-source CT

Aorta

CT angiography

High-pitch acquisition

Motion artefact