Abstract
Advanced Endovascular Aortic Repair (EVAR) refers to devices and techniques used for endografting of aortic aneurysms that are considered anatomically unsuitable for conventional EVAR. Customised devices and modified use of conventional EVAR devices now overcome challenging landing zones. Fenestrated and branch devices, together with chimney and periscope techniques can be used to overcome proximal landing zone challenges, while iliac branch grafts and sandwich techniques have been used to address challenging distal iliac landing issues. Due to the novelty of these techniques, life-long surveillance is crucial, with CT Aortography (CTA) being the key investigation. Currently, the body of literature surrounding the imaging aspects of these techniques is scarce. The purpose of this imaging review is to illustrate the appearance of advanced EVAR in both routine surveillance and complicated cases, using conventional and novel CTA techniques.
Key Points
• This review updates readers about advanced endovascular repair of abdominal aortic aneurysms
• It illustrates the common CT appearances following advanced EVAR
• Novel CTA techniques in troubleshooting problems unique to advanced EVAR are described
This is a preview of subscription content, log in to check access.
Access options
Buy single article
Instant unlimited access to the full article PDF.
US$ 39.95
Price includes VAT for USA
Subscribe to journal
Immediate online access to all issues from 2019. Subscription will auto renew annually.
US$ 199
This is the net price. Taxes to be calculated in checkout.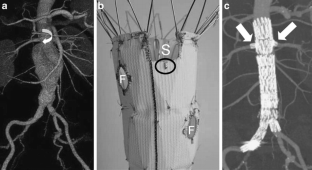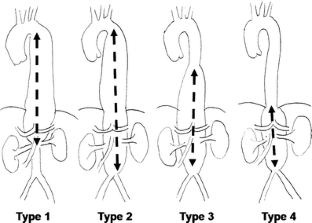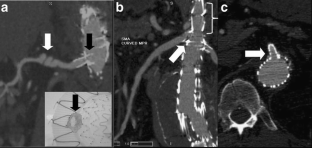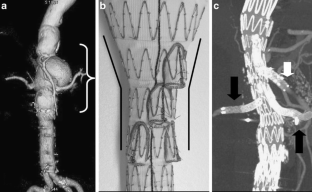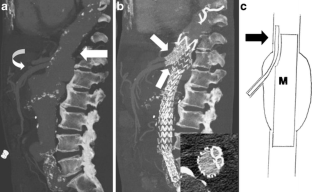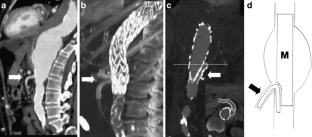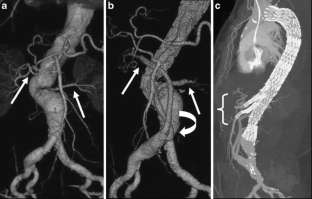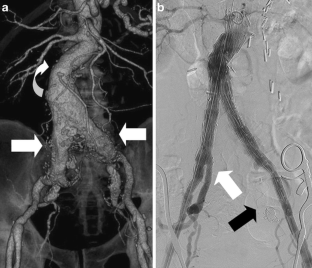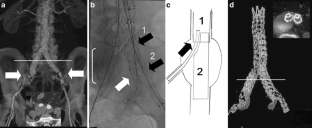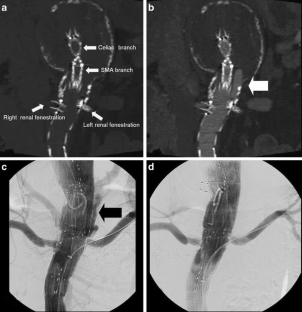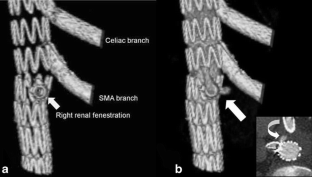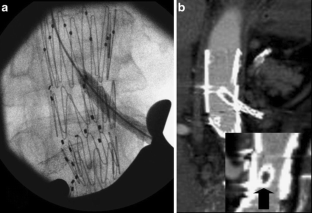 References
1.

Chahwan S, Comerota AJ, Pigott JP, Scheuermann BW, Burrow J, Wojnarowski D (2007) Elective treatment of abdominal aortic aneurysm with endovascular or open repair: the first decade. J Vasc Surg 45:258–262, discussion 262

2.

EVAR trial participants (2005) Endovascular aneurysm repair versus open repair in patients with abdominal aortic aneurysm (EVAR trial 1): randomised controlled trial. Lancet 365:2179–2186

3.

Prinssen M, Verhoeven EL, Buth J, Cuypers PW, van Sambeek MR, Balm R, Buskens E, Grobbee DE, Blankensteijn JD, Dutch Randomized Endovascular Aneurysm Management (DREAM) Trial Group (2004) A randomized trial comparing conventional and endovascular repair of abdominal aortic aneurysms. N Engl J Med 351:1607–1618

4.

United Kingdom EVAR Trial Investigators, Greenhalgh RM, Brown LC, Powell JT, Thompson SG, Epstein D, Sculpher MJ (2010) Endovascular versus open repair of abdominal aortic aneurysm. N Engl J Med 362:1863–1871

5.

Lovegrove RE, Javid M, Magee TR, Galland RB (2008) A meta-analysis of 21,178 patients undergoing open or endovascular repair of abdominal aortic aneurysm. Br J Surg 95:677–684

6.

Greenberg R, Fairman R, Srivastava S, Criado F, Green R (2000) Endovascular grafting in patients with short proximal necks: an analysis of short-term results. Cardiovasc Surg 8:350–354

7.

Green RM (2002) Patient selection for endovascular abdominal aortic aneurysm repair. J Am Coll Surg 194:S67–S73

8.

Verhoeven EL, Tielliu IF, Bos WT, Zeebregts CJ (2009) Present and future of branched stent grafts in thoraco-abdominal aortic aneurysm repair: a single-centre experience. Eur J Vasc Endovasc Surg 38:155–161

9.

Ziegler P, Avgerinos ED, Umscheid T, Perdikides T, Stelter WJ (2007) Fenestrated endografting for aortic aneurysm repair: a 7-year experience. J Endovasc Ther 14:609–618

10.

Mohabbat W, Greenberg RK, Mastracci TM, Cury M, Morales JP, Hernandez AV (2009) Revised duplex criteria and outcomes for renal stents and stent grafts following endovascular repair of juxtarenal and thoracoabdominal aneurysms. J Vasc Surg 49:827–837

11.

Bicknell CD, Cheshire NJ, Riga CV, Bourke P, Wolfe JH, Gibbs RG, Jenkins MP, Hamady M (2009) Treatment of complex aneurysmal disease with fenestrated and branched stent grafts. Eur J Vasc Endovasc Surg 37:175–181

12.

Kristmundsson T, Sonesson B, Malina M, Björses K, Dias N, Resch T (2009) Fenestrated endovascular repair for juxtarenal aortic pathology. J Vasc Surg 49:568–574

13.

Ohrlander T, Sonesson B, Ivancev K, Resch T, Dias N, Malina M (2008) The chimney graft: a technique for preserving or rescuing aortic branch vessels in stent-graft sealing zones. J Endovasc Ther 15:427–432

14.

Donas KP, Torsello G, Austermann M, Schwindt A, Troisi N, Pitoulias GA (2010) Use of abdominal chimney grafts is feasible and safe: short-term results. J Endovasc Ther 17:589–593

15.

Rancic Z, Pfammatter T, Lachat M, Hechelhammer L, Frauenfelder T, Veith FJ, Criado FJ, Mayer D (2010) Periscope graft to extend distal landing zone in ruptured thoracoabdominal aneurysms with short distal necks. J Vasc Surg 51:1293–1296, Epub 2010 Mar 29

16.

Hobo R, Sybrandy JE, Harris PL, Buth J, EUROSTAR Collaborators (2008) Endovascular repair of abdominal aortic aneurysms with concomitant iliac artery aneurysm: outcome analysis of the EUROSTAR experience. J Endovasc Ther 15:12–22

17.

Heyer K, Tang GL, Resnick SA, Eskandari MK (2010) Hybrid thoracoabdominal aortic aneurysm repair: visceral revascularization combined with endovascular abdominal and thoracic aneurysm repair. J Vasc Interv Radiol 21:735–737

18.

Pua U, Tan K, Rubin BB, Sniderman KW, Rajan DK, Oreopoulos GD, Lindsey TF (2011) Iliac branch graft in the treatment of complex aortoiliac aneurysms: early results from a North American institution. J Vasc Interv Radiol 22:542–9

19.

Lobato AC (2011) Sandwich technique for aortoiliac aneurysms extending to the internal iliac artery or isolated common/internal iliac artery aneurysms: a new endovascular approach to preserve pelvic circulation. J Endovasc Ther 18:106–11

20.

Kolvenbach RR, Yoshida R, Pinter L, Zhu Y, Lin F (2011) Urgent endovascular treatment of thoraco-abdominal aneurysms using a sandwich technique and chimney grafts–a technical description. Eur J Vasc Endovasc Surg 41:54–60

21.

Stavropoulos SW, Charagundla SR (2007) Imaging techniques for detection and management of endoleaks after endovascular aortic aneurysm repair. Radiology 243:641–655

22.

Veith FJ, Baum RA, Ohki T et al (2002) Nature and significance of endoleaks and endotension: summary of opinions expressed at an international conference. J Vasc Surg 35:1029–35

23.

Bent CL, Jaskolka JD, Lindsay TF, Tan K (2010) The use of dynamic volumetric CT angiography (DV-CTA) for the characterization of endoleaks following fenestrated endovascular aortic aneurysm repair (f-EVAR). J Vasc Surg 51:203–206

24.

Sun Z, Mwipatayi BP, Allen YB, Hartley DE, Lawrence-Brown MM (2009) Computed tomography virtual intravascular endoscopy in the evaluation of fenestrated stent graft repair of abdominal aortic aneurysms. ANZ J Surg 79:836–840
Electronic supplementary material
Below is the link to the electronic supplementary material.
About this article
Cite this article
Pua, U., Tan, K. Radiology of advanced EVAR techniques in complex abdominal aortic aneurysms. Eur Radiol 22, 387–397 (2012) doi:10.1007/s00330-011-2261-9
Received:

Revised:

Accepted:

Published:

Issue Date:
Keywords
Aortic aneurysm

Endograft

Fenestrated

Branch

Chimney