Abstract
Objectives
The current reference standard for diagnosing vesicoureteric reflux is the X-ray-based Micturating CystoUrethroGram (MCUG). The aim of this study was to evaluate the feasibility of performing interactive Magnetic Resonance voiding cysto-urethrography (iMRVC) in un-sedated infants.
Methods
Twelve infants underwent conventional single-cycle MCUG followed by iMRVC. In iMRVC, patients were examined using an in-house developed fluoroscopic pulse sequence, which allows on-the-fly control of image contrast and geometry. A single acquisition was performed during bladder filling, during and after micturition, with interactive control over imaging parameters. Images were assessed for diagnostic quality and presence of VUR.
Results
Every case of reflux identified with MCUG was identified on iMRVC (100% sensitivity). Over 24 renal units, there was 88% concordance (21/24) according to the presence of reflux between the two methods. There were three "false positives" detected by MRI, giving a specificity of 83.3%, PPV of 66.7% and NPV of 100%.
Conclusion
iMRVC is a feasible method for evaluating the renal tract in infants without the need for radiation or sedation. A formal evaluation is required to establish its diagnostic potential.
This is a preview of subscription content, log in to check access.
Access options
Buy single article
Instant unlimited access to the full article PDF.
US$ 39.95
Price includes VAT for USA
Subscribe to journal
Immediate online access to all issues from 2019. Subscription will auto renew annually.
US$ 199
This is the net price. Taxes to be calculated in checkout.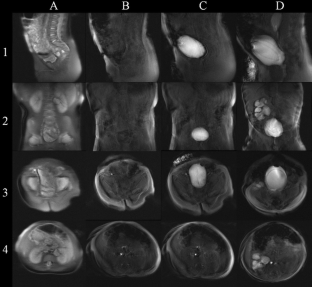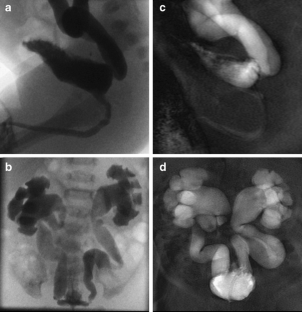 Abbreviations
CEUS:

Contrast-enhanced ultrasound

DAP:

Dose-area product

DRC:

Direct radionuclide cystography

ED:

Effective dose

FIESTA:

Fast imaging employing steady state acquisition

FSPGR:

Fast radio-frequency spoiled gradient echo

iMRVC:

Interactive magnetic resonance voiding cystourethrography

IRC:

Indirect radionuclide cystography

IV:

Intravenous

MCUG:

Micturating cystourethrogram

MR:

Magnetic resonance

NPV:

Negative predictive value

PPV:

Positive predictive value

RTGS:

Real-time gradient and spin echo

SSFSE:

Single shot fast spin echo

UTI:

Urinary tract infection

VUR:

Vesicoureteric reflux
References
1.

Gusmano R, Perfumo F (1993) Worldwide demographic aspects of chronic renal failure in children. Kidney Int Suppl 43:S31–S35

2.

Cleper R, Krause I, Eisenstein B, Davidovist M (2004) Prevalence of vesicoureteral reflux in neonatal urinary tract infection. Clin Pediatri (Phila) 43:619–625

3.

Sergeant MA (2000) What is the normal prevalence of vesicoureteral reflux? Pediatr Radiol 30:587–593

4.

Barai S, Bandopadhayaya GP, Bhowmik D et al (2004) Prevalence of vesicoureteral reflux in patients with incidentally diagnosed adult hypertension. Urology 63:1045–1048

5.

Lim R (2009) Vesicoureteral reflux and urinary tract infection: evolving practices and current controversies in pediatric imaging. Am J Roentgenol 192:1197–1208

6.

Agrawalla S, Pearce R, Goodman TR (2004) How to perform the perfect voiding cystourethrogram. Pediatr Radiol 34:114–119

7.

Jequier S, Jequier J (1989) Reliability of voiding cystourethrography to detect reflux. Am J Roentgenol 153:807–810

8.

Kogan SJ, Sigler L, Levitt SB, Reda EF, Weiss R, Greifer I (1986) Elusive vesicoureteral reflux in children with normal contrast cystograms. J Urol 136:325–328

9.

Papadopoulou F, Efremidis SC, Oiconomou A et al (2002) Cyclic voiding cystourethrography: is vesicoureteral reflux missed with standard voiding cystourethrography? Eur Radiol 12:666–670

10.

Perisinakis K, Raissaki M, Damilakis J, Stratakis J, Neratzoulakis J, Gourtsoyiannis N (2006) Fluoroscopy-controlled voiding cystourethrography in infants and children: are the radiation risks trivial? Eur Radiol 16:846–851

11.

Nolte-Ernsting C, Glowinski A, Schaeffter T, Adam G, Günther RW (2003) Gadolinium-enhanced magnetic resonance fluoroscopy used as micturating cystourethrography: experiences in adult male patients. Invest Radiol 38:617–624

12.

Lee SK, Chang Y, Park NH, Kim YH, Woo S (2005) Magnetic resonance voiding cystography in the diagnosis of vesicoureteric reflux: comparative study with voiding cystourethrography. J Magn Reson Imaging 21:406–414

13.

Kocaoglu M, Bulakbasi N, Ilica AT, Gok F, Tayfun C, Somuncu I (2006) Intravenous contrast-enhanced dynamic MR urography: diagnosis of vesico-ureteric reflux during bladder filling with time-signal intensity curves. J Magn Reson Imaging 24:349–355

14.

Takazakura R, Johnin K, Furukawa A et al (2007) Magnetic resonance voiding cystourethrography for vesicoureteral reflux. J Magn Reson Imaging 25:170–174

15.

Vasanawala SS, Kennedy WA, Ganguly A et al (2009) MR voiding cystography for evaluation of vesicoureteral reflux. Am J Roentgenol 192:W206–W211

16.

Graves MJ, Wong P, Black RT, Lomas DJ (2007) MR fluoroscopy employing interactive pulse sequence switching. Proc ISMRM 15:1654

17.

Makki M, Graves MJ, Lomas DJ (2002) Interactive body MR fluoroscopy using SSFSE RARE with multiparameter control. J MRI 16:85–93

18.

Hart D, Jones DG, Wall BF (2006) Co-efficients for Estimating effective doses from pediatric X-ray examinations. National Radiological Protection Board, Chilton, NRPB-R279

19.

Lebowitz RL, Olbing H, Parkkulainen K et al (1985) International system of radiographic grading of vesicoureteral reflux. Pediatr Radiol 15:105–109

20.

Urinary tract infection in children; diagnosis treatment and long term management. National Collaborating Centre for Women's and Children's Health Clinical guideline CG24, RCOG Press http://www.nice.org.uk/nicemedia/pdf/CG54NICEguideline.pdf. Published 2007, accessed on 12 October 2010.

21.

Brenner DJ, Elliston CD, Hall EJ, Berdon WE (2001) Estimated risks of radiation-induced fatal cancer from pediatric CT. Am J Radiol 176:289–296

22.

Kleinerman R (2006) Cancer risks following diagnostic and therapeutic radiation exposure in children. Pediatr Radiol 36:121–125

23.

Lee RS, Diamond DA, Chow JS (2006) Applying the ALARA concept to the evaluation of vesicoureteric reflux. Pediatr Radiol 36:185–191

24.

Sükan A, Bayazit AK, Kibar M et al (2003) Comparison of direct radionuclide cystography and voiding direct cystography in the detection of vesicoureteral reflux. Ann Nucl Med 17:549–553

25.

Berrocal T, Gayá F, Arjonilla A, Lonergan GJ (2001) Vesicoureteral reflux: diagnosis and grading with echo-enhanced cystosonography versus voiding cystourethrography. Radiology 221:359–365

26.

Berrocal T, Gayá F, Arjonilla A (2005) Vesicoureteral reflux: can the urethra be adequately assessed by using contrast-enhanced voiding US of the bladder? Radiology 234:235–241

27.

Papadopoulou F, Anthopoulou A, Siomou E, Efremidis S, Tsamboulas C, Darge K (2009) Harmonic voiding urosonography with a second-generation contrast agent for the diagnosis of vesicoureteral reflux. Pediatr Radiol 39:239–244

28.

Darge K, Riedmiller H (2004) Current status of vesicoureteral reflux diagnosis. World J Urol 22:88–95

29.

Papadopoulou F, Tsampoulas C, Siomou E, Tzovara J, Siamopoulou A, Efremidis SC (2006) Cyclic contrast-enhanced harmonic voiding urosonography for the evaluation of reflux. Can we keep the cost of the examination low? Eur Radiol 16:2521–2526

30.

Riccabona M, Avni FE, Blickman JG, Dacher JN, Darge K, Lobo ML, Willi U (2008) Imaging recommendations in paediatric uroradiology: minutes of the ESPR workgroup session on urinary tract infection, fetal hydronephrosis, urinary tract ultrasonography and voiding cystourethrography, Barcelona, Spain, June 2007. Pediatr Radiol 38:138–145

31.

Graves MJ, Black RT, Lomas DJ (2009) Constrained surface controllers for three-dimensional image data reformatting. Radiology 252:218–224
Acknowledgements
OJA is funded by a Medical Research Council/Royal College of Radiologists Clinical Research Training Fellowship. This paper presents independent research commissioned by the National Institute for Health Research (NIHR) under its Research for Patient Benefit (RfPB) Programme (Grant Reference Number PB-PG-0807-14149). The views expressed in this publication are those of the author(s) and not necessarily those of the NHS, the National Institute for Health Research or the Department of Health. The project was supported by the Addenbrookes Charitable Trust and the NIHR comprehensive Biomedical Research Centre award to Cambridge University Hospitals NHS Foundation Trust in partnership with the University of Cambridge.
Electronic supplementary materials
Movies 1, 2 and 4 were created by capturing the MRI screen display at 5 frames-per-second and have been compressed to play back at approximately 5x normal speed. Movie 3 was created from individual DICOM images rather than acquired directly from the MRI screen display.
Using interactive MR to bookmark image locations. The movie demonstrates using the interactive interface to specify anatomical locations for bookmarking using short TEeff SSFSE images in a 1-month-old boy (see also e.g. Fig. 2a): 4 specific bookmarks locations are acquired - an axial plane through the renal pelvis, a coronal plane of the whole urinary tract, an axial plane through the bladder base, and a sagittal plane through the urethra. These can be re-prescribed at any time during the study (23 s; 5.6 Mb). (MPG 5,602 kb)
Sequence switching during bladder filling to confirm anatomical landmarks. The movie demonstrates switching between short TEeff SSFSE and T1w FSPGR imaging in a 1-month-old boy. During bladder filling, the sequence is interactively switched between FSPGR (demonstrating bladder filling), and SSFSE in the same sagittal location through the urethra (confirming anatomical landmarks), then between SSFSE and FSPGR in the same axial location through the bladder, and between FSPGR, SSFSE and back again in the original sagittal location. The ability to switch between these contrast parameters during bladder filling is useful to confirm that the patient has not moved out of the imaging plane (15 s, 3.6 Mb). (MPG 3,612 kb)
Sagittal FSPGR images acquired during micturition demonstrating a normal calibre urethra in a 1-month-old boy. The movie plays at the approximate acquisition speed of 2 frames per second (14 s; 2 Mb) (MPG 2,022 kb)
Using bookmarked locations to evaluate VUR. The movie demonstrates the use of previously bookmarked locations in a 1-month-old boy (movie 1). Initial sagittal FSPGR images were acquired at 4 pre-specified bookmarked locations (see movie 1) and confirm the absence of VUR in this patient (14 s; 3.4 Mb). (MPG 3,372 kb)
Using interactive MR to bookmark image locations. The movie demonstrates using the interactive interface to specify anatomical locations for bookmarking using short TEeff SSFSE images in a 1-month-old boy (see also e.g. Fig. 2a): 4 specific bookmarks locations are acquired - an axial plane through the renal pelvis, a coronal plane of the whole urinary tract, an axial plane through the bladder base, and a sagittal plane through the urethra. These can be re-prescribed at any time during the study (23 s; 5.6 Mb). (MPG 5,602 kb)
Sequence switching during bladder filling to confirm anatomical landmarks. The movie demonstrates switching between short TEeff SSFSE and T1w FSPGR imaging in a 1-month-old boy. During bladder filling, the sequence is interactively switched between FSPGR (demonstrating bladder filling), and SSFSE in the same sagittal location through the urethra (confirming anatomical landmarks), then between SSFSE and FSPGR in the same axial location through the bladder, and between FSPGR, SSFSE and back again in the original sagittal location. The ability to switch between these contrast parameters during bladder filling is useful to confirm that the patient has not moved out of the imaging plane (15 s, 3.6 Mb). (MPG 3,612 kb)
Sagittal FSPGR images acquired during micturition demonstrating a normal calibre urethra in a 1-month-old boy. The movie plays at the approximate acquisition speed of 2 frames per second (14 s; 2 Mb) (MPG 2,022 kb)
Using bookmarked locations to evaluate VUR. The movie demonstrates the use of previously bookmarked locations in a 1-month-old boy (movie 1). Initial sagittal FSPGR images were acquired at 4 pre-specified bookmarked locations (see movie 1) and confirm the absence of VUR in this patient (14 s; 3.4 Mb). (MPG 3,372 kb)
About this article
Cite this article
Arthurs, O.J., Edwards, A.D., Joubert, I. et al. Interactive magnetic resonance voiding cystourethrography (iMRVC) for vesicoureteric reflux (VUR) in unsedated infants: a feasibility study. Eur Radiol 21, 1874 (2011). https://doi.org/10.1007/s00330-011-2124-4
Received:

Revised:

Accepted:

Published:
Keywords
Vesico-ureteric reflux

Vesico-ureteral reflux

Magnetic resonance imaging

Paediatric

Micturating cystourethrogram