Abstract
The purpose of this study was to investigate the value of brain ventricular wall movement assessment with a gated cine trueFISP MR sequence for the diagnosis of endoscopic third ventriculostomy (ETV) patency. Sixteen healthy volunteers and ten consecutive patients with noncommunicating hydrocephalus were explored with a MR scanner (Siemens, Avanto 1.5 T) before, 1 week and 3 months after ETV. TrueFISP was evaluated qualitatively (ventricular wall movement and CSF flow through ETV) and quantitatively [distance moved (DMLT) during a cardiac cycle by the lamina terminalis]. The third ventricle volume (TVV) was assessed. Statistical analysis was performed using nonparametric tests. There was no motion of the lamina terminalis (LT) detected on preoperative data. A pulsatile motion of the LT was found for patients with a patent ETV and for controls. DMLT and TVV were correlated (r = 0.79, P = 0.006). A transient dysfunction of ETV was successfully diagnosed on the trueFISP sequence with no motion of the LT or CSF flow observed. The trueFISP sequence appears reliable for the diagnosis of ETV patency and provides non-invasive assessment of the movement of the ventricular wall related to CSF pressure changes.
This is a preview of subscription content, log in to check access.
Access options
Buy single article
Instant unlimited access to the full article PDF.
US$ 39.95
Price includes VAT for USA
Subscribe to journal
Immediate online access to all issues from 2019. Subscription will auto renew annually.
US$ 199
This is the net price. Taxes to be calculated in checkout.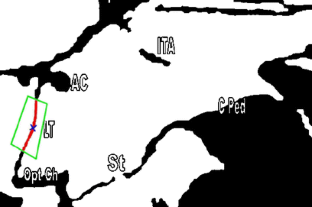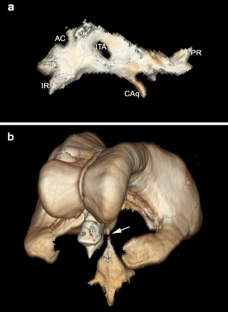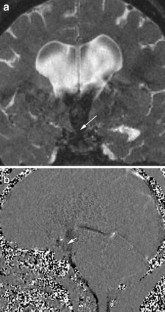 References
1.

Dandy W (1922) An operative procedure for hydrocephalus. Bull Johns Hopkins Hosp 33:189–190

2.

Decq P, Le Guerinel C, Palfi S, Djindjian M, Keravel Y, Nguyen JP (2000) A new device for endoscopic third ventriculostomy. J Neurosurg 93:509–512

3.

Jones RF, Stening WA, Brydon M (1990) Endoscopic third ventriculostomy. Neurosurgery 26:86–91

4.

Hellwig D, Grotenhuis JA, Tirakotai W, Riegel T, Schulte DM, Bauer BL, Bertalanffy H (2005) Endoscopic third ventriculostomy for obstructive hydrocephalus. Neurosurg Rev 28:1–34

5.

Hopf NJ, Grunert P, Fries G, Resch KD, Perneczky A (1999) Endoscopic third ventriculostomy: outcome analysis of 100 consecutive procedures. Neurosurgery 44:795–804

6.

Schroeder HW, Niendorf WR, Gaab MR (2002) Complications of endoscopic third ventriculostomy. J Neurosurg 96:1032–1040

7.

Kulkarni AV, Drake JM, Armstrong DC, Dirks PB (2000) Imaging correlates of successful endoscopic third ventriculostomy. J Neurosurg 92:915–919

8.

Jack CR Jr, Kelly PJ (1989) Stereotactic third ventriculostomy: assessment of patency with MR imaging. AJNR Am J Neuroradiol 10:515–522

9.

Joseph VB, Raghuram L, Korah IP, Chacko AG (2003) MR ventriculography for the study of CSF flow. AJNR Am J Neuroradiol 24:373–381

10.

Maeder P, Gudinchet F, Meuli R, Fankhauser H (1998) Dynamic MRI of cerebrospinal fluid flow in endoscopic percutaneous ventriculostomy. Br J Neurosurg 12:18–22

11.

Lev S, Bhadelia RA, Estin D, Heilman CB, Wolpert SM (1997) Functional analysis of third ventriculostomy patency with phase-contrast MRI velocity measurements. Neuroradiology 39:175–179

12.

Fukuhara T, Vorster SJ, Ruggieri P, Luciano MG (1999) Third ventriculostomy patency: comparison of findings at cine phase-contrast MR imaging and at direct exploration. AJNR Am J Neuroradiol 20:1560–1566

13.

Bargallo N, Olondo L, Garcia AI, Capurro S, Caral L, Rumia J (2005) Functional analysis of third ventriculostomy patency by quantification of CSF stroke volume by using cine phase-contrast MR imaging. AJNR Am J Neuroradiol 26:2514–2521

14.

Hoffmann KT, Lehmann TN, Baumann C, Felix R (2003) CSF flow imaging in the management of third ventriculostomy with a reversed fast imaging with steady-state precession sequence. Eur Radiol 13:1432–1437

15.

Maier SE, Hardy CJ, Jolesz FA (1994) Brain and cerebrospinal fluid motion: real-time quantification with M-mode MR imaging. Radiology 193:477–483

16.

Enzmann DR, Pelc NJ (1992) Brain motion: measurement with phase-contrast MR imaging. Radiology 185:653–660

17.

Soellinger M, Ryf S, Boesiger P, Kozerke S (2007) Assessment of human brain motion using CSPAMM. J Magn Reson Imaging 25:709–714

18.

Francois CJ, Fieno DS, Shors SM, Finn JP (2004) Left ventricular mass: manual and automatic segmentation of true FISP and FLASH cine MR images in dogs and pigs. Radiology 230:389–395

19.

Finn JP, Nael K, Deshpande V, Ratib O, Laub G (2006) Cardiac MR imaging: state of the technology. Radiology 241:338–354

20.

Lee VS, Resnick D, Bundy JM, Simonetti OP, Lee P, Weinreb JC (2002) Cardiac function: MR evaluation in one breath hold with real-time true fast imaging with steady-state precession. Radiology 222:835–842

21.

Carr JC, Simonetti O, Bundy J, Li D, Pereles S, Finn JP (2001) Cine MR angiography of the heart with segmented true fast imaging with steady-state precession. Radiology 219:828–834

22.

Noldus LP, Spink AJ, Tegelenbosch RA (2001) EthoVision: a versatile video tracking system for automation of behavioral experiments. Behav Res Methods Instrum Comput 33:398–414

23.

O'Brien KR, Cowan BR, Jain M, Stewart RA, Kerr AJ, Young AA (2008) MRI phase contrast velocity and flow errors in turbulent stenotic jets. J Magn Reson Imaging 28:210–218

24.

Storey P, Li W, Chen Q, Edelman R (2004) Flow artifacts in steady-state free precession cine imaging. Magn Reson Med 51:115–122

25.

MacArthur DC, Robertson IJ, Punt JA (2000) Third ventricular cysts and membranes unsuspected on conventional CT and MRI. Br J Neurosurg 14:455–457

26.

Ertl-Wagner BB, Lienemann A, Reith W, Reiser MF (2001) Demonstration of periventricular brain motion during a Valsalva maneuver: description of technique, evaluation in healthy volunteers and first results in hydrocephalic patients. Eur Radiol 11:1998–2003

27.

Segev Y, Metser U, Beni-Adani L, Elran C, Reider G II, Constantini S (2001) Morphometric study of the midsagittal MR imaging plane in cases of hydrocephalus and atrophy and in normal brains. AJNR Am J Neuroradiol 22:1674–1679

28.

Frim DM, Goumnerova LC (1997) Telemetric intraventricular pressure measurements after third ventriculocisternostomy in a patient with noncommunicating hydrocephalus. Neurosurgery 41:1425–1428

29.

Buxton N, Turner B, Ramli N, Vloeberghs M (2002) Changes in third ventricular size with neuroendoscopic third ventriculostomy: a blinded study. J Neurol Neurosurg Psychiatry 72:385–387

30.

Santamarta D, Martin-Vallejo J, Diaz-Alvarez A, Maillo A (2008) Changes in ventricular size after endoscopic third ventriculostomy. Acta Neurochir (Wien) 150:119–127

31.

Schwartz TH, Ho B, Prestigiacomo CJ, Bruce JN, Feldstein NA, Goodman RR (1999) Ventricular volume following third ventriculostomy. J Neurosurg 91:20–25

32.

Fushimi Y, Miki Y, Ueba T, Kanagaki M, Takahashi T, Yamamoto A, Haque TL, Konishi J, Takahashi JA, Hashimoto N (2003) Liliequist membrane: three-dimensional constructive interference in steady state MR imaging. Radiology 229:360–365

33.

Chavhan G, Babyn P, Jankharia B, Cheng H, Shroff M (2008) Steady-state MR imaging sequences: physics, classification, and clinical applications. Radiographics 28:1147–1160
Acknowledgements
The authors want to warmly acknowledge Alexandre Vignaud, PhD, for his essential advice for optimising the trueFISP sequence.
About this article
Cite this article
Hodel, J., Decq, P., Rahmouni, A. et al. Brain ventricular wall movement assessed by a gated cine MR trueFISP sequence in patients treated with endoscopic third ventriculostomy. Eur Radiol 19, 2789 (2009). https://doi.org/10.1007/s00330-009-1477-4
Received:

Revised:

Accepted:

Published:
Keywords
Cine magnetic resonance imaging

Brain

Motion

Cerebro-spinal fluid

Obstructive hydrocephalus