Abstract
Identifying correctly trophic interactions is important for understanding population dynamics and ecosystem functioning. However, some predator–prey relationships may still remain undetected, due to the difficulty of observing rare predation events. We report the first observation of predation of arctic fox (Vulpes lagopus) pups by common ravens (Corvus corax). The predation event was witnessed on Bylot Island, Nunavut, Canada, through an automatic camera placed on a den. On June 8, 2013, the day following pup emergence from the den, the complete litter of four was killed and taken away by a pair of ravens despite the intermittent presence of the mother. This event lasted 2.5 h, occurred during a low lemming year, and resulted in the fox pair failing their reproduction. Only two other fox litters were present that summer in our 600 km2 study area, so this litter predated by ravens accounted for 25 % (4/16) of the pups produced. Our report shows how continuous monitoring of dens using automatic cameras can allow documentation of rare events. In addition to food competition and cache raiding, pup predation contributes to the antagonistic interactions between arctic foxes and ravens in the High Arctic, which may intensify during low lemming years. This observation allows a better understanding of species interactions within the Arctic predator guild.
This is a preview of subscription content, log in to check access.
Access options
Buy single article
Instant unlimited access to the full article PDF.
US$ 39.95
Price includes VAT for USA
Subscribe to journal
Immediate online access to all issues from 2019. Subscription will auto renew annually.
US$ 199
This is the net price. Taxes to be calculated in checkout.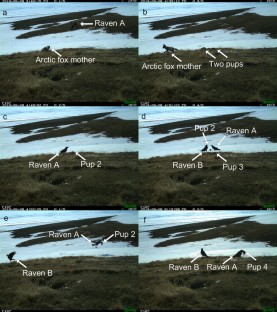 References
Anctil A, Franke A, Bêty J (2014) Heavy rainfall increases nestling mortality of an arctic top predator: experimental evidence and long-term trend in peregrine falcons. Oecologia 174:1033–1043

Angerbjörn A, Hersteinsson P, Tannerfeldt M (2004) Consequences of resource predictability in the Arctic fox—two life history strategies. In: MacDonald DW, Sillero-Zubiri C (eds) Biology and conservation of wild canids. Oxford University Press, Oxford, pp 163–172

Barnett C, Salter M, Chevallier C, Robertson N, Berard O, Burns KC (2013) The ability of North Island robins to discriminate between humans is related to their behavioural type. PLoS One 8:e64487

Bêty J, Gauthier G, Giroux JF, Korpimaki E (2001) Are goose nesting success and lemming cycles linked? Interplay between nest density and predators. Oikos 93:388–400

Bêty J, Gauthier G, Korpimaki E, Giroux J-F (2002) Shared predators and indirect trophic interactions: lemming cycles and Arctic-nesting geese. J Anim Ecol 71:88–98

Booms T, Fuller MR (2003) Gyrfalcon diet in central west Greenland during the nestling period. Condor 105:528–537

Cameron C, Berteaux D, Dufresne F (2011) Spatial variation in food availability predicts extrapair paternity in the arctic fox. Behav Ecol 22:1364–1373

Careau V, Lecomte N, Giroux J-F, Berteaux D (2007) Common ravens raid arctic fox food caches. J Ethol 25:79–82

Carere C, Drent PJ, Privitera L, Koolhaas JM, Groothuis TGG (2005) Personalities in great tits, Parus major: stability and consistency. Anim Behav 70:795–805

Cypher BL (2003) Foxes. Wild mammals of North America: biology, management, and conservation. The John Hopkins University Press, Baltimore, pp 511–546

Ehrich D et al (2015) What can stable isotope analysis of top predator tissues contribute to monitoring of tundra ecosystems? Ecosystems 18:404–416

Fauteux D, Gauthier G, Berteaux D (2015) Seasonal demography of a cyclic lemming population in the Canadian Arctic. J Anim Ecol 84:1412–1422

Frafjord K, Becker D, Angerbjörn A (1989) Interactions between arctic and red foxes in Scandinavia—predation and aggression. Arctic 42:354–356

Fritz J, Kotrschal K (1999) Social learning in common ravens, Corvus corax. Anim Behav 57:785–793

Gaillard J-M, Festa-Bianchet M, Yoccoz NG (1998) Population dynamics of large herbivores: variable recruitment with constant adult survival. Trends Ecol Evol 13:58–63

Garrott RA, Eberhardt LE (1982) Mortality of arctic fox pups in Northern Alaska. J Mammal 63:173–174

Gauthier G et al (2013) Long-term monitoring at multiple trophic levels suggests heterogeneity in responses to climate change in the Canadian Arctic tundra. Phil Trans R Soc B 368:20120482

Gese EM (2001) Territorial defense by coyotes (Canis latrans) in Yellowstone National Park, Wyoming: who, how, where, when, and why. Can J Zool 79:980–987

Gruyer N, Gauthier G, Berteaux D (2008) Cyclic dynamics of sympatric lemming populations on Bylot Island, Nunavut, Canada. Can J Zool 86:910–917

Heinrich B (1988) Why do ravens fear their food? Condor 90:950–952

Heinrich B (1995) An experimental investigation of insight in common ravens (Corvus corax). Auk 112:994–1003

Heinrich B, Marzluff J, Adams W (1995) Fear and food recognition in naive common ravens. Auk 112:499–503

Johnston DW, Williamson FSL (1960) Heart weights of North American crows and ravens. Wilson Bull 72:248–252

Killengreen ST, Strømseng E, Yoccoz NG, Ims RA (2012) How ecological neighbourhoods influence the structure of the scavenger guild in low arctic tundra. Divers Distrib 18:563–574

Kumlien L (1879) Contributions to the natural history of Arctic America made in connection with the Howgate polar expedition, 1877–78. US National Museum Bulletin 15, Washington, p 179

Latham ADM, Boutin S (2011) Wolf, Canis lupus, pup mortality: interspecific predation or non-parental infanticide? Can Field Nat 125:158–161

Legagneux P et al (2012) Disentangling trophic relationships in a High Arctic tundra ecosystem through food web modeling. Ecology 93:1707–1716

Legagneux P et al (2014) Arctic ecosystem structure and functioning shaped by climate and herbivore body size. Nature Clim Change 4:379–383

Lepage D, Nettleship DN, Reed A (1998) Birds of Bylot Island and adjacent Baffin Island, Northwest territories, Canada, 1979 to 1997. Arctic 51:125–141

Lydersen C, Smith TG (1989) Avian predation on ringed seal Phoca hispida pups. Polar Biol 9:489–490

McCallum J (2013) Changing use of camera traps in mammalian field research: habitats, taxa and study types. Mamm Rev 43:196–206

Meijer T, Norén K, Angerbjörn A (2011) The impact of maternal experience on post-weaning survival in an endangered arctic fox population. Eur J Wildl Res 57:549–553

Moore CM, Collins PW (1995) Urocyon littoralis. Mamm Species 489:1–7

Morrissette M, Bêty J, Gauthier G, Reed A, Lefebvre J (2010) Climate, trophic interactions, density dependence and carry-over effects on the population productivity of a migratory Arctic herbivorous bird. Oikos 119:1181–1191

Otto RD (1998) Attempted predation on a snowshoe hare, Lepus americanus, by an American marten, Martes americana, and a northern raven, Corvus corax. Can Field Nat 112:333–334

Pamperin NJ, Follmann EH, Petersen B (2006) Interspecific killing of an arctic fox by a red fox at Prudhoe Bay, Alaska. Arctic 59:361–364

Potapov ER (1997) What determines the population density and reproductive success of rough-legged buzzards, Buteo lagopus, in the Siberian Tundra? Oikos 78:362–376

Rodnikova A, Ims R, Sokolov A, Skogstad G, Sokolov V, Shtro V, Fuglei E (2011) Red fox takeover of arctic fox breeding den: an observation from Yamal Peninsula, Russia. Polar Biol 34:1609–1614

Schwab C, Bugnyar T, Schloegl C, Kotrschal K (2008) Enhanced social learning between siblings in common ravens, Corvus corax. Anim Behav 75:501–508

Stearns SC (1992) The evolution of life histories. Oxford University Press, London

Stempniewicz L, Iliszko L (2010) Glaucous gulls kleptoparasiting arctic foxes in Magdalenefjorden, NW Spitsbergen. Arctic 63:107–111

Strand O, Landa A, Linnell JDC, Zimmermann B, Skogland T (2000) Social organization and parental behavior in the arctic fox. J Mammal 81:223–233

Szor G, Berteaux D, Gauthier G (2008) Finding the right home: distribution of food resources and terrain characteristics influence selection of denning sites and reproductive dens in arctic foxes. Polar Biol 31:351–362

Tannerfeldt M, Angerbjorn A, Arvidson B (1994) The effect of summer feeding on juvenile arctic fox survival—a field experiment. Ecography 17:88–96

Tannerfeldt M, Elmhagen B, Angerbjörn A (2002) Exclusion by interference competition? The relationship between red and arctic foxes. Oecologia 132:213–220

Tannerfeldt M, Moehrenschlager A, Angerbjörn A (2003) Den ecology of swift, kit and arctic foxes: a review. In: Sovada MA, Carbyn LN (eds) Ecology and conservation of swift foxes in a changing world. Canadian Plains Research Center, Regina, pp 167–181

Tarroux A, Berteaux D, Bêty J (2010) Northern nomads: ability for extensive movements in adult arctic foxes. Polar Biol 33:1021–1026

Temple SA (1974) Winter food habits of ravens on the Arctic slope of Alaska. Arctic 27:41–46

Verbeek MEM, Drent PJ, Wiepkema PR (1994) Consistent individual differences in early exploratory behaviour of male great tits. Anim Behav 48:1113–1121

White C (2005) Hunters ring dinner bell for ravens: experimental evidence of a unique foraging strategy. Ecology 86:1057–1060

Williams BK, Nichols JD, Conroy MJ (2002) Analysis and management of animal populations: modeling, estimation and decision making. Academic Press, San Diego
Acknowledgments
We thank the many field workers who collected data on Bylot Island. We also thank Gustaf Samelius and an anonymous reviewer for helpful comments on an earlier draft. This study was supported by (alphabetical order): Canada Foundation for Innovation, Canada Research Chairs Program, Fonds de recherche du Québec–Nature et technologies (FRQNT), Kenneth M Molson Foundation, Mittimatalik Hunters and Trappers Organization, Natural Sciences and Engineering Research Council of Canada (NSERC), Network of Centers of Excellence of Canada ArcticNet, Northern Ecosystem Initiative (Environment Canada), Northern Scientific Training Program (Indian and Northern Affairs Canada), NSERC CREATE training program in northern environmental sciences EnviroNorth, Nunavut Wildlife Management Board, Parks Canada Agency and Polar Continental Shelf Program (Natural Resources Canada).
Electronic supplementary material
Below is the link to the electronic supplementary material.
Full picture sequence showing a predation event by ravens (Corvus corax) on arctic fox (Vulpes lagopus) pups on Bylot Island (Nunavut, Canada). The pictures were taken by an automatic camera placed on the arctic fox den. The sequence presents 575 pictures starting from June 8, 2013 at 15:45:02 (arctic fox mother present with live pups) to 20:45:57 (first return of the mother at the den after the predation of the last pup). During these 5 hours, two ravens visited the den and the complete litter of four pups was killed within 2.5 hours by one of the ravens. The first pup is killed at 15:57:50, the second one at 16:49:51, the third one at 16:53:46 and the fourth one at 18:12:34. Supplementary material 1 (MP4 93081 kb)
About this article
Cite this article
Chevallier, C., Lai, S. & Berteaux, D. Predation of arctic fox (Vulpes lagopus) pups by common ravens (Corvus corax). Polar Biol 39, 1335–1341 (2016). https://doi.org/10.1007/s00300-015-1843-4
Received:

Revised:

Accepted:

Published:

Issue Date:
Keywords
Interspecific killing

Juvenile

Predation

Foraging innovation

Vulpes lagopus
Corvus corax