Abstract
Sterechinus is a very common echinoid genus in benthic communities of the Southern Ocean. It is widely distributed across the Antarctic and South Atlantic Oceans and has been the most frequently collected and intensively studied Antarctic echinoid. Despite the abundant literature devoted to Sterechinus, few studies have questioned the systematics of the genus. Sterechinus bernasconiae is the only species of Sterechinus reported from the Pacific Ocean and is only known from the few specimens of the original material. Based on new material collected during the oceanographic cruise INSPIRE on board the R/V Melville, the taxonomy and phylogenetic position of the species are revised. Molecular and morphological analyses show that S. bernasconiae is a subjective junior synonym of Gracilechinus multidentatus (Clark). Results also show the existence of two genetically distinct subclades within the so-called Sterechinus clade: a Sterechinus neumayeri subclade and a subclade composed of other Sterechinus species. The three nominal species Sterechinus antarcticus, Sterechinus diadema, and Sterechinus agassizi cluster together and cannot be distinguished. The species Sterechinus dentifer is weakly differentiated from these three nominal species. The elucidation of phylogenetic relationships between G. multidentatus and species of Sterechinus also allows for clarification of respective biogeographic distributions and emphasizes the putative role played by biotic exclusion in the spatial distribution of species.
This is a preview of subscription content, log in to check access.
Access options
Buy single article
Instant access to the full article PDF.
US$ 39.95
Price includes VAT for USA
Subscribe to journal
Immediate online access to all issues from 2019. Subscription will auto renew annually.
US$ 199
This is the net price. Taxes to be calculated in checkout.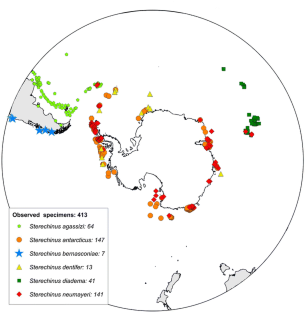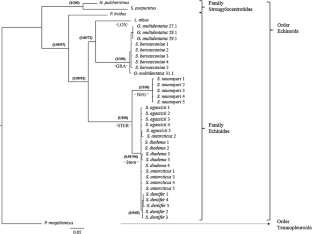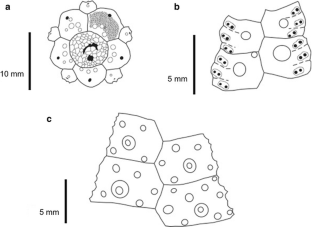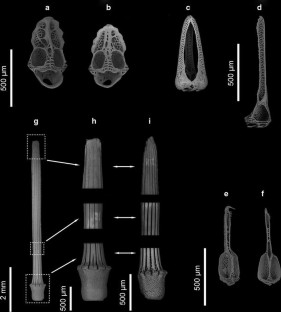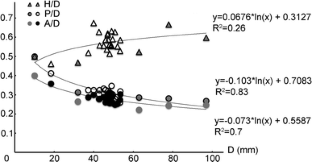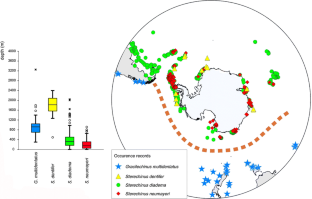 References
Acha E, Mianzan H, Guerrero R, Favero M, Bava J (2004) Marine fronts at the continental shelves of austral South America. J Mar Syst 44:83–105

Agassiz A (1869) Preliminary reports on the Echini and star-fishes dredged in deep water between Cuba and the Florida reef by L.F. de Pourtales. Assist. U.S. Coast Survey. Bull Mus Comp Zool Harvard 1:253–308

Agassiz A (1881) Report on the Echinoidea dredged by H.M.S. Challenger 1873–1876. Report on the scientific results of the voyage of H.M.S. Challenger 3. Her Majesty's Stationery Office, London

Arnaud PM, Lopez CM, Olaso I, Ramil F, Ramos-Espla AA, Ramos A (1998) Semi-quantitative study of macrobenthic fauna in the region of the South Shetland Islands and the Antarctic Peninsula. Polar Biol 19:160–166

Barnes DKA, Brockington S (2003) Zoobenthic biodiversity, biomass and abundance at Adelaide Island, Antarctica. Mar Ecol Prog Ser 249:145–155

Beu AG, Griffin M, Maxwell PA (1997) Opening of Drake Passage gateway and Late Miocene to Pleistocene cooling reflected in Southern Ocean molluscan dispersal: evidence from New Zealand and Argentina. Tectonophysics 281:83–97

Brandt A, Gooday AJ, Brandao SN, Brix S, Brokeland W, Cedhagen T, Choudhury M, Cornelius N, Danis B, De Mesel I, Diaz RJ, Gillan DC, Ebbe B, Howe JA, Janussen D, Kaiser S, Linse K, Malyutina M, Pawlowski J, Raupach M, Vanreusel A (2007) First insights into the biodiversity and biogeography of the Southern Ocean deep sea. Nature 447:307–311

Brey T, Gutt J (1991) The genus Sterechinus (Echinodermata, Echinoidea) on the Weddell Sea shelf and slope (Antarctica)—distribution, abundance and biomass. Polar Biol 11:227–232

Clark HL (1925) A catalogue of the recent sea-urchins (Echinoidea) in the collection of the British Museum (Natural History). Br Mus (Natural History), London

David B, Choné T, Mooi R, De Ridder C (2005) Antarctic Echinoidea. Synopses of the Antarctic Benthos. Koeltz Scientific Books, Königstein

Del Rio CJ (2002) Moluscos del Terciario Marino. In: Haller MJ (ed) Geología y Recursos Naturales de Santa Cruz, vol 2. XV Congreso Geológico Argentino, El Calafate, pp 1–22

Díaz A, Féral JP, David B, Saucède T, Poulin E (2011) Evolutionary pathways among shallow and deep-sea echinoids of the genus Sterechinus in the Southern Ocean. Deep Sea Res PT II 58:205–211

Döderlein L (1906) Die Echinoiden der deutschen Tiefsee-Expedition. Deutsche Tiefsee Expedition 1898–1899 5:63–290

Fell HB, Pawson DL (1966) Echinacea. In: Moore RC (ed) A treatise on invertebrate paleontology. Part U Echinodermata 3. Asterozoa-Echinozoa. University of Kansas Press and the Geological Society of America, Boulder

Felsenstein J (1981) Related articles, links evolutionary trees from DNA sequences: a maximum likelihood approach. J Mol Evol 17:368–376

Filatov DA (2009) Processing and population genetic analysis of multigenic datasets with ProSeq3 software. Bioinformatics 25(23):3189–3190

Foster RJ, Philip GM (1978) Tertiary holasteroid echinoids from Asutralia and new Zealand. Palaeontology 21:791–822

González-Wevar CA, Díaz A, Gerard K, Cañete JI, Poulin E (2012a) Divergence time estimations and contrasting patterns of genetic diversity between Antarctic and southern South America benthic invertebrates. Revista Chilena de Historia Natural 85:445–456

González-Wevar CA, Hüne M, Cañete JI, Mansilla A, Nakano T, Poulin E (2012b) Towards a model of postglacial biogeography in shallow marine species along the Patagonian Province: lessons from the limpet Nacella magellanica (Gmelin, 1791). BMC Evol Biol 12:139. http://www.biomedcentral.com/1471-2148/12/139

Gutt J, Zurell D, Bracegridle TJ, Cheung W, Clark MS, Convey P, Danis B, David B, De Broyer C, Prisco G di,Griffiths H, Laffont R, Peck LS, Pierrat B, Riddle MJ, Saucède T, Turner J, Verde C, Wang Z, Grimm V (2012) Correlative and dynamic species distribution modelling for ecological predictions in the Antarctic: a cross-disciplinary concept. Polar Res 31:11091. doi:10.3402/polar.v31i0.11091

Hammer O, Harper DAT, Ryan PD (2001) PAST: paleontological Statistics software package for education and data analysis. Palaeontol Electron 4(1):1–9

Huelsenbeck JP, Ronquist F (2003) MRBAYES: Bayesian inference of phylogenetic trees. Version 3.0B4. http://mrbayes.csit.fsu.edu/

Kimura M (1980) A simple method for estimating evolutionary rates of base substitutions through comparative studies of nucleotide sequences. J Mol Evol 16:111–120

Koehler R (1901) Résultats du voyage de S.Y. Belgica en 1897–1898–1899. Zoologie: échinides et ophiures. Buschmann, Anvers

Koehler R (1906) Echinodermes (Stellérides, ophiures et échinides). Expéditions Antarctiques Françaises 1903–1905

Koehler R (1926) Echinodermata Echinoidea. In: Harrison L (ed) Australasian Antarctic expedition 1911–1914. Scientific Reports. Series C, Zoology and Botany, vol 8, pp 1–134

Lamarck JBPA M de (1816) Histoire naturelle des animaux sans vertèbres. 3. Radiaires, Vers, Insectes (Echinides). Baillière, Paris

Larrain A (1975) Los Equinoídeos regulares fósiles y recientes de Chile. Gayana Zool 35:1–189

Lawver LA, Gahagan LM (2003) Evolution of Cenozoic seaways in the circum Antarctic region. Palaeogeogr Palaeoclimatol Palaeoecol 198:1137

Lee Y, Song M, Lee S, Leon R, Godoy S, Cañete I (2004) Molecular phylogeny and divergence time of the Antarctic sea urchin (Sterechinus neumayeri) in relation to the South American sea urchins. Antarct Sci 1:29–36

Linnæus C (1758) Systema Naturæ per regna tria naturæ, secundum classes, ordines, genera, species, cum characteribus, differentiis, synonymis, locis. Tomus I. Editio decima, reformata. Salvius, Holmiæ

Linse K, Walker L, Barnes DKA (2008) Biodiversity of echinoids and their epibionts around the Scotia Arc, Antarctica. Antarct Sci 20:227–244

McKnight DG (1968) Additions to the echinoid fauna of New Zealand. N Z J Mar Fresh 2:90–110

Meissner M (1900) Echinoideen. In: Ergebnisse der Hamburger Magalhaensischen Sammelreise 1892/93, Band 1: Allgemeines, Chordonier, Echinodermen und Coelenteraten. Friederichsen, Hamburg

Miloslavich P, Klein E, Díaz J, Hernández C, Bigatti G, Campos L, Artigas F, Castillo J, Penchaszadeh P, Neill P, Carranza A, Retana M, Díaz de Astarloa J, Lewis M, Yorio P, Piriz M, Rodríguez D, Yoneshigue-Valentin Y, Gamboa L, Martín A (2011) Marine biodiversity in the Atlantic and Pacific Coasts of South America: knowledge and gaps. PLoS ONE 6:e14631

Mortensen T (1903) Echinoderms from East Greenland. Meddelelser om Gronland 29:65–89

Mortensen T (1910) The Echinoidea of the Swedish South Polar Expedition. Schwedische Südpolar Expedition 1901–1903 6:1–114

Mortensen T (1942) New Echinoidea (Camarodonta). Vidensk Medd Dansk Naturh Foren 106:225–232

Mortensen T (1943) A monograph of the Echinoidea, vol. 3.3 Camarodonta II. Reitzel, Copenhagen

Phillips SJ, Anderson RP, Schapire RE (2006) Maximum entropy modeling of species geographic distributions. Ecol Model 190:231–259

Pierrat B, Saucède T, Laffont R, De Ridder C, Festeau A, David B (2012a) Large-scale distribution analysis of Antarctic echinoids using ecological niche modelling. Mar Ecol Prog Ser 463:215–230. doi:10.3354/meps09842

Pierrat B, Saucède T, Festeau A, David B (2012b) Antarctic, sub-Antarctic and cold temperate echinoid database. ZooKeys 204:47–52. doi:10.3897/zookeys.204.3134

Pierrat B, Saucède T, Brayard A, David B (2013) Comparative Biogeography of echinoids, bivalves, and gastropods from the Southern Ocean. J Biogeogr 40:1374–1385. doi:10.1111/jbi.12088

Posada D (2008) JModelTest: phylogenetic model averaging. Mol Biol Evol 25:1253–1256

Puillandre N, Lambert A, Brouillet S, Achaz G (2012a) ABGD, Automatic barcode gap discovery for primary species delimitation. Mol Ecol 21:1864–1877

Puillandre N, Modica MV, Zhang Y et al (2012b) Large-scale species delimitation methods for hyperdiverse groups. Mol Ecol 21:2671–2691

Real L, Julio N, Gardenal N, Ciocco N (2004) Genetic variability of Tehuelche scallop, Aequipecten tehuelchus, populations from the Patagonian coasts (Argentina). J Mar Biol Assoc UK 2004(84):235–238

Saucède T, Pierrat B, Brayard A, David B (2013) Palaeobiogeography of Austral echinoid faunas: a first quantitative approach. In: Hambrey MJ, Barker PF, Barrett PJ, Bowman V, Davies B, Smellie JL, Tranter M, (eds) Antarctic Palaeoenvironments and Earth-Surface Processes, vol 381. Geological Society, London, Special Publications, pp 117–127. doi:10.1144/SP318.6

Saucède T, Pierrat B, David B (2014) Chapter 5.26. Echinoids. In: De Broyer C, Koubbi P, Griffiths HJ, Raymond B, Udekem d'Acoz C d' et al (eds) Biogeographic atlas of the Southern Ocean. Scientific Committee on Antarctic Research, Cambridge, pp 213–220

Stamatakis A, Hoover P, Rougemont J (2008) A rapid bootstrap algorithm for the RAxML web-servers. Syst Biol 75:758–771

Studer T (1876) Über Echinodermen aus Antarkischen Meere und zwei neue seeigel von Papoua-Inseln, gesammelt auf der Reise S.M.S. Gazelle um die Erde. Monats Königl Akad Wiss Berlin 452–465

Studer T (1880) Gazelle-Echinoidea. Monatsber Akad Berlin 1880:861–885

Tamura K, Stecher G, Peterson D, Filipski A, Kumar S (2013) MEGA6: molecular evolutionary genetics analysis version 6.0. Mol Biol Evol 30:2725–2729

Thompson JD, Gibson TJ, Plewniak F, Jeanmougin F, Higgins DG (1997) The ClustalX windows interface: flexible strategies for multiple sequence alignment aided by quality analysis tools. Nucleic Acids Res 24:4876–4882

Zapata-Hernández G, Sellanes Thurber AR, Levin LA, Chazalon F, Linke P (2014) New insights on the trophic ecology of bathyal communities from the methane seep area off Concepción, Chile (~36° S). Mar Ecol 35:1–21. doi:10.1111/maec.12051
Acknowledgments
Samples were collected during oceanographic campaigns through IPEV (formerly IFRTP) programmes No. 195 BENTHOS-MAC, No. 345 BENTHADEL, and No. 1044 PROTEKER; Chilean programmes INACH 13-05, INACH 02-02, INACH B01-07, ECOS C06B02, and INIDEP 1608; and oceanographic cruises INSPIRE, Antarktis XXIII/8, CEAMARC, CHESSO, BIOPEARL I, and Bentart'06. The authors are indebted to the staff of the Marine Research Station of Las Cruces (Chile), CBUCN (Biological Collection of Universidad Católica del Norte, Coquimbo, Chile), ZMUC (Concepción, Chile), NIWA (Wellington, New Zealand), BAS (Cambridge, UK), and AWI (Bremerhaven, Germany). This study was supported by the European Community through an ASSEMBLE Grant (Grant No. 22779). This is Contribution No. 4 to the vERSO project (www.versoproject.be), funded by the Belgian Science Policy Office (BELSPO, Contract No. BR/132/A1/vERSO). This is a contribution to team BioME of the CNRS laboratory Biogéosciences (UMR 6282).
About this article
Cite this article
Saucède, T., Díaz, A., Pierrat, B. et al. The phylogenetic position and taxonomic status of Sterechinus bernasconiae Larrain, 1975 (Echinodermata, Echinoidea), an enigmatic Chilean sea urchin. Polar Biol 38, 1223–1237 (2015). https://doi.org/10.1007/s00300-015-1689-9
Received:

Revised:

Accepted:

Published:

Issue Date:
Keywords
Sterechinus bernasconiae
Gracilechinus multidentatus

Echinoidea

Antarctic

Phylogeny

Biogeography