Abstract
Courtship feeding has not been reported for chinstrap penguins (Pygoscelis antarctica). However, we observed a male chinstrap penguin fed to his mate during the guard stage of chick. After being fed, the female regurgitated the food to her chick. Our observation suggests that the chicks' behaviour of begging for food may be retained in adults, but it is usually restrained.
This is a preview of subscription content, log in to check access.
Access options
Buy single article
Instant unlimited access to the full article PDF.
US$ 39.95
Price includes VAT for USA
Subscribe to journal
Immediate online access to all issues from 2019. Subscription will auto renew annually.
US$ 199
This is the net price. Taxes to be calculated in checkout.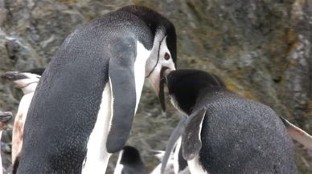 References
Ainley DG (2002) The Adélie penguin: bellwether of climate change. Columbia University Press, New York

Amat JA, Vinuela J, Ferrer M (1993) Sexing chinstrap penguins (Pygoscelis antarctica) by morphological measurements. Colon Waterbirds 16:213–215

Broni SC (1983) An apparent instance of courtship feeding in the jackass penguin Spheniscus demersus. Cormorant 11:63–64

Kokubun N, Takahashi A, Mori Y, Watanabe S, Shin H-C (2010) Comparison of diving behavior and foraging habitat use between chinstrap and gentoo penguins breeding in the South Shetland Islands, Antarctica. Mar Biol 157:811–825

Lack DL (1940) Coutship feeding in birds. Auk 57:169–178

Silver R, Andrews H, Ball GF (1985) Parental care in an ecological perspective: a quantitative analysis of avian subfamilies. Am Zool 25:823–840

Smith SM (1980) Demand behavior: a new interpretation of courtship feeding. Condor 82:291–295

Trivelpiece WZ, Trivelpiece SG (1990) Courtship period of Adélie, gentoo and chinstrap penguins. In: Davis LD, Darby JT (eds) Penguin biology. Academic Press, San Diego, pp 113–127

Yoda K, Ropert-Coudert Y (2002) A short note on Adélie penguin feeding its own mate. Polar Biol 25:868–869
Acknowledgments
We would like to thank all the members of the King Sejong Station, Korea Polar Research Institute for logistics support in the field. Anonymous referees gave a lot of constructive and helpful comments.
Electronic supplementary material
Below is the link to the electronic supplementary material.
Supplementary material 1 (MP4 25034 kb)
About this article
Cite this article
Mori, Y., Kokubun, N., Shin, H. et al. An observation of between-mates feeding behaviour in chick-guarding chinstrap penguins. Polar Biol 33, 1437–1438 (2010). https://doi.org/10.1007/s00300-010-0842-8
Received:

Revised:

Accepted:

Published:

Issue Date:
Keywords
Between-mates feeding

Chinstrap penguins

Courtship feeding

Pygoscelis antarctica