Abstract
Key message
Overexpression of the tea plant gene CsbZIP18 in Arabidopsis impaired freezing tolerance, and CsbZIP18 is a negative regulator of ABA signaling and cold stress.
Abstract
Basic region/leucine zipper (bZIP) transcription factors play important roles in the abscisic acid (ABA) signaling pathway and abiotic stress response in plants. However, few bZIP transcription factors have been functionally characterized in tea plants (Camellia sinensis). In this study, a bZIP transcription factor, CsbZIP18, was found to be strongly induced by natural cold acclimation, and the expression level of CsbZIP18 was lower in cold-resistant cultivars than in cold-susceptible cultivars. Compared with wild-type (WT) plants, Arabidopsis plants constitutively overexpressing CsbZIP18 exhibited decreased sensitivity to ABA, increased levels of relative electrolyte leakage (REL) and reduced values of maximal quantum efficiency of photosystem II (Fv/Fm) under freezing conditions. The expression of ABA homeostasis- and signal transduction-related genes and abiotic stress-inducible genes, such as RD22, RD26 and RAB18, was suppressed in overexpression lines under freezing conditions. However, there was no significant change in the expression of genes involved in the C-repeat binding factor (CBF)-mediated ABA-independent pathway between WT and CsbZIP18 overexpression plants. These results indicate that CsbZIP18 is a negative regulator of freezing tolerance via an ABA-dependent pathway.
This is a preview of subscription content, log in to check access.
Access options
Buy single article
Instant access to the full article PDF.
US$ 39.95
Price includes VAT for USA
Subscribe to journal
Immediate online access to all issues from 2019. Subscription will auto renew annually.
US$ 199
This is the net price. Taxes to be calculated in checkout.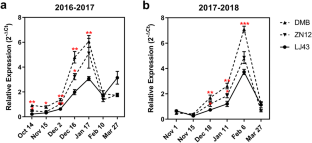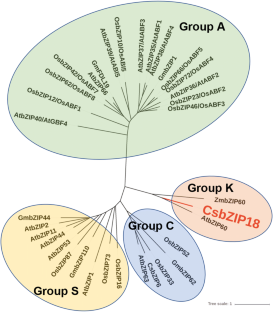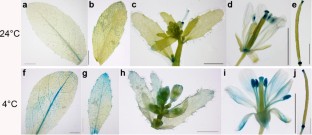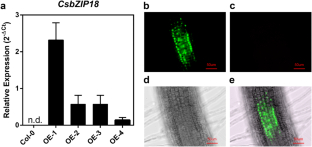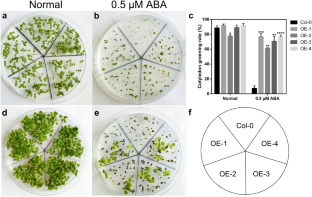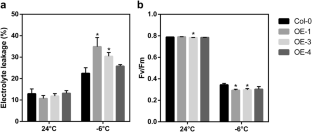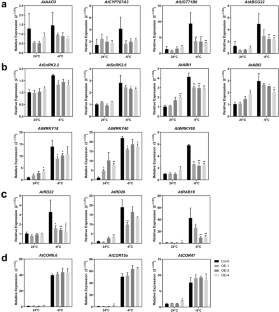 Acknowledgements
This work was supported by the Central Public Interest Scientific Institution Basal Research Fund (1610212018007), the Young Elite Scientist Sponsorship Program by CAST (2016QNRC001), the National Natural Science Foundation of China (31870685) and the Earmarked Fund for China Agriculture Research System (CARS-19). We thank Professor Dr. Huixia Shou of Zhejiang University for providing vector PBI101.3.
Ethics declarations
Conflict of interest
The authors declare that they have no conflict of interest.
Additional information
Publisher's Note
Springer Nature remains neutral with regard to jurisdictional claims in published maps and institutional affiliations.
Communicated by Leena Tripathi.
Electronic supplementary material
Below is the link to the electronic supplementary material.
About this article
Cite this article
Yao, L., Hao, X., Cao, H. et al. ABA-dependent bZIP transcription factor, CsbZIP18, from Camellia sinensis negatively regulates freezing tolerance in Arabidopsis. Plant Cell Rep (2020). https://doi.org/10.1007/s00299-020-02512-4
Received:

Accepted:

Published:
Keywords
ABA sensitivity

Cold stress

CsbZIP18

Tea plant (Camellia sinensis)
Transgenic Arabidopsis