Abstract
Key message
WSL8 encoding a deoxyribonucleoside kinase (dNK) that catalyzes the first step in the salvage pathway of nucleotide synthesis plays an important role in early chloroplast development in rice.
Abstract
The chloroplast is an organelle that converts light energy into chemical energy; therefore, the normal differentiation and development of chloroplast are pivotal for plant survival. Deoxyribonucleoside kinases (dNKs) play an important role in the salvage pathway of nucleotides. However, the relationship between dNKs and chloroplast development remains elusive. Here, we identified a white stripe leaf 8 (wsl8) mutant that exhibited a white stripe leaf phenotype at seedling stage (before the four-leaf stage). The mutant showed a significantly lower chlorophyll content and defective chloroplast morphology, whereas higher reactive oxygen species than the wild type. As the leaf developed, the chlorotic mutant plants gradually turned green, accompanied by the restoration in chlorophyll accumulation and chloroplast ultrastructure. Map-based cloning revealed that WSL8 encodes a dNK on chromosome 5. Compared with the wild type, a C-to-G single base substitution occurred in the wsl8 mutant, which caused a missense mutation (Leu 349 Val) and significantly reduced dNK enzyme activity. A subcellular localization experiment showed the WSL8 protein was targeted in the chloroplast and its transcripts were expressed in various tissues, with more abundance in young leaves and nodes. Ribosome and RNA-sequencing analysis indicated that some components and genes related to ribosome biosynthesis were down-regulated in the mutant. An exogenous feeding experiment suggested that the WSL8 performed the enzymic activity of thymidine kinase, especially functioning in the salvage synthesis of thymidine monophosphate. Our results highlight that the salvage pathway mediated by the dNK is essential for early chloroplast development in rice.
This is a preview of subscription content, log in to check access.
Access options
Buy single article
Instant unlimited access to the full article PDF.
US$ 39.95
Price includes VAT for USA
Subscribe to journal
Immediate online access to all issues from 2019. Subscription will auto renew annually.
US$ 199
This is the net price. Taxes to be calculated in checkout.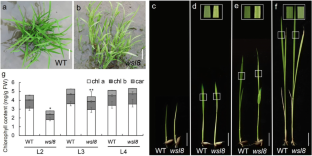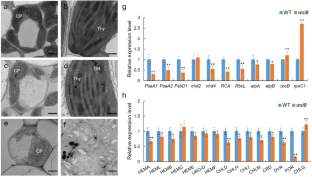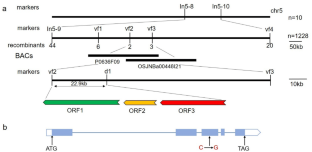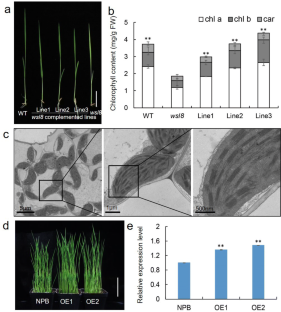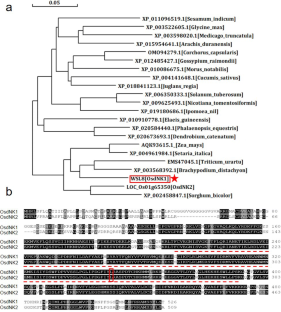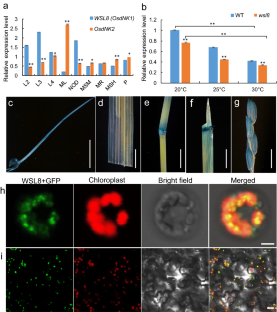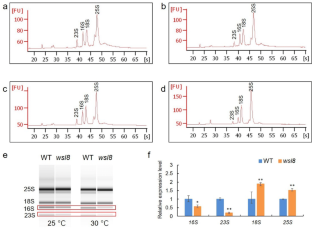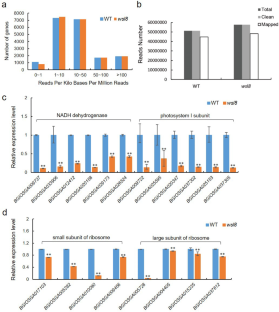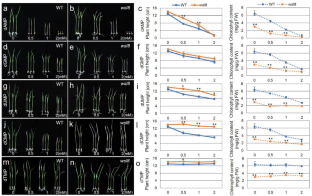 Abbreviations
dNK:

Deoxyribonucleoside kinase

dNMP:

Deoxyribonucleoside monophosphate

dNDP:

Deoxyribonucleoside diphosphate

dNTP:

Deoxyribonucleoside triphosphate

TK:

Thymidine kinase

dCK:

Deoxycytidine kinase

dGK:

Deoxyguanosine kinase

TEM:

Transmission electron microscope

ROS:

Reactive oxygen species

NBT:

Nitroblue tetrazolium

DAB:

Diaminobenzidine

ORF:

Open reading frame

dAMP:

Deoxyadenosine monophosphate

dGMP:

Deoxyguanosine monophosphate

dUMP:

Deoxyuridine monophosphate

dCMP:

Deoxycytidine monophosphate

dTMP:

Thymidine monophosphate

dTTP:

Thymidine triphosphate

dT:

Thymidine

dTDP:

Thymidine diphosphate

TMPK:

Thymidylate kinase

NDK:

Diphosphate kinase
References
Arnér ES, Eriksson S (1995) Mammalian deoxyribonucleoside kinases. Pharmacol Ther 67(2):155–186

Arnon DI (1949) Copper enzymes in isolated chloroplasts. Polyphenoloxidase in Beta vulgaris. Plant Physiol 24(1):1–15

Ashihara H, Loukanina N, Stasolla C, Thorpe TA (2001) Pyrimidine metabolism during somatic embryo development in white spruce (Picea glauca). J Plant Physiol 158:613–621

Ashihara H, Sano H, Crozier A (2008) Caffeine and related purine alkaloids: biosynthesis, catabolism, function and genetic engineering. Phytochemistry 69(4):841–856

Baxter A, Mittler R, Suzuki N (2014) ROS as key players in plant stress signaling. J Exp Bot 65(5):1229–1240

Boldt R, Zrenner R (2003) Purine and pyrimidine biosynthesis in higher plants. Physiol Plant 117(3):297–304

Clausen AR, Girandon L, Ali A, Knecht W, Rozpedowska E, Sandrini MP, Andreasson E, Munch-Petersen B, Piškur J (2012) Two thymidine kinases and one multisubstrate deoxyribonucleoside kinase salvage DNA precursors in Arabidopsis thaliana. FEBS J 279(20):3889–3897

Clausen AR, Mutahir Z, Munch-Petersen B, Piškur J (2014) Plants salvage deoxyribonucleosides in mitochondria. Nucleosides, Nucleotides Nucleic Acids 33(4–6):291–295

Conesa A, Götz S, García-Gómez JM, Terol J, Talón M, Robles M (2005) Blast2GO: a universal tool for annotation, visualization and analysis in functional genomics research. Bioinformatics 21(18):3674–3676

Garton S, Knight H, Warren GJ, Knight MR, Thorlby GJ (2007) Crinkled leaves 8—a mutation in the large subunit of ribonucleotide reductase—leads to defects in leaf development and chloroplast division in Arabidopsis thaliana. Plant J 50(1):118–127

Geigenberger P, Regierer B, Nunes-Nesi A, Leisse A, Urbanczyk-Wochniak E, Springer F, van Dongen JT, Kossmann J, Fernie AR (2005) Inhibition of de novo pyrimidine synthesis in growing potato tubers leads to a compensatory stimulation of the pyrimidine salvage pathway and a subsequent increase in biosynthetic performance. Plant Cell 17(7):2077–2088

Gothandam KM, Kim ES, Cho H, Chung YY (2005) OsPPR1, a pentatricopeptide repeat protein of rice is essential for the chloroplast biogenesis. Plant Mol Biol 58(3):421–433

Hiei Y, Ohta S, Komari T, Kumashiro T (1994) Efficient transformation of rice (Oryza sativa L.) mediated by Agrobacterium and sequence analysis of the boundaries of the T-DNA. Plant J 6(2):271–282

Iba K, Takamiya KI, Toh Y, Satoh H, Nishimura M (1991) Formation of functionally active chloroplasts is determined at a limited stage of leaf development in virescent mutants of rice. Dev Genet 12:342–348

Jain M, Nijhawan A, Tyagi AK, Khurana JP (2006) Validation of housekeeping genes as internal control for studying gene expression in rice by quantitative real-time PCR. Biochem Biophys Res Commun 345(2):646–651

Jefferson RA, Kavanagh TA, Bevan MW (1987) GUS fusions: β-glucuronidase as a sensitive and versatile gene fusion marker in higher plants. EMBO J 6(13):3901–3907

Jung B, Flörchinger M, Kunz HH, Traub M, Wartenberg R, Jeblick W, Neuhaus HE, Möhlmann T (2009) Uridine-ribohydrolase is a key regulator in the uridine degradation pathway of Arabidopsis. Plant Cell 21(3):876–891

Kafer C, Zhou L, Santoso D, Guirgis A, Weers B, Park S, Thornburg R (2004) Regulation of pyrimidine metabolism in plants. Front Biosci 9:1611–1625

Kanehisa M, Araki M, Goto S, Hattori M, Hirakawa M, Itoh M, Katayama T, Kawashima S, Okuda S, Tokimatsu T, Yamanishi Y (2008) KEGG for linking genomes to life and the environment. Nucleic Acids Res 36:D480–D484

Kusumi K, Sakata C, Nakamura T, Kawasaki S, Yoshimura A, Iba K (2011) A plastid protein NUS1 is essential for build-up of the genetic system for early chloroplast development under cold stress conditions. Plant J 68(6):1039–1050

Laloi C, Stachowiak M, Pers-Kamczyc E, Warzych E, Murgia I, Apel K (2007) Cross-talk between singlet oxygen- and hydrogen peroxide-dependent signaling of stress responses in Arabidopsis thaliana. Proc Natl Acad Sci USA 104(2):672–677

Liu HC, Charng YY (2013) Common and distinct functions of Arabidopsis class A1 and A2 heat shock factors in diverse abiotic stress responses and development. Plant Physiol 163(1):276–290

Liu Z, Wang Z, Gu H, You J, Hu M, Zhang Y, Zhu Z, Wang Y, Liu S, Chen L, Liu X, Tian Y, Zhou S, Jiang L, Liu L, Wan J (2018) Identification and phenotypic characterization of ZEBRA LEAF16 encoding a β-Hydroxyacyl-ACP dehydratase in rice. Front Plant Sci 9:782

Lv Y, Shao G, Qiu J, Jiao G, Sheng Z, Xie L, Wu Y, Tang S, Wei X, Hu P (2017) White Leaf and Panicle 2, encoding a PEP-associated protein, is required for chloroplast biogenesis under heat stress in rice. J Exp Bot 68(18):5147–5160

Mainguet SE, Gakière B, Majira A, Pelletier S, Bringel F, Guérard F, Caboche M, Berthomé R, Renou JP (2009) Uracil salvage is necessary for early Arabidopsis development. Plant J 60(2):280–291

Miyoshi K, Ito Y, Serizawa A, Kurata N (2003) OsHAP3 genes regulate chloroplast biogenesis in rice. Plant J 36(4):532–540

Moffatt BA, Ashihara H (2002) Purine and pyrimidine nucleotide synthesis and metabolism. Arabidopsis Book 1:e0018

Mok DW, Mok MC (2001) Cytokinin metabolism and action. Annu Rev Plant Physiol Plant Mol Biol 52:89–118

Nara T, Hshimoto T, Aoki T (2000) Evolutionary implications of the mosaic pyrimidine-biosynthetic pathway in eukaryotes. Gene 257(2):209–222

Niu M, Wang Y, Wang C, Lyu J, Wang Y, Dong H, Long W, Wang D, Kong W, Wang L, Guo X, Sun L, Hu T, Zhai H, Wang H, Wan J (2017) ALR encoding dCMP deaminase is critical for DNA damage repair, cell cycle progression and plant development in rice. J Exp Bot 68(21–22):5773–5786

Pontarin G, Gallinaro L, Ferraro P, Reichard P, Bianchi V (2003) Origins of mitochondrial thymidine triphosphate: dynamic relations to cytosolic pools. Proc Natl Acad Sci USA 100(21):12159–12164

Powles SB (1984) Photoinhibition of photosynthesis induced by visible light. Ann Rev Plant Physiol 35(1):15–44

Sánchez A, Sharma S, Rozenzhak S, Roguev A, Krogan NJ, Chabes A, Russell P (2012) Replication fork collapse and genome instability in a deoxycytidylate deaminase mutant. Mol Cell Biol 32(21):4445–4454

Shan X, Wang H, Zhang S, Zhou H, Zheng Y, Yu H, Wen B (2003) Accumulation and uptake of light rare earth elements in a hyperaccumulator Dicropteris dichotoma. Plant Sci 165(6):1343–1353

Smith PM, Atkins CA (2002) Purine biosynthesis. Big in cell division, even bigger in nitrogen assimilation. Plant Physiol 128(3):793–802

Stasolla C, Loukanina N, Ashihara H, Yeung EC, Thorpe TA (2001) Purine and pyrimidine metabolism during the partial drying treatment of white spruce (Picea glauca) somatic embryos. Physiol Plant 111:93–101

Stasolla C, Loukanina N, Ashihara H, Yeung EC, Thorpe TA (2003) Changes in deoxyribonucleotide biosynthesis during carrot somatic embryogenesis. Plant Physiol Bio 41:779–785

Strand A, Asami T, Alonso J, Ecker JR, Chory J (2003) Chloroplast to nucleus communication triggered by accumulation of Mg-protoporphyrinIX. Nature 421(6918):79–83

Su N, Hu M, Wu D, Wu F, Fei G, Lan Y, Chen X, Shu X, Zhang X, Guo X, Cheng Z, Lei C, Qi C, Jiang L, Wang H, Wan J (2012) Disruption of a rice pentatricopeptide repeat protein causes a seedling-specific albino phenotype and its utilization to enhance seed purity in hybrid rice production. Plant Physiol 159(1):227–238

Sugimoto H, Kusumi K, Tozawa Y, Yazaki J, Kishimoto N, Kikuchi S, Iba K (2004) The virescent-2 mutation inhibits translation of plastid transcripts for the plastid genetic system at an early stage of chloroplast differentiation. Plant Cell Physiol 45(8):985–996

Tamura K, Peterson D, Peterson N, Stecher G, Nei M, Kumar S (2011) MEGA5: molecular evolutionary genetics analysis using maximum likelihood, evolutionary distance, and maximum parsimony methods. Mol Biol Evol 28(10):2731–2739

Torrents E (2014) Ribonucleotide reductases: essential enzymes for bacterial life. Front Cell Infect Microbiol 4:52

Triantaphylidès C, Krischke M, Hoeberichts FA, Ksas B, Gresser G, Havaux M, Van Breusegem F, Mueller MJ (2008) Singlet oxygen is the major reactive oxygen species involved in photooxidative damage to plants. Plant Physiol 148(2):960–968

Waadt R, Kudla J (2008) In planta visualization of protein interactions using bimolecular fluorescence complementation (BiFC). Cold Spring Harb Protoc 2008:t4995

Wang P, Wang B, Sun X, Sun C, Wan C, Ma X, Deng X (2013) Fine mapping and physiological characteristics of a green-revertible albino gene gra75 in rice. Scientia Agricultura Sinica 46(2):225–232 (in Chinese with an English abstract)

Wang Y, Wang C, Zheng M, Lyu J, Xu Y, Li X, Niu M, Long W, Wang D, Wang H, Terzaghi W, Wang Y, Wan J (2016) WHITE PANICLE1, a Val-tRNA synthetase regulating chloroplast ribosome biogenesis in rice, is essential for early chloroplast development. Plant Physiol 170(4):2110–2123

Wang Y, Ren Y, Zhou K, Liu L, Wang J, Xu Y, Zhang H, Zhang L, Feng Z, Wang L, Ma W, Wang Y, Guo X, Zhang X, Lei C, Cheng Z, Wan J (2017) WHITE STRIPE LEAF4 encodes a novel P-type PPR protein required for chloroplast biogenesis during early leaf development. Front Plant Sci 8:1116

Wu Z, Zhang X, He B, Diao L, Sheng S, Wang J, Guo X, Su N, Wang L, Jiang L, Wang C, Zhai H, Wan J (2007) A chlorophyll-deficient rice mutant with impaired chlorophyllide esterification in chlorophyll biosynthesis. Plant Physiol 145(1):29–40

Xu J, Zhang L, Yang DL, Li Q, He Z (2015) Thymidine kinases share a conserved function for nucleotide salvage and play an essential role in Arabidopsis thaliana growth and development. New Phytol 208(4):1089–1103

Ye W, Hu S, Wu L, Ge C, Cui Y, Chen P, Wang X, Xu J, Ren D, Dong G, Qian Q, Guo L (2016) White stripe leaf 12 (WSL12), encoding a nucleoside diphosphate kinase 2 (OsNDPK2), regulates chloroplast development and abiotic stress response in rice (Oryza sativa L.). Mol Breed 36:57

Yoo SD, Cho YH, Sheen J (2007) Arabidopsis mesophyll protoplasts: a versatile cell system for transient gene expression analysis. Nat Protoc 2(7):1565–1572

Yoo SC, Cho SH, Sugimoto H, Li J, Kusumi K, Koh HJ, Iba K, Paek NC (2009) Rice virescent3 and stripe1 encoding the large and small subunits of ribonucleotide reductase are required for chloroplast biogenesis during early leaf development. Plant Physiol 150(1):388–401

Zhang Y, Su J, Duan S, Ao Y, Dai J, Liu J, Wang P, Li Y, Liu B, Feng D, Wang J, Wang H (2011) A highly efficient rice green tissue protoplast system for transient gene expression and studying light/chloroplast-related processes. Plant Methods 7(1):30–43

Zhao Y, Wang M, Zhang Y, Du L, Pan T (2000) A chlorophyll-reduced seedling mutant in oilseed rape, Brassica napus, for utilization in F1 hybrid production. Plant Breed 119(2):131–135

Zhou K, Ren Y, Lv J, Wang Y, Liu F, Zhou F, Zhao S, Chen S, Peng C, Zhang X, Guo X, Cheng Z, Wang J, Wu F, Jiang L, Wan J (2013) Young Leaf Chlorosis 1, a chloroplast-localized gene required for chlorophyll and lutein accumulation during early leaf development in rice. Planta 237(1):279–292

Zrenner R, Riegler H, Marquard CR, Lange PR, Geserick C, Bartosz CE, Chen CT, Slocum RD (2009) A functional analysis of the pyrimidine catabolic pathway in Arabidopsis. New Phytol 183(1):117–132
Acknowledgments
This research was supported by Key Laboratory of Biology, Genetics and Breeding of Japonica Rice in Mid-lower Yangtze River, Ministry of Agriculture, P. R. China, Jiangsu Collaborative Innovation Center for Modern Crop Production, and the grants from The National Key Research and Development Program of China (2017YFD0100401, 2016YFD0100700), a project (2016ZX08001004) from the Ministry of Agriculture of China for transgenic research, Jiangsu Science and Technology Development Program (BE2017368), and the National Natural Science Foundation of China Grant (31571629).
Ethics declarations
Conflict of interest
There is no conflicting interest on the contents of the manuscript.
Additional information
Publisher's Note
Springer Nature remains neutral with regard to jurisdictional claims in published maps and institutional affiliations.
Communicated by Inhwan Hwang.
Electronic supplementary material
Below is the link to the electronic supplementary material.
About this article
Cite this article
Liu, L.L., You, J., Zhu, Z. et al. WHITE STRIPE LEAF8, encoding a deoxyribonucleoside kinase, is involved in chloroplast development in rice. Plant Cell Rep 39, 19–33 (2020) doi:10.1007/s00299-019-02470-6
Received:

Accepted:

Published:

Issue Date:
Keywords
Rice (Oryza sativa L.)

White stripe leaf

Chloroplast

Deoxyribonucleoside kinase (dNK)

Salvage pathway