Physcomitrella patens, a versatile synthetic biology chassis
Abstract
Key message
During three decades the moss Physcomitrella patens has been developed to a superb green cell factory with the first commercial products on the market.
Abstract
In the past three decades the moss P. patens has been developed from an obscure bryophyte to a model organism in basic biology, biotechnology, and synthetic biology. Some of the key features of this system include a wide range of Omics technologies, precise genome-engineering via homologous recombination with yeast-like efficiency, a certified good-manufacturing-practice production in bioreactors, successful upscaling to 500 L wave reactors, excellent homogeneity of protein products, superb product stability from batch-to-batch, and a reliable procedure for cryopreservation of cell lines in a master cell bank. About a dozen human proteins are being produced in P. patens as potential biopharmaceuticals, some of them are not only similar to their animal-produced counterparts, but are real biobetters with superior performance. A moss-made pharmaceutical successfully passed phase 1 clinical trials, a fragrant moss, and a cosmetic moss-product is already on the market, highlighting the economic potential of this synthetic biology chassis. Here, we focus on the features of mosses as versatile cell factories for synthetic biology and their impact on metabolic engineering.
Keywords
Biopharmaceutical 
Bioreactor 
Fragrance 
Gene targeting 
Genome engineering 
Green cell factory 
Photobioreactor 
Introduction
Bryophyte (comprising mosses, hornworts and liverworts) research has a century-long history with several significant contributions to fundamental biology (reviewed in Reski 1998a; Hohe and Reski 2005). From an evolutionary point of view, mosses are situated halfway between single-celled algae and complex seed plants, which are divergent by an evolutionary distance of about one billion years (Lang et al. 2008; Puttick et al. 2018). As in algae, the dominant phase of moss development is haploid (gametophytic), while the dominant phase in seed plants is at least diploid (sporophytic) (Horst and Reski 2016). Mosses can be grown in self-contained systems, such as agar-solidified media in Petri dishes, in Erlenmeyer flasks, or photobioreactors in pure liquid mineral media without organic supplements such as antibiotics, carbon sources, or growth regulators and under highly controlled environmental conditions (Hohe et al. 2002a; Cerff and Posten 2012; Beike et al. 2015a). Even under these conditions, the moss P. patens can complete its life cycle with the release of persistent spores. Sexual reproduction, however, is dependent on low temperature and short-day conditions (Hohe et al. 2002b). Therefore, culture conditions can be adjusted so that this moss species does not produce any spores during the production process.
Mosses are characterised by a low degree of structural complexity and a high degree of chemical complexity, including both specialised metabolites and more generally distributed metabolites (Asakawa 1995). Mosses in Northern Europe are adapted for high growth rates in moderate temperatures and under long-day conditions (in summers) that are favourable for high and energy-efficient yield. Several moss species are known to produce small molecules that resemble commercial fine chemicals (Sabovljević et al. 2016).
Recent studies reported the production of highly valuable compounds such as terpenoids (Zhan et al. 2014; Pan et al. 2015; Khairul Ikram et al. 2017), biopharmaceuticals (Decker and Reski 2007; Reski et al. 2015) and cosmetic products (Henes et al. 2018, http://mibellebiochemistry.com/mosscelltec_no1/) in mosses. The continuous characterisations of novel biosynthetic pathways and the establishment of novel production bryophytes will enable a sustainable production of individual molecules (Simonsen et al. 2009; Ikram et al. 2015). Some of the advantages of moss as a production platform was demonstrated recently with the production of human complement factor H (FH) for therapeutic use (Michelfelder et al. 2017). FH is a difficult-to-express protein that is not available from recombinant production from any other cell factory, including the widely used CHO (Chinese hamster ovary) system, which is the current gold standard in biopharmaceutical production.
Enabling technologies
Genetic engineering
The vector-free genetic transformation of P. patens protoplasts was established by conferring antibiotic resistance marker genes via PEG-mediated uptake of plasmids or plasmid-free inserts only (Schaefer et al. 1991). Shortly afterwards it became evident that this moss is suitable for precise gene targeting (GT) via homologous recombination (HR) (Kammerer and Cove 1996; Schaefer and Zrÿd 1997). Because of its outstanding high rate of HR and the haploid nature of its dominant growth phase, GT was subsequently used to disrupt genes of interest and infer gene functions from these knockout mosses in a reverse genetics approach without complex backcrosses (Girke et al. 1998; Strepp et al. 1998). These genome-engineering technologies even allow high-throughput transformations to generate saturated mutant collections with a rate of about 800 transgenics each week (Egener et al. 2002). Recently, it became evident that the great differences in GT efficiencies between P. patens and other model species may be due to their different complements of RecQ genes, identifying the RecQ6 DNA-helicase of P. patens as a promising biotechnological tool (Wiedemann et al. 2018). Moreover, multiple DNA fragments of gene constructs were successfully assembled in vivo in this moss (King et al. 2016, Fig. 2), a method that was originally developed in the yeast Saccharomyces cerevisiae (Gibson et al. 2008; Gibson 2009). Likewise, the rescue of episomally replicating DNA is possible in P. patens like in E. coli (Muren et al. 2017). These results showed the possibility of integrating megabase-scale of gene constructs into the moss genome, an important tool of synthetic biology so far only known from yeast.
Protocols for culture media, protoplast isolation and regeneration, and for PEG-mediated transformation have been constantly optimised, allowing the simultaneous disruption of multiple genes in a single experiment (Hohe and Reski 2002; Schween et al. 2003, 2005; Hohe et al. 2004; Bach et al. 2014; Decker et al. 2015). Interestingly, a recent study suggests a culture medium that can maintain stable protonema (Zheng et al. 2018), the predominant tissue used for bioproduction in moss bioreactors.
The high rate of GT is a clear advantage for any genome engineering when compared to similar approaches in other cell factories (Reski 1998b; Schaefer and Zrÿd 2001). However, as alternatives to gene ablations or gene edits via GT (Kamisugi et al. 2006), methods for the base-specific genome editing and creation of fusion proteins in the original genomic context have been established (Mosquna et al. 2009; Mueller et al. 2014), as well as for gradual down-regulating gene expression via artificial microRNAs (Khraiwesh et al. 2008, 2010). The CRISPR/Cas9 system also works in P. patens, so that up to five different genes can be knocked out in a single experiment without detectable off-targets (Lopez-Obando et al. 2016), though this would also be possible with transformation using the in vivo assembly technology. New selection markers are constantly being developed including the establishment of auxotrophic moss mutants (Ulfstedt et al. 2017).
Bioinformatics and parts for engineering
The P. patens genome comprises approximately 500 mega base pairs distributed on 27 chromosomes (Reski et al. 1994). It has been fully sequenced (Rensing et al. 2008) as the third plant genome subsequent to Arabidopsis thaliana and poplar. The genome information is available in http://www.cosmoss.org and is constantly being improved (Zimmer et al. 2013; Lang et al. 2018). A variety of whole-genome transcription profiling data sets were published (e.g., Richardt et al. 2010; Beike et al. 2015b), which have been integrated into a transcriptomic platform allowing the analysis of transcript abundances, and thus indirectly promoter activity, under different culture conditions (Hiss et al. 2014; Ortiz-Ramirez et al. 2016; Perroud et al. 2018).
A variety of promoter elements have been evaluated for transgene expression, including bacterial (Reutter et al. 1998), moss (Jost et al. 2005), and seed plant promoters (Holtorf et al. 2002). Collectively, the set of suitable promoter fragments allows control of gene expression over three orders of magnitude (Horstmann et al. 2004). This includes promoter elements, which can be induced by temperature (Saidi et al. 2005), chemicals (Kubo et al. 2013) or light quality (Müller et al. 2014). Recent studies reveal that synthetic promoters can be an excellent option for the expression of multiple genes (Peramuna et al. 2018a). Synthetic promoters have relatively short sizes but possess sufficient activity. In addition, enormous numbers of promoters can be generated by placing cis-elements differently. This could facilitate the gene-construction process by minimizing the size of gene constructs, hence avoiding unwanted HR. It has been noted, that inclusion of the first intron in the promoter region significantly increase the expression of the reporter genes (Peramuna et al. 2018a). A combination of this and the knowledge on cis-elements will allow future engineering projects to freely establish multiple promotors to integrate numerous genes into moss.
Bioreactor production
For the production of biopharmaceuticals, large-scale processes have been implemented. Bioreactors are in use for plant cell cultures (Kieran et al. 1997) and transgenic hairy root cultures (Giri and Narasu 2000) as they provide containment and are easy to control, thus facilitating production under good-manufacturing-practice (GMP) conditions. Different kinds and sizes of bioreactors have been established for the controlled large-scale culture of P. patens: the first production was achieved in a 2 L foil-reactor (Reutter and Reski 1996), subsequently followed by 5, 10 and 20 L stirred glass tanks (Hohe et al. 2002a), which are still the "workhorses" in the laboratory. An upscale to 100 L was achieved by the development of tubular photobioreactors (Perner-Nochta et al. 2007). Currently, for commercial production under GMP-certified conditions, 100 and 500 L disposable wave reactors are used (Niederkrüger et al. 2014, Fig. 1). While other plant cell cultures show a high degree of somaclonal variation (Larkin and Scowcroft 1981; Phillips et al. 1994), moss tissue culture is genetically stable over long periods of time (von Stackelberg et al. 2006), because it relies on differentiated moss plants instead of undifferentiated plant cell cultures.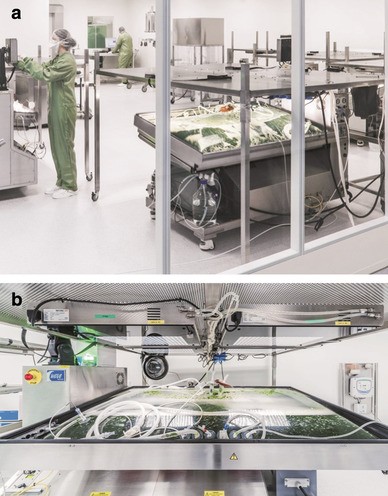 An important issue in GMP regulations is the molecular characterisation of the producing cell factories by Southern-, Northern-, and Western-analysis. Once characterised and approved, subsequent production has to rely on identical clones that have to be stored in master cell banks (MCBs). This can be achieved for clonal moss tissues, as they can be stored for years over liquid nitrogen and survive this cryopreservation to 100% even after decades (Schulte and Reski 2004). To facilitate international moss research, different moss species, mutant strains and ecotypes are cryopreserved at the International Moss Stock Center IMSC in Freiburg, Germany (http://www.moss-stock-center.org), which provides accession numbers for publications and freely distributes samples upon request.
Recombinant proteins
Several proteins are being produced in moss. The disclosed products are discussed in the following. The field started with the expression of bacterial beta-glucuronidase (GUS) as a quantifiable reporter protein in 2 L moss bioreactors (Reutter and Reski 1996). Other reporter proteins that were used for monitoring the production process were a bacterial alpha-amylase (AMY) and the human placental secreted alkaline phosphatase (SEAP) (Gitzinger et al. 2009) as well as the F-actin marker GFP-talin (Saidi et al. 2005).
Physcomitrella patens accepts a variety of components of the transcription, translation and secretion machineries, originally developed and optimised for recombinant protein production in CHO cells (Gitzinger et al. 2009), revealing extra value to synthetic biologists who work with orthogonal systems. In addition, endogenous signal sequences are used to route recombinant proteins through the ER, and finally secrete them to the culture medium (Schaaf et al. 2005). Plant-specific sugar-residues on glyco-proteins can be eliminated (Huether et al. 2005). The protein of interest can also be integrated into the membrane (Morath et al. 2014). In order to increase the product stability in the medium it has been observed that this can be enhanced by stabilizing additives or by the co-expression of human serum albumin (Baur et al. 2005a). A transient expression assay was developed for proof-of-concept studies (Baur et al. 2005b). Alternatively, synthetic endogenous organelles are being engineered in P. patens by subverting the peroxisomal protein import pathway (Cross et al. 2017).
The first human protein produced in the moss system was the human vascular endothelial growth factor (VEGF) (Baur et al. 2005a; Gorr et al. 2001; Koprivova et al. 2004), which is pivotal in angiogenesis and cancer (Roskoski 2007; Goel and Mercurio 2013).
Human complement factor H production
Human complement factor H (FH) is the key regulator of the alternative pathway of complement activation and a protectant against oxidative stress (Weismann et al. 2011). Because it is a large protein of 155 kDa and contains 40 disulphide bonds, it is a difficult-to-express protein. Therefore, attempts are ongoing to produce bioactive but truncated (Hebecker et al. 2013) or synthetic hybrid FH-versions (Michelfelder et al. 2018) in insect cells. Full-length FH has been produced in P. patens (Büttner-Mainik et al. 2011). The biological activity in different bioassays and the beneficial in vivo action in FH-deficient knockout mice has been proven (Häffner et al. 2017; Michelfelder et al. 2017). Moss-made FH may be a cost-effective and more compliant alternative to Eculizumab, a monoclonal antibody with limited treatment options and severe side effects (Schmidtko et al. 2013). Besides that, this drug is the most expensive biopharmaceutical with treatment costs of about 400,000 Euro per year and patient. The most advanced potential moss-made drug is alpha-Galactosidase A to treat Fabry disease. It has proven to be a biobetter in preclinical studies (Shen et al. 2016) and successfully passed phase 1 clinical trials (http://www.greenovation.com).
Several human growth factors (FGF7/KGF, EGF and HGF) that are routinely used in mammalian cell culture have been produced in moss (Niederkrüger et al. 2014). FGF7/KGF (keratinocyte growth factor) is the first commercially available moss-made human protein, intended for in vitro use (http://www.greenovation.com). Moreover, moss has been suggested as a chassis for vaccine production (Rosales-Mendoza et al. 2014). Because no adverse effects of moss consumption are known, vaccine-producing moss may be directly administered orally. Thus, expensive protein purification could be avoided. The first moss-made candidate vaccine is a chimeric HIV multi-epitope protein that was shown to be immunogenic in mice (Orellana-Escobedo et al. 2015).
Metabolic engineering
Mosses contain far more genes involved in specialised metabolism than seed plants (Rensing et al. 2007). Some of these metabolites possess well-known human health benefits (Reski and Frank 2005). An important aspect in this context is the high content of polyunsaturated fatty acids in mosses (Beike et al. 2014). Some of the respective genes were cloned and transferred to crop plants to enhance their nutritional values (Heinz et al. 2017).
Metabolic engineering often requires multiple gene integrations or knockouts, because the biosynthesis of the final product involves multiple steps or engineering of an upstream metabolic pathway for higher product yields. The available molecular toolbox for multiple gene engineering at the same time strongly supports moss as a metabolic cell factory (King et al. 2016). The use of metabolic engineering and knockout studies has also been useful in basic plant research. With specific GT it has been possible to study, e.g., development in mosses, which form the basis of seed development for vascular plants (Hirano et al. 2007; Hayashi et al. 2010; Vesty et al. 2016).
Therefore, an important aspect in metabolic engineering of mosses is to enhance the production of specialised metabolites with commercial value. A breakthrough in this respect was the expression of a taxadiene synthase from Taxus brevifolia (Anterola et al. 2009), an enzyme responsible for the synthesis of a precursor of paclitaxel, a widely used anticancer drug (Baird et al. 2010).
Moss has shown its capability to produce the anti-malarial drug artemisinin (Ikram and Simonsen 2017). Five different genes responsible for the biosynthesis of artemisinin were transferred, and the transgenic moss showed relatively high initial production considering there was no metabolic optimisation. Further engineering steps to increase the precursor levels will significantly improve the production like in other plant species (Ikram and Simonsen 2017).
Another target for engineered mosses is the fragrance industry. Some mosses, especially P. patens, have a relatively low odour background, which might interfere with the fragrance of interest. In this respect, a patchoulol synthase and an alpha/beta-santalene synthase have been expressed in P. patens (Zhan et al. 2014). Patchoulol and alpha/beta-santalol are two sesquiterpenoids used in fragrances (Faraldos et al. 2010; Jones et al. 2011), and especially santalol is one of the most expensive fragrance compounds obtained from sandalwood trees (Baldovini et al. 2011). Production of santalol and the diterpenoid Sclareol (sclarcol) have also shown that upregulation of upstream terpenoids genes can lead to higher production (2-5 fold) (Zhan et al. 2014; Pan et al. 2015). For patchoulol, it was also seen that rerouting the biosynthesis from the cytosol to the plastids increased the production and, on top of this, led to a production of monoterpenoids due to the promiscuity of the terpenoids synthases (Zhan et al. 2014). It is a recent trend to locate a biosynthetic pathway at the desired cellular compartment to enhance the metabolic flux by using a targeting peptide (Kumar et al. 2012) or a membrane anchor domain (Henriques de Jesus et al. 2017). This strategy provides precursors directly to the next step and limits the side-product, thereby maximises the production yield. Furthermore, depending on the target compartment, it can benefit the production in different aspect. For instance, it is difficult to retrieve fragrance compounds produced from the cell because of the volatility and hydrophobicity. Recent work in Physcomitrella showed that placing patchoulol synthase on the lipid droplet membrane significantly increased the storage capacity of the cell (Peramuna et al. 2018b). In this manner, it is possible to design the fine-tuned biosynthetic pathway by setting a time and place, especially using the plant cell that is highly compartmentalised. Such work has led to the commercialisation of metabolically engineered mosses as fragrant plants for private households (https://www.mosspirationbiotech.com/orbella-moss, Fig. 2), which can direct future uses of engineered plants as a consumer commodity and not just an agricultural production platform.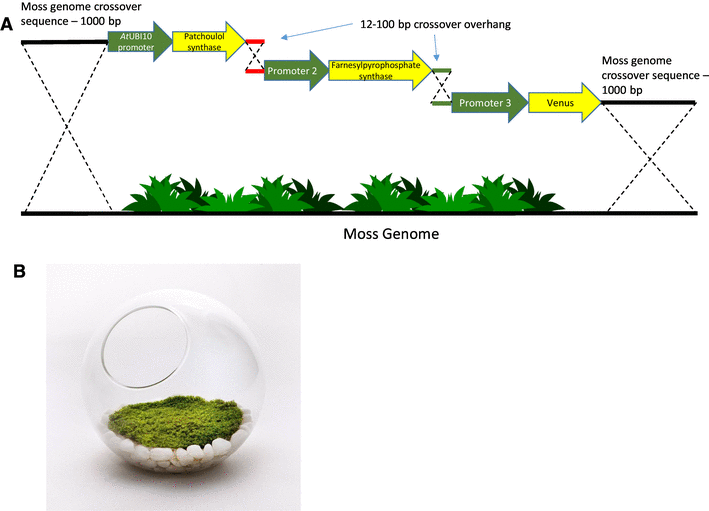 Recently, a P450 enzyme was identified that contributes to cuticle formation in P. patens and thus provides stiffness, dehydration tolerance and facilitates the unfolding of complex organs from single stem cells (Renault et al. 2017), an important innovation that helped the earliest plants to spread on land (Reski 2018). Biopolymer engineering is a strategy to handle new stresses that come from stronger sunlight and desiccation, and this pathway can be implemented into Physcomitrella or crop plants to gain tolerance against strong light and drought.
Perspectives
Bryophytes are already in commercial use for the production of high-value compounds. However, in order to gain even broader use, few things have to be addressed. First and foremost, the range of synthetic biology tools needs to be expanded which includes CRISPR systems or similar. Secondly, establishment of a minimal cell with a much smaller genome would likely make future engineering simpler. Thus, efforts are being made to engineer the first synthetic plant cell. For this the moss P. patens would be ideal. Current work is ongoing to provide insight into how to obtain an efficient growth in bioreactors. This will enable lower production cost, thus feasible production of not only high-priced pharmaceuticals but also other lower priced chemicals. The latter will also be assisted with a better understanding of the metabolic network of the bryophyte cell. Some knowledge can be drawn from vascular plant research, but in general, these elements are a drawback of all plant synthetic biology. Discovering attractive bryophyte species that fit the industrial demand is another way to go. This idea reflects the recent grant (http://www.mosstech.eu, Marie Curie ITN project) and hopefully a few future ones in which many of these hurdles are being addressed. This will not only benefit bryophyte research, but also plant synthetic biology in general and will provide green options to all.
Author contribution statement
RR outlined the manuscript; all authors contributed to writing, editing and figure design. All authors read and approved the final version.
Notes
Acknowledgements
Work in our laboratories is funded by the Marie Curie Actions of the European Union's Horizon 2020 (Grant agreement no. 765115 MossTech to H. T. S., H. B. and R. R.), the Excellence Initiative of the German Federal and State Governments (EXC 294 to R. R.) and The Danish Council for Independent Research (#4005-00158B to H. T. S. and H. B.).
Compliance with ethical standards
Conflict of interest
R. R. is an inventor of the moss bioreactor and a founder of Greenovation Biotech GmbH. He currently serves as advisory board member of this company. H. T. S. is the co-founder and CEO of Mosspiration Biotech IVS along with H. B. who is the co-founder and CSO of this company. All authors are inventors of patents and patent applications related to the topics discussed here. The Chair of Plant Biotechnology at the University of Freiburg, headed by R. R., developed and hosts the resources http://www.cosmoss.org and http://wwww.moss-stock-center.org.
Copyright information
© Springer-Verlag GmbH Germany, part of Springer Nature 2018