Abstract
Microspores genetically programmed to produce male gametes can be switched to the embryogenic pathway to give rise to haploid embryos. Microspore embryogenesis is usually induced in barley by stress pre-treatment applied to vacuolated microspores. We studied the expression of two genes during the early stages of microspore embryogenesis to gain further insight into the microspore transition from the gametophytic to the embryogenic pathway. RT-PCR together with in situ hybridization on sections (ISH) and whole-mount in situ hybridization (WISH) were used to analyse the expression of the early-culture abundant gene (ECA1), which is expressed in barley during microspore embryogenesis, and a polygalacturonase gene (HvPG1), a late pollen gene expressed during gametogenesis only after microspore division. Both ECA1 and HvPG1 genes were transcriptionally active after stress pre-treatment in the same populations of microspore-derived structures, representing the sporophytically induced ones. ECA1 transcripts were also detected after 3 days' culture. Our results point to the possibility of using ECA1 gene expression as a marker for the induction of microspore embryogenesis and the earliest stages of this process. Finally, we demonstrate that WISH is a suitable technique for studying gene expression in embryogenic microspore populations and, because different structures can be examined individually, is an appropriate complement to transcriptomic profile analyses in the study of early microspore embryogenesis.
This is a preview of subscription content, log in to check access.
Access options
Buy single article
Instant access to the full article PDF.
US$ 39.95
Price includes VAT for USA
Subscribe to journal
Immediate online access to all issues from 2019. Subscription will auto renew annually.
US$ 199
This is the net price. Taxes to be calculated in checkout.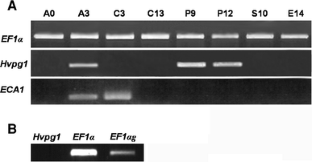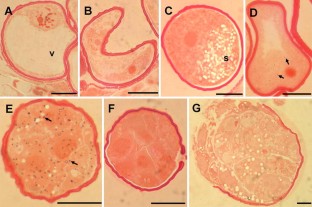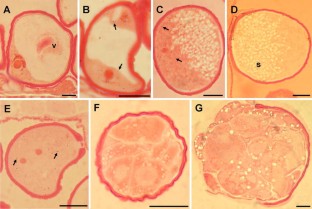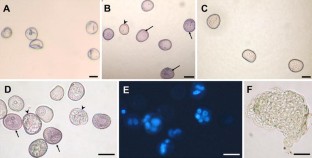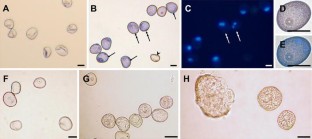 References
Allen RL, Lonsdale DM (1992) Sequence analysis of three members of the maize polygalacturonase gene family expressed during pollen development. Plant Mol Biol 20:343–345

Baldwin TC, McCann MC, Roberts K (1993) A novel hydroxyproline-deficient arabinogalactan protein secreted by suspension-cultured cells of Daucus carota. Plant Physiol 103:115–123

Borderies G, le Bechec M, Rossignol M, Lafitte C, Le Deunff E, Beckert M, Dumas C, Matthys-Rochon E (2004) Characterization of proteins secreted during maize microspore culture: arabinogalactan proteins (AGPs) stimulate embryo development. European J Cell Biol 83:205–212

Brown SM, Crouch ML (1990) Characterization of a gene family abundantly expressed in Oenothera organensis pollen that shows sequence similarity to polygalacturonase. Plant Cell 2:263–274

Chen CC, Howarth MJ, Peterson RN, Kasha KJ (1984) Ultrastructure of androgenic microspores of barley during early stages of anther culture. Can J Genet Cytol 26:484–491

Cordewener JHG, Busik R, Traas JA, Custer JBM, Dons HJM, van Lookeran Campagne MM (1994) Induction of microspore embryogenesis in Brassica napus is accompanied by specific changes in protein synthesis. Planta 195:50–56

de Almeida Engler J, van Montagu M, Engler G (1994) Hybridization in situ of whole-mount messenger RNA in plants. Plant Mol Biol Rep 12:321–331

Garrido D, Eller N, Heberle-Bors E, Vicente O (1993) De novo transcription of specific mRNAs during the induction of tobacco pollen embryogenesis. Sex Plant Reprod 6:40–45

Haldfield KA, Bennett AB (1998) Polygalacturonases: many genes in search of a function. Plant Physiol 117:337–343

Heslop-Harrison J (1966) Cytoplasmic connections between angiosperm meiocytes. Ann Bot 30:221–230

Hoekstra S, van Zijderveld MH, Louwerse JD, Heidekamp F, van der Mark F (1992) Anther and microspore culture of Hordeum vulgare L. cv. Igri. Plant Sci 86:89–96

Huang B (1986) Ultrastructural aspects of pollen embyogenesis in Hordeum, Triticum and Paeonia. In: Hu H, Yang H (eds) Haploids of higher plants in vitro. Springer, Berlin, pp 91–117

Joosen R, Cordewener J, Supena EDJ, Vost O, Lammers M, Maliepaard C, Zeilmaker T, Miki B, America T, Custer J, Boutelier K (2007) Combined transcriptome and proteome analysis identifies pathways and markers associated with the establishment of Brassica napus microspore-derived embryo development. Plant Physiol 144:155–172

Kumlehn J, Kirik V, Czihal A, Altschmied L, Matzk F, Lörz H, Bäumlein H (2001) Parthenogenetic egg cells of wheat: cellular and molecular studies. Sex Plant Reprod 14:239–243

Kumlehn J, Lörz H (1999) Monitoring sporophytic development of individual microspores of barley (Hordeum vulgare L.). In: Clement C, Pacini E, Audran JC (eds) Anther and Pollen: from biology to biotechnology. Springer, Berlin, pp 183–190

Liboz T, Bardet C, Le Van Thai A, Axelos M, Lescure B (1990) The four members of the gene family encoding the Arabidopsis thaliana translation elongation factor EF-1 alpha are actively transcribed. Plant Mol Biol 14:107–110

Malik MR, Wang F, Dirpaul JM, Zhou N, Polowick PL, Ferri AMR, Krochko JE (2007) Transcript profiling and identification of molecular markers for early microspore embryogenesis in Brassica napus. Plant Physiol 144:134–154

Maraschin SF, Priester W, Spaink HP, Wang M (2005) Androgenic switch: an example of plant embryogenesis from the male gametophyte perspective. J Exp Bot 56:1711–1726

Maraschin SF, Caspers M, Potokina E, Wülfert F, Graner A, Spaink HP, Wang M (2006) cDNA array analysis of stressed induced gene expression in barley androgenesis. Physiol Plant 127:535–550

Mascarenhas JP (1990) Gene activity during pollen development. Annu Rev Plant Physiol Plant Mol Biol 41:317–338

McCabe PF, Valentine TA, Forsberg LS, Pennell RI (1997) Soluble signals from cells identified at the cell wall establish a developmental pathway in carrot. Plant Cell 9:2225–2241

Mordhorst AP, Lörz H (1993) Embryogenesis and development of isolated barley (Hordeum vulgare, L.) microspores are influenced by the amount and composition of nitrogen sources in culture media. J Plant Physiol 142:485–492

Muñoz-Amatriaín M, Svensson JT, Castillo AM, Cistué L, Close TJ, Vallés MP (2006) Transcriptome analysis of barley anthers: effect of mannitol treatment on microspore embryogenesis. Physiol Plant 127:551–560

Ning J, Peng X-B, Qu L-H, Xin H-P, Yan T-T, Sun M (2006) Differential gene expression in egg cells and zygotes suggests that the transcriptome is restructed before the first zygotic division in tobacco. FEBS Lett 580:1747–1752

Niogret M-F, Dubald M, Mandaron P, Mache R (1991) Characterisation of pollen polygalacturonase encoded by several cDNA clones in maize. Plant Mol Biol 17:1155–1164

Obert B, Szabo L, Mityko J, Pretova A, Barnabas B (2005) Morphological events in cultures of mechanically isolated maize microspores. In Vitro Cell Dev Biol 41:775–782

Paire A, Devaux P, Lafitte C, Dumas C, Matthys-Rochon E (2003) Proteins produced by barley microspores and their derived androgenic structures promote in vitro zygotic maize embryo formation. Plant Cell Tissue Organ Cult 73:167–176

Pulido A, Castillo A, Vallés MP, Olmedilla A (2002) In search of molecular markers for androgenesis. Biologia 57:29–36

Pulido A, Bakos F, Castillo A, Vallés MP, Barnabas B, Olmedilla A (2005) Cytological and ultrastructural changes induced in anther and isolated-microspore cultures in barley: Fe deposits in isolated microspore cultures. J Struct Biol 149:170–181

Pulido A, Hernando A, Bakos F, Méndez E, Devic M, Barnabas B, Olmedilla A (2006) Hordeins are expressed in microspore-derived embryos and also during male gametophytic and very early stages of seed development. J Exp Bot 57:2837–2846

Sprunck S, Baumann U, Edwards K, Langridge P, Dresselhaus T (2005) The transcript composition of egg cells changes significantly following fertilization in wheat (Triticum aestivum L.). Plant J 41:660–672

Tang X-C, He Y-Q, Wang Y, Sun M-X (2006) The role of arabinogalactan proteins binding to Yariv reagents in the initiation, cell developmental fate, and maintenance of microspore embryogenesis in Brassica napus L. cv. Topas. J Exp Bot 57:2639–2650

Tebbutt SJ, Rogers HJ, Lonsdale DM (1994) Characterization of a tobacco gene encoding a pollen-specific polygalacturonase. Plant Mol Biol 25:283–297

Touraev A, Indrianto A, Wratschko I, Vicente O, Heberle-Bors (1996) Efficient microspore embryogenesis in wheat (Triticum aestivum L.) induced by starvation at high temperatures. Sex Plant Reprod 9:209–215

Twell D, Park SK, Lalanne E (1998) Asymmetric division and cell fate determination in developing pollen. Trends Plant Sci 3:305–310

Vrinten PL, Nakamura T, Kasha KJ (1999) Characterization of cDNAs expressed in the early stages of microspore embryogenesis in barley (Hordeum vulgare) L. Plant Mol Biol 41:455–463
Acknowledgments
This study was supported by a Spain–Hungary co-operation project REF2006HU0004, the Spanish MEC project (Ref. BFU2006-09876/BFI) and by the grant "Elnöki Pályázat 2006" from the Hungarian Academy of Sciences. A. Pulido received a fellowship from the Junta de Andalucía, Spain. We thank Dr. Yves Henry for his critical review of our paper and Dr. J. Trout for revising our English text.
Additional information
Communicated by A. Feher.
About this article
Cite this article
Pulido, A., Bakos, F., Devic, M. et al. HvPG1 and ECA1: two genes activated transcriptionally in the transition of barley microspores from the gametophytic to the embryogenic pathway. Plant Cell Rep 28, 551–559 (2009). https://doi.org/10.1007/s00299-008-0662-2
Received:

Revised:

Accepted:

Published:

Issue Date:
Keywords
Barley

Gametophytic development

Molecular marker

Microspore embryogenesis

Whole-mount in situ hybridization