Abstract
Rheumatoid arthritis (RA) is a chronic autoimmune disease affecting primarily joints and an increased risk of developing malignant lymphomas in RA has been well reported. However, primary lymphoma in a joint in RA patient is rare. We report the case of a 65-year-old man with RA suffering from pain and swelling of left sternoclavicular (SC) joint, which was not relieved by adding low-dose glucocorticoid. Magnetic resonance imaging (MRI) showed a para-osseous soft tissue swelling around the SC joint and a fracture of proximal clavicle. Histology of the soft tissue demonstrated diffuse large B-cell lymphoma and the patient subsequently underwent R-CHOP (rituximab, cyclophosphamide, doxorubicin, vincristine, and prednisolone) chemotherapy. He was successfully treated with six cycles of R-CHOP chemotherapy, with discontinuation of MTX, resulting in a complete response. We performed a literature review and identified nine cases of lymphoma which involved joints in patients with rheumatoid arthritis. This is the first described case of a primary large B-cell lymphoma involving the unilateral SC joint in a patient with RA, which was initially confused with aggravation of RA. Therefore, malignant lymphoma should be considered in the differential diagnosis when a RA patient develops monoarthritis with spontaneous fracture, even without B symptoms.
This is a preview of subscription content, log in to check access.
Access options
Buy single article
Instant access to the full article PDF.
US$ 39.95
Price includes VAT for USA
Subscribe to journal
Immediate online access to all issues from 2019. Subscription will auto renew annually.
US$ 199
This is the net price. Taxes to be calculated in checkout.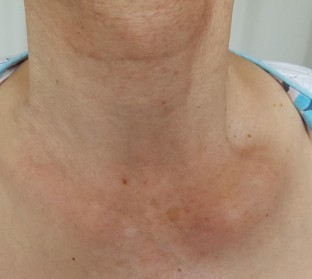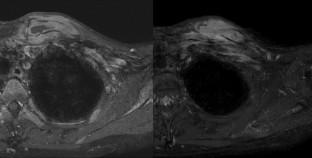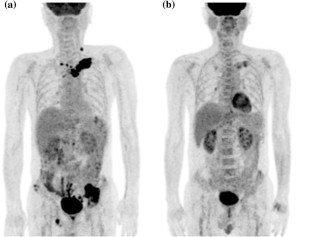 References
1.

Smolen JS, Aletaha D, McInnes IB (2016) Rheumatoid arthritis. Lancet 388(10055):2023–2038

2.

Baecklund E, Sundstrom C, Ekbom A et al (2003) Lymphoma subtypes in patients with rheumatoid arthritis: increased proportion of diffuse large B cell lymphoma. Arthritis Rheum 48(6):1543–1550

3.

George DA, Afsharpad A, Chifu MD, Ray P (2013) Large B cell lymphoma of the subtalar and talonavicular joint synovium. BMJ Case Rep. https://doi.org/10.1136/bcr-2012-007683

4.

Litwic A, Sampson M, Foria V, Dennison E (2015) Diffuse large B cell lymphoma of the foot in a patients with rheumatoid arthritis. EMJ Rheumatol 2(1):84–88

5.

Hans CP, Weisenburger DD, Greiner TC et al (2004) Confirmation of the molecular classification of diffuse large B-cell lymphoma by immunohistochemistry using a tissue microarray. Blood 103(1):275–282

6.

Smith A, Crouch S, Lax S et al (2015) Lymphoma incidence, survival and prevalence 2004–2014: sub-type analyses from the UK's Haematological Malignancy Research Network. Br J Cancer 112(9):1575–1584

7.

De Cock D, Hyrich K (2018) Malignancy and rheumatoid arthritis: Epidemiology, risk factors and management. Best Pract Res Clin Rheumatol 32(6):869–886

8.

Simon TA, Thompson A, Gandhi KK, Hochberg MC, Suissa S (2015) Incidence of malignancy in adult patients with rheumatoid arthritis: a meta-analysis. Arthritis Res Ther 17:212

9.

Adunsky A, Yaretzky A, Klajman A (1980) Malignant lymphoma presenting as sternoclavicular joint arthritis. Arthritis Rheum 23(11):1330–1331

10.

Salloum E, Cooper DL, Howe G et al (1996) Spontaneous regression of lymphoproliferative disorders in patients treated with methotrexate for rheumatoid arthritis and other rheumatic diseases. J Clin Oncol 14(6):1943–1949

11.

Parakkal D, Sifuentes H, Semer R, Ehrenpreis ED (2011) Hepatosplenic T-cell lymphoma in patients receiving TNF-alpha inhibitor therapy: expanding the groups at risk. Eur J Gastroenterol Hepatol 23(12):1150–1156

12.

Mercer LK, Galloway JB, Lunt M et al (2017) Risk of lymphoma in patients exposed to antitumour necrosis factor therapy: results from the British Society for Rheumatology Biologics Register for Rheumatoid Arthritis. Ann Rheum Dis 76(3):497–503

13.

Abe A, Wakaki K, Ishikawa H, Ito S, Murasawa A (2018) A case of rheumatoid arthritis with methotrexate related lymphoproliferative diseases of the knee. Mod Rheumatol 28(3):550–554

14.

Hatano T, Ohishi M, Yoshimoto G et al (2017) Methotrexate-related lymphoproliferative disorder presenting with severe swelling of the elbow joint: a case report. JBJS Case Connect 7(3):e65

15.

Visser J, Busch VJ, de Kievit-van der Heijden IM, ten Ham AM (2012) Non-Hodgkin's lymphoma of the synovium discovered in total knee arthroplasty: a case report. BMC Res Notes 5:449

16.

Chim CS, Pang YY, Ooi GC, Mok MY, Shek TW (2006) EBV-associated synovial lymphoma in a chronically inflamed joint in rheumatoid arthritis receiving prolonged methotrexate treatment. Haematologica 91(8 Suppl):Ecr31

17.

De Angelis F, Di Rocco A, Minotti C et al (2012) Atypical presentation of anaplastic large T-cell lymphoma mimicking an articular relapse of rheumatoid arthritis in a patient treated with etanercept. A case report and literature review. Leuk Res 36(9):e199–e201

18.

Kennedy JW, Wong LK, Kalantarian B, Turner L, Hayes CW (2006) An unusual presentation of methotrexate-induced B-cell lymphoma of the metacarpophalangeal joint: a case report and literature review. J Hand Surg Am 31(7):1193–1196

19.

Arredondo J, Worland RL, Sinnenberg RJ Jr, Qureshi GD (1999) Non-Hodgkin's lymphoma as an unexpected diagnosis in a shoulder arthroplasty. J Arthroplast 14(1):108–111
Funding
No specific funding was received from any bodies in the public, commercial or not-for-profit sectors to carry out the work described in this manuscript.
Ethics declarations
Conflict of interest
The authors declare no conflict of interest (COI disclosure with author-identifying information on separate title page).
Ethical approval
All procedures performed in studies involving human participants were in accordance with the ethical standards of the institutional and/or national research committee and with the 1964 Helsinki Declaration and its later amendments or comparable ethical standards.
Informed consent
Informed consent was obtained from a patient included in the study.
Additional information
Publisher's Note
Springer Nature remains neutral with regard to jurisdictional claims in published maps and institutional affiliations.
About this article
Cite this article
Chung, S.W., Park, E.H., Kang, E.H. et al. Diffuse large B-cell lymphoma involving the left sternoclavicular joint mimicking rheumatoid arthritis flare: a case-based review. Rheumatol Int (2020). https://doi.org/10.1007/s00296-020-04528-1
Received:

Accepted:

Published:
Keywords
Rheumatoid arthritis

Diffuse large B-cell lymphoma

Differential diagnosis

Sternoclavicular joint