Abstract
Online social networking offers numerous opportunities for continuing medical education, professional development, and scholarly collaboration. Available social media channels proved useful for expanding education and research perspectives, particularly in rapidly developing academic disciplines such as rheumatology. Although there are numerous advantages of social media, busy clinicians should be aware of some drawbacks related to misinformation, unethical promotion, and unprofessional behavior in globally expanding platforms. Filtering credible and expert-proven information by skilled users is, therefore, increasingly important. Enforcing ethical norms and advancing professional etiquette in the field is strongly advisable. This article overviews the advantages and shortcomings of social media and reflects on available platforms for education and research in rheumatology.
This is a preview of subscription content, log in to check access.
Access options
Buy single article
Instant unlimited access to the full article PDF.
US$ 39.95
Price includes VAT for USA
Subscribe to journal
Immediate online access to all issues from 2019. Subscription will auto renew annually.
US$ 199
This is the net price. Taxes to be calculated in checkout.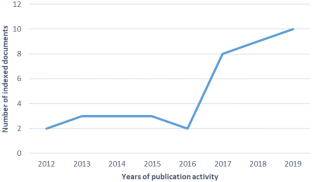 References
1.

Qualman E (2010) Socialnomics: how social media transforms the way we live and do business (paperback edition). Wiley, ISBN-13:9780470638842

2.

Mašić I, Begić E, Donev DM, Gajović S, Gasparyan AY, Jakovljević M et al (2016) Sarajevo declaration on integrity and visibility of scholarly publications. Croat Med J 57(6):527–529

3.

Gasparyan AY, Yessirkepov M, Voronov AA, Koroleva AM, Kitas GD (2019) comprehensive approach to open access publishing: platforms and tools. J Korean Med Sci 34(27):e184

4.

Nikiphorou E, Studenic P, Ammitzbøll CG, Canavan M, Jani M, Ospelt C, Berenbaum F (2017) Social media use among young rheumatologists and basic scientists: results of an international survey by the Emerging EULAR Network (EMEUNET). Ann Rheum Dis 76(4):712–715

5.

Singh AG, Singh S, Singh PP (2012) YouTube for information on rheumatoid arthritis–a wakeup call? J Rheumatol 39(5):899–903

6.

Surviving and Thriving in a Social Health Care Environment. http://www.washingtonarthritisrheumors.com/wp-content/uploads/2015/10/ACR-Social-Media-Guide.pdf. Accessed Aug 8 2019

7.

Forgie SE, Duff JP, Ross S (2013) Twelve tips for using Twitter as a learning tool in medical education. Med Teach 35(1):8–14

8.

Berenbaum F (2014) The social (media) side to rheumatology. Nat Rev Rheumatol 10(5):314–318

9.

Kocyigit BF, Nacitarhan V, Koca TT, Berk E (2019) YouTube as a source of patient information for ankylosing spondylitis exercises. Clin Rheumatol 38(6):1747–1751

10.

Tolu S, Yurdakul OV, Basaran B, Rezvani A (2018) English-language videos on YouTube as a source of information on self-administer subcutaneous anti-tumour necrosis factor agent injections. Rheumatol Int 38(7):1285–1292

11.

Kocyigit BF, Akaltun MS (2019) Does YouTube provide high quality information? Assessment of secukinumab videos. Rheumatol Int 39(7):1263–1268

12.

EULAR Online Courses. https://emeunet.eular.org/eular_online_courses.cfm. Accessed Aug 8 2019

13.

El Miedany Y (2015) e-Rheumatology: are we ready? Clin Rheumatol 34(5):831–837

14.

Negrón JB (2019) #EULAR2018: the Annual European Congress of Rheumatology—a Twitter hashtag analysis. Rheumatol Int 39(5):893–899

15.

A Home for #10DoT. https://10daysoftwitter.wordpress.com/. Accessed Aug 29 2019

16.

Annual European Congress of Rheumatology Social Media Rules and Regulations. http://congress2018.eular.org/myUploadData/files/EULAR_2018_Social_Media_Rules_and_Regulations_final.pdf. Accessed Aug 29 2019

17.

Reuter K, Danve A, Deodhar A (2019) Harnessing the power of social media: how can it help in axial spondyloarthritis research? Curr Opin Rheumatol 31(4):321–328

18.

Howells L, Chisholm A, Cotterill S, Chinoy H, Warren RB, Bundy C (2018) Impact of disease severity, illness beliefs, and coping strategies on outcomes in psoriatic arthritis. Arthritis Care Res (Hoboken) 70(2):295–302

19.

Dzubur E, Khalil C, Almario CV, Noah B, Minhas D, Ishimori M, Arnold C, Park Y, Kay J, Weisman MH, Spiegel BMR (2019) Patient concerns and perceptions regarding biologic therapies in ankylosing spondylitis: insights from a large-scale survey of social media platforms. Arthritis Care Res (Hoboken) 71(2):323–330

20.

Gasparyan AY, Nurmashev B, Yessirkepov M, Udovik EE, Baryshnikov AA, Kitas GD (2017) The journal impact factor: moving toward an alternative and combined scientometric approach. J Korean Med Sci 32(2):173–179

21.

Muñoz-Velandia OM, Fernández-Ávila DG, Patino-Hernandez D, Gómez AM (2019) Metrics of activity in social networks are correlated with traditional metrics of scientific impact in endocrinology journals. Diabetes Metab Syndr 13(4):2437–2440

22.

Eysenbach G (2011) Can tweets predict citations? Metrics of social impact based on Twitter and correlation with traditional metrics of scientific impact. J Med Internet Res 13(4):e123

23.

Erdt M, Nagarajan A, Sin SCJ, Theng Y-L (2016) Altmetrics: an analysis of the state-of-the-art in measuring research impact on social media. Scientometrics 109(2):1117–1166

24.

Who's saying what about your published work? https://www.altmetric.com/audience/researchers/. Accessed 2 Aug 2019

25.

#RheumChat. http://simpletasks.org/rheumchat/. Accessed 2 Aug 2019

26.

Lasker R, Vicneswararajah N (2015) Using Twitter to teach problem-based learning. Med Educ 49:531

27.

Venuturupalli RS, Sufka P, Bhana S (2019) Digital medicine in rheumatology: challenges and opportunities. Rheum Dis Clin N Am 45(1):113–126

28.

Pershad Y, Hangge PT, Albadawi H, Oklu R (2018) Social medicine: Twitter in healthcare. J Clin Med 7(6):121

29.

Liu HY, Beresin EV, Chisolm MS (2019) Social media skills for professional development in psychiatry and medicine. Psychiatr Clin N Am 42(3):483–492

30.

Mohammadi E, Thelwall M, Kwasny M, Holmes KL (2018) Academic information on Twitter: a user survey. PLoS One 13(5):e0197265. https://doi.org/10.1371/journal.pone.0197265

31.

Wadhwa V, Latimer E, Chatterjee K, Mccarty J, Fitzgerald R (2017) Maximizing the tweet engagement rate in academia: analysis of the AJNR Twitter feed. Am J Neuroradiol 38(10):1866–1868

32.

Farnan JM, Snyder Sulmasy L, Worster BK, Chaudhry HJ, Rhyne JA, Arora VM (2013) American College of Physicians Ethics, Professionalism and Human Rights Committee; American College of Physicians Council of Associates; Federation of State Medical Boards Special Committee on Ethics and Professionalism*. Online medical professionalism: patient and public relationships: policy statement from the American College of Physicians and the Federation of State Medical Boards. Ann Intern Med 158(8):620–627

33.

Greysen SR, Chretien KC, Kind T, Young A, Gross CP (2012) Physician violations of online professionalism and disciplinary actions: a national survey of state medical boards. JAMA 307(11):1141–1142

34.

Peled Y (2019) Cyberbullying and its influence on academic, social, and emotional development of undergraduate students. Heliyon 5(3):e01393

35.

HIPAA Social Media Rules https://www.hipaajournal.com/hipaa-social-media/. Accessed 25 Sep 2019

36.

Gasparyan AY, Nurmashev B, Voronov AA, Gerasimov AN, Koroleva AM, Kitas GD (2016) The pressure to publish more and the scope of predatory publishing activities. J Korean Med Sci 31(12):1874–1878

37.

Memon AR, Azim ME (2018) Predatory conferences: addressing researchers from developing countries. J Pak Med Assoc 68(11):1691–1695

38.

Delgado-López PD, Corrales-García EM (2018) Influence of internet and social media in the promotion of alternative oncology, CancerQuackery, and the Predatory Publishing Phenomenon. Cureus 10(5):e2617
Ethics declarations
Conflict of interest
The authors declare no conflict of interest.
Additional information
Publisher's Note
Springer Nature remains neutral with regard to jurisdictional claims in published maps and institutional affiliations.
About this article
Cite this article
Zimba, O., Radchenko, O. & Strilchuk, L. Social media for research, education and practice in rheumatology. Rheumatol Int 40, 183–190 (2020). https://doi.org/10.1007/s00296-019-04493-4
Received:

Accepted:

Published:

Issue Date:
Keywords
Social media

Twitter

Scholarly communication

Research

Education

Rheumatology