Abstract
Eosinophilic granulomatosis with polyangiitis (EGPA) is characterized by necrotizing vasculitis of small-sized vessels with extravascular granulomas and eosinophilic infiltration. The case of a 48-year-old Japanese woman with EGPA, who presented concurrently with subarachnoid hemorrhage (SAH) and coronary vasculitis, is reported. She initially presented with bronchial asthma, and then 8 months later she developed various symptoms caused by systemic eosinophilic vasculitis and was admitted to our hospital. Three days after admission, she started oral corticosteroid therapy, and her 2009 Five-Factor Score (FFS) was 0. However, she developed an SAH, followed by coronary vasculitis 1 day later. With extensive treatment with a combination of betamethasone, cyclophosphamide, intravenous immunoglobulin, and rituximab, her systemic vasculitis improved dramatically. This seems to be the first case of EGPA with SAH and coronary vasculitis. In previous reports of EGPA with SAH, 4 of 11 cases developed SAH as an exacerbation of systemic vasculitis during remission induction therapy. The present patient also had SAH during remission induction therapy. However, the period between bronchial asthma and SAH was only 8 months. This is the shortest among case reports of EGPA with SAH. In addition, the present patient rapidly developed coronary vasculitis. These findings suggest that EGPA causes SAH and coronary vasculitis as early complications of systemic vasculitis. In EGPA, it is necessary to pay careful attention to rapid changes of disease activity, even when the FFS indicates a good prognosis.
This is a preview of subscription content, log in to check access.
Access options
Buy single article
Instant unlimited access to the full article PDF.
US$ 39.95
Price includes VAT for USA
Subscribe to journal
Immediate online access to all issues from 2019. Subscription will auto renew annually.
US$ 199
This is the net price. Taxes to be calculated in checkout.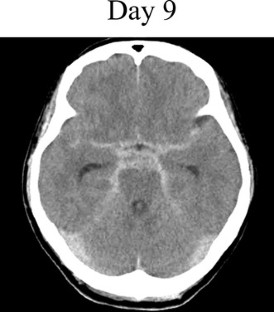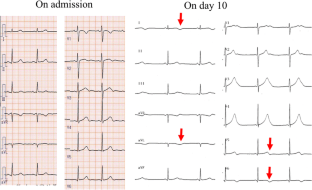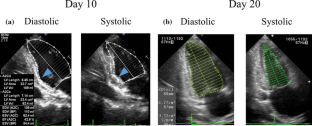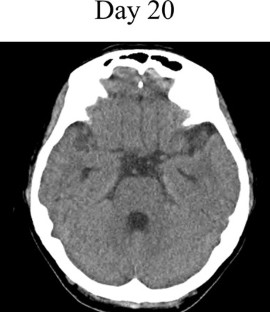 References
1.

Jennette JC, Falk RJ, Bacon PA et al (2013) 2012 revised International Chapel Hill Consensus Conference nomenclature of Vasculitides. Arthritis Rheum 65(1):1–11

2.

Guillevin L, Cohen P, Gayraud Met al (1999) Churg-Strauss syndrome. Clinical study and long-term follow-up of 96 patients. Medicine (Baltimore) 78(1):26–37

3.

Lhote F, Cohen P, Guillevin L (1998) Polyarteritis nodosa, microscopic polyangiitis and Churg–Strauss syndrome. Lupus 7(4):238–258

4.

Masi AT, Hunder GG, Lie JT et al (1990) The American College of Rheumatology 1990 criteria for the classification of Churg–Strauss syndrome (allergic granulomatosis and angiitis). Arthritis Rheum 33(8):1094–1100

5.

Guillevin L, Pagnoux C, Seror R et al (2011) The Five Factor Score revisited: assessment of prognoses of systemic necrotizing vasculitides based on the French Vasculitis Study Group (FVSG) cohort. Medicine (Baltimore) 90(1):19–27

6.

Dote K, Sato H, Tateishi H et al (1991) Myocardial stunning due to simultaneous multivessel coronary spasms: a review of 5 cases (article in Japanese). J Cardiol 21(2):203–214

7.

Weiner M, Segelmark M (2016) The clinical presentation and therapy of diseases related to anti-neutrophil cytoplasmic antibodies (ANCA). Autoimmun Rev 15(10):978–982

8.

Tsurikisawa N, Taniguchi M, Saito H et al (2004) Treatment of Churg-Strauss syndrome with high-dose intravenous immunoglobulin. Ann Allergy Asthma Immunol 92(1):80–87

9.

Strauss L, Churg S (1951) Allergic granulomatosis, allergic angiitis, and periarteritis nodosa. Am J Pathol 27(2):277–301

10.

Taormina G, Andolina G, Banco MA et al (2014) An uncommon presentation of eosinophilic granulomatosis with polyangiitis: a case report. J Med Case Rep 8:190

11.

Calvo-Romero JM, del Carmen Bonilla-Gracia M, Bureo-Dacal P (2002) Churg-Strauss syndrome presenting as spontaneous subarachnoid haemorrhage. Clin Rheumatol 21(3):261–263

12.

Sheerin UM, Barreto J, Brown MM et al (2008) Subarachnoid haemorrhage as the first clinical manifestation of Churg–Strauss syndrome. J Neurol 255(4):607–608

13.

Chang Y, Kargas SA, Goates JJ et al (1993) Intraventricular and subarachnoid hemorrhage resulting from necrotizing vasculitis of the choroid plexus in a patient with Churg–Strauss syndrome. Clin Neuropathol 12(2):84–87

14.

Go MH, Park JU, Kang JG et al (2012) Subarachnoid and intracerebral hemorrhage in patients with churg-strauss syndrome: two case reports. J Cerebrovasc Endovasc Neurosurg 14(3):255–261

15.

Diamanti L, Berzero G, Bini P et al (2014) Spinal hemorrhage in eosinophilic granulomatosis with polyangiitis (Churg-Strauss). J Neurol 261(2):438–440

16.

Lee MX, Teng GG, Raju GC et al (2015) Catastrophic subarachnoid hemorrhage in eosinophilic granulomatosis with polyangiitis without asthma. Int J Rheum Dis doi. https://doi.org/10.1111/1756-185X.12594 (Epub ahead of print)

17.

Maloon A, Fritz VU, Kaplan CL (1985) Neurological complications of systemic vasculitis. A report of 2 cases. S Afr Med J 68(8):603–605

18.

Sakamoto S, Ohba S, Eguchi K et al (2005) Churg–Strauss syndrome presenting with subarachnoid hemorrhage from ruptured dissecting aneurysm of the intracranial vertebral artery. Clin Neurol Neurosurg 107(5):428–431

19.

Menditto VG, Di Rienzo A, De Nicola M et al (2013) Subarachnoid haemorrhage from PICA aneurysm rupture in a Churg-Strauss patient: a case report and a review of the literature. Clin Neurol Neurosurg 115(2):197–199

20.

Solans-Laqué R, Fraile G, Rodriguez-Carballeira M et al (2017) Clinical characteristics and outcome of Spanish patients with ANCA-associated vasculitides: Impact of the vasculitis type, ANCA specificity, and treatment on mortality and morbidity. Medicine (Baltimore) 96(8):e6083

21.

Cottin V, Bel E, Bottero P et al (2016) Respiratory manifestations of eosinophilic granulomatosis with polyangiitis (Churg–Strauss). Eur Respir J 48(5):1429–1441

22.

Lanham JG, Elkon KB, Pusey CD et al (1984) Systemic vasculitis with asthma and eosinophilia: a clinical approach to the Churg–Strauss syndrome. Medicine (Baltimore) 63(2):65–81

23.

Pagnoux C, Guillevin L (2005) Cardiac involvement in small and medium-sized vessel vasculitides. Lupus 14(9):718–722

24.

Kane GC, Keogh KA (2009) Involvement of the heart by small and medium vessel vasculitis. Curr Opin Rheumatol 21(1):29–34

25.

Hellemans S, Dens J, Knockaert D (1997) Coronary involvement in the Churg-Strauss syndrome. Heart 77(6):576–578

26.

Cottin V, Bel E, Bottero P et al (2017) Revisiting the systemic vasculitis in eosinophilic granulomatosis with polyangiitis (Churg-Strauss): a study of 157 patients by the Groupe d'Etudes et de Recherche sur les Maladies Orphelines Pulmonaires and the European Respiratory Society Taskforce on eosinophilic granulomatosis with polyangiitis (Churg-Strauss). Autoimmun Rev 16(1):1–9

27.

Cohen P, Pagnoux C, Mahr Aet al (2007) Churg-Strauss syndrome with poor-prognosis factors: a prospective multicenter trial comparing glucocorticoids and six or twelve cyclophosphamide pulses in forty-eight patients. Arthritis Rheum 57(4):686–693
Ethics declarations
Conflict of interest
The author declares that he has no conflict of interest to report.
Ethical approval
All procedures performed in studies involving human participants were in accordance with the ethical standards of the institutional and/or national research committee and with the 1964 Helsinki declaration and its later amendments or comparable ethical standards.
Informed consent
Informed consent was obtained from all individual participants included in the study.
External editing support
The author declares that he has no external editing support.
Electronic supplementary material
Below is the link to the electronic supplementary material.
Video. An echocardiogram showed that the inferoposterior wall of the right coronary artery area was hypokinetic (AVI 14120 KB)
About this article
Cite this article
Matsuda, S., Yoshida, S., Fujiki, Y. et al. Eosinophilic granulomatosis with polyangiitis complicated by subarachnoid hemorrhage and coronary vasculitis: a case report and review of the literature. Rheumatol Int 38, 689–696 (2018). https://doi.org/10.1007/s00296-017-3875-2
Received:

Accepted:

Published:

Issue Date:
Keywords
Coronary vasculitis

Eosinophilic granulomatosis with polyangiitis

Five-Factor Score

Subarachnoid hemorrhage

Vasculitic stage