Abstract
The objectives of this study are to highlight the arthritic presentation of acute lymphoblastic leukemia (ALL) in children and to delineate features that could help differentiate it from juvenile idiopathic arthritis (JIA). We present a retrospective case control study based on records of the Pediatric Rheumatology Clinic, Advanced Pediatric Centre, Post Graduate Institute of Medical Education and Research, Chandigarh, India for the period January 2005–October 2008. We compared the clinical profile of 11 children referred to us with musculoskeletal complaints who were ultimately diagnosed to have ALL, with the clinical profile of an equal number of age and sex matched children with JIA. Important features that predicted a diagnosis of ALL and differentiated it from JIA were history of night pain (P = 0.001), non-articular bony pain (P = 0.001), presence of joint pain out of proportion to physical findings (P = 0.0001), anemia (P = 0.004), leucopenia (P = 0.045), lymphocytic predominance (P = 0.002) and thrombocytopenia (P = 0.012). In conclusion, children with musculoskeletal complaints are often referred to the rheumatologist for evaluation. The treating physician should always exclude the possibility of an underlying ALL especially if there are atypical clinical features or subtle hematological abnormalities.
This is a preview of subscription content, log in to check access.
Access options
Buy single article
Instant unlimited access to the full article PDF.
US$ 39.95
Price includes VAT for USA
Subscribe to journal
Immediate online access to all issues from 2019. Subscription will auto renew annually.
US$ 199
This is the net price. Taxes to be calculated in checkout.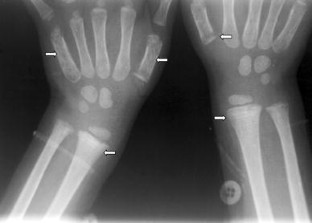 References
1.

Margoloin JF, Steuber CP, Poplack DG (2005) Acute lymphoblastic leukemia. In: Pizzo PA, Poplack DG (eds) Principles and practice of pediatric oncology, 5th edn. Lippincott Williams and Wilkins, Philadelphia, pp 538–590

2.

Revesz T, Kardos G, Kajtár P, Schuler D (1985) The adverse effect of prolonged prednisolone pretreatment in children with acute lymphoblastic leukaemia. Cancer 55:1637–1640

3.

Glader B (2007) The Anemias. In: Kliegman RM, Behrman RE, Jenson HB, Stanton BF (eds) Nelson textbook of pediatrics, 18th edn. WB Saunders, Philadelphia, pp 2003–2006

4.

Jonsson OG, Sartain P, Ducore JM, Buchanan GR (1990) Bone pain as an initial symptom of childhood acute lymphoblastic leukemia: association with nearly normal hematologic indices. J Pediatr 117:233–237

5.

Bradlow A, Barton C (1991) Arthritic presentation of childhood leukaemia. Postgrad Med J 67:562–564

6.

Schaller JG (1972) Arthritis as a presenting manifestation of malignancy in children. J. Pediatr 81:793–797

7.

Tuten RH, Gabos PG, Kumar J, Harter GD (1998) The limping child: a manifestation of acute leukemia. J Pediatr Orthop 18:625–629

8.

Spillberg I, Meyer GJ (1972) The arthritis of leukemia. Arthritis Rheum 15:630–635

9.

Silverstein MN, Kelly PJ (1963) Leukemia with osteoarticular symptoms and signs. Ann Intern Med 59:637–645

10.

Rogalsky RJ, Black B, Reed MH (1986) Orthopaedic manifestations of leukemia in children. J Bone Joint Surg [Am] 68:494–501

11.

Gallagher DJ, Phillips DJ, Heinrich SD (1996) Orthopedic manifestation of acute pediatric leukemia. Orthop Clin North Am 14:635–644

12.

Barbosa CM, Nakamura C, Terreri MT, Lee ML, Petrilli AS, Hilário MO (2002) Musculoskeletal manifestations at the onset of acute leukaemias in childhood. J Pediatr (Rio J) 78:481–484

13.

Sinigaglia R, Gigante C, Bisinella Varotto G, Zanesco L, Turra S (2008) Musculoskeletal manifestations in pediatric acute leukemia. J Pediatr Orthop 28:20–28

14.

Robazzi TC, Barreto JH, Silva LR, Santiago MB (2007) Osteoarticular manifestations as initial presentation of acute leukemias in children and adolescents in Bahia, Brazil. J Pediatr Hematol Oncol 29:622–626

15.

Ostrov BE, Goldsmith DP, Athreya BH (1993) Differentiation of systemic juvenile rheumatoid arthritis from acute leukemia near the onset of disease. J Pediatr 122:595–598

16.

Bichel J (1948) Arthralgic leukemia in children. Acta Haematol 1:154–164

17.

Jones OY, Spencer CH, Bowyer SL, Dent PB (2006) A multicenter case–control study on predictive factors distinguishing childhood leukemia from juvenile rheumatoid arthritis. Pediatrics 117:e840–e844

18.

D_Astous J, Corrigan M, Wiley J (1984) The musculoskeletal manifestations of acute lymphatic leukaemia in childhood. Orthop Trans 8:460

19.

Cassidy JT, Petty RE (2005) Skeletal malignancies and related disorders. In: Cassidy JT, Petty RE, Laxer RM, Lindsley CB (eds) Textbook of pediatric rheumatology, 5th edn. Elsevier Saunders, Philadelphia, pp 739–740

20.

Pui CH, Crist WM (1999) Acute lymphoblastic leukemia. In: Pui CH (ed) Childhood leukemias, 1st edn. Cambridge University Press, Cambridge, pp 288–312

21.

Cabral DA, Tucker JB (1999) Malignancies in children who initially present with rheumatic complaints. J Pediatr 134:53–57

22.

Rogalsky RJ, Black GB, Reed MH (1986) Orthopedic manifestations of leukaemia in children. J Bone Joint Surg Am 68:494–501

23.

Clausen N, Gotze H, Pedersen A (1983) Skeletal scintigraphy and radiograph at onset of acute lymphocytic leukaemia in children. Med Pediatr Oncol 11:291–296
About this article
Cite this article
Gupta, D., Singh, S., Suri, D. et al. Arthritic presentation of acute leukemia in children: experience from a tertiary care centre in North India. Rheumatol Int 30, 767–770 (2010) doi:10.1007/s00296-009-1064-7
Received:

Accepted:

Published:

Issue Date:
Keywords
Acute lymphoblastic leukemia

Juvenile idiopathic arthritis

Children

Thrombocytopenia