A brief review of bioluminescent systems (2019)
Abstract
Despite being widely used in reporter technologies, bioluminescent systems are largely understudied. Of at least forty different bioluminescent systems thought to exist in nature, molecular components of only seven light-emitting reactions are known, and the full biochemical pathway leading to light emission is only understood for two of them. Here, we provide a succinct overview of currently known bioluminescent systems highlighting available tools for research and discussing future applications.
Keywords
Bioluminescence 
Luciferin 
Luciferase 
Synthetic biology 
Imaging 
Introduction
Having evolved independently dozens of times, bioluminescence provides living organisms with a tangible advantage in certain ecological contexts. The ability to emit light in darkness has been observed in about 10,000 species from 800 genera, although this may well be an underestimation (Haddock et al. 2010). The exact benefit of light emission in various environments is far from being clear for a number of species, however, in most cases bioluminescence is thought to serve the purpose of visual communication to scare off predators, attract prey or in courtship behaviour (Ellis and Oakley 2016; Wainwright and Longo 2017; Verdes and Gruber 2017; Labella et al. 2017).
Evolution has stumbled upon and fixed numerous biochemical solutions for bioluminescence demonstrating that the ability to glow is accessible to living organisms in various points of genotype space, from bacteria to fungi and animals. Various luciferins, the small molecules prone to light emission upon oxidation, have been derived by evolution from unrelated biochemical pathways. Oxidation of these molecules is catalysed by non-homologous enzymes, luciferases, to create a palette of light-emitting reactions that are different in colour, catalysis rate, cellular localisation and dependence on ATP, NADH and other metabolites (Kaskova et al. 2016).
Although still largely understudied on a molecular level, hardly could such diversity of reactions with an easily measurable output escape becoming an essential part of modern reporter technologies. Luminescent reactions, where structures of both luciferin and luciferases have been discovered, are now utilised in vitro and in vivo in food testing (Shama and Malik 2013), environmental monitoring (Girotti et al. 2008), diagnostics (Frank and Krasitskaya 2014), drug screenings (Hasson et al. 2015; Kobayashi et al. 2010; Lampinen et al. 1995), and various kinds of biomedical research. Detailed reviews on chemistry and diversity of luciferins (Kaskova et al. 2016), luciferases (Kotlobay et al. 2019), and ecology of bioluminescence (Haddock et al. 2010; Widder 2010), as well as a comprehensive overview of all known bioluminescent systems (Shimomura and Yampolsky 2019), are available. In this article, we provide an intentionally succinct overview of light-emitting reactions where both luciferin and luciferase are known, highlighting their main features for practical applications.
We will group bioluminescent systems by structures of their luciferins, as these compounds are the principal determinants of colour and properties of light-emitting reactions. Of at least forty bioluminescent systems thought to exist in nature (Haddock et al. 2010), structures of only nine luciferins are known, for seven of which at least a single luciferase gene has been discovered (Fig. 1).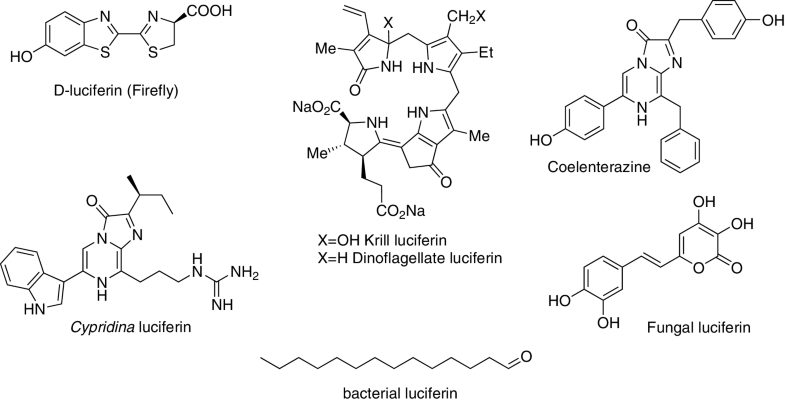 Final remarks
With no bioluminescent system suitable for any task and application, different light-emitting reactions occupy different niches in modern reporter technologies. In bioimaging, where applications of bioluminescence and fluorescence-based approaches overlap, the former is used in experiments that require high dynamic range, low background or deep-tissue imaging. Toxicity assays and studies of bacterial biology are typically based on the bacterial bioluminescent system while drug screenings often employ D-luciferin-dependent or coelenterazine-dependent systems. When selecting a luciferin–luciferase pair for a particular application, several criteria have to be taken into account including thermostability, pH optimum, protein size, cellular or extracellular location, aggregation properties, emission wavelength, intensity, rate of the reaction or dependence on ATP and other cofactors.
A recent discovery of a eukaryote-friendly genetically encodable pathway in fungi may stimulate the development of new bioluminescence-based technologies that would not require addition of the substrate. Expression of the fungal bioluminescent system may result in the generation of autonomously glowing animals and plants where light emission would be used to visualise development, report physiological changes, signal progression of pathological states, or simply serve esthetic purposes (Reeve et al. 2014; Kotlobay et al. 2018; Landau et al. 2009). We also envision that the discovery of the fungal pathway has the potential to bring autonomous bioluminescence beyond the use in reporter technologies towards engineering of light-based communications between cells, organisms or living and non-living systems.
The potential of bioluminescence-based tools in synthetic biology has only been marginally explored. Given the practical importance of light-emitting reactions, general appeal of glowing organisms and the scope of available methods in organic chemistry, metabolomics and genetics (Garrido-Cardenas and Manzano-Agugliaro 2017; Kaskova et al. 2016), the field of bioluminescence is surprisingly understudied. At the same time, with new insights into the photophysics, genetics and ecology of bioluminescence being made every year, engineering new light-emitting and light-communicating living systems is becoming more accessible than ever before.
Notes
Acknowledgements
This study was supported by the Russian Science Foundation project No. 17-74-10066. The authors thank Ilia Yampolsky for the feedback on the manuscript and Alexandra Tsarkova for the help with the preparation of the figure. The Synthetic biology Group is funded by the MRC London Institute of Medical Sciences (UKRI MC-A658-5QEA0).
Compliance with ethical standards
Conflict of interest
KSS is a co-founder of Planta, a company aimed to commercialize fungal bioluminescent system.
Copyright information
© The Author(s) 2019
Open AccessThis article is distributed under the terms of the Creative Commons Attribution 4.0 International License (http://creativecommons.org/licenses/by/4.0/), which permits unrestricted use, distribution, and reproduction in any medium, provided you give appropriate credit to the original author(s) and the source, provide a link to the Creative Commons license, and indicate if changes were made.