Fighting against evolution of antibiotic resistance by utilizing evolvable antimicrobial drugs
Abstract
Antibiotic resistance is a worldwide public health problem (Bush et al. in Nat Rev Microbiol 9:894–896, 2011). The lack of effective therapies against resistant bacteria globally leads to prolonged treatments, increased mortality, and inflating health care costs (Oz et al. in Mol Biol Evol 31:2387–2401, 2014; Martinez in Science 321:365–367, 2008; Lipsitch et al. in Proc Natl Acad Sci USA 97:1938–1943, 2000; Taubes in Science 321:356–361, 2008; Laxminarayan et al. in Lancet, 2016; Laxminarayan et al. in Lancet Infect Dis 13:1057–1098, 2013). Current efforts towards a solution of this problem can be boiled down to two main strategies: (1) developing of new antimicrobial agents and (2) searching for smart strategies that can restore or preserve the efficacy of existing antimicrobial agents. In this short review article, we discuss the need for evolvable antimicrobial agents, focusing on a new antimicrobial technology that utilizes peptide-conjugated phosphorodiamidate morpholino oligomers to inhibit the growth of pathogenic bacteria by targeting bacterial genes.
Keywords
Antibiotic resistance 
Evolution 
Microbial evolution 
Gene silencing 
Peptide-conjugated phosphorodiamidate morpholino oligomers (PPMOs) 
Introduction
Antibiotics are small molecules that inhibit bacterial growth by blocking key cellular pathways of bacteria in order to treat and prevent bacterial infections (Fig. 
1
). Historically, antibiotic compounds have been either isolated from microorganisms such as fungi or engineered to block catalytic activity of target enzymes. Development of these compounds is often a long and expensive process and due to natural and economical limitations, the number of approved novel antimicrobial compounds has been declining in the past decade. This problem is further exacerbated by the fact that humankind has not been successful at preserving the efficacy of existing antibiotic compounds due to irrational use of antibiotics, which promoted evolution of resistance. Resistance against every single antibiotic drug, regardless of the drugs' mechanisms of action, was reported very soon after the introduction of these drugs to clinical use (Fig. 
1
).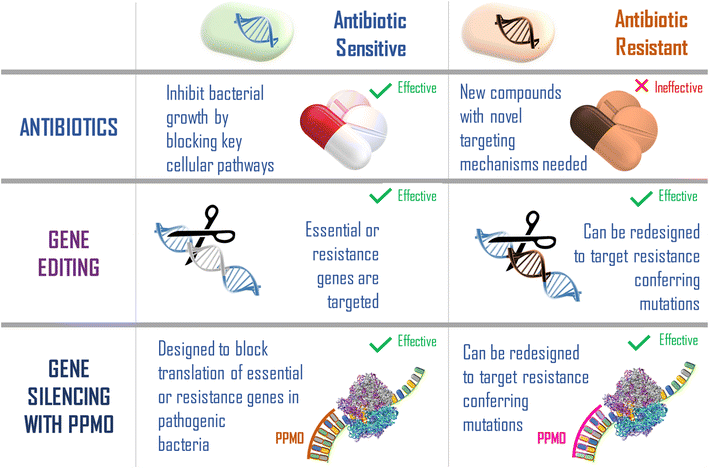 A rational method of antibiotic use that clears infections without promoting antibiotic resistance and disturbing healthy host microbiota would be a paradigm shift in medicine. Recently, there has been a growing interest into designing strategies for using existing drugs more efficiently, such as using antibiotics in combinations or cycling antibiotics in hospital settings (Baym et al. 2016). Most of these strategies rely on observations in laboratory evolution experiments or theoretical predictions (Bergstrom et al. 2004; Hegreness et al. 2008; Gonzales et al. 2015). Alas, none of the proposed methodologies have yet been successful at impeding evolution of resistance. Furthermore, both single antibiotic compounds and antibiotic combinations can unselectively kill both pathogenic and commensal bacteria in the host and significantly perturb healthy human microbiome leading to dysbiosis with severe complications. Therefore, there is a great need for new antimicrobial treatment platforms that can rapidly deliver evolvable and custom tailored drugs that eradicate pathogens in a sequence-specific way.
Classical antibiotic treatments aim to inhibit bacterial growth at the protein level by blocking catalytic activities of target enzymes that have critical roles in bacterial physiology. For instance, quinolones inhibit bacterial growth by blocking DNA gyrase activity, which is crucial for DNA replication. These drugs can inhibit the growth of antibiotic-sensitive pathogens but they also nonspecifically inhibit commensal bacteria throughout the treatment. Moreover, resistance to quinolones emerges rapidly and single amino acid replacements in the DNA gyrases, such as S83L or D87N replacements in the GyrA enzyme of Escherichia coli, are enough to render some of quinolones completely ineffective (Oz et al. 2014). If resistance emerges as a result of mutations in the target enzyme, an obvious solution would be to modify the antibiotic compounds such that they can still inhibit mutated enzyme activities. However, this process is fairly slow and still costly since it requires structural analysis of the mutated enzymes and accordingly developing and testing several drug variants. Alternatively, inhibition of GyrA activity in the targeted pathogen could have been done at the DNA or RNA levels by disrupting or silencing the gyrA gene, respectively. This way, it would have been possible to engineer sequence-specific narrow spectrum agents for clearing infections. This goal can now be achieved with the help of novel gene targeting technologies.
The last decade has been transformative in biology. With the remarkable advances in sequencing, gene manipulation methods and high-throughput technologies, a significant amount of knowledge about genes, gene functions, and their regulation has been made available (Nichols et al. 2011; Laabei and Massey 2016; Brinsmade 2016). Several comprehensive gene deletion or transposon libraries for several bacterial species have been generated and in many research labs across the world, it is a standard practice to manipulate bacterial genomes and silence bacterial genes of interest (Nichols et al. 2011; Baba et al. 2006; Datsenko and Wanner 2000). In principle, any bacterial gene can be either knocked down or knocked out in laboratory settings. As a result, it becomes possible to kill bacteria by targeting their essential genes (i.e., polymerase or ribosomal genes) or to restore antibiotic sensitivity of resistant bacteria by targeting resistance related genes (i.e., efflux or beta lactamase genes) with the help of gene targeting/editing technologies (Bikard et al. 2013; Sontheimer and Marraffini 2010; Orndorff 2016). The biggest advantage of such methods is their evolvability. Advancements in gene sequencing technologies now allow us to quickly identify resistance-conferring genetic changes and modify the gene targeting tools in a sequence-specific way such that the mutated genes can still be targeted (Fig. 1). For instance, it is possible to utilize gene silencing tools to specifically target mutated genes and even steer evolution towards antibiotic sensitivity by selecting the wild type genes. Gene editing technologies are very promising but currently far from being used in the clinics due to several shortcomings. First, delivering the reagents necessary for gene targeting into the human host imposes significant health risks for the already sick patients. Second, gene editing methods typically rely on the use of selection markers that are used for a particular phenotype such as antibiotic resistance and it is not always obvious to utilize gene targeting methods to deselect for resistant bacteria. Finally, there is a legitimate concern about using some of the gene delivery vehicles, particularly viruses, as they can potentially evolve and become human pathogens.
Towards modulating antibiotic resistance in pathogenic bacteria, we recently utilized peptide-conjugated phosphorodiamidate morpholino oligomers (PPMOs) as sequence-specific antisense molecules for enhancing efficacy of existing antimicrobial drugs (Greenberg et al. 2010; Geller et al. 2005, 2013; Meng et al. 2015; Tilley et al. 2006, 2007). Briefly, PPMOs are synthetic oligos made from 6-sided morpholine rings joined together by phosphorodiamidate linkages. Each morpholine ring has a nucleotide attached to it. PPMOs can be designed to bind to complementary sequences in mRNA molecules and block protein translation (Fig. 1). Unlike short RNA molecules that are also considered as therapeutic agents, PPMOs can stay intact in the cell since RNAse enzymes cannot hydrolyze PPMOs. PPMOs can be designed to have insignificant toxicity against mammalian cells and can be delivered to both eukaryotic cells and prokaryotic cells with the help of the peptides conjugated to them (Greenberg et al. 2010; Geller et al. 2013). Previously, PPMOs were successfully used to target essential genes in several bacterial species. They were also shown to inhibit translation of resistance genes (Geller et al. 2013; Howard et al. 2017). In our recently published article, we proposed to use PPMOs to enhance the efficacy of antibiotics by silencing resistance genes that cause intrinsic or acquired antibiotic resistance in pathogenic bacteria. Specifically, we designed a PPMO that silences the acrA gene in E. coli, Klebsiella pneumoniae and Salmonella enterica (Ayhan et al. 2016).
The AcrA protein partners with AcrB and TolC proteins to form the AcrAB-TolC efflux pump complex that excretes antibiotic molecules from the cytoplasm of several Gram negative bacteria (Blair et al. 2014). The presence of the AcrAB-TolC complex makes Gram negative bacteria intrinsically resistant to numerous antibiotic compounds such as macrolides and some beta lactams. Also, overexpression of the AcrA/AcrB proteins and point mutations in AcrB are commonly found in multidrug resistant bacteria (Oz et al. 2014; Toprak et al. 2012; Blair et al. 2015). Therefore, we hypothesized that the silencing of the acrA, acrB or tolC genes would decrease antibiotic resistance of bacteria and enhance efficacy of several antibiotic compounds. Indeed, we have found that particularly silencing the acrA gene reduced the minimum inhibitory concentrations (MIC) of more than 10 antibiotics up to 50-fold (Ayhan et al. 2016). This way, we were able to kill E. coli, Klebsiella pneumoniae and Salmonella enterica cells using low antibiotic doses that are normally sub inhibitory. Furthermore, we were able to amplify efficacy of antibiotic combinations by the help of PPMOs. Strikingly, this approach allowed the combined use of even antagonistic antibiotic pairs that are known to dampen each other's activity (Blair et al. 2014). Although clinically not favored, it was previously shown that the use of antagonistic antibiotic pairs could impede evolution of resistance (Hegreness et al. 2008).
The use of PPMOs and similar technologies in the clinic as antimicrobials or antibiotic enhancers will be a significant advancement in medicine. Since the PPMO sequences can be modified to silence even genes with resistance-conferring mutations, it will be possible to efficiently target antibiotic susceptible or resistant bacteria in a sequence-specific way. The PPMO sequences can be engineered for minimizing the nonspecific targeting of host cells and commensal bacteria in the host. In our experience, the acrA-PPMO had no detectable toxicity against the human cell line we tested (Ayhan et al. 2016). Encouragingly, PPMOs have recently been FDA approved for clinical trials for the treatment of Duchenne's Muscular Dystrophy (DMD). However, like any new biological tools, there are several limitations of the current PPMO technologies. In our experience, relatively high doses of PPMOs (5–10 µM) are typically necessary for silencing the targeted gene. Given that PPMOs are large molecules (10–15 base pairs), it might be challenging to create such high PPMO concentrations in the human body without causing toxicities. Finally, resistance to PPMOs can also evolve. It was recently reported that a mutation in an active transport gene in E. coli reduced bacterial membrane permeability for PPMOs and hence increased resistance to PPMOs. Fortunately, the resistance was reverted when the peptide attached to the PPMO molecules was replaced with another peptide.
We will be hearing more about the use of gene editing methods including the use of PPMOs in the near future. Once the problems we briefly mentioned are addressed, for the first time in human history, we will have evolvable drugs that can compete with the evolution of resistance in pathogens. The use of sequencing-based population genetic models together with evolvable gene editing and silencing tools will give us the opportunity to outsmart pathogens and effectively treat infectious diseases.
Notes
Acknowledgements
Authors would like to thank Dr. Miriam Osterfield for her careful and critical reading of the manuscript.
Copyright information
© Springer-Verlag Berlin Heidelberg 2017