Effects of cooling process on the solid–liquid phase separation process in ultra-high-molecular-weight polyethylene/liquid paraffin blends
Abstract
Ultra-high-molecular-weight polyethylene (UHMWPE) microporous membrane is generally prepared by thermally induced phase separation process. The phase separation process is closely related to the cooling process in practical production. In this paper, the phase separation temperature of UHMWPE/liquid paraffin blends was explored by the hot-stage-optical device and differential scanning calorimeter (DSC), and the result showed that the temperature was about 105–125 °C. The effects of cooling condition and crystallization ability of UHMWPE on the separation process of the blends were also investigated by DSC. The results showed that the phase separation was affected by the cooling rates rather than the initial cooling temperature. And the crystallization of UHMWPE was mainly limited by the nucleating at a low cooling rate, which could form larger porous structure. In a word, it should be inspirational for the actual production of the UHMWPE microporous membrane.
Graphical abstract
The solid–liquid phase separation will occur in the cooling process of UHMWPE/LP blends, which is driven by the external temperature difference. It is significant to understand the phase separation process. In this paper, the effects of the melting properties and cooling condition on phase separation process were investigated, the S–L phase separation range is at 105–125 °C, and the speed of phase separation is mainly related to the external temperature difference and the UHMWPE content. It could be inspirational for actual production of the UHMWPE membrane with more uniform pore structure.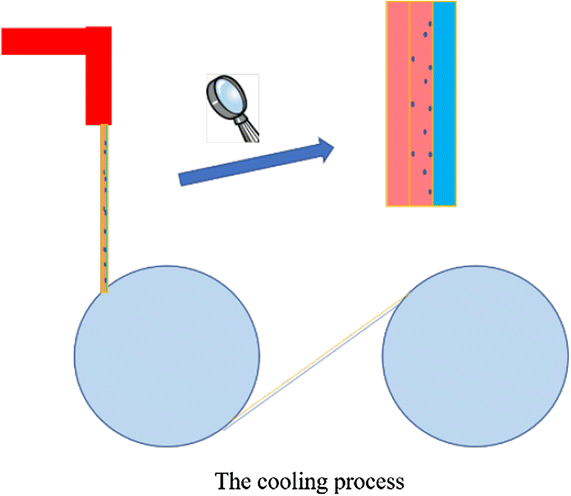 Keywords
Keywords 
Cooling process 
Phase separation process 
Porous structure 
Notes
Acknowledgements
This author was grateful for the financial support from the National Natural Science Foundation of China (11575084 and 51602153), the Natural Science Foundation of Jiangsu Province (BK20160795) and A Project Funded by the Priority Academic Program Development of Jiangsu Higher Education Institutions (PAPD).
Copyright information
© Springer-Verlag GmbH Germany, part of Springer Nature 2019