Abstract
Fecal microbes play an important role in the survival and health of wild animals. Spotted hyena (Crocuta crocuta) is one of the representative carnivores in Africa. In this study, we examined the fecal microflora of spotted hyena by conducting high-throughput sequencing of the fecal microbial 16S rRNA gene V3–V4 high mutation region. The effects of age, sex, and feeding environment on the fecal microbiota of spotted hyenas were determined. The results showed that the core bacteria phyla of spotted hyenas fecal microbiota include Firmicutes (at an average relative abundance of 53.93%), Fusobacteria (19.56%), Bacteroidetes (11.40%), Actinobacteria (5.78%), and Proteobacteria (3.26%), etc. Age, gender, and feeding environment all had important effects on the fecal microbiota of spotted hyenas, among which feeding environment might be the most significant. The abundance of the Firmicutes in the adult group was significantly higher than that in the juvenile group, whereas the abundance of Fusobacteria, Bacteroidetes, and Proteobacteria were significantly lower than that in the juvenile group. The abundance of Lachnospiraceae and Ruminococcaceae in the female group was significantly higher than that in the male group. There were significant differences between the fecal microbial communities of Jinan group and Weihai group, and microbes from the phyla Firmicutes and Synergistetes were representative species associated with the difference.
This is a preview of subscription content, log in to check access.
Access options
Buy single article
Instant access to the full article PDF.
US$ 39.95
Price includes VAT for USA
Subscribe to journal
Immediate online access to all issues from 2019. Subscription will auto renew annually.
US$ 199
This is the net price. Taxes to be calculated in checkout.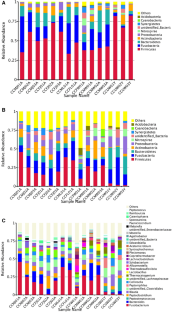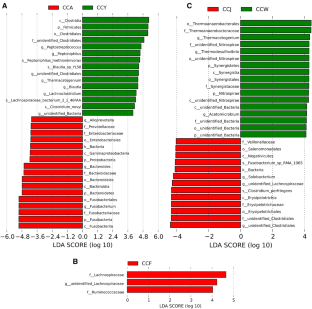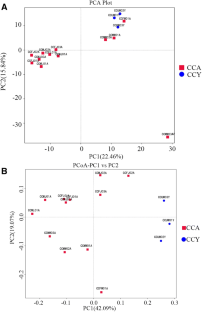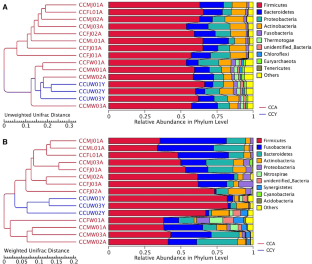 References
1.

Heitlinger E, Ferreira SCM, Thierer D, Hofer H, East ML (2017) The intestinal eukaryotic and bacterial biome of spotted hyenas: the impact of social status and age on diversity and composition. Front Cell Infect Microbiol 7:262

2.

Watts HE, Tanner JB, Lundrigan BL, Holekamp KE (2009) Post-weaning maternal effects and the evolution of female dominance in the spotted hyena. Proc Biol Sci 276(1665):2291–2298

3.

Clements HS, Tambling CJ, Hayward MW, Kerley GI (2014) An objective approach to determining the weight ranges of prey preferred by and accessible to the five large african carnivores. PLoS ONE 9(7):e101054

4.

Mills MGL, Hofer H (1998) Hyenas: status survey and conservation action plan. IUCN, Gland

5.

Hayward MW (2006) Prey preferences of the spotted hyaena (Crocuta crocuta) and degree of dietary overlap with the lion (Pantera leo). J Zool 270:606–614

6.

Yirga G, De Iongh HH, Leirs H, Gebrihiwot K, Deckers J, Bauer H (2012) Adaptability of large carnivores to changing anthropogenic food sources: diet change of spotted hyena (Crocuta crocuta) during Christian fasting period in Northern Ethiopia. J Anim Ecol 81(5):1052–1055

7.

Wasimuddin MS, Melzheimer J, Thalwitzer S, Heinrich S, Wachter B, Sommer S (2017) Gut microbiomes of free-ranging and captive Namibian cheetahs: diversity, putative functions and occurrence of potential pathogens. Mol Ecol 26(20):5515–5527

8.

Chen J, Zhang H, Wu X, Shang S, Yan J, Chen Y, Zhang H, Tang X (2017) Characterization of the gut microbiota in the golden takin (Budorcas taxicolor bedfordi). AMB Express 7(1):81

9.

He J, Hai L, Orgoldol K, Yi L, Ming L, Guo F, Li G (2019) Ji R (2019) High-throughput sequencing reveals the gut microbiome of the bactrian camel in different ages. Curr Microbiol 76(7):810–817

10.

Zhang HH, Chen L (2010) Phylogenetic analysis of 16S rRNA gene sequences reveals distal gut bacterial diversity in wild wolves (Canis lupus). Mol Biol Rep 37(8):4013–4022

11.

Chen L, Zhang H, Liu G, Sha W (2016) First report on the bacterial diversity in the distal gut of dholes (Cuon alpinus) by using 16S rRNA gene sequences analysis. J Appl Genet 57(2):275–283

12.

Han S, Guan Y, Dou H, Yang H, Yao M, Ge J, Feng L (2019) Comparison of the fecal microbiota of two free-ranging Chinese subspecies of the leopard (Panthera pardus) using high-throughput sequencing. PeerJ 28(7):e6684

13.

Garcia-Mazcorro JF, Lanerie DJ, Dowd SE, Paddock CG, Grützner N, Steiner JM, Ivanek R, Suchodolski JS (2011) Effect of a multi-species synbiotic formulation on fecal bacterial microbiota of healthy cats and dogs as evaluated by pyrosequencing. FEMS Microbiol Ecol 78(3):542–554

14.

Wu X, Zhang H, Chen J, Shang S, Wei Q, Yan J, Tu X (2016) Comparison of the fecal microbiota of dholes high-throughput Illumina sequencing of the V3–V4 region of the 16S rRNA gene. Appl Microbiol Biotechnol 100(8):3577–3586

15.

An C, Okamoto Y, Xu S, Eo KY, Kimura J, Yamamoto N (2017) Comparison of fecal microbiota of three captive carnivore species inhabiting Korea. J Vet Med Sci 79(3):542–546

16.

Dworkin M, Falkow S, Rosenberg E, Schleifer KH, Stackebrandt E (2006) The prokaryotes, vol 7. Springer, NewYork, pp 1016–1027

17.

Marathe N, Shetty S, Lanjekar V, Ranade D, Shouche Y (2012) Changes in human gut flora with age: an Indian familial study. BMC Microbiol 12:222

18.

Yatsunenko T, Rey FE, Manary MJ, Trehan I, Dominguez-Bello MG, Contreras M, Magris M, Hidalgo G, Baldassano RN, Anokhin AP, Heath AC, Warner B, Reeder J, Kuczynski J, Caporaso JG, Lozupone CA, Lauber C, Clemente JC, Knights D, Knight R, Gordon JI (2012) Human gut microbiome viewed across age and geography. Nature 486(7402):222–227

19.

Dominianni C, Sinha R, Goedert JJ, Pei Z, Yang L, Hayes RB, Ahn J (2015) Sex, body mass index, and dietary fiber intake influence the human gut microbiome. PLoS ONE 10(4):e0124599

20.

Degnan PH, Pusey AE, Lonsdorf EV, Goodall J, Wroblewski EE, Wilson ML, Rudicell RS, Hahn BH, Ochman H (2012) Factors associated with the diversification of the gut microbial communities within chimpanzees from Gombe National Park. Proc Natl Acad Sci USA 109(32):13034–13039

21.

Wang J, Kalyan S, Steck N, Turner LM, Harr B, Künzel S, Vallier M, Häsler R, Franke A, Oberg HH, Ibrahim SM, Grassl GA, Kabelitz D, Baines JF (2015) Analysis of intestinal microbiota in hybrid house mice reveals evolutionary divergence in a vertebrate hologenome. Nat Commun 6:6440

22.

McClelland EE, Smith JM (2011) Gender specific differences in the immune response to infection. Arch Immunol Ther Exp (Warsz) 59(3):203–213

23.

Zhao L, Wang G, Siegel P, He C, Wang H, Zhao W, Zhai Z, Tian F, Zhao J, Zhang H (2013) Quantitative genetic background of the host influences gut microbiomes in chickens. Sci Rep 3(5):1970

24.

Kruuk H (1972) The spotted hyena: a study of predation and social behavior. University of Chicago Press, Chicago

25.

Davenport ER, Mizrahi-Man O, Michelini K, Barreiro LB, Ober C, Gilad Y (2014) Seasonal variation in human gut microbiome composition. PLoS ONE 9(3):e90731

26.

Guan Y, Zhang H, Gao X, Shang S, Wu X, Chen J, Zhang W, Zhang W, Jiang M, Zhang B, Chen P (2016) Comparison of the bacterial communities in feces from wild versus housed sables (Martes zibellina) by high-throughput sequence analysis of the bacterial 16S rRNA gene. AMB Express 6(1):98

27.

Zhao J, Yao Y, Li D, Xu H, Wu J, Wen A, Xie M, Ni Q, Zhang M, Peng G, Xu H (2018) Characterization of the gut microbiota in six geographical populations of chinese rhesus macaques (Macaca mulatta), implying an adaptation to high-altitude environment. Microb Ecol 76(2):565–577

28.

Wu X, Zhang H, Chen J, Shang S, Yan J, Chen Y, Tang X, Zhang H (2017) Analysis and comparison of the wolf microbiome under different environmental factors using three different data of next generation sequencing. Sci Rep 7(1):11332

29.

Grieneisen LE, Charpentier MJE, Alberts SC, Blekhman R, Bradburd G, Tung J, Archie EA (2019) Genes, geology and germs: gut microbiota across a primate hybrid zone are explained by site soil properties, not host species. Proc Biol Sci 286(1901):20190431
Acknowledgements
We would like to thank the staff of Jinan wildlife park, Weihai wildlife park and Linyi wildlife park for their assistance in the fecal samples collection. We would like to thank Editage (www.editage.cn) for English language editing.
Funding
This study was supported by grants from the National Natural Science Fund of China (No. 31400473), the Forestry Science and Technology Innovation Plan of Shandong province (LYCX07-2018-36), the Science and Technology Plan Project for Colleges and Universities in Shandong Province of China (J14LE16).
Ethics declarations
Conflict of interest
The authors declare that they have no competing interests.
Ethical Approval
All applicable international, national, and/or institutional guidelines for the care and use of animals were followed.
Additional information
Publisher's Note
Springer Nature remains neutral with regard to jurisdictional claims in published maps and institutional affiliations.
About this article
Cite this article
Chen, L., Liu, M., Zhu, J. et al. Age, Gender, and Feeding Environment Influence Fecal Microbial Diversity in Spotted Hyenas (Crocuta crocuta). Curr Microbiol (2020). https://doi.org/10.1007/s00284-020-01914-7
Received:

Accepted:

Published: