Abstract
Cultivation based and culture independent molecular approaches were used to characterize the composition and structure of bacterial community from a natural warm spring in the Western Ghats, a biodiversity 'hotspot'. Dilution plating was done on three types of media with varying nutrient levels. Relatively nutritionally poor medium supported growth of highest number of bacteria (4.98 × 103 ml−1) compared to nutritionally rich media. On the basis of different morphological features on the plate, 62 aerobic and heterotrophic bacterial strains were isolated and their 16S rRNA genes were sequenced and analyzed. On the basis of sequence similarity these isolates were found to be distributed in 21 different genera belonging to Proteobacteria (58%) followed by Firmicutes (26%), Actinobacteria (13%) and Bacteroidetes (3%). Amplification of 16S rRNA gene of the community DNA using eubacterial primers, followed by cloning and sequencing revealed that predominant members of the habitat belong to the phylum Cyanobacteria (60%) followed by Proteobacteria (19.5%), Bacteroidetes (6.67%), Actinobacteria (4.4%) and Firmicutes (2.2%) and small ribosomal subunit of a plastid (of Chlorophyta, 2.2%).
This is a preview of subscription content, log in to check access.
Access options
Buy single article
Instant unlimited access to the full article PDF.
US$ 39.95
Price includes VAT for USA
Subscribe to journal
Immediate online access to all issues from 2019. Subscription will auto renew annually.
US$ 199
This is the net price. Taxes to be calculated in checkout.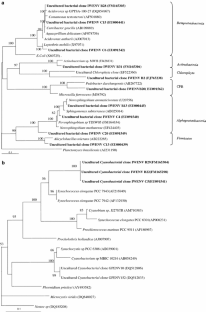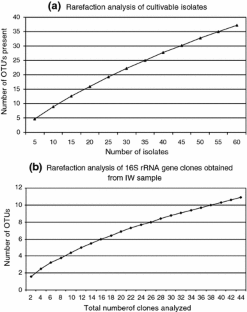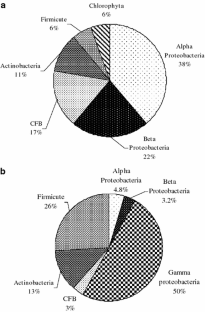 References
1.

Amann RI, Ludwig W, Schleifer KH (1995) Phylogenetic identification and in situ detection of individual microbial cells without cultivation. Microbiol Rev 59:143–169

2.

An DS, Kim SG, Ten LN, Cho CH (2009) Pedobacter daechungensis sp. nov., from fresh water lake sediment in South Korea. Int J Syst Evol Microbiol 59(1):69–72

3.

Ashelford KE, Chuzhanova NA, Fry JC et al (2006) New screening software shows that most recent large 16S rRNA gene clone libraries contain chimeras. Appl Environ Microbiol 72(9):5734–5741

4.

Daniels RJR (1997) Taxonomic uncertainties and conservation assessment of the Western Ghats. Curr Sci 73(2):169–170

5.

Ding L, Yokota A (2004) Proposals of Curvibacter gracilis gen. nov., sp. nov. and Herbaspirillum putei sp. nov. for bacterial strains isolated from well water and reclassification of [Pseudomonas] huttiensis, [Pseudomonas] lanceolata, [Aquaspirillum] delicatum and [Aquaspirillum] autotrophicum as Herbaspirillum huttiense comb. nov., Curvibacter lanceolatus comb. nov., Curvibacter delicatus comb. nov. and Herbaspirillum autotrophicum comb. nov. Int J Syst Evol Microbiol 54:2223–2230

6.

Fuller NJ, Marie D, Partensky F et al (2003) Clade specific 16S ribosomal DNA oligonucleotides reveal the predominance of a single marine Synechococcus clade throughout a stratified water column in the Red Sea. Appl Environ Microbiol 69(5):2430–2443

7.

Gupta SK, Lal D, Lal R (2009) Novosphingobium panipatense sp. nov. and Novosphingobium mathurense sp. nov., from oil-contaminated soil. Int J Syst Evol Microbiol 59(1):156–161

8.

Hall TA (1999) BioEdit: a user friendly biological sequence alignment editor and analysis program for windows 95/98/NT. Nucleic Acids Symp Ser 41:95–98

9.

Holland SM (2003) Analytical rarefaction 1.3 program. University of Georgia, Athens. http://www.uga.edu/~strata/software/

10.

Huelsenbeck JP, Ronquist FR (2001) MRBAYES: Bayesian inference of phylogenetic trees. Biometrics 17:754–755

11.

Karavaiko GI, Bogdanova TI, Turova TP et al (2000) The phylogenetic position of aerobic, moderately-thermophilic bacteria of sulfo bacillus species, oxidizing Fe2+, S (o) and sulphide minerals. Mikrobiologiia 69(6):857–860

12.

Manoharachary C, Sridhar K, Singh R et al (2005) Fungal biodiversity: distribution, conservation & prospecting of fungi from India. Curr Sci 89(1):57–65

13.

Mesbah NM, Abou-El-Ela SH, Wiegel J (2007) Novel and unexpected prokaryotic diversity in water and sediments of the alkaline, hypersaline lakes of the Wadi An Natrun, Egypt. Microb Ecol 54:598–617

14.

Moul ET (1975) Preliminary report on the flora of Onotoa Atoll, Gilbert Islands. Atoll Res Bull 57:1–48

15.

Muylaert K, Van der Gucht K, Vloemans N et al (2002) Relationship between bacterial community composition and bottom-up versus top-down variables in four eutrophic shallow lakes. Appl Environ Microbiol 68:4740–4750

16.

Natarajan K, Senthilarasu G, Kumaresan V, Taiana R (2005) Diversity in ectomycorrhizal fungi of a dipterocarp forest in Western Ghats. Curr Sci 88(12):1893–1895

17.

Nylander JAA (2004) MrModeltest v2.2. Program distributed by the author. Evolutionary Biology Centre, Uppsala University

18.

Page RDM (1996) TREEVIEW: an application of display phylogenetic trees on personal computers. Comput Appl Biosci 12:357–358

19.

Pandey KK, Mayilraj S, Chakrabarti T (2002) Pseudomonas indica sp. nov., a novel butane-utilizing species. Int J Syst Evol Microbiol 52:1559–1567

20.

Percent SF, Frischer ME, Vesico PA et al (2008) Bacterial community structure of acid-impacted lakes: what controls diversity. Appl Environ Microbiol 74(6):1856–1868

21.

Pitcher DG, Saunders NA, Owen RJ (1989) Rapid extraction of bacterial genomic DNA with guanidium thiocyanate. Lett Appl Microbiol 8:151–156

22.

Raviraja NS (2005) Fungal endophytes in five medicinal plant species from Kudremukh Range, Western Ghats of India. J Basic Microbiol 45(3):230–235

23.

Saha P (2006) Bacterial diversity of water of a warm spring located in Assam. Ph.D. thesis, Jawaharlal Nehru University, New Delhi, pp 150–157

24.

Schleifer KH (2004) Microbial diversity: facts, problems and prospects. Syst Appl Microbiol 27:3–9

25.

Stackebrandt E, Goebel B (1994) Taxonomic note: a place for DNA–DNA re-association and 16S rRNA sequence analysis in the present species definition in bacteriology. Int J Syst Bacteriol 44:846–849

26.

Swofford DL (2002) PAUP*: Phylogenetic Analysis Using Parsimony (* and other methods) Version 4b10. Sinauer Associates, Sunderland, USA

27.

Tamaki H, Sekiguchi Y, Hanada S et al (2005) Comparative analysis of bacterial diversity in freshwater sediment of a shallow eutrophic lake by molecular and improved cultivation-based techniques. Appl Environ Microbiol 71(4):2162–2169

28.

Tavare S (1986) Some probabilistic and statistical problems in the analysis of DNA sequences. Lect Math Life Sci 17:57–86

29.

Thajuddin N, Subramanian G (2005) Cyanobacterial biodiversity and potential applications in biotechnology. Curr Sci 89(1):47–57

30.

Thompson JD, Gibson TJ, Plewniak F et al (1997) The CLUSTAL_X Windows interface: flexible strategies for multiple sequence alignment aided by quality analysis tool. Nucleic Acids Res 25:4876–4882

31.

Tiago I, Chung AP, Verissimo A (2004) Bacterial diversity in a nonsaline alkaline environment: Heterotrophic Aerobic populations. Appl Environ Microbiol 70(12):7378–7387

32.

Ward DM, Bateson MM, Weller R, Fuff-Roberts AL (1992) Ribosomal RNA analysis of microorganisms as they occur in nature. Adv Microb Ecol 12:219–286

33.

Wayne LG, Brenner DJ, Colwell RR et al (1987) Report of the ad hoc committee on reconciliation of approaches to bacterial systematics. Int J Syst Bacteriol 37:463–464

34.

Wu X, Xi W, Ye W, Yang H (2007) Bacterial community composition of a shallow hypertrophic freshwater lake in China, revealed by 16S rRNA gene sequences. FEMS Microbiol Ecol 61:85–96
Acknowledgements
The authors thank Prof. D. J. Bhat, Department of Botany, Goa University, India for his help during sample collection and generosity to use his laboratory for preliminary processing of the samples. Help of Dr. S. Roy Choudhury, Mr. A. Bhattacharya and Mr. Malkit Singh of this institute and Ms. Puja Gawas of Goa University in sample collection and of Dr. S. Achuthankutty of NIO, Goa in chemical analysis of the spring water is thankfully acknowledged. The authors acknowledge Dr. Belle D. Shenoy of this institute for his help in phylogenetic analyses. Financial assistance from DBT, Government of India and CSIR is duly acknowledged. AR is a recipient of DBT post doctoral fellowship. This is IMTECH Communication No. 5/2009.
About this article
Cite this article
Ruckmani, A., Chakrabarti, T. Analysis of Bacterial Community Composition of a Spring Water from the Western Ghats, India Using Culture Dependent and Molecular Approaches. Curr Microbiol 62, 7–15 (2011) doi:10.1007/s00284-010-9663-9
Received:

Accepted:

Published:

Issue Date:
Keywords
Bacterial Community

Proteobacteria

Actinobacteria

Synechococcus

Bacterial Diversity