The immunobiology of primary sclerosing cholangitis
Abstract
Primary sclerosing cholangitis (PSC) is a chronic cholestatic liver disease histologically characterized by the presence of intrahepatic and/or extrahepatic biliary duct concentric, obliterative fibrosis, eventually leading to cirrhosis. Approximately 75% of patients with PSC have inflammatory bowel disease. The male predominance of PSC, the lack of a defined, pathogenic autoantigen, and the potential role of the innate immune system suggest that it may be due to dysregulation of immunity rather than a classic autoimmune disease. However, PSC is associated with several classic autoimmune diseases, and the strongest genetic link to PSC identified to date is with the human leukocyte antigen DRB01*03 haplotype. The precise immunopathogenesis of PSC is largely unknown but likely involves activation of the innate immune system by bacterial components delivered to the liver via the portal vein. Induction of adhesion molecules and chemokines leads to the recruitment of intestinal lymphocytes. Bile duct injury results from the sustained inflammation and production of inflammatory cytokines. Biliary strictures may cause further damage as a result of bile stasis and recurrent secondary bacterial cholangitis. Currently, there is no effective therapy for PSC and developing a rational therapeutic strategy demands a better understanding of the disease.
Keywords
Primary sclerosing cholangitis 
Biliary cirrhosis 
Pathogenesis 
Inflammatory bowel disease 
Abbreviations
PSC

Primary sclerosing cholangitis

IBD

Inflammatory bowel disease

HLA

Human leukocyte antigen

UC

Ulcerative colitis

Mdr2

Multidrug resistance-2

VCAM-1

Vascular cellular adhesion molecule-1

PG-PS

Peptidoglycan–polysaccharide

DNBS

Dinitrobenezenesulfonic acid

TNBS

Trinitrobenzene sulfonic acid

DSS

Dextran sulfate sodium

α-GalCer

α-Galactosylceramide

NK

Natural killer

KIRs

Killer immunoglobulin-like receptors

ITIMs

Immunoreceptor tyrosine-based inhibitory motifs

ITAMs

Immunoreceptor tyrosine-based activating motifs

MIC

Major histocompatibility complex class I chain-related

CCR5

CC-type chemokine receptor 5

TCR

T-cell receptor

MAdCAM-1

Mucosal adressin cell adhesion molecule-1

CLA

Cutaneous lymphocyte antigen

AIH

Autoimmune hepatitis

PBC

Primary biliary cirrhosis

LIL

Liver-infiltrating lymphocytes

VAP-1

Vascular adhesion protein-1

HEV

High endothelial venules

TGF

Transforming growth factor

NOS2

Nitric oxide synthase 2

p-ANCA

Perinuclear anti-neutrophil antibodies

BPI

Bactericidal/permeability increasing

BEC

Biliary epithelial cells

PAMPs

Pathogen-associated molecular patterns

LPS

Lipopolysaccharide

TLRs

Toll-like receptors
Introduction
Primary sclerosing cholangitis (PSC) is a chronic cholestatic liver disease characterized by concentric and obliterative fibrosis of the intrahepatic and/or extrahepatic bile ducts and a lymphocytic portal tract inflammation leading to cholestasis, cholangitis, and cirrhosis [1, 2]. In addition to liver disease, 75–90% of PSC patients have either a history of or co-existent inflammatory bowel disease (IBD), primarily ulcerative colitis (UC) [2, 3]. Interestingly, unlike IBD which has a slight female predominance, PSC has a 2:1 male predominance. Although the disease may affect children and older adults, the median age of onset is in the fourth decade [4]. The natural history of the disease is quite variable with an average time from diagnosis to death or liver transplant of 12 to 15 years. In addition to cirrhosis, approximately 10–15% of PSC patients will develop cholangiocarcinoma during their lifetime [3]. Short of liver transplantation, no therapy has been shown to alter the natural history of PSC. Herein we review the current understanding of the immunobiology of PSC with particular attention to the epidemiologic, genetic, and functional characteristics of this disease.
Epidemiology
Epidemiologic studies of PSC are challenging because the disease is rare, often requires specialized expertise, and until recently, could only be diagnosed by invasive procedures. Therefore, population-based studies likely underestimate the true prevalence and incidence of PSC. Nevertheless, the incidence (0.9–1.3 per 100,000/year) and prevalence (8.5–14.2 per 100,000) of PSC have been reported to be similar in Oslo, Norway, Wales, and Olmstead County, Minnesota [5, 6, 7, 8]. However, in the largest study published to date, the incidence and prevalence were considerably lower in a general medical practice database of the UK [9]. There appears to be a lower prevalence in Southern Europe, Asia, and Alaska [10, 11, 12].
While the male to female predominance of 2:1 for PSC has been largely reported, a study from Turkey reported that 15/16 PSC patients in their series were women [13] and a Canadian study reported a slight male predominance that did not reach statistical significance, with an age-adjusted incidence rate of 1.01 per 100,000 person-years for men versus 0.84 per 100,000 person-years for women [8]. Age at diagnosis has also varied by geographic region. While the majority of patients have been reported to be diagnosed in their thirties [14], studies from Japan note a bimodal age distribution with most diagnoses occurring in the third decade and a second peak in the seventh decade of life. Within this distribution, younger patients were more likely to have IBD than older patients and older patients were more likely to have autoimmune pancreatitis and cholangiocarcinoma [15, 16]. The average age of patients diagnosed with cholangiocarcinoma in the Japan study was 58. The overall incidence of cholangiocarcinoma reported in this population was 3.6%, much lower than the 10–15% that has been reported in previous studies [3, 15].
The strength of the association of PSC with IBD also differs by geographic origin. Approximately 80% of PSC patients from northern Europe and the USA have concomitant IBD [17, 18, 19, 20], while only 50% from Southern Europe [12, 21] and 35% from Asia have IBD [11, 22, 23]. The majority of PSC patients with IBD have ulcerative colitis although Kaplan et al. reported that 38.8% of patients with PSC in Canada have Crohn's disease versus only 5.7–13.6% reported in other studies [8]. To explain this discrepancy, they noted that the prevalence of CD in Alberta was 1.5 times the prevalence of UC, whereas UC is more prevalent than CD in the rest of the world. They hypothesized that the increased rates of CD seen among PSC patients may reflect an unexplained occurrence of rising incidence of CD in Canada and worldwide [8]. Alternatively, the IBD associated with PSC often shares features with both UC and CD [24].
Immunopathogenesis of PSC
The association of PSC with IBD suggests that like the latter, PSC is not necessarily a classic autoimmune disease in the sense that there is targeted destruction of tissue directed at a specific self-antigen. Rather, IBD is the result of an abnormal innate immune response to antigens of the intestinal flora, which activates an adaptive immune response [25]. Genome-wide association studies and subsequent functional studies have implicated several genes such as NOD2 and ATG16L1, both involved in the intracellular processing of bacterial antigens [26, 27, 28]. In the case of CD, this leads to a predominantly TH-1 type of immune response and increases in IL-17-producing lymphocytes. In contrast, ulcerative colitis tends to be more of a TH-2 response. Whether PSC, which tends to be characterized by TH-1 cytokines and stricturing reminiscent of CD, involves similar mechanisms has not been fully investigated. Further complicating the matter is the association of PSC with (1) classic autoimmune diseases such as type I diabetes, thyroid disease, rheumatoid arthritis, and others; (2) the human leukocyte antigen (HLA)-DRB1*0301 haplotype; and (3) autoantigens to neutrophils and biliary epithelial cells.
Several working models have been proposed to explain many of the peculiar features of PSC, namely, the strong association with IBD, the observation that PSC may develop after total colectomy and that the liver disease activity of PSC does not correlate with the intestinal disease activity of IBD [1, 29]. In fact, IBD is often quiescent even in the most severe cases of PSC. Notably, the IBD associated with PSC, whether classified as UC or CD, almost invariably affects the entire colon. In addition, rectal sparing and involvement of the ileum are more common in UC patients with PSC compared to those without PSC (58% and 51% versus 6% and 7%, respectively) [24].
Although hypotheses related to the etiology of PSC have been generated and several lines of evidence support various aspects of each model, a unifying hypothesis remains to be proposed. Vierling proposed that the immunopathogenesis of PSC involves multiple steps starting with the activation of a cholangiocyte by a bacterial pathogen that translocates to the liver from the gut [30]. Over time, there is chronic inflammation, periductal fibrosis, and ischemic atrophy of biliary epithelia leading to cholestasis, obstructive strictures, and eventually biliary cirrhosis [31].
The second hypothesis addresses how intestinal mucosal lymphocytes home to the liver. This theory suggests that lymphocytes are activated in the bowel of IBD patients and then aberrantly recruited to extraintestinal sites. The prodigious work of Adams et al. supports their hypothesis that a network of adhesion molecules and chemokine receptors that are normally restricted to the gut are aberrantly expressed in the liver leading to the recruitment of intestinal lymphocytes through the enterohepatic circulation [32, 33, 34, 35, 36, 37]. However, the mechanisms leading to the aberrant expression of adhesion molecules and chemokines in the liver or even if they are dependent upon liver or intestinal factors remain unknown.
A third theory recently introduced by Fickert et al. compares the pathogenesis of PSC to arteriosclerosis [38]. Bile acids which can induce apoptosis and necrosis of cholangiocytes are normally excreted in mixed micelles with phospholipids and cholesterol to protect cholangiocytes. In the multidrug resistance knockout mouse (Mdr2−/−) which develops a PSC-like liver pathology (discussed in detail below), absence of phospholipids as a consequence of the Mdr2 defects results in bile acid toxicity and also in cholesterol-supersaturated bile, which could facilitate oxidation similar to the process of atherosclerosis. In addition, cholangiocytes from Mdr2−/− mice express cell adhesion molecules such as vascular cellular adhesion molecule-1. Further similarities in chemokines, growth factors, and cytokines support some commonality between atherosclerosis and PSC. However, support for this theory of toxic bile from humans is lacking. Genetic studies of the human ortholog of Mdr2 (MDR3) have not found any association of genetic variants with PSC susceptibility, and in PSC patients with a normal bilirubin, biliary secretion of bile acids and lipids has previously been shown to be normal [39, 40, 41].
Animal models of PSC
Given the abundance and variety of animal models from rodents to primates with spontaneous and induced inflammatory bowel diseases, it is surprising that none of these animal models have been reported to recapitulate all of the features of PSC (Table 
1
). Whether there is a unique characteristic of the human liver that is not shared by these model organisms or there has been a lack of systematic phenotyping of IBD models is unclear.
Table 1
Animal models of primary sclerosing cholangitis
| Animal | Treatment | IBD | Portal Inflammation | Biliary strictures |
| --- | --- | --- | --- | --- |
| Rat [47] | N-formyl l-methionine l-leucine l-tyrosine | Yes (acetate-induced) | Macrophages/neutrophils (early) T cells (late) | Unknown |
| | Self-filling jejunal blind loops | No | Yes | Fibrosis, strictures not documented |
| CD-1 mouse [55] | Dextran sulfate sodium | Yes | Yes | Unknown |
| Cftr−/− [57] | Dextran sulfate sodium | Yes | Yes | Unknown |
| SAMP1/YitFc [58] | None | Yes | Yes | Unknown |
| Mdr2−/− [59] | None | No | Yes | Yes |
In addition to colitis, an ideal animal model of PSC would include histologic evidence of fibrous obliterative cholangitis and cholangiographic evidence of both intra- and extrahepatic duct involvement. Animal models described to date include those involving bacterial cell wall components or colitis; those induced by injury to biliary epithelial cells or endothelial cells of hepatic arterioles or peribiliary capillaries; and those induced by toxic, infectious, or intraluminal injury of the biliary tract [42].
Genetic factors predisposing to PSC
There is more than an 80-fold increased risk of PSC among first degree relatives suggesting a genetic link to the etiology of PSC [4]. Bergquist et al. reported that among a national Swedish cohort of PSC patients (n = 678), the risk of cholangitis was increased in offspring, siblings, and parents of the PSC patients, compared with relatives of a control group with hazard ratios of 11.5, 11.1, and 2.3, respectively [61]. Despite this strong genetic risk, the precise genes underlying this susceptibility have not been identified. Candidate genes ranging from mediators of fibrosis to bile acid transporters as well as immune-related genes have been reported. In most cases, the studies are underpowered, and with the exception of the human leukocyte antigen, the results have failed to be replicated in additional cohorts. A comprehensive accounting of the genetics of PSC is beyond the scope of this review. Rather, we will highlight those genetic studies that give insight into the immunopathogenesis of PSC.
HLA and related gene associations
Like many autoimmune diseases, an association with the HLA complex on chromosome 6p21 with PSC has been well documented. The initial reports of an HLA association with PSC came over 20 years ago from Norway and the UK when Schrumpf et al. and Chapman et al. reported a greater prevalence of the HLA class I allele B8 in PSC patients compared to controls [62, 63]. Although similar frequencies of HLA-B8 have been reported in PSC patients from Finland and Australia, no associations with HLA-B8 or other HLA-B alleles were identified when studied in PSC populations from Italy or Brazil [64, 65, 66, 67].
The initial report of an association between PSC and HLA class II genes utilized serologic methods and identified DR3 and DR52a as susceptibility markers. The first study from Norway reported that 70% of PSC patients with UC carried the HLA-DR3 antigen [62]. Subsequently, all 29 PSC patients who underwent liver transplant at UCLA were remarkably reported to be DR52a-positive [68]; however, this report was later retracted [69]. Soon after, molecular typing suggested that at least two susceptibility alleles are encoded in the class II HLA, specifically DRB1*0301 (DR3) and DRB1*13 (DR6), which are associated with the haplotypes defined by DRB1*0301, DQA1*0501,DQB1*0201, and DRB1*13,DQA1*0103,DQB1*0603 [70, 71]. In fact, approximately half of all PSC patients in Norway and Sweden carry at least one of these two haplotypes compared to less than 20% of the general population. It is important to note, however, that these haplotype associations were not seen in PSC patients from Italy and of the two, only the association with DRB1*13,DQA1*0103,DQB1*0603 was present in PSC patients from Brazil [64, 65, 71]. In contrast, the DRB1*04,DQA1*03,DQB1*0302 haplotype (DR4) has been associated with a protective effect in Scandinavia and the UK. Because of the strong linkage disequilibrium within the HLA region, identifying the gene or genes that account for the associations with these haplotypes has been problematic.
In addition to HLA associations, combinations of HLA class I alleles and killer immunoglobulin-like receptors (KIRs) have been found to affect susceptibility to autoimmune disease and infection. NK cell effector function is balanced by inhibitory and activating receptors [72]. A key set of NK receptors is KIR which bind HLA class I molecules. At least 14 functional KIR genes are present on chromosome 19q13.4 where they exhibit significant allelic and haplotypic variability, the latter of which is largely related to the presence or absence of activating KIR genes. Inhibitory KIRs encode immunoreceptor tyrosine-based inhibitory motifs in their cytoplasmic tails. Activating KIRs interact with DAP12 homodimers that contain immunoreceptor tyrosine-based activating motifs. Genetic studies implicate specific combinations of HLA and KIR alleles in autoimmunity, tumor immunosurveillance, and viral diseases. Combinations expected to increase activation of NK cells are associated with autoimmunity [73], slow progression of human immunodeficiency virus [74], and protection against hepatocellular carcinoma in hepatitis C virus (HCV) infection [75]. In contrast, the combination of HLA-CAsn80 (HLA-C1) and KIR2DL3 has been associated with clearance of HCV [76]. Karlsen et al. investigated the possible interaction between HLA class I alleles and KIR genes in 365 Scandinavian PSC patients and 368 healthy controls [77]. The frequency of HLA-Bw4 and HLA-C2, ligands for the inhibitory KIRs 3DL1 and 2DL1, respectively, was significantly reduced in PSC patients compared with controls suggesting an increase in NK cell activity by decreased inhibition.
In addition to the decreased suppression of NK cell activity through HLA–KIR interactions, genetic evidence suggests a possible role for the direct activation of NK cells through the major histocompatibility complex class I chain-related (MIC) genes. MICA and MICB are encoded with the HLA region and their proteins activate NKG2D receptors on NK cells. Norris et al. found a strong protective effect of the MICA*002 allele with an allele frequency of 0.180 in controls compared to 0.032 and 0.0 in two independently collected cohorts of PSC cases [78]. In contrast, the MICA*008 allele frequency was increased in both sets of cases (0.66 in both) compared to controls (0.48). Although the MICA*008 allele is part of the B8-DR3 haplotype, the association was also observed when the MICA*008 allele was on a B7-DR15 haplotype. In contrast to these UK cohorts, a study of 130 Norwegian PSC patients and 306 healthy controls found associations with the MICA5.1 and MICB24 alleles [79]. However, these alleles are also found on the extended B8-MICA5.1-MICB24-DR3 haplotype and are not independent of HLA-B8 or DR3. Attempts at further dissection of the HLA region have only extended the HLA-DR3-associated haplotype more telomerically [80]. Future efforts with larger patient cohorts and more densely spaced markers may eventually lead to the identification of the causative variant or variants, but the strong linkage disequilibrium of the region may prove to be an insurmountable barrier.
Candidate genes
With the strong association between PSC and UC, it would not be surprising to find that they shared some common genetic basis. However, this has not proven to be the case so far. Unlike PSC, the association between UC and HLA has been weak and inconsistent. Most consistent in UC are the positive associations with the DRB1*0103 and DRB1*1502 alleles, and a negative association with DRB1*0401. In a direct comparison of 365 Scandinavian PSC patients, 330 Norwegian ulcerative colitis patients, and 368 healthy controls, Karlsen et al. concluded that HLA associations in PSC were of greater impact and mostly distinct from those in UC [81]. Similarly, studies comparing IBD susceptibility genes in PSC and IBD cohorts have failed to show any common genetic links including studies of NOD2/CARD15, TLR-4, CARD4, SLC22A4, SLC22A5, DLG5, and MDR1 [82, 83].
In addition to HLA alleles, ICAM-1 gene polymorphisms have been implicated in UC as well as a number of other inflammatory disorders including multiple sclerosis and Behcet's disease. ICAM-1 mediates leukocyte adhesion during immune responses and is important in transendothelial migration of neutrophils and T-cell activation. Previous studies have demonstrated expression of ICAM on proliferating bile ductules and interlobular bile ducts in PSC patients with advanced disease. The polymorphism K469E in exon 6 leads to a change from glutamic acid to lysine in the Ig-like domain 5 of ICAM-1 which is thought to affect interactions between LFA-1 and B cells. Yang et al. reported that in 104 PSC patients and 213 healthy controls from the UK the E/E frequency of the K469E polymorphism was significantly lower in PSC than in the control population (12% versus 24%, OR 0.41) [84]. However, a larger study of a Scandinavian PSC cohort was not able to reproduce these findings [85].
CC-type chemokine receptor 5 (CCR5) is a cell surface receptor expressed on T cells and macrophages which is activated by several chemokines, including RANTES, MIP1a, and MIP1b. A 32-base pair deletion (CCR5-Δ32) in the CCR5 gene leads to a frame shift and encodes a non-functioning receptor. Studies in several population have reported associations of PSC with the Δ32 polymorphism [86, 87, 88, 89]. However, two studies showed a protective effect of the allele, while two others suggested that the allele increased susceptibility. Still, the largest study found no association at all [90].
Cellular immune response in PSC
Teasing out the causative immune response of PSC from the reactive responses to cholangitis, inflammatory bowel disease, and cirrhosis has been a major obstacle in the understanding of PSC. Although the inflammatory infiltrate of PSC is largely comprised of T cells, other cell types including NK cells, macrophages, B cells, and biliary epithelial cells are likely to play important roles in the immunopathogenesis of PSC (Fig. 
1
).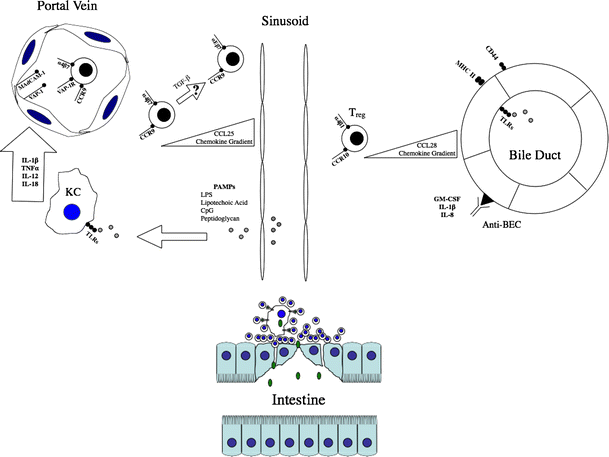 Concluding remarks
The etiopathogenesis of PSC remains enigmatic. Genetic susceptibility to the disease is clearly an important factor and as the specific genetic components are identified, better insights into the mechanisms of this disease will be understood. Although progress has been made into the recruitment of lymphocytes from the gut to the liver, why chronic inflammation and fibrosis occurs only in a subset of IBD patients remains to be defined. In addition, an important question remains as to whether this same process holds true for the growing percentage of PSC patients without IBD. The lack of an adequate animal model and the relative infrequency of the disease remain major obstacles to progress and will only be overcome with close collaboration and focused research into the immunopathogenesis of PSC.
Notes
Open Access
This article is distributed under the terms of the Creative Commons Attribution Noncommercial License which permits any noncommercial use, distribution, and reproduction in any medium, provided the original author(s) and source are credited.