Central tolerance: what have we learned from mice?
Abstract
Producing a healthy immune system capable of defending against pathogens, while avoiding autoimmunity, is dependent on thymic selection. Positive selection yields functional T cells that have the potential to recognize both self and foreign antigens. Therefore, negative selection exists to manage potentially self-reactive cells. Negative selection results from the induction of anergy, receptor editing, clonal diversion (agonist selection), and/or clonal deletion (apoptosis) in self-reactive clones. Clonal deletion has been inherently difficult to study because the cells of interest are undergoing apoptosis and being eliminated quickly. Furthermore, analysis of clonal deletion in humans has proved even more difficult due to availability of samples and lack of reagents. Mouse models have thus been instrumental in achieving our current understanding of central tolerance, and the evolution of elegant model systems has led to an explosion of new data to be assimilated. This review will focus on recent advances in the field of clonal deletion with respect to three aspects: the development of physiological model systems, signaling pathways that lead to apoptosis, and antigen presenting cell types involved in the induction of clonal deletion.
Keywords
Thymus 
Clonal deletion 
Tolerance 
The prevention of autoimmunity is primarily the outcome of central tolerance, which is achieved when thymocytes with high affinity for self-peptide/major histocompatibility complex (self-p/MHC) undergo negative selection. Four outcomes of negative selection have been described. First, receptor editing is a process by which thymocytes with high affinity for self-p/MHC are instructed to generate a second rearrangement of the T cell receptors (TCR)α loci, thereby altering the specificity of the TCR [1, 2, 3, 4]. Secondly, anergy, or a state of induced unresponsiveness, has also been described [5]. The relative contribution of receptor editing and anergy to central tolerance is thought to be minimal. Instead, clonal diversion (agonist selection) of high-affinity thymocytes into lineages that attain immunoregulatory function is very important (reviewed in [6, 7, 8, 9]). Finally, clonal deletion (induction of apoptosis in self-reactive clones) is the predominate mechanism by which central tolerance is achieved and will be the focus of this review.
Model systems
In 1957, Sir Macfarlane Burnet first proposed the concept of "repertoire purging" as a mechanism of lymphocyte tolerance [
10
]. This process was first described experimentally for thymocytes by studying clonal deletion in response to superantigens [
11
] (see Table 
1
). Superantigens are molecular remnants of proviruses in the murine genome that cross-link particular Vβ segments of TCRs with class II MHC. While this mimics a high-affinity TCR ligation, it is unclear if the downstream signaling events are entirely the same as stimulation by p/MHC. Soon after, in vitro stimulation of thymocytes with high-affinity ligands was utilized to model clonal deletion [
12
,
13
,
14
]. However, it is unlikely that in vitro stimulation recapitulates the in vivo process of clonal deletion because the intact thymic microenvironment is missing. The switch to in vivo models was a substantial improvement and first utilized the injection of TCR-cross-linking antibodies to simulate high-affinity TCR ligation [
15
]. However, it was more recently observed that activation of peripheral T cells and their subsequent release of pro-inflammatory cytokines and stress hormones [
16
] could be obscuring TCR-induced death of DP thymocytes. The development of TCR transgenic mice was a major advancement in the field of thymic development and allowed researchers to examine negative selection in response to true p/MHC stimulation. Some studies have utilized exogenous administration of peptide to induce negative selection [
17
], but this also has the caveat of activation of peripheral T cells [
18
,
19
]. A more physiological model has been to examine the response to endogenous high-affinity peptides, either produced transgenically (neo-self-antigens) [
4
,
20
,
21
] or naturally occurring [
22
,
23
].
Table 1
A summary of model systems used to study negative selection
Model system

Caveats

Advantages

Disadvantages

Superantigens

Only particular Vβ TCR are deleted

Endogenous antigen

Independent of TCR affinity for p/MHC

Expression mostly in medulla

TCR signal may be qualitatively or quantitatively distinct

In vitro

Costimulation required

Technically simple

Intact thymic microenvironment lacking

αCD3/αCD28

TCR Tg peptide

In vivo: αCD3/αCD28

 

Intact in vivo environment

Activation of peripheral T cells causes nonspecific deletion. Glucocorticoid mediated

In vivo: TCR Tg with injected peptide

 

Intact in vivo environment

Activation of peripheral T cells causes nonspecific deletion. Cytokine mediated

In vivo: TCR Tg with transgenic neo-self antigen

 

Intact in vivo environment

Early TCR expression

TCR expression level higher than normal on thymic precursors

High precursor frequency/monoclonal

Transgenic-antigen artifacts (expression pattern/level)

In vivo: TCR Tg with endogenous self-antigen

 

Intact in vivo environment

Early TCR expression

TCR expression level higher than normal on thymic precursors

High precursor frequency/monoclonal

In vivo: TCR Tg mixed bone marrow chimeras with endogenous self-antigen

 

Intact in vivo environment

Early TCR expression

Precursor frequency is lower

TCR expression level higher than normal on thymic precursors

In vivo: "On-time" TCR Tg with endogenous self-antigen

 

Intact in vivo environment

TCR expression somewhat higher than normal on thymic precursors

Appropriate TCR timing (can use in mixed chimeras to obtain low precursor frequency)

In vivo: Vβ transgenics with endogenous self or neo-self antigens

 

Intact in vivo environment

Inability to track cells prior to selection in DP thymocytes

Appropriate TCR timing and level

Precursor frequency is lower/oligoclonal
The use of different model systems has led to conflicting conclusions about the developmental stage at which thymocytes undergo clonal deletion. For example, superantigen studies have suggested that deletion occurs at the single positive (SP) stage, whereas the examination of TCR transgenics and endogenous self-antigens have suggested that deletion occurs at the transition from double negative (DN) to double positive (DP). This apparent discrepancy can be partially rectified by observation that superantigens are primarily expressed in the medulla, which is the site where SP thymocytes reside. Furthermore, the nature of transgenic TCR expression has called into question the deletion observed at the DN to DP transition. Wild type thymocytes rearrange their TCRβ loci at the DN stage and if successful, they transition to the DP stage and commence rearrangement of the TCRα loci. Thus, thymocytes are not competent to undergo deletion until they have expressed a heterodimeric TCRαβ at the DP stage. However, TCR transgenic thymocytes express both TCRα and TCRβ chains early at the DN stage and probably undergo negative selection prematurely, which could explain the observation that deletion happens at the DN to DP transition. It is clear that the nature of TCR and self-antigen expression can dramatically impact the timing of clonal deletion and perhaps the molecular mechanism by which apoptosis is induced. It is therefore important to move forward by making use of the most physiological tools available.
As an example, our laboratory recently generated a TCR transgenic mouse that recapitulates the appropriate timing of TCRα expression at the DP stage (the HY
cd4
model) [
24
]. HY
cd4
thymocytes bear the same TCR as the original HY transgenic mouse made by Harold Von Boehmer's laboratory [
23
] and has a high affinity for a self-peptide derived from the Y chromosome in male mice, but because of the appropriately timed expression of the HY TCRα chain at the DP stage, they undergo deletion at the DP to SP transition. This is in stark contrast to when the TCRα chain is expressed prematurely in DN thymocytes and deletion occurs at the DN to DP transition (either in the conventional HY mouse [
23
] or when we utilized lck-driven Cre [
24
]). Other studies have utilized TCRβ-only transgenic mice to eliminate nonphysiologic artifacts of transgenic TCRα expression [
21
,
25
]. This approach has the added benefit of producing an oligoclonal repertoire with reduced precursor frequency of antigen-specific thymocytes, which also corrects defects in thymic architecture that are typical of conventional TCR transgenics [
26
,
27
]. The latter study by Gallegos and Bevan also made use of the unique expression of tissue-restricted antigens (TRAs) in the medulla (explained in more detail below). This system obviates the artifacts introduced by premature transgenic TCR expression because only postpositive selection thymocytes, transitioning from the DP to SP stage and migrating to the medulla, are encountering high-affinity antigen and undergoing deletion (See Fig. 
1
). One lingering defect of all TCR transgenic models is the expression level of the TCR transgenes. Wild-type DP thymocytes express very little TCR on their cell surface and upregulate its expression following positive selection, whereas TCR transgenes driven off of strong promoters express at higher levels. Unfortunately, creating a TCRα knock-in into the endogenous locus still bears this artifact [
28
], although a TCRβ knock-in has not yet been created. Thus, a model for completely physiological transgenic TCR expression remains elusive. Future studies examining negative selection should strive to make use of models that have appropriately timed TCR expression, at physiological levels, with high affinity for a physiologically expressed, endogenous self-antigen. Precursor frequency of antigen-specific cells should also be minimized. Ideally, the analysis of a polyclonal repertoire should be employed; however, it is currently difficult to identify small numbers of precursors, due to the fact that DP thymocytes express low levels of TCR and are not easily distinguished by p/MHC tetramer staining.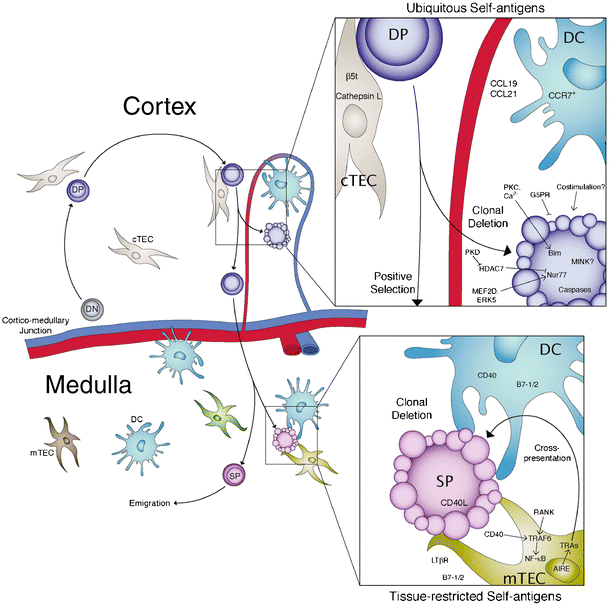 Molecular mediators of clonal deletion
A fundamental question of T cell development has been: How does a thymocyte distinguish between positive and negative selection ligands? The pervasive "affinity model" predicts that the kinetics of TCR binding to self-p/MHC determines this outcome. There is much support for this model, and recently, the precise threshold for this distinction based on affinity was determined for class I MHC-restricted TCRs [29]. Nonetheless, how a cell translates TCR affinity into the decision between life and death is less well understood. It has been suggested that high-affinity TCR ligation induces a conformational change in the cytoplasmic tail of CD3ɛ, which exposes a polyproline sequence that serves as a binding site for the adapter protein Nck [30]. However, another study suggested that low-affinity interactions also expose the polyproline sequence, albeit less efficiently [31]. Recently, Mingueneau and colleagues created knock-in mice with a mutation in the CD3 polyproline region. Surprisingly, they found that binding of Nck does not depend on previous TCR ligation. Additionally, positive selection was affected by introduction of the mutation in two TCR transgenic models, but negative selection was not [32]. The misshapen-Nck-interacting kinase-related kinase (MINK) was also suggested to be important for the induction of negative selection [33], although this finding has not further corroborated. With respect to TCR-proximal signaling events, it has been suggested that differential activation of the extracellular signal-regulated kinase (ERK) and c-Jun N-terminal kinase (JNK) pathways is important in this discrimination (discussed in depth in [34]). A recent report extended these findings by demonstrating the differential subcellular localization of Ras and mitogen-activated protein kinase signaling intermediates in response to positively and negatively selecting ligands [35]. Thus, it appears that Ras-mediated activation of the ERK pathway is dispensable for clonal deletion. Interestingly, Ras signaling is not only involved in positive selection of conventional T cells [36] but also in the generation of Foxp3+ Tregs [37], which seem to be selected by high affinity ligands [6]. This may be important for the decision between clonal deletion and clonal diversion. It was also recently shown that deficiency of the protein phosphatase G5PR resulted in hyperactivation of JNK and caspase 3 [38], indicating that G5PR inhibits apoptosis in the steady state and that overcoming this inhibition by G5PR is perhaps necessary for clonal deletion. A role for costimulation to induce clonal deletion has also been suggested. However, this has been controversial, likely due to use of different model systems (see [34] for a thorough review). While αCD28 strongly costimulates apoptosis in vitro, no single costimulatory molecule has been shown to be required in all models of clonal deletion. It is possible that multiple distinct costimulatory molecules function redundantly in clonal deletion.
The signals leading to clonal deletion ultimately activate the apoptosis pathway (see [39] for a detailed review), and a number of groups have implicated the orphan nuclear steroid receptor Nur77 as being necessary [40, 41]. It was shown using cultured thymocytes that myocyte enhancer-binding factor 2D (MEF2D) and ERK5 mediate transcription of Nur77 [42]. On the other hand, Nur77 expression is repressed by histone deacetylase 7 (HDAC7), and this inhibition can be overcome by TCR stimulation that activates protein kinase D1 which subsequently phosphorylates HDAC7 and promotes its nuclear export [43, 44, 45]. While it has been well documented that Nur77 is induced following a strong TCR stimulation, it is less clear how Nur77 exerts its pro-apoptotic function. It was first proposed that Nur77 acts a transcription factor to promote apoptosis [46], but a more recent report suggested that Nur77 mediates apoptosis by translocating to the mitochondria where it sequesters the anti-apoptotic molecule Bcl-2 [47]. It remains unclear if the role of Nur77 as a transcription factor is also necessary. Defining the precise role for Nur77 in negative selection has been further complicated by the observation that Nor-1, a closely related family member, can have functional redundancy with Nur77 [48].
The pro-apoptotic molecule Bim also plays a central role in clonal deletion [49]. The precise mechanisms leading to Bim induction have not been fully elucidated, although Ca2+ and protein kinase C were suggested to be important [50]. A number of recent reports have investigated the transcriptional profile of thymocytes undergoing negative selection [51, 52, 53, 54, 55]. The most recent of these, by Baldwin and Hogquist, compared the gene array data sets generated by the different groups and found surprisingly little overlap between them. Specifically, only Bim, Nur77, PD-1, and Gadd45β were consistently found to be upregulated. This might suggest that clonal deletion only requires a small number of genes to be newly synthesized. However, it has yet to be demonstrated that new transcription of any of these genes after the initial TCR ligation is absolutely necessary for deletion. It has been suggested that transcription of Bim is required [50], but it has also been argued that phosphorylation of Bim is the critical event in promoting clonal deletion [56].
Finally, an intriguing report recently suggested that posttranscriptional regulation of mRNA by microRNAs might be important in the distinction between positive and negative selection [57]. Li et al. showed that miR1–181a acts as an intrinsic "rheostat" to control T cell sensitivity in thymocytes and mature T cells. It is likely that miR-181a plays a role in setting the bandwidth for discrimination of positive and negative selection signals, and perhaps the regulation of miR-181a itself or its targets plays a role in inducing apoptosis following a high-affinity TCR signal. Our understanding of the role of microRNA in T cell development is in its infancy and is likely to be even more greatly appreciated in the future as evidenced by other recent work examining DICER and microRNA in T cell development and function [58, 59, 60].
Cell types that mediate clonal deletion
Notes
Open Access
This article is distributed under the terms of the Creative Commons Attribution Noncommercial License which permits any noncommercial use, distribution, and reproduction in any medium, provided the original author(s) and source are credited.