Abstract
Purpose
ABL tyrosine kinase inhibitors (TKIs) have demonstrated potency in the treatment of chronic myeloid leukemia (CML) patients. However, resistance to ABL TKIs can develop in CML patients due to BCR-ABL point mutations. Furthermore, CUDC-907 is an oral inhibitor of class I phosphoinositide 3-kinase (PI3K) as well as class I and II histone deacetylase (HDAC) enzymes.
Methods
In this study, we evaluated the effect of combination therapy of CUDC-907 and ABL TKIs, using BCR-ABL-positive cell lines and primary samples.
Results
CUDC-907 treatment for 72 h resulted in cell growth inhibition. Over the same period, an increase in histone acetylation and both caspase three and poly (ADP-ribose) polymerase (PARP) enzyme activity was observed. When ABL TKI treatment and CUDC-907 treatment were combined, significantly greater cytotoxicity was observed. Moreover, combined oral therapy with ponatinib (20 mg/kg/day) and CUDC-907 (30 mg/kg/day) greatly inhibited tumor growth compared to each drug alone. Lastly, CUDC-907 treatment also inhibited the growth of Ba/F3 ponatinib-resistant cells, K562 nilotinib-resistant cells, and T315I mutant primary samples.
Conclusion
Taken together, our results indicate that administration of CUDC-907, a dual PI3K and HDAC inhibitor, may be an effective strategy against ABL TKI-resistant cells, including cells harboring the T315I mutation. Moreover, CUDC-907 may enhance the cytotoxic effects of ABL TKI when a combined treatment strategy is used against Philadelphia chromosome-positive leukemia cells.
This is a preview of subscription content, log in to check access.
Access options
Buy single article
Instant access to the full article PDF.
US$ 39.95
Price includes VAT for USA
Subscribe to journal
Immediate online access to all issues from 2019. Subscription will auto renew annually.
US$ 199
This is the net price. Taxes to be calculated in checkout.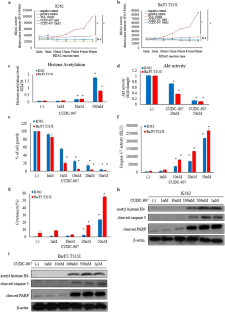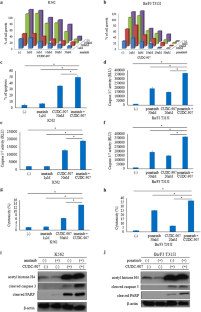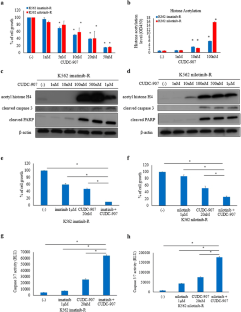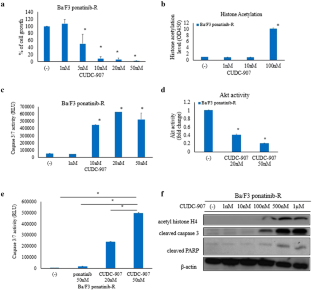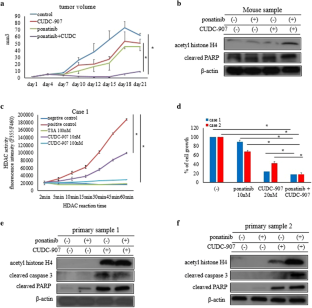 Acknowledgements
This work was supported by a High-Tech Research Center Project for Private Universities, a matching fund subsidy from the Ministry of Education, Culture, Sports, Science, and Technology (MEXT) and the University-Industry Joint Research Project for Private Universities, a matching fund subsidy from MEXT. This work was also supported by Grants-in-Aid for Scientific Research from MEXT. We also thank the Tokyo Medical University Research Center for providing technical support.
Funding
This work was supported by Grants-in-Aid for Scientific Research from MEXT (Grant number 17K07227).
Ethics declarations
Conflict of interest
The authors declare that they have no conflict of interest.
Ethical approval
The study was approved by the local institute committee.
Informed consent
Informed consent was obtained from all individual participants included in the study.
Additional information
Publisher's Note
Springer Nature remains neutral with regard to jurisdictional claims in published maps and institutional affiliations.
Electronic supplementary material
Below is the link to the electronic supplementary material.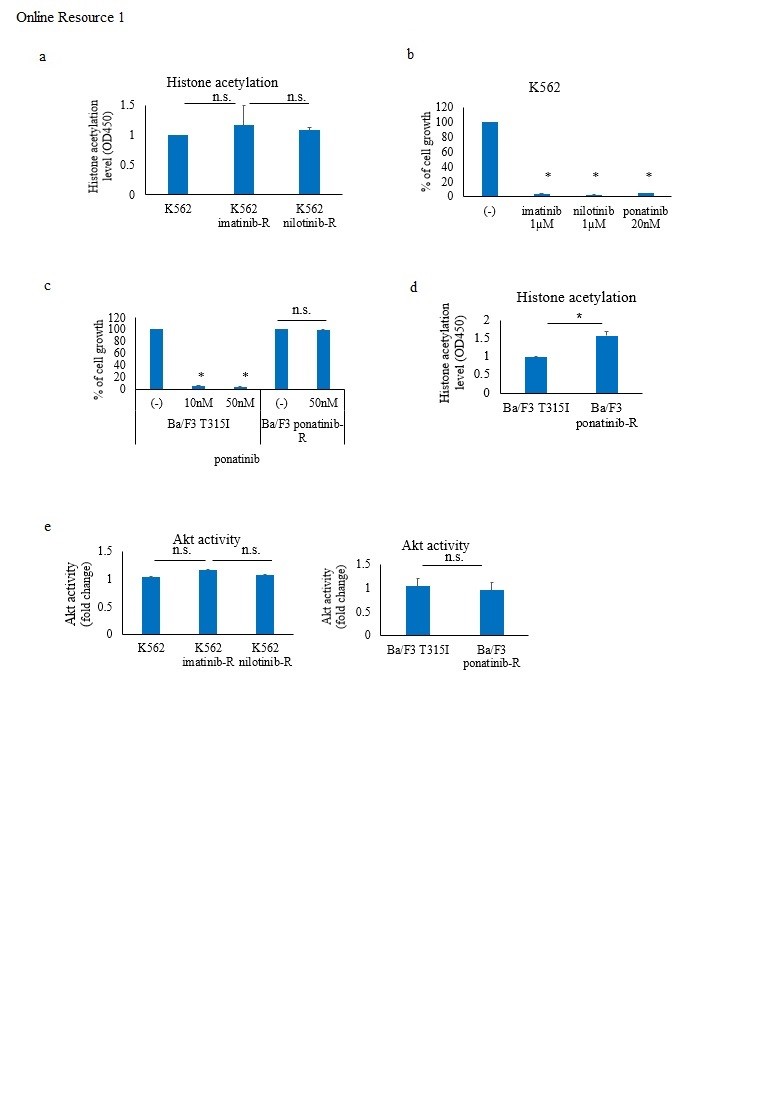 About this article
Cite this article
Okabe, S., Tanaka, Y., Moriyama, M. et al. Effect of dual inhibition of histone deacetylase and phosphatidylinositol-3 kinase in Philadelphia chromosome-positive leukemia cells. Cancer Chemother Pharmacol 85, 401–412 (2020). https://doi.org/10.1007/s00280-019-04022-x
Received:

Accepted:

Published:

Issue Date:
Keywords
ABL tyrosine kinase inhibitor

Chronic myeloid leukemia

Histone deacetylase

Phosphatidylinositol-3 kinase

Resistant cell