Abstract
Purpose
To investigate the associations of ANLN expression with prognosis of breast cancer and clinical outcome of anthracycline-based chemotherapy.
Methods
This study enrolled 308 breast cancer patients in which 264 of them received anthracycline-based chemotherapy. Immunohistochemistry was used to detect ANLN expression level of the patients. Clinical characteristics of the patients were collected, and associations of ANLN expression with prognosis were analyzed.
Results
Our results showed that ANLN expression was associated with survival of breast cancer patients, and it was also related to clinical outcome of patients received anthracycline-based chemotherapy. Breast cancer patients with high expression of ANLN would have poor prognosis and poor clinical outcome to anthracycline-based chemotherapy.
Conclusion
ANLN could be an independent prognosis predictor for breast cancer, and its expression might be used to predict the anthracycline-based chemotherapy clinical outcome in breast cancer patients.
This is a preview of subscription content, log in to check access.
Access options
Buy single article
Instant unlimited access to the full article PDF.
US$ 39.95
Price includes VAT for USA
Subscribe to journal
Immediate online access to all issues from 2019. Subscription will auto renew annually.
US$ 199
This is the net price. Taxes to be calculated in checkout.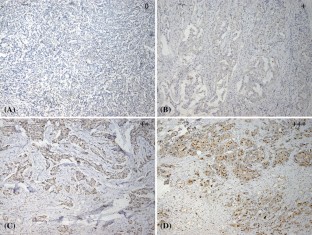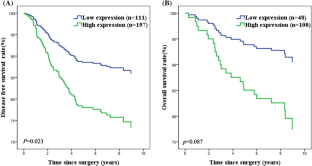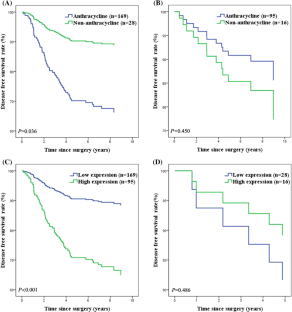 References
1.

Siegel RL, Miller KD, Jemal A (2015) Cancer statistics, 2015. CA Cancer J Clin 65(1):5–29. doi:10.3322/caac.21254

2.

Fan L, Strasser-Weippl K, Li JJ, St Louis J, Finkelstein DM, Yu KD, Chen WQ, Shao ZM, Goss PE (2014) Breast cancer in China. Lancet Oncol 15(7):e279–e289. doi:10.1016/S1470-2045(13)70567-9

3.

Winchester DP (2011) Post-treatment surveillance of breast cancer patients in an organized, multidisciplinary setting. J Surg Oncol 103(4):358–361. doi:10.1002/jso.21713

4.

von Minckwitz G, Raab G, Caputo A, Schutte M, Hilfrich J, Blohmer JU, Gerber B, Costa SD, Merkle E, Eidtmann H, Lampe D, Jackisch C, du Bois A, Kaufmann M (2005) Doxorubicin with cyclophosphamide followed by docetaxel every 21 days compared with doxorubicin and docetaxel every 14 days as preoperative treatment in operable breast cancer: the GEPARDUO study of the German Breast Group. J Clin Oncol 23(12):2676–2685. doi:10.1200/JCO.2005.05.078

5.

Mamounas EP, Bryant J, Lembersky B, Fehrenbacher L, Sedlacek SM, Fisher B, Wickerham DL, Yothers G, Soran A, Wolmark N (2005) Paclitaxel after doxorubicin plus cyclophosphamide as adjuvant chemotherapy for node-positive breast cancer: results from NSABP B-28. J Clin Oncol 23(16):3686–3696. doi:10.1200/JCO.2005.10.517

6.

Hintzpeter J, Seliger JM, Hofman J, Martin HJ, Wsol V, Maser E (2016) Inhibition of human anthracycline reductases by emodin—a possible remedy for anthracycline resistance. Toxicol Appl Pharmacol 293:21–29. doi:10.1016/j.taap.2016.01.003

7.

Tewey KM, Rowe TC, Yang L, Halligan BD, Liu LF (1984) Adriamycin-induced DNA damage mediated by mammalian DNA topoisomerase II. Science 226(4673):466–468

8.

Swift LP, Rephaeli A, Nudelman A, Phillips DR, Cutts SM (2006) Doxorubicin-DNA adducts induce a non-topoisomerase II-mediated form of cell death. Cancer Res 66(9):4863–4871. doi:10.1158/0008-5472.CAN-05-3410

9.

Cutts SM, Rephaeli A, Nudelman A, Ugarenko M, Phillips DR (2015) Potential therapeutic advantages of doxorubicin when activated by formaldehyde to function as a dna adduct-forming agent. Curr Top Med Chem 15(14):1409–1422

10.

Nielsen D, Maare C, Skovsgaard T (1996) Cellular resistance to anthracyclines. General Pharmacol 27(2):251–255

11.

Marquette C, Nabell L (2012) Chemotherapy-resistant metastatic breast cancer. Curr Treat Options Oncol 13(2):263–275. doi:10.1007/s11864-012-0184-6

12.

Bilardi RA, Kimura KI, Phillips DR, Cutts SM (2012) Processing of anthracycline-DNA adducts via DNA replication and interstrand crosslink repair pathways. Biochem Pharmacol 83(9):1241–1250. doi:10.1016/j.bcp.2012.01.029

13.

Field CM, Alberts BM (1995) Anillin, a contractile ring protein that cycles from the nucleus to the cell cortex. J Cell Biol 131(1):165–178

14.

Oegema K, Savoian MS, Mitchison TJ, Field CM (2000) Functional analysis of a human homologue of the Drosophila actin binding protein anillin suggests a role in cytokinesis. J Cell Biol 150(3):539–552

15.

Zhou W, Wang Z, Shen N, Pi W, Jiang W, Huang J, Hu Y, Li X, Sun L (2015) Knockdown of ANLN by lentivirus inhibits cell growth and migration in human breast cancer. Mol Cell Biochem 398(1–2):11–19. doi:10.1007/s11010-014-2200-6

16.

Wang G, Shen W, Cui L, Chen W, Hu X, Fu J (2016) Overexpression of Anillin (ANLN) is correlated with colorectal cancer progression and poor prognosis. Cancer Biomark 16 (3):459–465. doi:10.3233/CBM-160585

17.

Pandi NS, Manimuthu M, Harunipriya P, Murugesan M, Asha GV, Rajendran S (2014) In silico analysis of expression pattern of a Wnt/beta-catenin responsive gene ANLN in gastric cancer. Gene 545(1):23–29. doi:10.1016/j.gene.2014.05.013

18.

Suzuki C, Daigo Y, Ishikawa N, Kato T, Hayama S, Ito T, Tsuchiya E, Nakamura Y (2005) ANLN plays a critical role in human lung carcinogenesis through the activation of RHOA and by involvement in the phosphoinositide 3-kinase/AKT pathway. Cancer Res 65(24):11314–11325. doi:10.1158/0008-5472.CAN-05-1507

19.

Olakowski M, Tyszkiewicz T, Jarzab M, Krol R, Oczko-Wojciechowska M, Kowalska M, Kowal M, Gala GM, Kajor M, Lange D, Chmielik E, Gubala E, Lampe P, Jarzab B (2009) NBL1 and anillin (ANLN) genes over-expression in pancreatic carcinoma. Folia histochemica et cytobiologica/Polish Academy of Sciences, Polish Histochemical and Cytochemical. Society 47(2):249–255. doi:10.2478/v10042-009-0031-1

20.

PC OL, Penny SA, Dolan RT, Kelly CM, Madden SF, Rexhepaj E, Brennan DJ, McCann AH, Ponten F, Uhlen M, Zagozdzon R, Duffy MJ, Kell MR, Jirstrom K, Gallagher WM (2013) Systematic antibody generation and validation via tissue microarray technology leading to identification of a novel protein prognostic panel in breast cancer. BMC Cancer 13:175. doi:10.1186/1471-2407-13-175

21.

Piekny AJ, Maddox AS (2010) The myriad roles of Anillin during cytokinesis. Semin Cell Dev Biol 21(9):881–891. doi:10.1016/j.semcdb.2010.08.002

22.

Zhao WM, Fang G (2005) Anillin is a substrate of anaphase-promoting complex/cyclosome (APC/C) that controls spatial contractility of myosin during late cytokinesis. J Biol Chem 280(39):33516–33524. doi:10.1074/jbc.M504657200

23.

Klippel A, Escobedo MA, Wachowicz MS, Apell G, Brown TW, Giedlin MA, Kavanaugh WM, Williams LT (1998) Activation of phosphatidylinositol 3-kinase is sufficient for cell cycle entry and promotes cellular changes characteristic of oncogenic transformation. Mol Cell Biol 18(10):5699–5711

24.

Chun KH, Kosmeder JW 2nd, Sun S, Pezzuto JM, Lotan R, Hong WK, Lee HY (2003) Effects of deguelin on the phosphatidylinositol 3-kinase/Akt pathway and apoptosis in premalignant human bronchial epithelial cells. J Natl Cancer Inst 95(4):291–302

25.

Bartek J, Lukas J (2011) DNA repair: cyclin D1 multitasks. Nature 474(7350):171–172. doi:10.1038/474171a

26.

Graeser M, McCarthy A, Lord CJ, Savage K, Hills M, Salter J, Orr N, Parton M, Smith IE, Reis-Filho JS, Dowsett M, Ashworth A, Turner NC (2010) A marker of homologous recombination predicts pathologic complete response to neoadjuvant chemotherapy in primary breast cancer. Clin Cancer Res 16(24):6159–6168. doi:10.1158/1078-0432.CCR-10-1027

27.

Siegel RL, Miller KD, Jemal A (2016) Cancer statistics, 2016. CA Cancer J Clin 66(1):7–30. doi:10.3322/caac.21332

28.

Ross JS, Linette GP, Stec J, Clark E, Ayers M, Leschly N, Symmans WF, Hortobagyi GN, Pusztai L (2003) Breast cancer biomarkers and molecular medicine. Expert Rev Mol Diagn 3(5):573–585. doi:10.1586/14737159.3.5.573

29.

Ross JS, Linette GP, Stec J, Clark E, Ayers M, Leschly N, Symmans WF, Hortobagyi GN, Pusztai L (2004) Breast cancer biomarkers and molecular medicine: part II. Expert Rev Mol Diagn 4(2):169–188. doi:10.1586/14737159.4.2.169

30.

Hall PA, Todd CB, Hyland PL, McDade SS, Grabsch H, Dattani M, Hillan KJ, Russell SE (2005) The septin-binding protein anillin is overexpressed in diverse human tumors. Clini Cancer Res 11(19):6780–6786. doi:10.1158/1078-0432.CCR-05-0997

31.

Krop IE, Suter TM, Dang CT, Dirix L, Romieu G, Zamagni C, Citron ML, Campone M, Xu N, Smitt M, Gianni L (2015) Feasibility and cardiac safety of trastuzumab emtansine after anthracycline-based chemotherapy as (neo)adjuvant therapy for human epidermal growth factor receptor 2-positive early-stage breast cancer. J Clin Oncol 33(10):1136–1142. doi:10.1200/JCO.2014.58.7782

32.

Ghanbari S, Ayatollahi SM, Zare N (2015) Comparing role of two chemotherapy regimens, cmf and anthracycline-based, on breast cancer survival in the eastern mediterranean region and Asia by multivariate mixed effects models: a meta-analysis. Asian Pac J Cancer Prev: APJCP 16(14):5655–5661

33.

Bang SM, Heo DS, Lee KH, Byun JH, Chang HM, Noh DY, Choe KJ, Bang YJ, Kim SR, Kim NK (2000) Adjuvant doxorubicin and cyclophosphamide versus cyclophosphamide, methotrexate, and 5-fluorouracil chemotherapy in premenopausal women with axillary lymph node positive breast carcinoma. Cancer 89(12):2521–2526

34.

Jones S, Holmes FA, O'Shaughnessy J, Blum JL, Vukelja SJ, McIntyre KJ, Pippen JE, Bordelon JH, Kirby RL, Sandbach J, Hyman WJ, Richards DA, Mennel RG, Boehm KA, Meyer WG, Asmar L, Mackey D, Riedel S, Muss H, Savin MA (2009) Docetaxel With cyclophosphamide is associated with an overall survival benefit compared with doxorubicin and cyclophosphamide: 7-year follow-up of US oncology research trial 9735. J Clin Oncol 27(8):1177–1183. doi:10.1200/JCO.2008.18.4028

35.

Muss HB, Thor AD, Berry DA, Kute T, Liu ET, Koerner F, Cirrincione CT, Budman DR, Wood WC, Barcos M et al (1994) c-erbB-2 expression and response to adjuvant therapy in women with node-positive early breast cancer. N Engl J Med 330(18):1260–1266. doi:10.1056/NEJM199405053301802

36.

Mehta RS, Schubbert T (2008) Re: HER2 status and efficacy of adjuvant anthracyclines in early breast cancer: a pooled analysis of randomized trials. J Natl Cancer Inst 100(9):680. doi:10.1093/jnci/djn107 (author reply 680–681)

37.

Spencer DM, Bilardi RA, Koch TH, Post GC, Nafie JW, Kimura K, Cutts SM, Phillips DR (2008) DNA repair in response to anthracycline-DNA adducts: a role for both homologous recombination and nucleotide excision repair. Mutat Res 638(1–2):110–121. doi:10.1016/j.mrfmmm.2007.09.005

38.

Raaphorst GP, Leblanc M, Li LF (2005) A comparison of response to cisplatin, radiation and combined treatment for cells deficient in recombination repair pathways. Anticancer Res 25 (1A):53–58

39.

Horton JK, Wilson SH (2007) Hypersensitivity phenotypes associated with genetic and synthetic inhibitor-induced base excision repair deficiency. DNA Repair 6(4):530–543. doi:10.1016/j.dnarep.2006.10.016

40.

Gillett C, Smith P, Gregory W, Richards M, Millis R, Peters G, Barnes D (1996) Cyclin D1 and prognosis in human breast cancer. Int J Cancer 69(2):92–99. doi:10.1002/(SICI)1097-0215(19960422)69:2<92::AID-IJC4>3.0.CO;2-Q

41.

Zhou Q, Fukushima P, DeGraff W, Mitchell JB, Stetler Stevenson M, Ashkenazi A, Steeg PS (2000) Radiation and the Apo2L/TRAIL apoptotic pathway preferentially inhibit the colonization of premalignant human breast cells overexpressing cyclin D1. Cancer Res 60(10):2611–2615

42.

Li Z, Jiao X, Wang C, Shirley LA, Elsaleh H, Dahl O, Wang M, Soutoglou E, Knudsen ES, Pestell RG (2010) Alternative cyclin D1 splice forms differentially regulate the DNA damage response. Cancer Res 70(21):8802–8811. doi:10.1158/0008-5472.CAN-10-0312
Acknowledgements
This work was supported by the National Natural Science Foundation of China (81572612) and the Fundamental Research Funds for the Central Universities of Central South University (2015zzts116).
Ethics declarations
Conflict of interest
The authors declare that they have no conflict of interest.
Ethical approval
All procedures performed in studies involving human participants were in accordance with the ethical standards of the institutional and/or national research committee and with the 1964 Helsinki declaration and its later amendments or comparable ethical standards.
Informed consent
Informed consent was obtained from all individual participants included in the study.
About this article
Cite this article
Wang, Z., Chen, J., Zhong, M. et al. Overexpression of ANLN contributed to poor prognosis of anthracycline-based chemotherapy in breast cancer patients. Cancer Chemother Pharmacol 79, 535–543 (2017) doi:10.1007/s00280-017-3248-2
Received:

Accepted:

Published:

Issue Date:
Keywords
ANLN

Breast cancer

Anthracycline

Prognosis