Antimitotic drugs in the treatment of cancer
Open Access
Review Article
Abstract
Cancer is a complex disease since it is adaptive in such a way that it can promote proliferation and invasion by means of an overactive cell cycle and in turn cellular division which is targeted by antimitotic drugs that are highly validated chemotherapy agents. However, antimitotic drug cytotoxicity to non-tumorigenic cells and multiple cancer resistance developed in response to drugs such as taxanes and vinca alkaloids are obstacles faced in both the clinical and basic research field to date. In this review, the classes of antimitotic compounds, their mechanisms of action and cancer cell resistance to chemotherapy and other limitations of current antimitotic compounds are highlighted, as well as the potential of novel 17-β estradiol analogs as cancer treatment.
Keywords
Taxanes 
Epothilones 
Vinca alkaloids 
Estrogens 
2-Methoxyestradiol 
Introduction
For 2015, 1.658 million new cancer cases and 589,430 deaths were predicted worldwide and, according to the National Cancer Registry (NCR), more than 100,000 South Africans are annually diagnosed with cancer with a survival rate of 60 % [1, 2].
Cancer refers to abnormal growth or malignant tumors and is characterized by uncontrolled proliferation of cells despite restriction of nutrients and space [
3
]. Cancer cells have unlimited replicative potential via the upregulation of telomerase (a specialized deoxyribonucleic acid (DNA) polymerase) expression that counters telomerase erosion (Fig. 
1
) [
4
].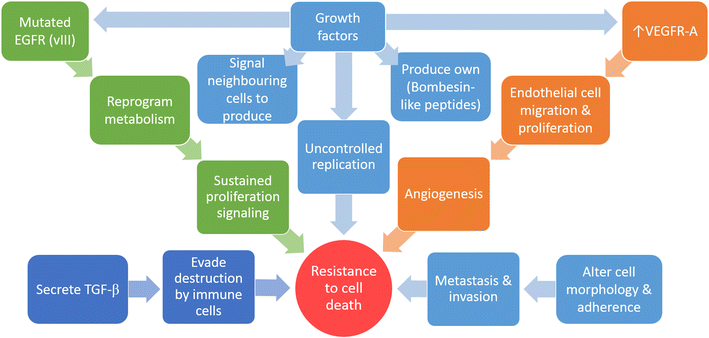 In addition, cancer cells have the ability to evade tumor suppressor genes, resulting in sustained chronic proliferation. These cells may avoid apoptosis induction by the loss of protein p53 (TP53) tumor suppressor function, or in the case of necrosis, proinflammatory signals that recruit cells of the immune system, which may promote malignancy and invasion [3, 5]. Cancer cells may also produce their own growth factor ligands such as Bombesin-like peptides (secreted by human small cell lung cancer) or signal to non-tumorigenic surrounding tissue to supply cancer cells with growth factors (Fig. 1) [6]. These cells may activate invasion and metastasis by developing alterations in shape and attachment to the extracellular matrix and neighboring cells (Fig. 1) [3].
Tumorigenic cells can induce angiogenesis by upregulation of vascular endothelial growth factors, such as vascular endothelial growth factor A (VEGF-A) by either hypoxia or oncogene signaling which stimulates endothelial cell migration and proliferation (Fig. 1) [7]. VEGF along with other factors recruit tumor-associated macrophages and other factors including chemokine (C–C motif) ligand 2 (CCl2) chemokine (C–C motif), ligand 5 (CCL5), colony-stimulating factor 1 (CSF-1), endothelins (ET-1) and transforming growth factor beta (TGF-β) which stimulate cancer cell proliferation, invasion and angiogenesis [7].
The mutated form of endothelial growth factor receptor (EGFRvIII) supports chronic proliferation by enabling cells to reprogram their cellular metabolism to keep up with high energy demands [8]. In virus-induced cancers and some non-viral etiology cancers, cells have the ability to evade destruction by immune cells, especially, T- and B-lymphocytes, natural killer cells and macrophages [9, 10]. These cancer cells may secrete immunosuppressive factors such as TGF-β, or block interferon gene transcription or their promoters [3]. In addition, tumor cells recruit cells that are actively immunosuppressive, such as regulatory T cells, or suppress capsid protein production and subsequently immune cell detection [9]. Current cancer treatment includes an array of treatment options and regimens that are specific for each cancer type. Treatment efficacy has inter-individual variability which will be discussed below.
Classes of antimitotic drugs
Conclusion
Antimitotic drugs such as the taxane cabazitaxel (Jextana®) (accepted in 2011), and the vinca alkaloid vintafolide (EC145, phase II), show promise in taxane and anthracycline-resistant cancers [71]. However, the toxicity of these drugs, as well as acquired drug resistance, allows for the opportunity to develop agents with increased tolerability and specificity [58, 59]. Development of novel compounds that disrupt mitosis without interfering with microtubule dynamics in non-dividing or highly proliferating (such as neutrophils) non-tumorigenic cells is the main focus in new antimitotic drug research. The in silico-designed 2ME analogs show promise since they were designed to target CAIX in the tumorigenic environment, increasing the bioavailability which will be evaluated in vivo in the near future [83, 84, 85].
Studies investigating the pathways of cancer cell resistance to antimitotic drugs will result in subsequent identification of novel biomarkers for future chemotherapy possessing increased efficacy. However, the limited success of antimitotics in clinical trials is mainly due to antimitotic targeting mechanisms varying substantially between in vitro and in vivo models since the drug resistance is poorly understood. In addition, unraveling the role of mitotic machinery and identifying the determinants of drug resistance in different models will contribute to the embedded scientific knowledge regarding antimitotic efficacy and subsequently yield novel biochemical targets for improved chemotherapy.
Notes
Acknowledgments
This work was supported by the Medical Research Council of South Africa, the Research Committee of the Faculty of Health Sciences of the University of Pretoria, the Cancer association of South Africa and the National Research Foundation.
Author's contributions
R. J. Janse van Vuuren was involved in initial compilation of manuscript. R. J. Janse van Vuuren and M. H. Visagie were involved in editing and final compilation of manuscript. A.E. Theron and A. M. Joubert were involved in final editing, supervision and acquiring of funds.
Compliance with ethical standards
Conflict of interest
The authors declare no conflict of interest.
Copyright information
© The Author(s) 2015
Open AccessThis article is distributed under the terms of the Creative Commons Attribution 4.0 International License (http://creativecommons.org/licenses/by/4.0/), which permits unrestricted use, distribution, and reproduction in any medium, provided you give appropriate credit to the original author(s) and the source, provide a link to the Creative Commons license, and indicate if changes were made.