Abstract
Purpose
We conducted a prospective observational study for premenopausal women receiving adjuvant adriamycin and cyclophosphamide-containing regimens to define the pattern of chemotherapy-induced amenorrhea (CIA), the menopause-specific quality of life (MENQOL), and the hormone profiles.
Methods
From October 2003 to July 2007, 387 patients with breast cancer who underwent curative surgery were prospectively included. Patient self-assessment by MENQOL questionnaires and blood samples for hormone assays were taken before chemotherapy, and 1, 6, and 12 months after chemotherapy was completed.
Results
Patients were categorized into three groups according to their duration and reversibility of amenorrhea, with 312 eligible patients split into long-term CIA (n = 180, 57.7 %), temporary CIA (n = 113, 36.2 %), and menstrual irregularity (n = 19, 6.1 %) groups. Risk factors for long-term CIA were identified as age ≥40 years (p < 0.001), the addition of taxane (p = 0.01), and tamoxifen use (p = 0.03). MENQOL was worst immediately after the completion of adjuvant chemotherapy, and this was not fully recovered even 12 months after chemotherapy had finished. Age ≥40 years and tamoxifen exposure were inversely associated with MENQOL. In long-term CIA patients, the level of follicle-stimulating hormone increased after chemotherapy; this level, however, was reduced in patients who received tamoxifen, but remained high and stable in those who did not (p < 0.001 at 6 months; p < 0.001 at 12 months).
Conclusion
This study showed that most premenopausal breast cancer patients who received adjuvant chemotherapy experienced clinically significant CIA, followed by impaired MENQOL. Our findings may be relevant in the decision-making processes for premenopausal women with breast cancer.
This is a preview of subscription content, log in to check access.
Access options
Buy single article
Instant access to the full article PDF.
US$ 39.95
Price includes VAT for USA
Subscribe to journal
Immediate online access to all issues from 2019. Subscription will auto renew annually.
US$ 199
This is the net price. Taxes to be calculated in checkout.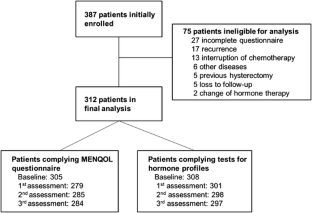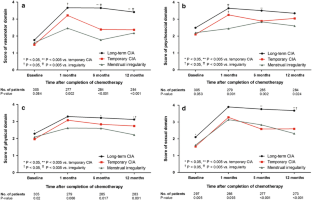 References
1.

Siegel R, Naishadham D, Jemal A (2012) Cancer statistics, 2012. CA Cancer J Clin 62:10–29

2.

Early, Breast, Cancer, Trialists', Collaborative, Group (2005) Effects of chemotherapy and hormonal therapy for early breast cancer on recurrence and 15-year survival: an overview of the randomised trials. Lancet 365:1687–1717

3.

Goldhirsch A, Glick JH, Gelber RD, Coates AS, Thurlimann B, Senn HJ (2005) Meeting highlights: international expert consensus on the primary therapy of early breast cancer 2005. Ann Oncol 16:1569–1583

4.

Walshe JM, Denduluri N, Swain SM (2006) Amenorrhea in premenopausal women after adjuvant chemotherapy for breast cancer. J Clin Oncol 24:5769–5779

5.

Ganz PA, Rowland JH, Desmond K, Meyerowitz BE, Wyatt GE (1998) Life after breast cancer: understanding women's health-related quality of life and sexual functioning. J Clin Oncol 16:501–514

6.

Couzi RJ, Helzlsouer KJ, Fetting JH (1995) Prevalence of menopausal symptoms among women with a history of breast cancer and attitudes toward estrogen replacement therapy. J Clin Oncol 13:2737–2744

7.

Jung KW, Park S, Kong HJ, Won YJ, Boo YK, Shin HR, Park EC, Lee JS (2010) Cancer statistics in Korea: incidence, mortality and survival in 2006-2007. J Korean Med Sci 25:1113–1121

8.

Parulekar WR, Day AG, Ottaway JA, Shepherd LE, Trudeau ME, Bramwell V, Levine M, Pritchard KI (2005) Incidence and prognostic impact of amenorrhea during adjuvant therapy in high-risk premenopausal breast cancer: analysis of a National Cancer Institute of Canada Clinical Trials Group Study–NCIC CTG MA.5. J Clin Oncol 23:6002–6008

9.

Hilditch JR, Lewis J, Peter A, van Maris B, Ross A, Franssen E, Guyatt GH, Norton PG, Dunn E (1996) A menopause-specific quality of life questionnaire: development and psychometric properties. Maturitas 24:161–175

10.

Zollner YF, Acquadro C, Schaefer M (2005) Literature review of instruments to assess health-related quality of life during and after menopause. Qual Life Res 14:309–327

11.

Park YJ, Koo BS, Kang HC, Chun SH, Yoon JW (2001) The menopausal age and climacteric symptoms, and the related factors of Korean women. Korean J Women Health Nurs 7:473–485

12.

Han HS, Ro J, Lee KS, Nam BH, Seo JA, Lee DH, Lee H, Lee ES, Kang HS, Kim SW (2009) Analysis of chemotherapy-induced amenorrhea rates by three different anthracycline and taxane containing regimens for early breast cancer. Breast Cancer Res Treat 115:335–342

13.

Partridge A, Gelber S, Gelber RD, Castiglione-Gertsch M, Goldhirsch A, Winer E (2007) Age of menopause among women who remain premenopausal following treatment for early breast cancer: long-term results from International Breast Cancer Study Group Trials V and VI. Eur J Cancer 43:1646–1653

14.

Tham YL, Sexton K, Weiss H, Elledge R, Friedman LC, Kramer R (2007) The rates of chemotherapy-induced amenorrhea in patients treated with adjuvant doxorubicin and cyclophosphamide followed by a taxane. Am J Clin Oncol 30:126–132

15.

Kil WJ, Ahn SD, Shin SS, Lee SW, Choi EK, Kim JH, Son BH, Ahn SH, Kim WK, Kim SB (2006) Treatment-induced menstrual changes in very young (<35 years old) breast cancer patients. Breast Cancer Res Treat 96:245–250

16.

Petrek JA, Naughton MJ, Case LD, Paskett ED, Naftalis EZ, Singletary SE, Sukumvanich P (2006) Incidence, time course, and determinants of menstrual bleeding after breast cancer treatment: a prospective study. J Clin Oncol 24:1045–1051

17.

Martin M, Pienkowski T, Mackey J, Pawlicki M, Guastalla JP, Weaver C, Tomiak E, Al-Tweigeri T, Chap L, Juhos E, Guevin R, Howell A, Fornander T, Hainsworth J, Coleman R, Vinholes J, Modiano M, Pinter T, Tang SC, Colwell B, Prady C, Provencher L, Walde D, Rodriguez-Lescure A, Hugh J, Loret C, Rupin M, Blitz S, Jacobs P, Murawsky M, Riva A, Vogel C (2005) Adjuvant docetaxel for node-positive breast cancer. N Engl J Med 352:2302–2313

18.

Colleoni M, Gelber S, Goldhirsch A, Aebi S, Castiglione-Gertsch M, Price KN, Coates AS, Gelber RD (2006) Tamoxifen after adjuvant chemotherapy for premenopausal women with lymph node-positive breast cancer: International Breast Cancer Study Group Trial 13-93. J Clin Oncol 24:1332–1341

19.

Goodwin PJ, Ennis M, Pritchard KI, Trudeau M, Hood N (1999) Risk of menopause during the first year after breast cancer diagnosis. J Clin Oncol 17:2365–2370

20.

Ganz PA, Land SR, Geyer CE, Cecchini RS, Costantino JP, Pajon ER, Fehrenbacher L, Atkins JN, Polikoff JA, Vogel VG, Erban JK, Livingston RB, Perez EA, Mamounas EP, Wolmark N, Swain SM (2011) Menstrual history and quality-of-life outcomes in women with node-positive breast cancer treated with adjuvant therapy on the NSABP B-30 trial. J Clin Oncol 29:1110–1116

21.

Williams RE, Levine KB, Kalilani L, Lewis J, Clark RV (2009) Menopause-specific questionnaire assessment in US population-based study shows negative impact on health-related quality of life. Maturitas 62:153–159

22.

Ganz PA, Greendale GA, Petersen L, Zibecchi L, Kahn B, Belin TR (2000) Managing menopausal symptoms in breast cancer survivors: results of a randomized controlled trial. J Natl Cancer Inst 92:1054–1064

23.

Lee MS, Kim JH, Park MS, Yang J, Ko YH, Ko SD, Joe SH (2010) Factors influencing the severity of menopause symptoms in Korean post-menopausal women. J Korean Med Sci 25:758–765

24.

Ganz PA (2001) Impact of tamoxifen adjuvant therapy on symptoms, functioning, and quality of life. J Natl Cancer Inst Monogr 2001:130–134

25.

Day R, Ganz PA, Costantino JP, Cronin WM, Wickerham DL, Fisher B (1999) Health-related quality of life and tamoxifen in breast cancer prevention: a report from the National Surgical Adjuvant Breast and Bowel Project P-1 Study. J Clin Oncol 17:2659–2669

26.

Avis NE, Crawford S, Manuel J (2005) Quality of life among younger women with breast cancer. J Clin Oncol 23:3322–3330

27.

Ganz PA, Greendale GA, Petersen L, Kahn B, Bower JE (2003) Breast cancer in younger women: reproductive and late health effects of treatment. J Clin Oncol 21:4184–4193

28.

Rossi E, Morabito A, Di Rella F, Esposito G, Gravina A, Labonia V, Landi G, Nuzzo F, Pacilio C, De Maio E, Di Maio M, Piccirillo MC, De Feo G, D'Aiuto G, Botti G, Chiodini P, Gallo C, Perrone F, de Matteis A (2009) Endocrine effects of adjuvant letrozole compared with tamoxifen in hormone-responsive postmenopausal patients with early breast cancer: the HOBOE trial. J Clin Oncol 27:3192–3197

29.

Jordan VC, Fritz NF, Tormey DC (1987) Endocrine effects of adjuvant chemotherapy and long-term tamoxifen administration on node-positive patients with breast cancer. Cancer Res 47:624–630
Additional information
Changhoon Yoo and Mi Ra Yun have equally contributed.
About this article
Cite this article
Yoo, C., Yun, M.R., Ahn, J. et al. Chemotherapy-induced amenorrhea, menopause-specific quality of life, and endocrine profiles in premenopausal women with breast cancer who received adjuvant anthracycline-based chemotherapy: a prospective cohort study. Cancer Chemother Pharmacol 72, 565–575 (2013). https://doi.org/10.1007/s00280-013-2227-5
Received:

Accepted:

Published:

Issue Date:
Keywords
Chemotherapy-induced amenorrhea

Breast cancer

Premenopausal

Quality of life