This is a preview of subscription content, log in to check access.
Access options
Buy single article
Instant access to the full article PDF.
US$ 39.95
Price includes VAT for USA
Subscribe to journal
Immediate online access to all issues from 2019. Subscription will auto renew annually.
US$ 199
This is the net price. Taxes to be calculated in checkout.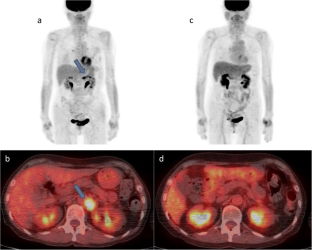 References
1.

Rashe L, Kapp M, Einsele H, Mielke S (2014) EBV-induced post transplant lymphoproliferative disorders: a persisting challenge in allogeneic hematopoetic SCT. Bone Marrow Transplant 49:163–167

2.

Loren AW, Porter DL, Stadtmauer EA, Tsai DE (2003) Post-transplant lymphoproliferative disorder: a review. Bone Marrow Transplant 31:145–155

3.

Dierickx D, Habermann TM (2018) Post-transplantation lymphoproliferative disorders in adults. N Engl J Med 378:549–562

4.

Soiffer RJ (2019) Checkpoint inhibition to prevent or treat relapse in allogeneic hematopoietic cell transplantation. Bone Marrow Transplant 54:798–802

5.

Merryman RW, Kim HT, Zinzani PL, Cario-Stella C, Ansell SM, Perales MA et al (2017) Safety and efficacy of allogeneic hematopoietic stem cell transplant after PD-1 blockade in relapsed/refractory lymphoma. Blood. 129:1380–1388

6.

Herbaux C, Gauthier J, Brice P, Drumez E, Ysebaert L, Doyen H, Fornecker L, Bouabdallah K, Manson G, Ghesquières H, Tabrizi R, Hermet E, Lazarovici J, Thiebaut-Bertrand A, Chauchet A, Demarquette H, Boyle E, Houot R, Yakoub-Agha I, Morschhauser F (2017) Efficacy and tolerability of nivolumab after allogeneic transplantation for relapsed Hodgkin lymphoma. Blood. 129:2471–2478

7.

Ijaz A, Khan AY, Malik SU, Faridi W, Fraz MA, Usman M et al (2019) Significant risk of graft-versus-host disease with exposure to checkpoint inhibitors before and after allogeneic transplantation. Bio Blood Marrow Transplant 25:94–99

8.

Kassa C, Remenyi P, Sinko J, Kallay K, Kertesz G, Kricvan G (2018) Successful nivolumab therapy in an allogeneic stem cell transplant child with post-transplant lymphoproliferative disorder. Pediatr Transplant 22:e13302
Acknowledgments
We are grateful to the medical, nursing, and laboratory staff of the participating departments for their contributions to this study.
Ethics declarations
Conflict of interest
The authors declare that they have no conflicts of interest.
Ethical approval
All procedures performed in studies involving human participants were in accordance with the ethical standards of the institutional and/or national research committee and with the 1964 Helsinki Declaration and its later amendments or comparable ethical standards.
Statement of informed consent
Informed consent was obtained from the patient included in the study.
Additional information
Publisher's note
Springer Nature remains neutral with regard to jurisdictional claims in published maps and institutional affiliations.
About this article
Cite this article
Wada, F., Kondo, T., Nakamura, M. et al. Successful treatment of Hodgkin lymphoma-like EBV-associated post-transplant lymphoproliferative disorder following allogeneic hematopoietic stem cell transplantation with nivolumab. Ann Hematol (2020). https://doi.org/10.1007/s00277-020-03960-4
Received:

Accepted:

Published: