This is a preview of subscription content, log in to check access.
Access options
Buy single article
Instant access to the full article PDF.
US$ 39.95
Price includes VAT for USA
Subscribe to journal
Immediate online access to all issues from 2019. Subscription will auto renew annually.
US$ 199
This is the net price. Taxes to be calculated in checkout.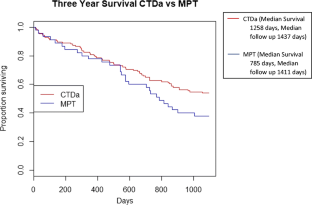 References
1.

Hungria VTM, Crusoe EQ, Maiolino A, Bittencourt R, Fantl D, Maciel JFR, Pessoa de Magalhaes RJ, Almeida MSS, Cury P, Hisgashi F, Peres AL, Chiattone CS (2016) Phase 3 trial of three thalidomide-containing regimens in patients with newly diagnosed multiple myeloma not transplant-eligible. Ann Hematol 95:271–278

2.

National Institute for Health and Care Excellence (2011). Bortezomib and thalidomide for the first-line treatment of multiple myeloma (NICE (Multiple) Technology Appraisal Guidance No. 228). Available at: https://www.nice.org.uk/guidance/TA228 [accessed 16th October 2019]

3.

Scottish Medicines Consortium (2009), Medicines advice: thalidomide (SMC 525/08). Available at: https://www.scottishmedicines.org.uk/medicines-advice/thalidomide-pharmion-fullsubmission-52508/ [accessed 16th October 2019]

4.

Morgan GJ, Davies FE, Gregory WM (2011) Cyclophosphamide, thalidomide, and dexamethasone (CTD) as initial therapy for patients with multiple myeloma unsuitable for autologous transplantation. Blood 118:1231–1238
Acknowledgements
The authors are grateful to Christine Crearie and colleagues in the West of Scotland Cancer Network and West of Scotland Haematology Audit Group for support and access to patient data.
Ethics declarations
Conflict of interest
The authors declare that they have no conflict of interest.
Informed consent
Informed consent was obtained from all individual participants included in the study.
Additional information
Publisher's note
Springer Nature remains neutral with regard to jurisdictional claims in published maps and institutional affiliations.
About this article
Cite this article
Soutar, R., Steel, M., Donaldson, A. et al. Comparison of thalidomide-containing regimens in patients with newly diagnosed multiple myeloma not transplant eligible. Ann Hematol (2020). https://doi.org/10.1007/s00277-020-03919-5
Received:

Accepted:

Published: