Atypical bortezomib-induced neutrophilic dermatosis
Dear Editor,
A 76-year-old man was treated with prednisone-melphalan and sub-cutaneous injections of bortezomib for an IgG kappa multiple myeloma (MM). On day 25 of the first chemotherapy cycle, the patient presented with painless red-to-purple edematous, bullous, or ulcerated, and hemorrhagic plaques, involving the forehead, the dorsal face of fingers, and both ankles (Fig.
1
a, b). The complete blood count was normal. Skin biopsy revealed an infiltrate of neutrophils located within the dermis with partially destroyed hair follicles, but without vasculitis, dermal edema, or any type of tumor cell (Fig.
1
c). Echocardiography, microbiological skin samples, and blood cultures were normal. Considering the histologic features and the patient's clinical and drug history, we hypothesized bortezomib-induced neutrophilic dermatosis (ND).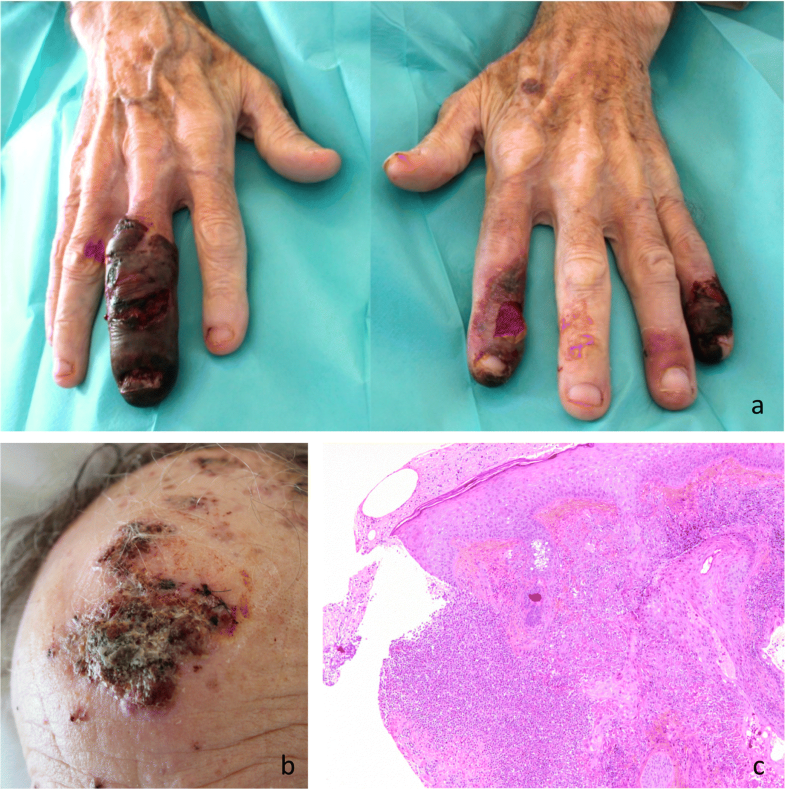 Notes
Authors' contribution
All of the authors participated in the preparation of the manuscript.
Compliance with ethical standards
Conflict of interest
The authors declare that they no conflict of interest.
Copyright information
© Springer-Verlag GmbH Germany, part of Springer Nature 2018