Coincidence of lymphomatoid granulomatosis, chronic myelomonocytic leukemia, and anaplastic T cell lymphoma after methotrexate therapy for rheumatoid arthritis
Dear Editor,
We present a 79-year-old male with seronegative polyarthritis (RA) and three different neoplasms of myeloid and lymphoid origin. He was treated with methotrexate (MTX) (15 mg) weekly and prednisolone (15 mg) daily for 2 years and 4 months. The development of lymphoproliferative diseases (LPDs) including various types of lymphomas is reported to be associated with the use of MTX for the treatment of RA [1, 2].
The first diagnosis of RA was done on 11/2011. Since 9/2013, arthritis of the left wrist was seen. Three cycles of steroids were given intraarticularly. Infection with herpes zoster was diagnosed in 9/2013. An increased swelling of the left wrist with increased inflammatory levels was reported in 3/2014 (Fig.
1
a, b).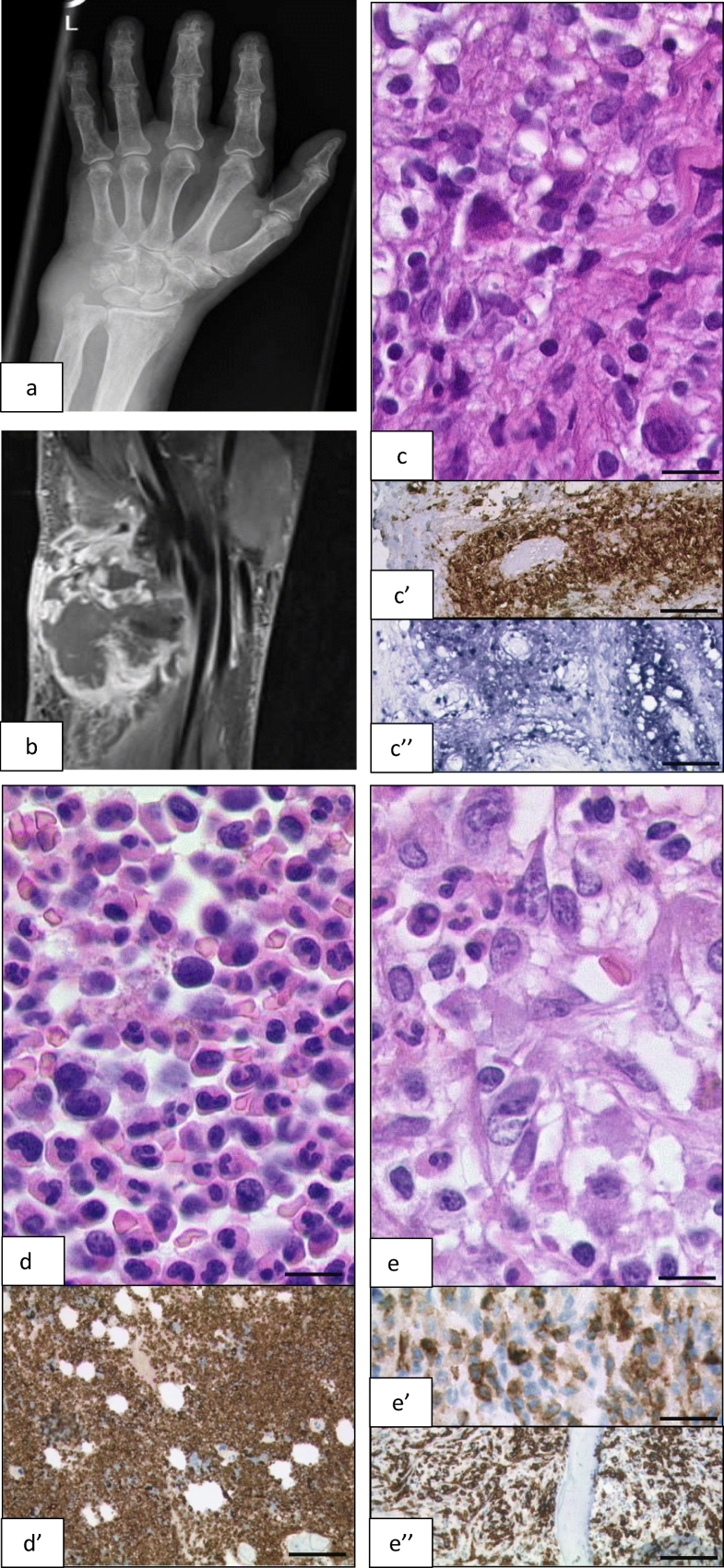 Notes
Acknowledgements
The authors would like to thank the Interdisciplinary Bank of Biomaterials and Data of the University Hospital of Würzburg and the Julius Maximilian University of Würzburg (idbw). The implementation of the ibdw has been supported by a Bundesministerium für Bildung und Forschung (Grant number FKZ: 01EY1102). Rucha Dugge is a student of the Research Training Group 2254: Heterogeneity and Evolution in Solid Tumours (HEIST) at Ulm University funded by the Deutsche Forschungsgemeinschaft.
Authorship Contributions
T.F.E.B., H.K., A.R., U.L., P.M., and R.E. designed the research and analyzed and interpreted data. T.F.E.B. and R.D. wrote the manuscript.
Compliance with ethical standards
Conflict of interest
The authors declare that they have no conflict of interest.
Ethical approval
All procedures performed in studies involving human participants were in accordance with the ethical standards of the institutional and/or national research committee and with the 1964 Helsinki declaration and its later amendments or comparable ethical standards. All the performed methods and experiments were in line with the guidelines of the ethics committee of the Federal General Medical Council. Informed consent was obtained from the individual included in the study.
Copyright information
© Springer-Verlag GmbH Germany, part of Springer Nature 2018