Abstract
Ocular adnexal mucosa-associated lymphoid tissue lymphoma (OAML) has been recognized as most common primary orbital malignancy. However, little was known about the response criteria for OAML. Our aim was to suggest response criteria for nonconjunctival OAML; the response evaluation of which using the conventional response criteria is inappropriate. A retrospective chart review of 34 eyes from 30 patients diagnosed with nonconjunctival OAML was conducted, focusing on the change in tumor size based on linear bi-dimensional and three-dimensional methods in magnetic resonance imaging (MRI) of the orbit. The maximum tumor response period of each case was investigated, and the expected optimal response period was calculated using regression analysis. In 30 evaluable patients, the median time taken for the maximum tumor response was 6 months (range, 3–18). More than 75 % of patients attained maximal tumor response in 6 months after initial therapy for follow-up period, the median value of which was 30 months (range, 15–77). Based on the regression analysis, it took 4.7 months for the maximum diameter (2r) of tumor to decrease by 50 % of initial lesion size. We cautiously suggest that optimal response could be defined as 50 % reduction of the maximum diameter in 6 months since the treatment was initiated, and that only observation without additional therapy is enough for nonconjunctival OAML, if optimal response is achieved.
This is a preview of subscription content, log in to check access.
Access options
Buy single article
Instant access to the full article PDF.
US$ 39.95
Price includes VAT for USA
Subscribe to journal
Immediate online access to all issues from 2019. Subscription will auto renew annually.
US$ 199
This is the net price. Taxes to be calculated in checkout.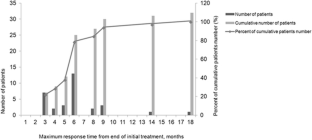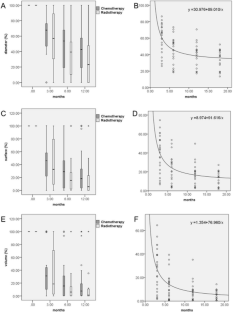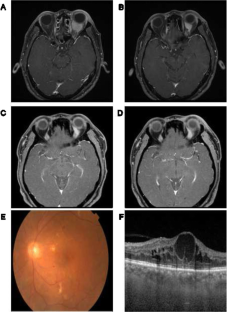 References
1.

Bairey O, Kremer I, Rakowsky E, Hadar H, Shaklai M (1994) Orbital and adnexal involvement in systemic non-Hodgkin's lymphoma. Cancer 73:2395–2399

2.

Coupland SE, Hellmich M, Auw-Haedrich C, Lee WR, Stein H (2004) Prognostic value of cell-cycle markers in ocular adnexal lymphoma: an assessment of 230 cases. Graefes Arch Clin Exp Ophthalmol 242:130–145. doi:10.1007/s00417-003-0831-5

3.

Decaudin D, de Cremoux P, Vincent-Salomon A, Dendale R, Rouic LL (2006) Ocular adnexal lymphoma: a review of clinicopathologic features and treatment options. Blood 108:1451–1460. doi:10.1182/blood-2006-02-005017

4.

Esmaeli B, Murray JL, Ahmadi MA, Naderi A, Singh S, Romaguera J, White CA, McLaughlin P (2002) Immunotherapy for low-grade non-Hodgkin secondary lymphoma of the orbit. Arch Ophthalmol 120:1225–1227

5.

Isaacson PG, Chott A, Nakumura S, Müller-Hermelink HK, Harris NL, Swerdlow SH (2008) Extranodal marginal cell lymphoma of mucosa-associated tissue (MALT lymphoma). In: Swerdlow SH, Campo E, Harris NL, Jaffe ES, Pileri SA, Stein H, Thiele J, Vardiman JW (eds) WHO Classification of tumours of haematopoietic and lymphoid tissues, 4th edn. IARC, Lyon, pp 214–217

6.

Jakobiec FA (2008) Ocular adnexal lymphoid tumors: progress in need of clarification. Am J Ophthalmol 145:941–950. doi:10.1016/j.ajo.2008.03.013

7.

Jenkins C, Rose GE, Bunce C, Wright JE, Cree IA, Plowman N, Lightman S, Moseley I, Norton A (2000) Histological features of ocular adnexal lymphoma (REAL classification) and their association with patient morbidity and survival. Br J Ophthalmol 84:907–913. doi:10.1136/bjo.84.8.907

8.

Shields JA, Shields CL, Scartozzi R (2004) Survey of 1264 patients with orbital tumors and simulating lesions: the 2002 Montgomery Lecture, part 1. Ophthalmology 111:997–1008. doi:10.1016/j.ophtha.2003.01.002

9.

Gayed I, Eskandari MF, McLaughlin P, Pro B, Diba R, Esmaeli B (2007) Value of positron emission tomography in staging ocular adnexal lymphomas and evaluating their response to therapy. Ophthalmic Surg Lasers Imaging 38:319–325

10.

Cheson BD, Pfistner B, Juweid ME, Gascoyne RD, Specht L, Horning SJ, Coiffier B, Fisher RI, Hagenbeek A, Zucca E, Rosen ST, Stroobants S, Lister TA, Hoppe RT, Dreyling M, Tobinai K, Vose JM, Connors JM, Federico M, Diehl V (2007) Revised response criteria for malignant lymphoma. J Clin Oncol 25:579–586. doi:10.1200/JCO.2006.09.2403

11.

Johnson TE, Tse DT, Byrne GE Jr, Restrepo A, Whitcomb CC, Voigt W, Benedetto P, Curtin V (1999) Ocular-adnexal lymphoid tumors: a clinicopathologic and molecular genetic study of 77 patients. Ophthal Plast Reconstr Surg 15:171–179

12.

Martinet S, Ozsahin M, Belkacémi Y, Landmann C, Poortmans P, Oehlere C, Scandolaro L, Krengli M, Maingon P, Miralbell R, Studer G, Chauvet B, Marnitz S, Zouhair A, Mirimanoff RO (2003) Outcome and prognostic factors in orbital lymphoma: a Rare Cancer Network study on 90 consecutive patients treated with radiotherapy. Int J Radiat Oncol Biol Phys 55:892–898. doi:10.1016/S0360-3016(02)04159-7

13.

Hasegawa M, Kojima M, Shioya M, Tamaki Y, Saitoh J, Sakurai H, Kitamoto Y, Suzuki Y, Niibe H, Nakano T (2003) Treatment results of radiotherapy for malignant lymphoma of the orbit and histopathologic review according to the WHO classification. Int J Radiat Oncol Biol Phys 57:172–176. doi:10.1016/S0360-3016(03)00506-6

14.

Paik JS, Cho WK, Lee SE, Choi BO, Jung SE, Park GS, Kim SH, Yang SW, Cho SG (2012) Ophthalmologic outcomes after chemotherapy and/or radiotherapy in non-conjunctival ocular adnexal MALT lymphoma. Ann Hematol 91:1393–1401. doi:10.1007/s00277-012-1469-3

15.

Tsang RW, Gospodarowicz MK, Pintilie M, Wells W, Hodgson DC, Sun A, Crump M, Patterson BJ (2003) Localized mucosa-associated lymphoid tissue lymphoma treated with radiation therapy has excellent clinical outcome. J Clin Oncol 21:4157–4164. doi:10.1200/JCO.2003.06.085

16.

Wenzel C, Fiebiger W, Dieckmann K, Formanek M, Chott A, Raderer M (2003) Extranodal marginal zone B-cell lymphoma of mucosa-associated lymphoid tissue of the head and neck area: high rate of disease recurrence following local therapy. Cancer 97:2236–2241. doi:10.1002/cncr.11317

17.

James K, Eisenhauer E, Christian M, Terenziani M, Vena D, Muldal A, Therasse P (1999) Measuring response in solid tumors: unidimensional versus bidimensional measurement. J Natl Cancer Inst 91:523–528

18.

Padhani AR, Ollivier L (2001) The RECIST (Response Evaluation Criteria in Solid Tumors) criteria: implications for diagnostic radiologists. Br J Radiol 74:983–986

19.

Kiesewetter B, Lukas J, Kuchar A, Mayerhoefer ME, Streubel B, Lagler H, Mullauer L, Wohrer S, Fischbach J, Raderer M (2014) Clinical features, treatment and outcome of mucosa-associated lymphoid tissue (MALT) lymphoma of the ocular adnexa: single center experience of 60 patients. PLoS One 9:e104004

20.

Tanimoto K, Kaneko A, Suzuki S, Sekiguchi N, Maruyama D, Kim SW, Watanabe T, Kobayashi Y, Kagami Y, Maeshima A, Matsuno Y, Tobinai K (2006) Long-term follow-up results of no initial therapy for ocular adnexal MALT lymphoma. Ann Oncol 17:135–140

21.

Hatef E, Roberts D, McLaughlin P, Pro B, Esmaeli B (2007) Prevalence and nature of systemic involvement and stage at initial examination in patients with orbital and ocular adnexal lymphoma. Arch Ophthalmol 125:1663–1667. doi:10.1001/archopht.125.12.1663

22.

Lee SE, Paik JS, Cho WK, Choi BO, Lee SN, Jung SE, Park KS, Kang CS, Kim SH, Yang SW, Cho SG (2011) Feasibility of the TNM-based staging system of ocular adnexal extranodal marginal zone lymphoma of mucosa-associated lymphoid tissue (MALT lymphoma). Am J Hematol 86:262–266. doi:10.1002/ajh.21963

23.

Lim SH, Kang M, Son J (2011) Extranodal marginal zone B cell lymphoma of mucosa-associated lymphoid tissue type of the ocular adnexa: retrospective single institution review of 95 patients. Indian J Ophthalmol 59:273–277. doi:10.4103/0301-4738.81993

24.

Raderer M, Streubel B, Woehrer S, Puespoek A, Jaeger U, Formanek M, Chott A (2005) High relapse rate in patients with MALT lymphoma warrants lifelong follow-up. Clin Cancer Res 11:3349–3352. doi:10.1158/1078-0432.CCR-04-2282

25.

Jenkins C, Rose GE, Bunce C, Cree I, Norton A, Plowman PN, Moseley I, Wright JE (2003) Clinical features associated with survival of patients with lymphoma of the ocular adnexa. Eye (Lond) 17:809–820. doi:10.1038/sj.eye.6700379

26.

Husain A, Roberts D, Pro B, McLaughlin P, Esmaeli B (2007) Meta-analyses of the association between Chlamydia psittaci and ocular adnexal lymphoma and the response of ocular adnexal lymphoma to antibiotics. Cancer 110:809–815

27.

Ferreri AJ, Govi S, Pasini E, Mappa S, Bertoni F, Zaja F, Montalban C, Stelitano C, Cabrera ME, Giordano Resti A, Politi LS, Doglioni C, Cavalli F, Zucca E, Ponzoni M, Dolcetti R (2012) Chlamydophila psittaci eradication with doxycycline as first-line targeted therapy for ocular adnexae lymphoma: final results of an international phase II trial. J Clin Oncol 30:2988–2994

28.

Zelenetz AD, Advani RH, Buadi F, Cabanillas F, Caligiuri MA, Czuczman MS, Damon LE, Fayad L, Flinn IW, Forero A, Glenn MJ, Gockerman JP, Gordon LI, Harris NL, Hoppe RT, Kaminski MS, Lacasce AS, Nademanee A, Porcu P, Press O, Prosnitz L, Smith MR, Sotomayor EM, Vose JM, Yahalom J (2006) Non-Hodgkin's lymphoma. Clinical practice guidelines in oncology. J Natl Compr Cancer Netw 4:258–310
Conflict of interest
None of the authors has financial or proprietary interests in any material or method mentioned in this study.
Additional information
Suk Woo Yang and Seok-Goo Cho contributed equally to this work.
About this article
Cite this article
Jung, S.K., Paik, J.S., Jung, S. et al. Suggestion of response evaluation criteria in patients with ocular adnexal mucosa-associated lymphoid tissue lymphoma (OAML). Ann Hematol 94, 1185–1193 (2015). https://doi.org/10.1007/s00277-015-2339-6
Received:

Accepted:

Published:

Issue Date:
Keywords
Marginal zone B cell lymphoma

Ocular adnexal MALT lymphoma

Response criteria

Chemotherapy

Radiotherapy