Abstract
Introduction
The aim of this study was to investigate the location and distribution patterns of neurovascular structures and determine the effective injection point in the tarsal tunnel for heel pain.
Methods
Fifteen adult non-embalmed cadavers with a mean age of 71.5 years were studied. The most inferior point of the medial malleolus of the tibia (MM) and the tuberosity of the calcaneus (TC) were identified before dissection. A line connecting the MM and TC was used as a reference line. The reference point was expressed in absolute distance along the reference line using the MM as the starting point. For measurements using MRI, the depth from the skin was measured to inferior at an interval of 1 cm from the MM.
Results
The posterior tibial artery, lateral plantar nerve, and medial plantar nerve were located from 29.0 to 37.3% of the reference line from the MM. The distribution frequencies of the medial calcaneal nerve on the reference line from the MM were 0%, 8.60%, 37.15%, 37.15%, and 17.10%, respectively. The mean depth of the neurovascular structures was 0.3 cm.
Discussion
This study recommended an effective injection site from 45.0 to 80.0% of the reference line.
This is a preview of subscription content, log in to check access.
Access options
Buy single article
Instant unlimited access to the full article PDF.
US$ 39.95
Price includes VAT for USA
Subscribe to journal
Immediate online access to all issues from 2019. Subscription will auto renew annually.
US$ 99
This is the net price. Taxes to be calculated in checkout.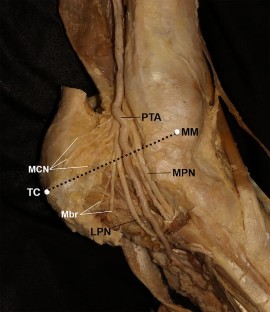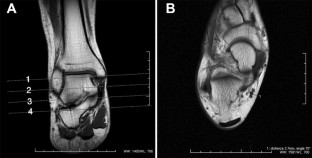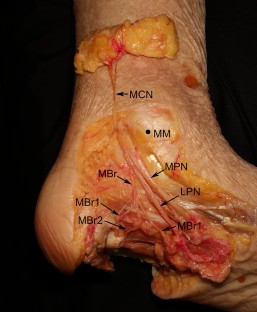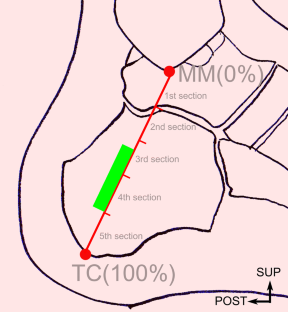 References
1.

NK Bejjanki E Moulder S Al-Nammari A Budgen 2008 Tarsal tunnel syndrome as a complication of total ankle arthroplasty: a case report Foot Ankle Int 29 347 350

2.

F Crawford D Atkins P Young J Edwards 1999 Steroid injection for heel pain: evidence of short-term effectiveness. A randomized controlled trial Rheumatology 38 974 977

3.

A Fernández-Gibello S Moroni G Camuñas R Montes M Zwierzina C Tasch V Starke J Sañudo T Vazquez M Konschake 2019 Ultrasound-guided decompression surgery of the tarsal tunnel: a novel technique for the proximal tarsal tunnel syndrome—Part II Surg Radiol Anat 41 43 51

4.

A Jeon CM Seo J Lee S Han 2018 The distributed pattern of the neurovascular structures around clavicle to minimize structural injury in clinical field: anatomical study Surg Radiol Anat 40 1261 1265

5.

J Kiel K Kaiser 2018 Tarsal tunnel syndrome. Anonymous StatPearls Stat Pearls Publishing Treasure Island

6.

CR Lareau GA Sawyer JH Wang CW DiGiovanni 2014 Plantar and medial heel pain: diagnosis and management J Am Acad Orthop Surg 22 372 380

7.

S Moroni AF Gibello M Zwierzina GC Nieves R Montes J Sañudo T Vazquez M Konschake 2019 Ultrasound-guided decompression surgery of the distal tarsal tunnel: a novel technique for the distal tarsal tunnel syndrome part III Surg Radiol Anat 41 313 321

8.

S Moroni M Zwierzina V Starke B Moriggl F Montesi M Konschake 2019 Clinical-anatomic mapping of the tarsal tunnel with regard to Baxter's neuropathy in recalcitrant heel pain syndrome: part I Surg Radiol Anat 41 29 41

9.

TA Sweed SA Ali S Choudhary 2016 Tarsal tunnel syndrome secondary to an unreported ossicle of the talus: a case report J Foot Ankle Surg 55 173 175

10.

GA Whittaker SE Munteanu HB Menz JM Gerrard A Elzarka KB Landorf 2019 Effectiveness of foot orthoses versus corticosteroid injection for plantar heel pain: the SOOTHE randomized clinical trial J Orthop Sports Phys https://doi.org/10.2519/jospt.2019.8807
Acknowledgements
The authors would like to thank the cadaver donors and their families who participated in the donation program. This research was supported by the National Research Foundation of Korea (NRF) grant funded by the Korea government (MSIT) (No. 2019R1C1C1008845).
Ethics declarations
Conflict of interest
The authors declare that they have no conflict of interest.
Additional information
Publisher's Note
Springer Nature remains neutral with regard to jurisdictional claims in published maps and institutional affiliations.
About this article
Cite this article
Sun, M., Jeon, A., Seo, C.M. et al. The injection site in the tarsal tunnel to minimize neurovascular injury for heel pain: an anatomical study. Surg Radiol Anat (2020) doi:10.1007/s00276-019-02411-8
Received:

Accepted:

Published:
Keywords
Tarsal tunnel

Heel pain

Neurovascular structure

Anatomical study