Abstract
Purpose
Neural foraminal dimensions are considered important in nerve root compression and development of cervical radiculopathy, but baseline data regarding their range during normal motion are not available. An in vivo study of cervical foraminal motion was conducted to characterize normal 3D dynamic foraminal dimensions during physiological neck motion and compare between different tasks and intervertebral segments.
Methods
Biplane X-ray imaging and computed tomography-based markerless tracking were used to measure foraminal height (FH) and width (FW) from five asymptomatic subjects during neck axial rotation and extension. FH and FW were quantified as the minimum (SI.Min and AP.Min), range (SI.Range and AP.Range), and median (SI.Med and AP.Med) of superoinferior (SI) and anteroposterior (AP) dimensions for each trial and as the coefficient of variation of these variables from three trials (SI.Med.CV and AP.Med.CV, SI.Range.CV and AP.Range.CV) at C3-4 through C6-7 levels for each subject. Differences were analyzed using mixed model ANOVA.
Results
AP.Range and AP.Med.CV were greater (P < 0.0001) while AP.Min and AP.Range.CV were smaller (P < 0.0006 and P < 0.0005) during neck extension than rotation. SI.Range and SI.Med.CV were greater for extension than rotation at C5-6 (P < 0.002 and P < 0.03), whereas SI.Med.CV was greater for rotation than extension at C3-4 (P < 0.03). AP.Range (P < 0.02), AP.Med.CV (P < 0.05), SI.Range (P < 0.0004), and SI.Med.CV (P < 0.02) were different between cervical levels, the latter two being during extension only.
Conclusions
Patterns of FH and FW during normal motion are different between tasks and cervical levels. These findings are expected to provide a basis for future studies of spinal degeneration and surgical efficacy.
This is a preview of subscription content, log in to check access.
Access options
Buy single article
Instant unlimited access to the full article PDF.
US$ 39.95
Price includes VAT for USA
Subscribe to journal
Immediate online access to all issues from 2019. Subscription will auto renew annually.
US$ 99
This is the net price. Taxes to be calculated in checkout.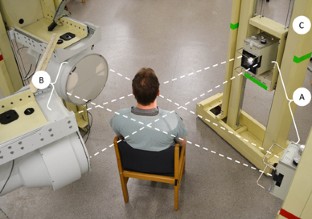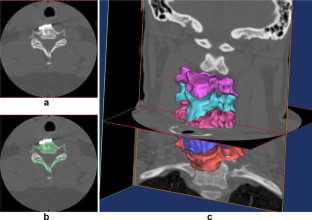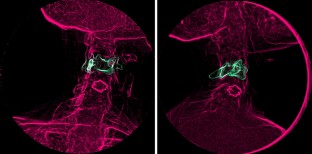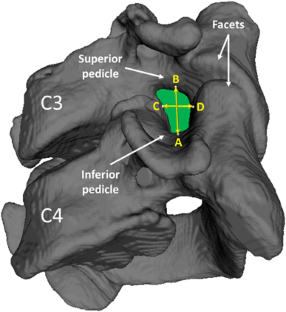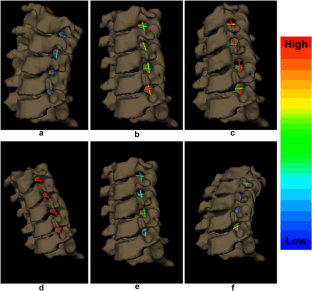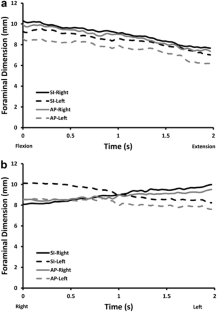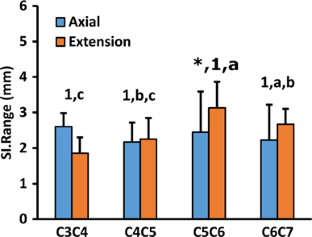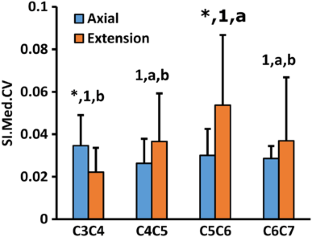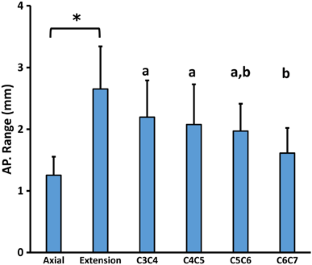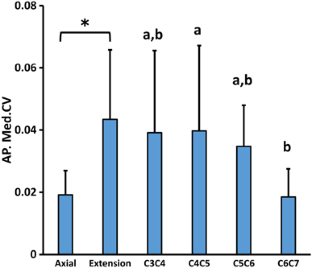 References
1.

Abbed KM, Coumans JV (2007) Cervical radiculopathy: pathophysiology, presentation, and clinical evaluation. Neurosurgery 60:S28–S34. doi:10.1227/01.NEU.0000249223.51871.C2

2.

Ahmed SH, El-Shaarawy EA, Ishaq MF, Moniem MH (2014) Morphological and radiometrical study of the human intervertebral foramina of the cervical spine. Folia Morphol (Warsz) 73:7–18. doi:10.5603/FM.2014.0002

3.

Albert TJ, Smith MD, Bressler E, Johnson LJ (1997) An in vivo analysis of the dimensional changes of the neuroforamen after anterior cervical diskectomy and fusion: a radiologic investigation. J Spinal Disord 10:229–233

4.

Anderst WJ (2012) Automated measurement of neural foramen cross-sectional area during in vivo functional movement. Comput Methods Biomech Biomed Engin 15:1313–1321. doi:10.1080/10255842.2011.590450

5.

Anderst WJ, Vaidya R, Tashman S (2008) A technique to measure three-dimensional in vivo rotation of fused and adjacent lumbar vertebrae. Spine J 8:991–997. doi:10.1016/j.spinee.2007.07.390

6.

Axelsson P, Karlsson BS (2004) Intervertebral mobility in the progressive degenerative process. A radiostereometric analysis. Eur Spine J 13:567–572. doi:10.1007/s00586-004-0713-5

7.

Bey MJ, Zauel R, Brock SK, Tashman S (2006) Validation of a new model-based tracking technique for measuring three-dimensional, in vivo glenohumeral joint kinematics. J Biomech Eng 128:604–609

8.

Dugailly PM, De Santis R, Tits M, Sobczak S, Vigne A, Feipel V (2015) Head repositioning accuracy in patients with neck pain and asymptomatic subjects: concurrent validity, influence of motion speed, motion direction and target distance. Eur Spine J 24:2885–2891. doi:10.1007/s00586-015-4263-9

9.

Ebraheim NA, An HS, Xu R, Ahmad M, Yeasting RA (1996) The quantitative anatomy of the cervical nerve root groove and the intervertebral foramen. Spine (Phila Pa 1976) 21:1619–1623

10.

Feipel V, Salvia P, Klein H, Rooze M (2006) Head repositioning accuracy in patients with whiplash-associated disorders. Spine (Phila Pa 1976) 31:E51–58. 00007632-200601150-00034 [pii]

11.

Fiscgrund JS, Herkowitz HN (1999) Cervical spondylotic radiculopathy, natural history and pathophysiology. In: Herkowitz HN, Rothman RH, Simeone FA (eds) Rothman-Simeone, the Spine. 4 edn. WB Saunders, Philadelphia, pp 461–465

12.

Fuller DA, Kirkpatrick JS, Emery SE, Wilber RG, Davy DT (1998) A kinematic study of the cervical spine before and after segmental arthrodesis. Spine (Phila Pa 1976) 23:1649–1656

13.

Humphreys SC, An HS, Eck JC, Coppes M, Lim TH, Estkowski L (1998) Oblique MRI as a useful adjunct in evaluation of cervical foraminal impingement. J Spinal Disord 11:295–299

14.

Kim S, Lee JW, Chai JW, Yoo HJ, Kang Y, Seo J, Ahn JM, Kang HS (2015) A new MRI grading system for cervical foraminal stenosis based on axial T2-weighted images. Korean J Radiol 16:1294–1302. doi:10.3348/kjr.2015.16.6.1294

15.

Kitagawa T, Fujiwara A, Kobayashi N, Saiki K, Tamai K, Saotome K (2004) Morphologic changes in the cervical neural foramen due to flexion and extension: in vivo imaging study. Spine (Phila Pa 1976) 29:2821–2825. 00007632-200412150-00007 [pii]

16.

Lentell G, Kruse M, Chock B, Wilson K, Iwamoto M, Martin R (2002) Dimensions of the cervical neural foramina in resting and retracted positions using magnetic resonance imaging. J Orthop Sports Phys Ther 32:380–390. doi:10.2519/jospt.2002.32.8.380

17.

Liu F, Cheng J, Komistek RD, Mahfouz MR, Sharma A (2007) In vivo evaluation of dynamic characteristics of the normal, fused, and disc replacement cervical spines. Spine (Phila Pa 1976) 32:2578–2584. doi:10.1097/BRS.0b013e318158cdf8

18.

McCormack BM, Bundoc RC, Ver MR, Ignacio JM, Berven SH, Eyster EF (2013) Percutaneous posterior cervical fusion with the DTRAX Facet System for single-level radiculopathy: results in 60 patients. J Neurosurg Spine 18:245–254. doi:10.3171/2012.12.SPINE12477

19.

McDonald CP, Bachison CC, Chang V, Bartol SW, Bey MJ (2010) Three-dimensional dynamic in vivo motion of the cervical spine: assessment of measurement accuracy and preliminary findings. Spine J 10:497–504. doi:10.1016/j.spinee.2010.02.024

20.

McDonald CP, Chang V, McDonald M, Ramo N, Bey MJ, Bartol S (2014) Three-dimensional motion analysis of the cervical spine for comparison of anterior cervical decompression and fusion versus artificial disc replacement in 17 patients: clinical article. J Neurosurg Spine 20:245–255. doi:10.3171/2013.11.SPINE13392

21.

Muhle C, Resnick D, Ahn JM, Sudmeyer M, Heller M (2001) In vivo changes in the neuroforaminal size at flexion-extension and axial rotation of the cervical spine in healthy persons examined using kinematic magnetic resonance imaging. Spine (Phila Pa 1976) 26:E287–293

22.

Owens EF Jr, Henderson CN, Gudavalli MR, Pickar JG (2006) Head repositioning errors in normal student volunteers: a possible tool to assess the neck's neuromuscular system. Chiropr Osteopat 14:5. doi:10.1186/1746-1340-14-5

23.

Penning L (1978) Normal movements of the cervical spine. AJR Am J Roentgenol 130:317–326. doi:10.2214/ajr.130.2.317

24.

Ragab AA, Escarcega AJ, Zdeblick TA (2006) A quantitative analysis of strain at adjacent segments after segmental immobilization of the cervical spine. J Spinal Disord Tech 19:407–410

25.

Ramos RM, da Costa RC, Oliveira AL, Kodigudla MK, Goel VK (2015) Morphological changes of the caudal cervical intervertebral foramina due to flexion-extension and compression-traction movements in the canine cervical vertebral column. BMC Vet Res 11:184. doi:10.1186/s12917-015-0508-4

26.

Sato T, Masui K (2013) Morphologic differences in intervertebral foramina: a radiographic study of cervical spine positions in asymptomatic men. J Manipulative Physiol Ther 36:327–332. doi:10.1016/j.jmpt.2013.05.006

27.

Syed FI, Oza AL, Vanderby R, Heiderscheit B, Anderson PA (2007) A method to measure cervical spine motion over extended periods of time. Spine (Phila Pa 1976) 32:2092–2098. doi:10.1097/BRS.0b013e318145a93a

28.

Takasaki H, Hall T, Jull G, Kaneko S, Iizawa T, Ikemoto Y (2009) The influence of cervical traction, compression, and spurling test on cervical intervertebral foramen size. Spine (Phila Pa 1976) 34:1658–1662. doi:10.1097/BRS.0b013e3181a9c304

29.

Takeuchi M, Wakao N, Kamiya M, Osuka K, Matsuo N, Terasawa T, Asai T, Takayasu M (2014) Morphological distinction of cervical nerve roots associated with motor function in 219 healthy volunteers: a multicenter prospective study. Spine (Phila Pa 1976) 39:E944–949. doi:10.1097/BRS.0000000000000407

30.

Wang S, Passias P, Li G, Wood K (2008) Measurement of vertebral kinematics using noninvasive image matching method-validation and application. Spine (Phila Pa 1976) 33:E355–361. doi:10.1097/BRS.0b013e3181715295

31.

Wong TF, Chow DH, Holmes AD, Cheung KM (2006) The feasibility of repositioning ability as a tool for ergonomic evaluation: effects of chair back inclination and fatigue on head repositioning. Ergonomics 49:860–873. doi:10.1080/00140130600577460

32.

Yoo JU, Zou D, Edwards WT, Bayley J, Yuan HA (1992) Effect of cervical spine motion on the neuroforaminal dimensions of human cervical spine. Spine (Phila Pa 1976) 17:1131–1136
Ethics declarations
Conflict of interest
VC received a CNS Spine Fellowship grant, which partially supported this work. The sponsor had no involvement in study design, collection, analysis and interpretation of data, writing of the report, or decision to submit the article for publication. VC is a consultant for DePuy/Synthes Spine and Globus Medical. SWB owns shares in Sentio LLC, is a consultant for LDR, and a member of the Medical Board of Trustees of MTF. AB declares that he has no conflict of interest. TB declares that he has no conflict of interest. DO declares that he has no conflict of interest. CPM declares that he has no conflict of interest. MJB declares that he has no conflict of interest. YNY declares that he has no conflict of interest.
Statement of human rights
All procedures performed in studies involving human participants were in accordance with the ethical standards of the institutional and/or national research committee and with the 1964 Helsinki declaration and its later amendments or comparable ethical standards.
Informed consent
Informed consent was obtained from all individual participants included in the study.
Electronic supplementary material
Below is the link to the electronic supplementary material.
Supplementary material 1 (MP4 4482 KB)
Supplementary material 2 (MP4 4220 KB)
About this article
Cite this article
Chang, V., Basheer, A., Baumer, T. et al. Dynamic measurements of cervical neural foramina during neck movements in asymptomatic young volunteers. Surg Radiol Anat 39, 1069–1078 (2017). https://doi.org/10.1007/s00276-017-1847-6
Received:

Accepted:

Published:

Issue Date:
Keywords
Cervical spine

Neural foramen

Motion analysis

Dynamic X-ray

Neck rotation

Neck extension