Abstract
Skull base architecture is tough to understand because of its 3D complex shape and its numerous foramen, reliefs or joints. It is especially true for the sphenoid bone whom central location hinged with most of skull base components is unique. Recently, technological progress has led to develop new pedagogical tools. This way, we bought a new real-time three-dimensional insight of the sphenoid bone that could be useful for the teacher, the student and the surgeon. High-definition photography was taken all around an isolated dry skull base bone prepared with Beauchêne's technique. Pictures were then computed to provide an overview with rotation and magnification on demand. From anterior, posterior, lateral or oblique views and from in out looks, anatomical landmarks and subtleties were described step by step. Thus, the sella turcica, the optic canal, the superior orbital fissure, the sphenoid sinus, the vidian canal, pterygoid plates and all foramen were clearly placed relative to the others at each face of the sphenoid bone. In addition to be the first report of the 360 Photography tool, perspectives are promising as the development of a real-time interactive tridimensional space featuring the sphenoid bone. It allows to turn around the sphenoid bone and to better understand its own special shape, numerous foramen, neurovascular contents and anatomical relationships. This new technological tool may further apply for surgical planning and mostly for strengthening a basic anatomical knowledge firstly introduced.
This is a preview of subscription content, log in to check access.
Access options
Buy single article
Instant unlimited access to the full article PDF.
US$ 39.95
Price includes VAT for USA
Subscribe to journal
Immediate online access to all issues from 2019. Subscription will auto renew annually.
US$ 99
This is the net price. Taxes to be calculated in checkout.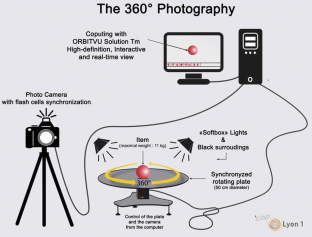 References
1.

Arya R, Morrison T, Zumwalt A, Shaffer K (2013) Making education effective and fun: stations-based approach to teaching radiology and anatomy to third-year medical students. Acad Radiol 20:1311–1318

2.

Bjork RA, Dunlosky J, Kornell N (2013) Self-regulated learning: beliefs, techniques, and illusions. Annu Rev Psychol 64:417–444

3.

Grignon B, Oldrini G, Walter F (2016) Teaching medical anatomy: what is the role of imaging today? Surg Radiol Anat 38(2):253–260

4.

Guy R, Pisani HR, Rich P, Leahy C, Mandarano G, Molyneux T (2015) Less is more: development and evaluation of an interactive e-atlas to support anatomy learning. Anat Sci Educ 8:126–132

5.

Liyanagunawardena TR, Williams SA (2014) Massive open online courses on health and medicine: review. J Med Internet Res 16:e191

6.

Mavridis I (2013) A powerful way of teaching anatomy. Surg Radiol Anat 35:365–366

7.

Rengier F, Doll S, von Tengg-Kobligk H, Kirsch J, Kauczor H-U, Giesel FL (2009) Integrated teaching of anatomy and radiology using three-dimensional image post-processing. Eur Radiol 19:2870–2877

8.

Rhoton AL (2002) The sellar region. Neurosurgery 51:S335–S374

9.

Rhoton AL, Hardy DG, Chambers SM (1979) Microsurgical anatomy and dissection of the sphenoid bone, cavernous sinus and sellar region. Surg Neurol 12:63–104

10.

Singh R, Shane Tubbs R, Gupta K, Singh M, Jones DG, Kumar R (2015) Is the decline of human anatomy hazardous to medical education/profession? A review. Surg Radiol Anat 37:1257–1265

11.

Testut L, Latarjet A (1896) Traité d'Anatomie Humaine. 3ième édition, Doin

12.

Wadley J, Dorward N, Kitchen N, Thomas D (1999) Pre-operative planning and intra-operative guidance in modern neurosurgery: a review of 300 cases. Ann R Coll Surg Engl 81:217–225

13.

Wutoh R, Boren SA, Balas EA (2004) eLearning: a review of Internet-based continuing medical education. J Contin Educ Health Prof 24:20–30
Acknowledgments
We warmly thank the photographer N. Beysseriat from the ICAP laboratory of University Lyon 1. We are also grateful to the Anatomy laboratory staff that prepared this isolated dry sphenoid bone.
Ethics declarations
Conflict of interest
None.
Electronic supplementary material
Below is the link to the electronic supplementary material.
Video: 360 degrees horizontal rotation video of the sphenoid bone. (MP4 12984 kb)
About this article
Cite this article
Jacquesson, T., Mertens, P., Berhouma, M. et al. The 360 photography: a new anatomical insight of the sphenoid bone. Interest for anatomy teaching and skull base surgery. Surg Radiol Anat 39, 17–22 (2017) doi:10.1007/s00276-016-1702-1
Received:

Accepted:

Published:

Issue Date:
Keywords
Sphenoid bone

Skull base

Anatomy

Education

Photography