Abstract
The purpose of this study was to understand the clinical significance of the morphology and blood supply of the falciform ligament in laparoscopic surgery. The structure, blood vessel distribution and anastomoses of the falciform ligament were observed in 20 cases of living laparoscopy, 30 cadaveric specimens injected with latex and five cadaveric specimens with Indian ink and hyaline. The falciform ligament was formed by two sides of peritoneum and its length, largest and smallest width were 8.3±1.6 cm, 4.9±0.8 cm and 1.1±0.3 cm, respectively. The left inferior phrenic artery and middle segment artery of the liver formed a vessel that arched and gave off 6–12 branches to the falciform ligament. The veins of the falciform ligament drained into the left inferior phrenic vein, and were not accompanied by any artery. In conclusion, the vessels of the falciform ligament anastomose with multiple vessels and form a significant pathway of the collateral circulation in the liver. The falciform ligament is an important landmark in laparoscopic surgery.
This is a preview of subscription content, log in to check access.
Access options
Buy single article
Instant access to the full article PDF.
US$ 39.95
Price includes VAT for USA
Subscribe to journal
Immediate online access to all issues from 2019. Subscription will auto renew annually.
US$ 99
This is the net price. Taxes to be calculated in checkout.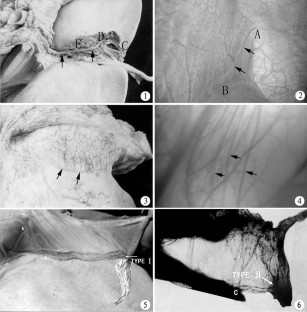 References
1.

Cen XB (1999) Repair of bile duct with pedicled falciform ligament: clinical application. Sichuan Medicine 20: 211

2.

Ibukuro K, Tsukiyama T, Mori K et al. (1998) Hepatic falciform ligament artery: angiographic anatomy and clinical importance. Surg Radiol Anat 20: 367–371

3.

Li XP, Li CL, Shi J et al. (2001) Processing of liver casting specimen: applied for regular dissection of liver. Chin J Clinic Anat 19: 397–380

4.

Li ZH, Wang XH (1997) Anatomy technique, 2nd edn. People's Health Publishing House, Beijing, p 194

5.

Sain AH (1997) Laparoscopic repair of perforated duodenal ulcers with a falciform ligament patch. Ann R Coll Surg Engl 79: 156–157

6.

Xi ZR, Zheng SC, Dai SS et al. (1999) Clinical application of falciform ligament: 25 cases report. Chin Med Factory Mine 4: 308

7.

Zhang NJ, Zhong SZ (1987) Blood vessel anatomy of abdomen and pelvis. Science Publishing House, Beijing, pp 24–25

8.

Zhou YT (1999) Current status of hepatic surgery under TV celioscope. Chin J Hepatobil Surg 5: 62–64
Acknowledgement
The experiments described in this article comply with the current laws of the country in which they were performed.
About this article
Cite this article
Li, X.P., Xu, D.C., Tan, H.Y. et al. Anatomical study on the morphology and blood supply of the falciform ligament and its clinical significance. Surg Radiol Anat 26, 106–109 (2004). https://doi.org/10.1007/s00276-003-0184-0
Received:

Accepted:

Published:

Issue Date:
Keywords
Liver

Falciform ligament

Blood vessels

Laparoscopy

Applied anatomy