Lithotripsy-Facilitated Transfemoral Access for Transcatheter Aortic Valve Replacement
To the Editor:
A growing number of cardiovascular procedures require high-caliber femoral access devices [
1
], including transfemoral aortic valve replacement (TAVR) and endovascular repair of abdominal and thoracic aneurysms (EVAR, TEVAR). Unfortunately, a significant number of patients remain ineligible for transfemoral access due to peripheral arterial disease which precludes advancing large-bore delivery systems. Intravascular lithoplasty (IVL) has been shown to be an effective and safe system for the treatment of moderate and severely calcified femoropopliteal arteries [
2
]. However, the experience with the use of IVL on peripheral vessels to facilitate femoral access during TAVR is very scant [
3
]. Therefore, we sought to investigate the safety and usefulness of IVL in patients presenting complex, heavily calcified, iliofemoral vascular disease, before transfemoral TAVR (Fig.
1
).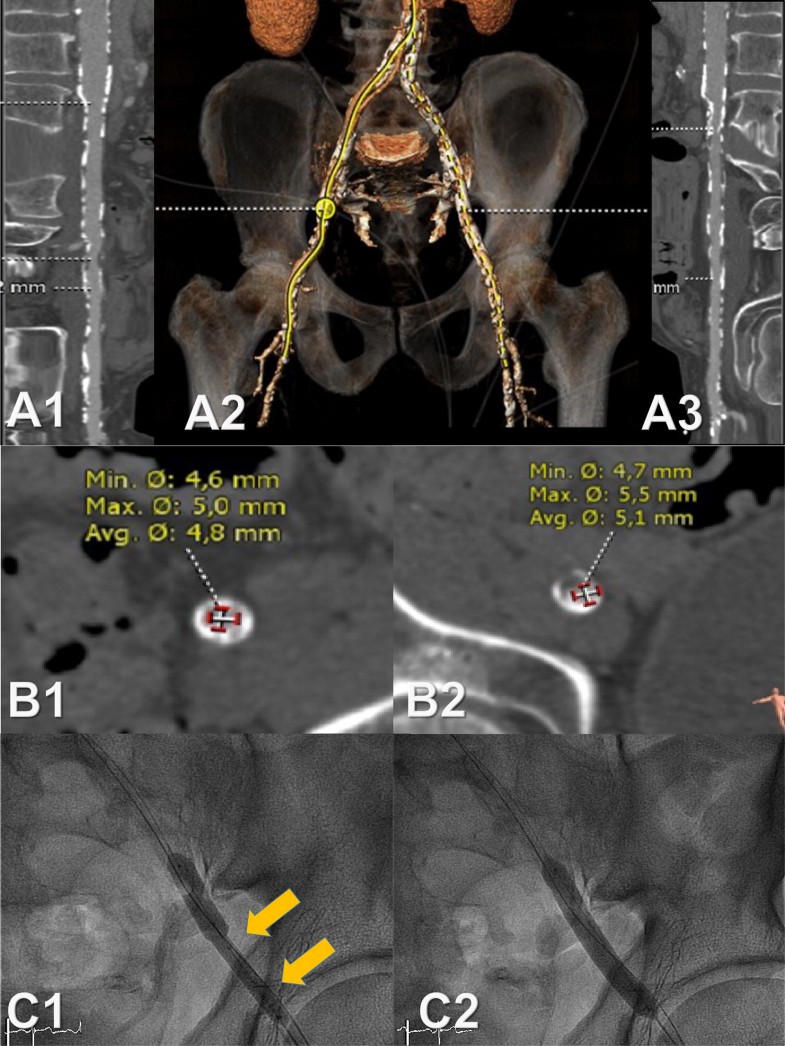 Notes
Funding
This study was not supported by any funding.
Compliance with Ethical Standards
Conflict of interest
The authors declare that they have no conflict of interest.
Ethical Approval
All procedures performed in studies involving human participants were in accordance with the ethical standards of the institutional and/or national research committee and with the 1964 Helsinki declaration and its later amendments or comparable ethical standards. This study has been approved by the local Institutional Review Board (IRB).
Informed Consent
Informed consent was obtained from all individual participants included in the study. Consent for publication was obtained for every individual person's data included in the study.
References
1.

Elgendy IY, Mahmoud AN, Gad MM, Elbadawi A, Rivero F, Alfonso F. Transcatheter or surgical aortic valve replacement for low surgical risk patients: meta-analysis of randomized trials. JACC Cardiovasc Interv. 2019;12(14):1399–401.

CrossRef

Google Scholar

2.

Brodmann M, Werner M, Brinton TJ, et al. Safety and performance of lithoplasty for treatment of calcified peripheral artery lesions. J Am Coll Cardiol. 2017;70:908–10.

CrossRef

Google Scholar

3.

Di Mario C, Goodwin M, Ristalli F, Ravani M, Meucci F, Stolcova M, Sardella G, Salvi N, Bedogni F, Berti S, Babaliaros VC, Pop A, Caparrelli D, Stewart J, Devireddy C. A prospective registry of intravascular lithotripsy-enabled vascular access for transfemoral transcatheter aortic valve replacement. JACC Cardiovasc Interv. 2019;12(5):502–4.

CrossRef

Google Scholar
Copyright information
© Springer Science+Business Media, LLC, part of Springer Nature and the Cardiovascular and Interventional Radiological Society of Europe (CIRSE) 2019