Abstract
Purpose
To assess the detectability and frequency of the different types of utero-ovarian anastomosis, the correlation between type of anastomosis and ovarian failure after UAE, as well as the impact of coiling as a strategy for the prevention of ovarian failure.
Materials and Methods
We retrospectively studied a population of 92 women treated with uterine artery embolization at our institution between 2007 and 2017. Utero-ovarian anastomoses were categorized on angiographic sequences by two radiologists based on the classification published by Razavi et al. (Radiology 224(3):707–712, 2002), and Cohen's kappa was calculated. Ovarian failure was defined as an increase in serum FSH above 27 mIU/ml three months after embolization.
Results
Out of a total of 184 anastomoses, 27% were classified as type Ia, 45% as type Ib, 1% as type II and 24% as type III. Three percent of anastomoses could not be determined. There was very good inter-observer reliability on the classification of utero-ovarian anastomoses (κ = 0.847). Ovarian failure occurred in six out of 92 women (7%). Each had at least one type Ib (n = 4) or type III (n = 1) anastomosis, with the exception of one patient in whom the type of anastomosis could not be determined. All women presenting with ovarian failure were 45 years of age or older. No patient with protective coiling developed ovarian failure.
Conclusion
Utero-ovarian anastomoses are more common than previously expected and can be reliably classified with very good inter-observer reliability. Patients with type Ib and type III anastomoses carry the risk of ovarian failure after uterine artery embolization. Protective coiling seems to be an adequate strategy for avoiding ovarian failure in those types of anastomoses.
This is a preview of subscription content, log in to check access.
Access options
Buy single article
Instant unlimited access to the full article PDF.
US$ 39.95
Price includes VAT for USA
Subscribe to journal
Immediate online access to all issues from 2019. Subscription will auto renew annually.
US$ 99
This is the net price. Taxes to be calculated in checkout.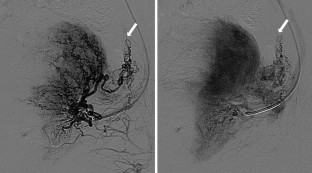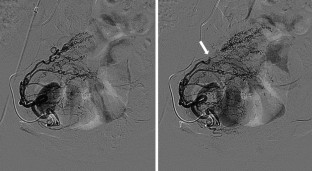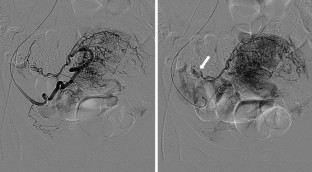 Abbreviations
UAE:

Uterine artery embolization

UOA:

Utero-ovarian anastomosis

FSH:

Follicle-stimulating hormone

MRI:

Magnetic resonance imaging

SD:

Standard deviation
References
1.

Baird DD, Dunson DB, Hill MC, Cousins D, Schectman JM. High cumulative incidence of uterine leiomyoma in black and white women: ultrasound evidence. Am J Obstet Gynecol. 2003;188(1):100–7.

2.

Parker WH. Etiology, symptomatology, and diagnosis of uterine myomas. Fertil Steril. 2007;87(4):725–36.

3.

Spies JB. Current evidence on uterine embolization for fibroids. Semin Interv Radiol. 2013;30(4):340–6.

4.

Stringer NH, Grant T, Park J, Oldham L. Ovarian failure after uterine artery embolization for treatment of myomas. J Am Assoc Gynecol Laparosc. 2000;7(3):395–400.

5.

Amato P, Roberts AC. Transient ovarian failure: a complication of uterine artery embolization. Fertil Steril. 2001;75(2):438–9.

6.

Razavi MK, Wolanske KA, Hwang GL, Sze DY, Kee ST, Dake MD. Angiographic classification of ovarian artery-to-uterine artery anastomoses: initial observations in uterine fibroid embolization. Radiology. 2002;224(3):707–12.

7.

Kim HS, Thonse VR, Judson K, Vang R. Utero-ovarian anastomosis: histopathologic correlation after uterine artery embolization with or without ovarian artery embolization. J Vasc Interv Radiol. 2007;18(1):31–9.

8.

Lanciego C, Diaz-Plaza I, Ciampi JJ, Cuena-Boy R, Rodrguez-Martn N, Maldonado MD, et al. Utero-ovarian anastomoses and their influence on uterine fibroid embolization. J Vasc Interv Radiol. 2012;23(5):595–601. https://doi.org/10.1016/j.jvir.2012.01.077.

9.

Matson M, Nicholson A, Belli AM. Anastomoses of the ovarian and uterine arteries: a potential pitfall and cause of failure of uterine embolization. Cardiovasc Interv Radiol. 2000;23(5):393–6.

10.

Nikolic B, Spies JB, Abbara S, Goodwin SC. Ovarian artery supply of uterine fibroids as a cause of treatment failure after uterine artery embolization: a case report. J Vasc Interv Radiol. 1999;10(9):1167–70.

11.

Landis JR, Koch GG. The measurement of observer agreement for categorical data for categorical of observer agreement the measurement. Biometrics. 2013;33(1):159–74.

12.

Spies JB. What do we know about uterine-ovarian anastomoses and uterine artery embolization? J Vasc Interv Radiol. 2012;23(5):602–3. https://doi.org/10.1016/j.jvir.2012.02.016.

13.

Basile A, Lugattelli T. Letters to the Editor: Embolization of uterine arteries with type IA utero-ovarian anastomoses. Radiology. 2003;232(3):933–6.

14.

Spies JB, Myers ER, Worthington-Kirsch R, Mulgund J, Goodwin S, Mauro M. The FIBROID registry. Obstet Gynecol. 2005;106(6):1309–18.

15.

Santoro N. The menopausal transition. Am J Med. 2005;118(12 Suppl 2):8–13.

16.

Sherman S. Defining the menopausal transition. Am J Med. 2005;118(12 Suppl 2):3–7.

17.

Burger HG, Dudley EC, Hopper JL, Groome N, Guthrie JR, Green A, et al. Prospectively measured levels of serum follicle-stimulating hormone, estradiol, and the dimeric inhibins during the menopausal transition in a population-based cohort of women. J Clin Endocrinol Metab. 1999;84(11):4025–30.

18.

Randolph JF, Sowers M, Gold EB, Mohr BA, Luborsky J, Santoro N, et al. Reproductive hormones in the early menopausal transition: relationship to ethnicity, body size, and menopausal status. J Clin Endocrinol Metab. 2003;88(4):1516–22.

19.

Palomo MC, Perez CL, Perez IDP, Martín MR, Gómez JV, Garcia LG. P587 Amenorrhea after uterine fibroid embolization in women under age 45 and women over age 45. Int J Gynecol Obstet. 2009;107:S579–80.

20.

Chrisman HB, Saker MB, Ryu RK, Nemcek AA, Gerbie MV, Milad MP, et al. The impact of uterine fibroid embolization on resumption of menses and ovarian function. J Vasc Interv Radiol. 2000;11(6):699–703.

21.

Kaump GR, Spies JB. The impact of uterine artery embolization on ovarian function. J Vasc Interv Radiol. 2013;24(4):459–67. https://doi.org/10.1016/j.jvir.2012.12.002.

22.

Kim CW, Shim HS, Jang H, Song YG. The effects of uterine artery embolization on ovarian reserve. Eur J Obstet Gynecol Reprod Biol. 2016;206:172–6. https://doi.org/10.1016/j.ejogrb.2016.09.001.

23.

Arthur R, Kachura J, Liu G, Chan C, Shapiro H. Laparoscopic myomectomy versus uterine artery embolization: long-term impact on markers of ovarian reserve. J Obstet Gynaecol Canada. 2014;36(3):240–7. https://doi.org/10.1016/S1701-2163(15)30632-0.

24.

Roudebush WE, Kivens WJ, Mattke JM. Biomarkers of ovarian reserve. Biomark Insights. 2008;2008(3):1–23.
Ethics declarations
Conflict of interest
The authors declare that they have no conflict of interest.
Ethical Approval
All procedures performed in our study were in accordance with the ethical standards of the institutional and/or national research committee and with the 1964 Helsinki Declaration and its later amendments or comparable ethical standards.
Informed Consent
This study has obtained IRB approval from the Cantonal Ethics Committee Zurich, and the need for informed consent was waived.
Consent for Publication
For this type of study, consent for publication is not required.
Additional information
Publisher's Note
Springer Nature remains neutral with regard to jurisdictional claims in published maps and institutional affiliations.
About this article
Cite this article
Sheikh, G.T., Najafi, A., Cunier, M. et al. Angiographic Detection of Utero-Ovarian Anastomosis and Influence on Ovarian Function After Uterine Artery Embolization. Cardiovasc Intervent Radiol 43, 231–237 (2020). https://doi.org/10.1007/s00270-019-02305-7
Received:

Revised:

Accepted:

Published:

Issue Date:
Keywords
Uterine artery embolization

Utero-ovarian anastomoses

Arterial angiography

Ovarian function

Protective coiling