Use of Amplatzer Vascular Plug to Embolize Errant Chest Tube Tract in Liver
We have read the case report of Hamanaka et al. [1] with great interest, prompting us to share a similar account in which a 70-year-old man presented with dyspnea.
During subsequent clinical diagnostics, computed tomography (CT) revealed a right apical lung mass that appeared to invade chest wall. In addition, the entire right upper lobe was collapsed, causing upward hemidiaphragmatic shift, and a right pleural effusion was detected. Insertion of a 14-Fr chest tube to collect fluid instead brought an immediate surge of blood (~ 550 mL), the dire effects then precipitating cardiopulmonary resuscitation. Upon return of spontaneous circulation, plain radiographs and CT images demonstrated tubal penetration of the liver. The tip of the chest tube had arrived at right ventricle (Figs.
1
and
2
), traveling via right hepatic vein. Fortunately, hemodynamic stabilization was soon achieved.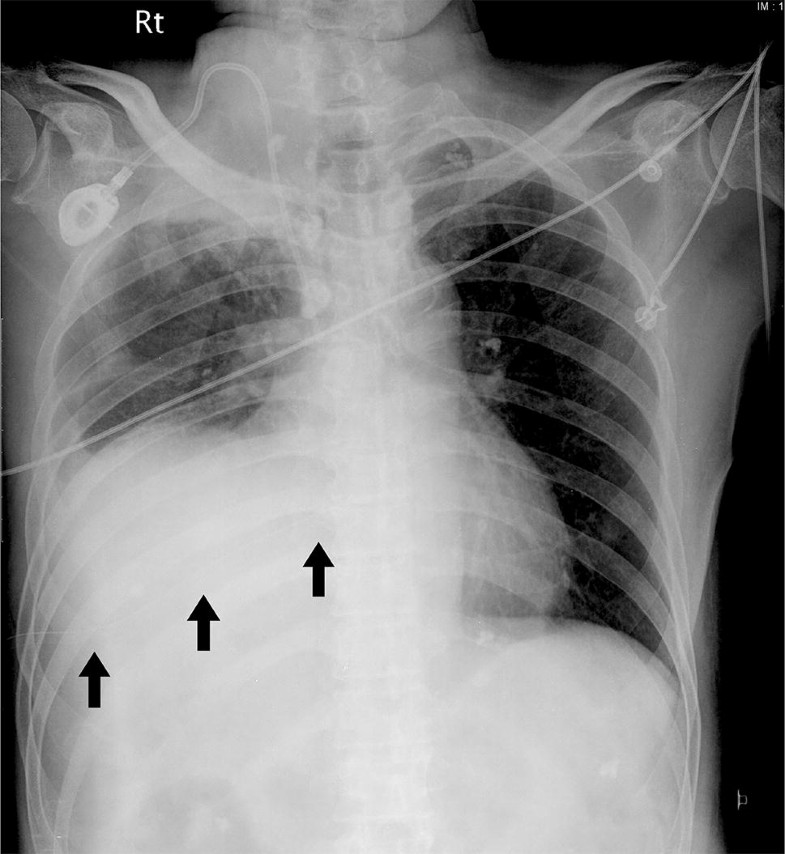 Notes
Compliance with Ethical Standards
Conflicts of interest
The authors declare that they have no conflict of interest.
Consent for Publication
For this type of study consent for publication is not required.
Ethical Approval
All procedures performed in studies involving human participants were in accordance with the ethical standards of the institutional and/or national research committee and with the 1964 Declaration of Helsinki and its later amendments or comparable ethical standards. For this type of study formal consent is not required.
Informed Consent
This study has obtained approval from our institutional review board, and the need for informed consent was waived.
Copyright information
© Springer Science+Business Media, LLC, part of Springer Nature and the Cardiovascular and Interventional Radiological Society of Europe (CIRSE) 2018